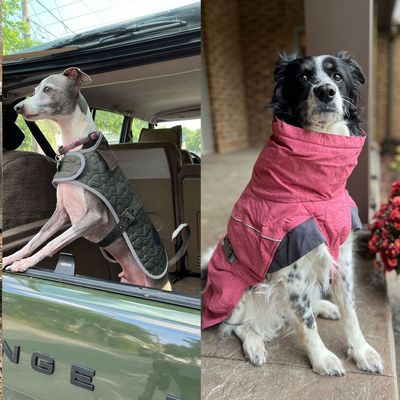 Photo-Illustration: The Strategist; Photos: Maxine Builder, Katie Spies, Brenley Goertzen
Though my own dog — a five-pound toy poodle named Uli — would try to convince you otherwise, the coat she was born with isn't warm enough to protect her from freezing temperatures. The same is true for most little dogs, who have been bred to spend their winters curled up on laps rather than braving icy winds and snowdrifts. Bigger dogs (especially those with double coats like Labrador retrievers and Australian shepherds) do better in the cold, but they can still benefit from wearing a coat and other gear to keep their fur dry and clean, lessening the need for a bath after slushy or muddy walks.
Luckily, there is no shortage of nice-looking and practical canine outerwear, with options available for every type of dog and dog owner. There are reversible down vests in poppy colors, durable canvas work jackets in muted tones, miniature parkas complete with faux-fur hoods, and even full-body rain- or snowsuits for dogs who start to shiver anytime the temperature drops below 50 degrees. Along with finding the right level of warmth, you'll need to think about the fit, since comfort will determine how willingly your dog wears your coat of choice, and body proportions vary wildly from dog to dog. "It's important that any coat fits well to allow for natural movement and to prevent any chafing or rubbing," says Tory Waxman, a veterinarian and co-founder of Sundays all-natural dog food. If possible, she suggests bringing your dog to a store to try on different brands, as coat sizing can vary greatly.
To help you find the best outerwear for your particular dog, we asked Waxman and 15 other cool dog owners and dog walkers, plus a New York City dog photographer, about the dog coats and jackets they like best.
Imagine the difference in body shape between a Chihuahua and a pug. While they might both be considered small dogs and might even wear the same-size coat, they have totally different neck widths, and the proportions of their chest and shoulders are very different. The more adjustable a coat is, the better it will fit a bunch of different kinds of dogs — and the more likely it is to fit your dog if you can't try it on them before you buy. The best dog coats are designed with this in mind and are made of stretchy fabric with adjustable straps at the chest and neck to create a snug but comfortable fit. Ideally, the brand you're considering will provide detailed size charts and offer a wide size range. Otherwise, you'll have to rely on the recommendations of dog owners with the same breed as your pup and a bit of luck to find a coat online that will fit comfortably. But even if you're buying a coat with adjustable straps, a soft tape measure is an essential tool to help you figure out the exact distance from your dog's neck to tail — the most common measurement for coats.
While a chunky Labrador retriever may need only a lightly lined shell in the winter, toy and miniature breeds will be much cozier on long walks in puffer-style coats (and in some cases, snowsuit styles that offer full-body insulation). But no dog will be happy in a coat that weighs them down, no matter how warm it is. So we sought out coats that are lightweight and do a great job of keeping your pup's temperature stable, with extra points for those that protect their most sensitive areas: the chest and abdomen.
Not every dog will treat their new jacket like a chew toy, but you should still prioritize durability when deciding what coat to buy. Look for sturdy materials that also repel water or melting snow, like nylon or waxed cotton; this will help ensure your dog's outerwear keeps them warm, whether they naturally have a double coat or not. That's why many dog owners will dress their pups in a cozy sweater paired with a rain shell on cold wet days. But in any season, a waterproof coat is a good way to cut back on grooming after taking your dog for a run in the park. Though better-quality coats tend to cost a bit more, you can find some affordable options built to last. A great way of vetting a dog coat for durability is by talking to other dog parents and reading online reviews. All the coats on this list meet our standards for durability.
Like Uli, your dog will probably have a favorite coat, which means it will get dirty faster than if they changed their wardrobe on a daily basis. For that reason, and because it will save you time and money, Waxman recommends looking for a coat or jacket that's machine washable.
Best overall dog coat
Size: 16 sizes with adjustable back, neck, and chest | Insulation: Fleece lining that covers neck, chest, and belly | Durability: Water-resistant | Washability: Machine washable
Nicole Sciria, owner of a rescue dog named Benny, recommends Hurtta dog coats for severely cold weather and for anyone having a hard time finding a coat that fits their dog's body type. "Hurtta has the most inclusive sizing, and everything is adjustable on their coats," she says. In addition to Sciria, Waxman and Kelsi Trinidad, head of newsletters at GQ and owner of a rescue Chihuahua named Lupita, are fans of Hurtta coats.
In a previous version of this story, Hurtta's Summit parka was named our best overall pick, but according to the brand, this style has since been discontinued and replaced with a new and improved version called the Expedition. Ally Steeves, who's the owner of a Boston terrier named Chevy, a Beagle mix named Pigpen, and a Jack Russell–Chihuahua mix named Harley, says the Expedition is easy to put on and take off, even when her active pups are wet or muddy. "It has a quick release around the body of the dog, and then you can easily slide it over their head," she says. "Also, because this coat doesn't have sleeves, it's not restricting when my dogs are running down trails."
Strategist junior writer Brenley Goertzen tested the Expedition parka on Shea, her 50-pound Australian shepherd mix, and likes that it can be adjusted at three points — the back length, waist, and neckline — to provide a customized fit. Although her medium-haired pet is prone to excessive shedding, Goertzen says the coat's soft lining doesn't hold onto much fur compared to the knitted dog sweater she's owned for years. She also says she noticed that Shea shivered less and could hike for longer in frigid weather thanks to the water-repellent exterior, which keeps her core dry (and prevents wet-dog smell). And when Shea chases a squirrel or rolls around in a patch of grass, Goertzen says the stretchy hind-leg straps keep the backside of the parka in place. Other features Goertzen says she likes are a hidden attachment hole for quick leash hookups (or switching between a harness and collar) and reflective piping that offers visibility on nighttime walks. This coat comes in 16 sizes and is machine washable.
Best (less expensive) dog coat
Size: Seven sizes, not adjustable | Insulation: Fleece lining that covers chest and belly | Durability: Not waterproof, but wind-resistant | Washability: Machine washable
For Christmas, my sister-in-law gave my parents two of these sherpa fleece-lined coats for their two medium-size rescue dogs, Rocky and Astro. I was so impressed with the simple and stylish design that I asked her where she bought them, expecting her to say Dog & Co. or Love Thy Beast or another trendy (but not cheap) destination for dog apparel. To my surprise, she said Amazon and told me the price: just over $20. Though the coat is not adjustable per se, it does come in seven different sizes, and both the armholes and bottom of the coat feature soft elastic piping that helps create a snug fit without discomfort. The design reminds me of a classic coach's jacket or puffer vest from the '80s with snaps instead of Velcro, which can pull fur and wear out over time. The lining is invitingly soft and warm. Plus, you can choose from eight different colors. My parents' dogs have navy and olive green, and they love wearing them even when they are just hanging around inside. Although the coat isn't waterproof, one of over 9,000 positive reviews says, "It cuts the wind on a chilly/windy day," and a reviewer who bought two for their dogs writes, "They wouldn't protect them from a downpour but [are] good for light to moderate rain."
Best overall raincoat
Size: Six sizes, not adjustable | Insulation: Not insulated | Durability: Water- and wind-resistant | Washability: Machine washable
"Ruffwear makes great, high-quality raincoats, including a non-insulated one for warmer climates," Waxman says. She likes that it has easy-on-and-off side buckles, extended coverage to keep hips and thighs covered, and reflective trim for visibility on evening walks. Kate Anello, a dog owner and project manager for Apple, is also a fan: "Ruffwear is the best," she says. "It is the Patagonia of the dog world." In addition to Waxman and Anello's recommendations, this jacket also made our list of the best dog rain jackets and rain boots, according to dog walkers. It's not adjustable like the Hurtta, but it does come in six different sizes, including XXS, which is rare when it comes to dog performance outerwear. For really windy, rainy days, the collar extends to cover more of your dog's neck, and the back has leg loops to keep the body of the coat in place.
Best quilted dog coat
Size: Six sizes, adjustable waist strap and Velcro strap at chest | Insulation: Tartan lining, quilted waxed cotton insulation | Durability: Water-resistant | Washability: Machine washable
When Katie Spies, the founder and CEO of human-grade raw dog-food brand Maev, rescued her Italian greyhound named George, she says his foster mom advised Spies to buy a few dog coats to keep his slim frame warm in colder months. Spies says this Barbour one, which she's owned for three years, is her (and her pup's) favorite because of its more relaxed fit compared to other outerwear with tight armholes or turtlenecks. Like the Carhartt coat below, the sturdy-looking style — which Spies says "elevates George's less-than-rugged bod" — is sleeveless and fastens with Velcro at the chest. It's also made with durable materials, like waxed cotton, and has subtle reflective piping along the edges, which Spies says makes her feel safer when walking her dog at night. Other features she likes: an opening for the leash that allows for easy attachment to a collar, and an adjustable waist strap that sits between the front and hind legs to keep the coat in place without limiting mobility.
Petaluma co-founder Caroline Buck is also a fan of Barbour's dog coats, but she owns the (slightly more affordable) diamond quilt design. She says it's sturdy enough to withstand the daily wear and tear caused by her two outdoorsy pets, who "get so excited when I bring out these out and happily get dressed." Buck says she also appreciates that the company prioritizes social and environmental responsibility.
Best full-body snowsuit
Size: Eight sizes, not adjustable | Insulation: Poly-fill insulation that covers the chest and legs | Durability: Water-resistant | Washability: Machine washable
Because small dogs are more vulnerable to the cold, Waxman recommends this neon-yellow snowsuit from Love Thy Beast, a New York brand that also makes our most-recommended dog bag, for petite pups who are going out to play in the snow. But that doesn't mean big dogs can't benefit from a snowsuit as well. In addition to the added insulation, the extra coverage helps reduce the need for grooming (and thawing) when they come back inside. And this suit comes in sizes up XXXL. The quilted nylon coat is water-resistant and insulated with a lightweight ​​poly-fill. Plus, it features both a hole for harness hookup and a D-ring at the neck for use without a collar or leash.
Best puffer vest for small and medium dogs
Size: Six sizes, adjustable back bungee | Insulation: Poly-fill insulation | Durability: Water-resistant | Washability: Machine washable
If your dog refuses to wear a coat with sleeves, you might consider a puffer vest. Three of the dog owners we talked to recommend this reversible one from Little Beast: Risa Miyamoto, owner of a Pomeranian named Mokutan; designer Lila Habermann; and Greenpoint dog mom Kelly Mittendorf. "Sofi lacks natural insulation, and the Little Beast puffer vest adds the perfect level of puffiness to keep her warm while still allowing her to move, jump, and play," says Habermann, who layers it over dog sweaters when she takes her senior Chihuahua out for walks in the winter. "The first time she put it on, she was so comfy she went directly to sleep." Mittendorf keeps her Shih Tzu Burger's fur short to prevent matting and says this vest helps keep him warm when they go outdoor dining in Greenpoint. I recently tested this vest out on Uli over one of the brand's extremely stylish contrasting-stripe sweatshirts. First off, it is incredibly cute, like painfully cute. And despite it being very lightweight, the material feels substantial and high-quality. It would take some very sharp teeth to rip this thing. We got the XXS size, and I tightened the bungee cord at the butt end of the jacket just a touch to find her perfect fit. She is a weirdo and is freaked out by any new piece of clothing, so we still need to do some positive reinforcement. But based on how much she tolerates (and even likes) the sweatshirt, I think we will be wearing it often next winter.
Best raincoat for small dogs
Size: Nine sizes, not adjustable | Insulation: Not insulated | Durability: Water- and wind-resistant | Washability: Machine washable
If looking good in the rain is a top priority, Wagwear's nylon rain jacket, which is recommended by Miyamoto, is an excellent choice. It comes in five solid colors (plus two color-blocked styles that are exclusive to Dog & Co.), with contrasting drawstrings and a stylish front zipper that's easy to use and makes it look like a real human raincoat. "There's something very embarrassing about matching with your dog but also very sweet and funny," says Dusen Dusen designer and dog owner Ellen Van Dusen, who makes matching dog and person sweaters and is also a fan of the Wagwear. "Whenever I see it in the wild, it makes me smile," she says. Though Uli isn't really a fan of wearing it (she is very, very picky), I can say that this coat is easy to put on and fits her well — we have the pink-and-orange one in the smallest size. It's also one of the cutest pieces of dog clothing I have ever seen.
Best coat for big dogs
Size: Four sizes, adjustable Velcro straps at chest and waist | Insulation: Quilted nylon insulation | Durability: Water-resistant | Washability: Machine washable
Carhartt's classic chore coat for dogs comes recommended by Mittendorf; Strategist editor Maxine Builder; Yena Kim, the owner of two Shiba Inus named Bode (a.k.a. Menswear Dog) and Luke; and Will Ferman, a New York City dog photographer and dog walker. Ferman likes that it keeps midsize and large dogs warm without limiting their range of motion. Kim agrees, saying that, as well as going with everything in Bode's closet, the sleeveless design is more comfortable for many types of dogs because it won't rub against or snag on the fur of their armpits. Plus, it saves time by keeping dirt and mud off the back and sides of rambunctious dogs like Luke, who rolls around on the ground at the park. "When we get home, all I have to do is clean off his legs and paws, rather than give him a whole bath, which is a lot of effort," she says. The heavy-duty duck canvas has a water-resistant coating and the quilted nylon liner adds insulation. Should you want your dog to carry their own poop bags or treats, this coat also has two large pockets on the back. And because it's made by Carhartt, this coat has the most widespread brand appeal of all the coats we've written about. It will probably get you the most compliments and would make matching outerwear with your dog extremely easy.
Best horse-blanket dog coat
Size: 11 sizes, adjustable straps at neck and waist | Insulation: Faux-shearling lining, waxed cotton exterior | Durability: Water- and snow-resistant | Washability: Machine washable
This horse-blanket coat comes recommended by Mei-i Zien, the owner of Maison de Pawz, who says it still receives high marks for durability and insulation after her long-haired Chihuahua Marcel has worn it for eight years. Zien highlights the water- and wind-resistant exterior and the faux-shearling-lined interior, which has kept her dog warm during the biggest snowstorms to hit New York City. It's also easy to put on, and Zien says it's very secure thanks to an adjustable neck opening and straps that crisscross around your pet's body. While many coats on this list have an opening for a leash attachment, this one is equipped with a built-in D-ring, allowing it to act as a dog's outerwear and harness. Zien prefers this all-in-one design because it prevents bulky layering underneath the coat, which can be heavy on Marcel's smaller frame.
Best sweater dog coat
Size: 11 sizes, stretchy material | Insulation: Double fleece insulation | Durability: Not water-resistant | Washability: Machine washable 
Unlike the other outerwear pieces on this list, Gold Paw's fleece coats are free of zippers and buttons, which makes them appear similar to pullover sweaters. They're also the least likely to bother a fussy dog, Waxman says, because they allow for maximum flexibility, whereas some of the bulkier coats hinder natural movement. This also makes them a good fit for many different types of dogs, as the stretchy fabric molds to the shape of your pup. With two layers of fleece that hug a dog's body, they do a great job of insulating and even have a calming effect on my own dog, similar to that of a ThunderShirt. I have tried two of the 11 different sizes on Uli, and while I ended up going with the smaller size, both would have worked out well. Plus, they are reversible and come in both solid colors and bold patterns like animal print and plaid. Even so, I tend to put them on her with the seams out so there's nothing rubbing up against her sensitive torso.
Some more dog jackets we've written about
• Kate Anello, dog owner and project manager for Apple
• Caroline Buck, Petaluma co-founder
• Maxine Builder, Strategist editor
• Ellen Van Dusen, Dusen Dusen designer and dog owner
• Will Ferman, a New York City dog photographer and dog walker
• Brenley Goertzen, Strategist junior writer
• Lila Habermann, designer and dog owner
• Yena Kim, the owner of two Shiba Inus named Luke and Bode (a.k.a. Menswear Dog)
• Kelly Mittendorf, Greenpoint dog mom
• Risa Miyamoto, makeup artist and owner of a Pomeranian named Mokutan
• Nicole Sciria, owner of a rescue dog named Benny
• Katie Spies, founder and CEO of human-grade raw dog-food brand Maev
• Ally Steeves, owner of a Boston terrier named Chevy, a Beagle mix named Pigpen, and a Jack Russell–Chihuahua mix named Harley
• Kelsi Trinidad, head of newsletters at GQ and owner of a rescue Chihuahua named Lupita
• Tory Waxman, veterinarian and co-founder of Sundays dog food
• Mei-i Zien, owner of Maison de Pawz
The Strategist is designed to surface the most useful, expert recommendations for things to buy across the vast e-commerce landscape. Some of our latest conquests include the best acne treatments, rolling luggage, pillows for side sleepers, natural anxiety remedies, and bath towels. We update links when possible, but note that deals can expire and all prices are subject to change.