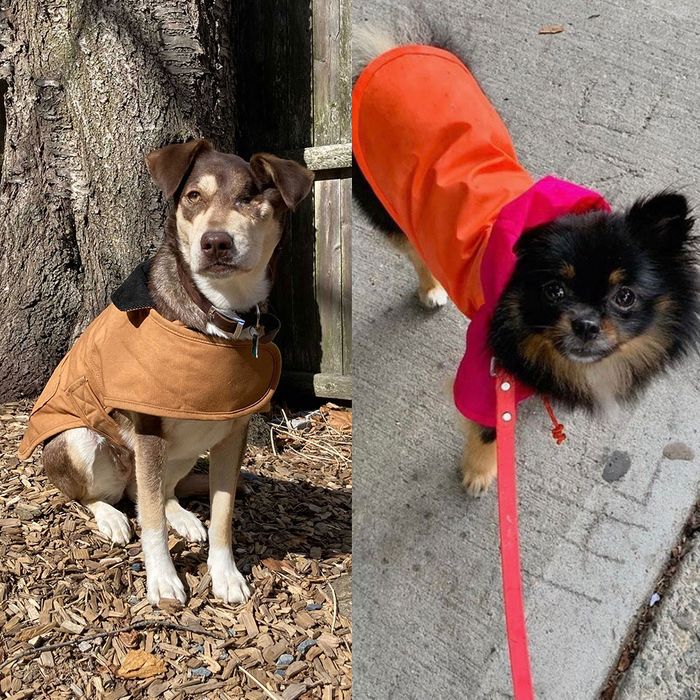 Photo: Maxine Builder, Risa Miyamoto, Kate Anello
If you've been to a dog park lately, especially in inclement weather, you might have noticed that a lot of the dogs are dressed better than their owners. Over the past five years, clothing for dogs has exploded in popularity, from small luxury brands like Max Bone offering designer-collaboration dog sweaters to well-known people brands like Carhartt, Ralph Lauren, and Moncler that have ventured into canine fashion. While there are ribbed turtlenecks, tiny backpacks, and even gold chains for dogs, jackets and coats make up the vast majority of what you can buy, because they're practical, keeping dogs of all shapes and sizes warm and dry without getting in the way of their bathroom habits.
You'll first need to determine what kind of coat your dog needs and how often they'll need to wear it. Breeds like Italian greyhounds, which have only one coat of fur as opposed to most dogs' two, need to wear a jacket as soon as the temperature drops below 50 degrees, while bigger, furrier dogs may need an extra layer only for long romps in the rain or snow. And then there's fit: "It's important that any coat fits well to allow for natural movement and to prevent any chafing or rubbing," says Tory Waxman, a veterinarian and a co-founder of Sundays all-natural dog food. She recommends getting a coat or jacket that's machine washable since your dog is bound to get dirty rolling around in the snow and mud.
To find the best, most stylish jackets for your particular dog, we asked Waxman and nine other cool dog owners, dog walkers, and the owner of a famous dog café about the dog jackets they like best.
Best dog jackets for snow


Best dog jackets for rain
Best dog jackets for spring and fall