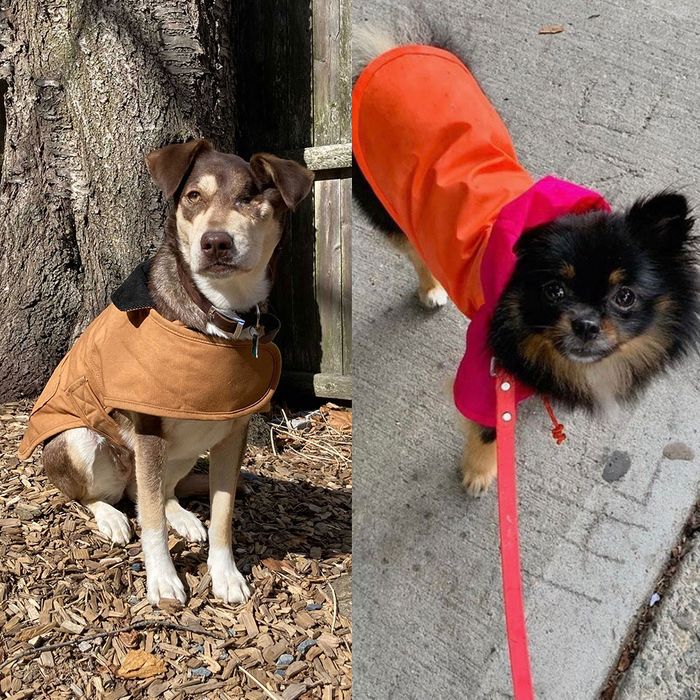 Photo: Maxine Builder, Risa Miyamoto, Kate Anello
Though my own dog — a five-pound toy poodle named Uli — would try to convince you otherwise, the coat she was born with isn't warm enough to protect her from freezing temperatures. The same is true for most little dogs, who have been bred to spend their winters curled up on laps rather than braving icy winds and snowdrifts. Bigger dogs (especially those with double coats like Labrador retrievers and Australian shepherds) do better in the cold, but they can still benefit from wearing a coat and other gear to keep their fur dry and clean, lessening the need for a bath after slushy or muddy walks.
Luckily, there is no shortage of nice-looking and practical canine outerwear, with options available for every type of dog and dog owner. There are reversible down vests in poppy colors, durable canvas work jackets in muted tones, miniature parkas complete with faux-fur hoods, and even full-body rain- or snowsuits for dogs who start to shiver anytime the temperature drops below 50 degrees. Along with finding the right level of warmth, you'll need to think about the fit, since comfort will determine how willingly your dog wears your coat of choice, and body proportions vary wildly from dog to dog. "It's important that any coat fits well to allow for natural movement and to prevent any chafing or rubbing," says Tory Waxman, a veterinarian and co-founder of Sundays all-natural dog food. If possible, she suggests bringing your dog to a store to try on different brands, as coat sizing can vary greatly.
To help you find the best, most stylish outerwear for your particular dog, we asked Waxman and 16 other cool dog owners and dog walkers, plus the owner of a famous dog café, about the dog coats and jackets they like best.
Best overall | Best less expensive | Best overall raincoat | Best full-body snowsuit | Best puffer vest | Most stylish raincoat for small dogs | Best for big dogs | Best for fussy dogs
Adjustability and size range: Imagine the difference in body shape between a Chihuahua and a pug. While they might both be considered small dogs and might even wear the same-size coat, they have totally different neck widths, and the proportions of their chest and shoulders are very different. The more adjustable a coat is, the better it will fit a bunch of different kinds of dogs — and the more likely it is to fit your dog if you can't try it on them before you buy. The best dog coats are designed with this in mind and are made of stretchy fabric with adjustable straps at the chest and neck to create a snug but comfortable fit. Ideally, the brand you're considering will provide detailed size charts and offer a wide size range. Otherwise, you'll have to rely on the recommendations of dog owners with the same breed as your pup and a bit of luck to find a coat online that will fit comfortably. But even if you're buying a coat with adjustable straps, a soft tape measure is an essential tool to help you figure out the exact distance from your dog's neck to tail — the most common measurement for coats.
Insulation: While a chunky Labrador retriever may need only a lightly lined shell in the winter, toy and miniature breeds will be much cozier on long walks in puffer-style coats (and in some cases, snowsuit styles that offer full-body insulation). But no dog will be happy in a coat that weighs them down, no matter how warm it is. So we sought out coats that are lightweight and do a great job of keeping your pup's temperature stable, with extra points for those that protect their most sensitive areas: the chest and abdomen.
Water repellency: Keeping rain and melting snow from penetrating your dog's outerwear is an important strategy for keeping them warm, whether they naturally have a double coat or not. That's why many dog owners will dress their pups in a cozy sweater paired with a rain shell on cold wet days. But in any season, a waterproof coat is a good way to cut back on grooming after taking your dog for a run in the park. Look for materials that repel water like nylon or waxed cotton.
Durability: Not every dog will treat their new jacket like a chew toy, but you should still prioritize durability when deciding what coat to buy. My dog Uli refuses to wear all coats except the fleece-lined Martha Stewart one I bought for her around ten years ago. All these years later, I am so grateful that, despite getting peed on and dragged through sand, dirt, and snow, it has remained in pretty good shape. Though better-quality coats tend to cost a bit more, you can find some affordable options built to last. A great way of vetting a dog coat for durability is by talking to other dog parents and reading online reviews. All of the coats on this list meet our standards for durability.
Washability: Like Uli, your dog will probably have a favorite coat, which means it will get dirty faster than if they changed their wardrobe on a daily basis. For that reason, and because it will save you time and money, Waxman recommends looking for a coat or jacket that's machine washable.
Style: If you've been to a dog park lately, especially in inclement weather, you might have noticed that a lot of the dogs are dressed better than their owners. Whether it's a cairn terrier in a tiny Barbour-esque waxed-cotton raincoat or a Labradoodle in an actual Sandy Liang fleece, fashionable clothing for dogs has been steadily leveling up over the past five years. So while a basic dog jacket might keep your pup warm just as well as one with some extra flair, we believe the best dog coats have both, and we've curated this list with that in mind.
Best overall dog coat
Adjustable back, neck, and chest | Wide size range | Fleece lining that covers neck, chest, and belly | Water-resistant | Machine washable
Nicole Sciria, owner of a rescue dog named Benny, recommends Hurtta dog coats for severely cold weather and for anyone having a hard time finding a coat that fits their dog's body type. "Hurtta has the most inclusive sizing, and everything is adjustable on their coats," she says. In addition to Sciria, Waxman and Kelsi Trinidad, head of newsletters at GQ and owner of a rescue Chihuahua named Lupita, are fans of Hurtta coats. The Summit parka is Waxman's all-time favorite because the material is both water-resistant and breathable, making it great for active dogs. This coat comes in 13 different sizes, all of which can be adjusted across three points — the back length, belt, and collar — to provide a more custom fit. It also has an adjustable hole for leash hookup and reflectors to keep your dog safe at night. Plus, the armholes have stretchy cuff details that make it both easy to run in and fashionable.
Best (less expensive) dog coat