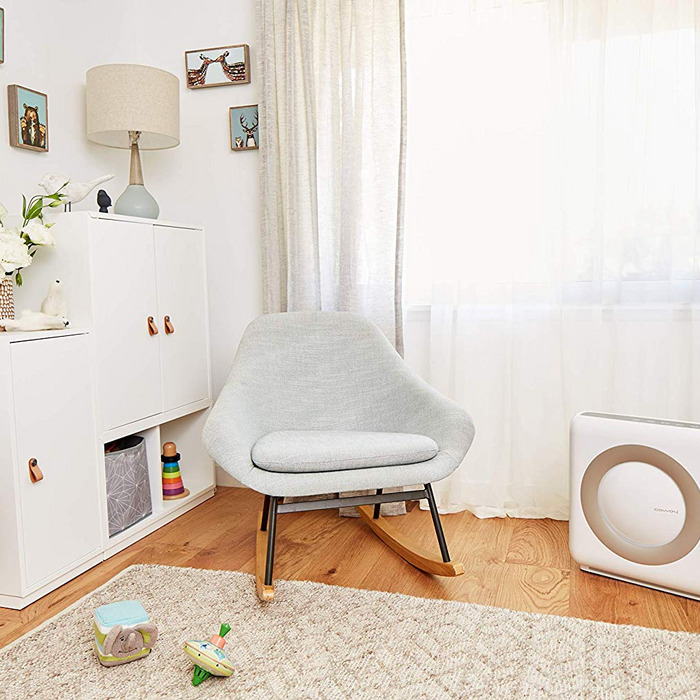 Photo: Courtesy of the retailer
Here at the Strategist, we like to think of ourselves as crazy (in the good way) about the stuff we buy, but as much as we'd like to, we can't try everything. Which is why we have People's Choice, in which we find the best-reviewed products and single out the most convincing ones. (You can learn more about our rating system and how we pick each item here.)
And while we've written about lots of clean air products — including a dupe of a $500 air purifier, doctor-recommended air purifiers, and the best humidifiers — here, we've rounded up the best air purifiers, as praised by the most enthusiastic reviewers on Amazon.
Best-rated air purifier
More than 6,000 reviewers give this air purifier five stars, and many report better breathing and alleviated allergy symptoms. One user from Napa, California, bought this after a forest fire, and writes, "This air purifier has made breathing noticeably easier in our home, and the air smells much cleaner, especially with the ultraviolet light turned on." Many customers chalk up how well and quickly this purifier works to the True HEPA filter. "I bought this model specifically because it uses 'True HEPA' filtration, which filters out the smaller smoke particles that can get into your bloodstream," one writes. Another explains that True HEPA filters " filters out 99.97% of airborne grossness as small as 0.3 microns." They go on to say, "The replacement True HEPA filters are a bit pricey at around $28 last I checked, but they last about 6 months give or take." Beyond collecting dust, this purifier also gets lots of praise for eliminating odors. "The smell of the litter box was the primary reason I purchased this air purifier," one reviewer writes. "After using this air cleaner regularly for about two years, I can confidently say that it effectively and completely removes the smell of the litter box, helps control the amount of hair that floats around the room, and generally does a very good job keeping dust from accumulating in the room."
Best-rated (less expensive) air purifier
This is the same brand as our best-rated pick, but just a much smaller version for kitchens, bathrooms, kids' rooms, and right above litter boxes. One customer says it cut down the smell of his cats litter box "by 95%." Another "basically had to clean the kitchen every single day to deal with lingering smells," but she has no issues with odor now, thanks to this purifier and air sanitizer. Because this pluggable purifier is so small, reviewers like that they can put it in a very targeted area to eliminate smells, but one customer warns that "its light is pretty bright (nightlight bright)." They advise you to keep that in mind when you chose its spot. And one more reports that it actually covers a larger space than many might think (another thing to keep in mind). He explains that the people who live downstairs from their apartment smoke, making their kitchen "reek of cigarettes," but after she got this to clear up the "old, dirty ashtray" smell, she writes, "I honestly didn't expect much from this tiny thing. I plugged it in right next to the garbage can and the next morning there was no smell! I'm amazed."
Best purifier with a permanent filter
Several reviewers use the word "economical" to describe this air purifier from Hamilton Beach, including one who has six cats and struggled with both odors and dust. "I put this right next to my cat box and it has almost taken all the litter dust out of my utility room," they write. And lots of reviewers specifically bought this air purifier because of the permanent filter, which means that they don't have to order replacement filters and allows for even more cost savings. "It has a permanent filter that you just vacuum once a month," one reviewer writes. "It's amazing."
Best air purifier with washable filters
Many reviewers complain that replacing filters can be expensive. But this purifier addresses this concern, because it comes with washable, reusable filters. According to one reviewer with "bad allergies," the washable filters are the best part of the purifier. "You'll never need to buy new filters ever," he says. "There's a light that will turn on to remind you to clean the filters." He also notes that it oscillates and has a "multi-stage filter system" to make sure your air is as clean as possible. Another customer has had his for "at least nine years, probably more." The purifier traveled with him to five different homes, from his "home state to every state [he has] gone to university at." It works almost the same as it did when he got it — save for the oscillating base that broke during a move, but that's no fault of the machine — and if ever needed a new one, he would get this unit again.
Best air purifier with affordable filters
Nearly a third of reviewers comment on the filters in this air purifier, and many praise them for being cheap to replace. "The cost of operation is one of the lowest of any purifier," one reviewer writes. "A generic set of filters cost $47 here on Amazon and lasts 2 years." And not only are they inexpensive, they're also "so easy to clean or replace," another reviewer writes. One word of warning that's repeated by dozens of reviewers: "Remember to open it and take the plastic wrapping off the filters BEFORE turning it on," one says. But if you do operate it properly, it'll work well: "While I haven't owned it long enough to notice a reduction in dust (especially since I dust about 4 times a week anyways), I can say that it clears up smells wonderfully. Homemade shrimp pad Thai, accidental Febreze overdoses, that blown out candle smoke smell, the after the dog park smell …. All of it cleared out of the room in about five minutes."
Best air purifier for large rooms
Many reviewers comment on how well this air purifier works in their large spaces. "We have 3 kids and 5 pets, it can get pretty stank y'all," one reviewer writes, so they put this purifier in their "large-ish home, open concept" and loved the results. "No more stinky house!" Another says, "I have a 750-square-foot, 1-bedroom apartment and while this unit says it will do 300-600 square feet it works very well on my entire apartment." While it works for a larger space some reviewers do warn that the purifier is physically huge as well. "The unit is big, about 2.5' tall, and the air intake is on the sides," one reviewer writes. And many note that all this power also comes at the price of it being noisy. One even writes, "My bedroom cleaner sounds like a jet taking off."
Most quiet air purifier
One reviewer who has trusted Honeywell for their air purifiers for the last 20 years says, "While all had the same basic functions and worked quite well, this unit is by far the best and quietest air filter that I have ever owned." Dozens agree, commenting on how quiet this machine runs. "Turbo mode is pretty loud, but the other 3 modes are so quiet that I can't hear them over my TV on medium volume," one writes. Another says, "I've been running it on medium during the day (doesn't interfere with the TV, music, or conversations in my small space), and turning it UP at night to High for the 'white noise' for sleep (medium is too quiet to do the trick, actually)." In addition to being quiet, this Honeywell air purifier made our list of expert-recommended air purifiers as it includes "a carbon pre-filter to catch gaseous VOCs and they've been proven not to release any hazardous ozone during testing."
Best automatic air purifier
"I'm geeking out on the air I'm breathing," one reviewer writes. "Is it weird that I don't ever want to leave the house now? I just want to stay inside and breathe the GOOD air! No more cat box smell! No more old house smell! The sun used to come through the window in the evening and light up all the particles in the air. Not anymore! I live in an urban area but I breathe like I'm in the countryside." And they're not the only reviewer impressed by how clean their air feels after using this purifier. One often-cited feature, mentioned by over 200 reviewers reference, is the automatic function. "If I sweep the room with a broom or do anything else to kick up some dust, the unit automatically increases the fan speed to start removing the dust," one reviewer writes, while another says, "It will stay on the lowest setting most of the time, but it does sense particulates and will often speed up the fan when we are cooking, spray [an] air freshener or if the dogs come in and shake dust around."
Best air purifier to remove odors
Nearly 80 percent of reviewers give this air purifier five stars, and many call out how well it detects and removes odors. "My teenage daughter and I were sitting on the couch when she suddenly let loose with a fart," one writes. "Maybe 1, 2, seconds later the purifier went from blue to orange. We about died laughing! It filtered that fart for about 10 minutes or so, then went back to blue." Many users think the Winix PlasmaWave feature is what helps the most with odors. "The PlasmaWave air ionizer also works great and neutralizes odors that might get thru the other filters and virtually eliminates cooking odors and have found it to work on odors that are produced when a kerosene heater is first lit," one user says. "This stopped the fumes from going past the room the heater was in and in short order eliminated the smell from that room."
Best air purifier with night light
One foster cat lady says they got air purifier out of desperation because their husband couldn't stand the smell of their foster kittens. But with the air filter installed, "He goes in there now and is astonished, no smell." Another reviewer writes, "Located in a house with two cats and smokers, this has been clearing away the stale smell of cigarette smoke and the smell from the cat dander." And more than 2,000 other five-star reviewers claim this three-speed air purifier is great for getting rid of odors, but many also praise the built-in nightlight. "My eyes are not irritated and I even look better," one reviewer writes. Another says, "it has a blue night light on the top you can turn off and I like to use it to get ready in the morning without waking anyone else up."
Best air purifier without ionizer
"I was first attracted to this air purifier because it was ozone free," one reviewer writes, one of many who appreciated that this air purifier came without an ionizer. Another customer who eventually settled on this model says, "I like that it uses HEPA filtering with no UV-ionization — no worries about ozone." Of the HEPA filter however, reviewers are impressed. One even says they think the filter will last its full, six-month estimated life writing, "The HEPA seems to be in good shape for 1 months use, I will most likely get 4-5 more leaving it on high 24/7."
The Strategist is designed to surface the most useful, expert recommendations for things to buy across the vast e-commerce landscape. Some of our latest conquests include the best women's jeans, rolling luggage, pillows for side sleepers, ultra-flattering pants, and bath towels. We update links when possible, but note that deals can expire and all prices are subject to change.
Every editorial product is independently selected. If you buy something through our links, New York may earn an affiliate commission.