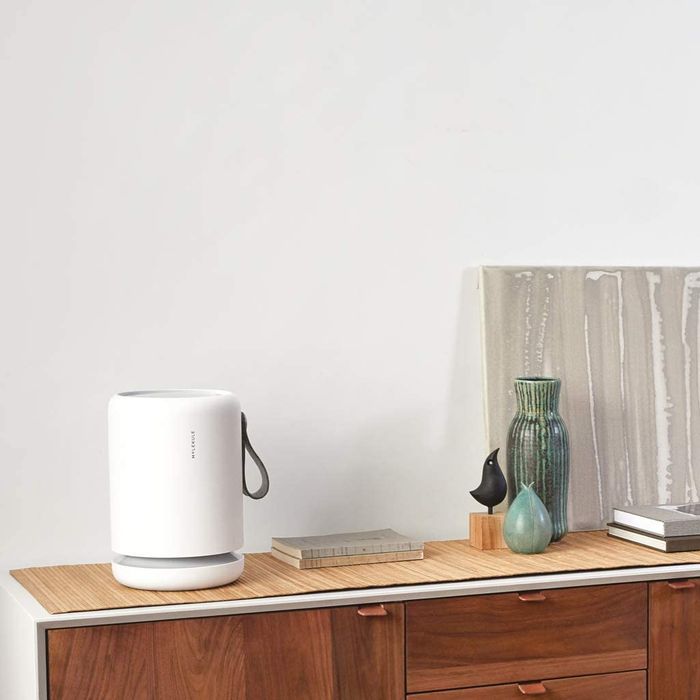 If you suffer from seasonal allergies (or just have a lot of pets), you've probably thought about buying an air purifier. Perhaps your doctor even recommended you buy one. Air purifiers take dust particles, odors, pet dander, and more out of the air, making it cleaner and easier to breathe. To help you find the best one for you, we've scoured Amazon for the best options — including one for larger spaces and another that doubles as a humidifier — as praised by the most enthusiastic reviewers. But if you'd prefer a more professional take, we've got doctor-recommended options and a writer-tested one, too.
Related Articles: Best Air Purifiers | How to Get Rid of Dust | This Air Purifier Practically Cured Me of My Dog Allergy
Best-rated air purifier
More than 6,000 reviewers give this air purifier five stars, and many report better breathing and alleviated allergy symptoms. One user from Napa, California, bought this after a forest fire and writes, "This air purifier has made breathing noticeably easier in our home, and the air smells much cleaner, especially with the ultraviolet light turned on." Many customers chalk up how well and quickly this purifier works to the True HEPA filter. "I bought this model specifically because it uses 'True HEPA' filtration, which filters out the smaller smoke particles that can get into your bloodstream," one writes. Another reviewer warns, "The replacement True HEPA filters are a bit pricey at around $28 last I checked, but they last about six months, give or take."
Beyond collecting dust, this purifier gets lots of praise for eliminating odors. "The smell of the litter box was the primary reason I purchased this air purifier," one reviewer writes. "After using this air cleaner regularly for about two years, I can confidently say that it effectively and completely removes the smell of the litter box, helps control the amount of hair that floats around the room, and generally does a very good job keeping dust from accumulating in the room."
Best-rated (less expensive) air purifier
This is the same brand as our best-rated pick, but it's a much smaller version for kitchens, bathrooms, kids' rooms, and right above litter boxes. One customer says it cut down the smell of his cats litter box "by 95%." Another reviewer "basically had to clean the kitchen every single day to deal with lingering smells," but she has no issues with odor now, thanks to this purifier. Because this pluggable purifier is so small, reviewers like that they can put it in a very targeted area to eliminate smells, but one customer warns that "its light is pretty bright (nightlight bright)," so you might not want to put it in a place that requires total darkness. And one more reviewer reports that it actually covers a larger space than many might think. She explains that the people who live downstairs from his apartment smoke, which makes their kitchen "reek of cigarettes," but after she got this to clear up the "old, dirty ashtray" smell, she writes, "I honestly didn't expect much from this tiny thing. I plugged it in right next to the garbage can and the next morning there was no smell! I'm amazed."
Best air purifier for allergies
Allergy sufferers find this air purifier, complete with a three-stage HEPA filtration system and four fan speeds, to be a "game changer." "I purchased this air filter because I've become more sensitive to dust in my apartment. I would wake up with a stuffy/runny nose every morning," writes one reviewer. "Since I've purchased this filter, I've experienced a huge improvement." Another shares that before buying this filter, their seasonal allergies were often debilitating, "to the point where they get so bad I have to lay down with a wet towel over my eye." But this purifier has made a noticeable difference. "I have been using this for about a week now in my home office, and I can say without question that my allergies have been much, much better."
Best air purifier for pets
This Strategist-approved air purifier was so effective that it cleared up one contributor's dog allergies in just three days, and plenty of Amazon reviewers with pets say it clears up odors, too. One reviewer, who called the Levoit a "marriage/pet saver," used this purifier after her rescue kittens led to a distinct and unpleasant odor. "I got this product out of desperation," she says. "I am truly shocked and enormously happy with how it works! My husband was at wits' end with his sensitive nose. He goes in there now and is astonished, no smell." According to another reviewer, "It's especially hard removing smoke/pet odors being in such a small space with only one window, but this has definitely helped and I would 100 percent recommend this air purifier to others looking for one." Yet another pet owner (with a strange definition of domesticated animals) says, "I have pet rats and they STINK sooooo badly when I don't clean them after two days. One day I was sick and decided to just move the purifier into the same room as the rats," she says. "With the purifier in there, I smelled NOTHING."
Best quiet air purifier
This Levoit air purifier's "sleep mode" is mentioned in dozens of reviews, and when turned on, the device is so quiet, one reviewer "couldn't hear anything at all, had to look in [the] manual to make sure it still was filtering in that mode and it does." Another reviewer "had to double-check that it's on before sleeping. It's really that quiet." And they add that "since the very first day I began using it, I have not once had allergies at night." Another reviewer was "tired of being cooped up all winter in a musty house full of dust, pet dander (and a variety of other smells nobody really likes to talk about)," so put this in their bedroom and says it's "REAL nice, space-saving, product that is smooth and quiet and, (for its size), puts out an amazing amount of fresh air." And, in fact, the sleep mode is almost too quiet: "Sometimes I like to bump it up to medium at night for those times when a little white noise is desirable."
Best portable air purifier
Reviewers laud this air purifier for its sleek, portable design and complimentary smartphone app for monitoring filter usage. "We live in a two-bedroom apartment, and when we cook, it tends to smell up the entire place for a while," one purchaser writes. "I've noticed right away that the air smells cleaner and it has not smelt after cooking since using this product! We also have a golden retriever, and the pet odor is not as noticeable." Another reviewer found it to be "great for families," adding that setup was "easy" and that it's "small enough to take with you when traveling (without flying) to ensure you have clean air in your hotel rooms." Another parent shares the Molekule Mini with a son, as both suffer from seasonal allergies. "I love that this is portable, I can move it from my room to his depending on who needs it. I barely hear it, it's so quiet, and the sleek design fits with nearly every room." A fourth adds that the handle makes it "easy to carry around the home" and finds the app, which monitors filter usage, to be a huge plus.
Best table air purifier
Over 11,000 reviewers were impressed with this small-but-mighty tabletop air purifier, praising its ability to filter out dust, cigarette smoke, and pet odors. "It's really, really good at filtering pet smells," one pet owner shares. "I have two stinky male rats in the middle of rat puberty … and when they were due for a cleaning, you used to be able to smell it across the room. You can't anymore unless you're right next to the cage." Another found it to be exceptionally good at filtering dust out of the air: "You know how you can see dust/dander particles floating in your house when the sunlight is just right? … I didn't see that in the air anymore." A third satisfied reviewer, who purchased it to filter cigarette smoke out of a Las Vegas hotel room, found that it "saved" an entire vacation: "I quickly plugged this in and it worked like a charm. I was able to sleep without smelling the smoke and my room smelled fresh." Another added bonus: a built-in fragrance sponge for essential oils for extra air freshening.
Best purifier with a permanent filter
Several reviewers use the word "economical" to describe this air purifier from Hamilton Beach, including one who has six cats and struggled with both odors and dust. "I put this right next to my cat box and it has almost taken all the litter dust out of my utility room," the reviewer writes. And lots of reviewers specifically bought this air purifier because of the permanent filter, which means that they don't have to order replacement filters and allows for even more cost savings. "It has a permanent filter that you just vacuum once a month," a reviewer writes. "It's amazing."
Best air purifier with oscillating fan