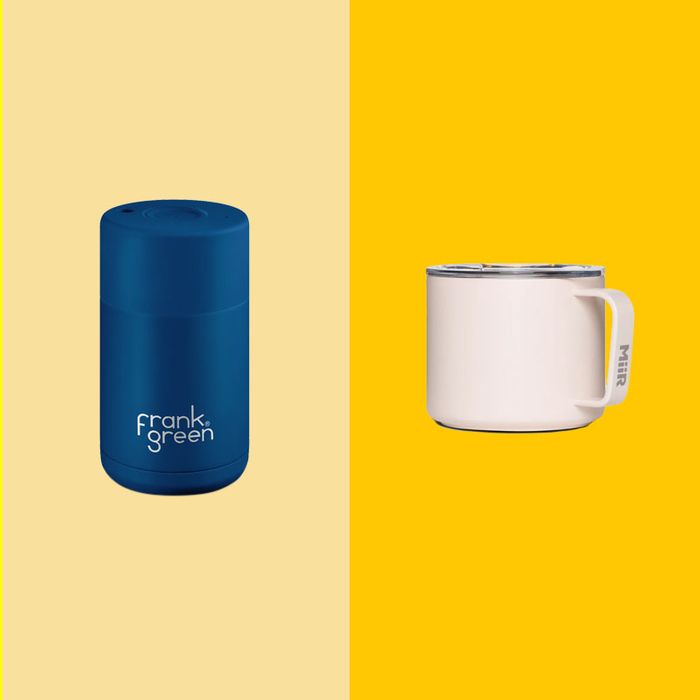 Photo-Illustration: The Strategist
The days of paper cups and plastic straws are, if not entirely behind us, certainly not what they used to be. I know when I walk into any coffee shop, I'm bound to see at least a handful of people asking for their morning brew to be poured into their own reusable vessel instead of something disposable. And trust me: Baristas are more than happy to oblige. Every single one of the pros I talked to for this story said that not only are ceramic, glass, and stainless-steel options better for the environment, they actually make your coffee taste better than paper or plastic (same goes for tea). Most important, though, they keep your drink hot or cold for longer. All of the travel mugs on this list have temperature retention for at least a few hours, if not longer, with the exception of three, which I've noted and explained. While all of them work well, if you're going to invest in this long-term good habit, you want to find the one that best fits your coffee habits and, of course, aesthetic preference. Read on to help determine which reusable cup, mug, or tumbler is best for you.
Best overall | Best for cappuccinos |Best for iced coffee| Best for commuting | Best with a handle | Best with replaceable lid | Best for hanging at home | Best customizable  | Best glass for brewing tea | Best stainless steel for brewing tea
What we're looking for
Volume: Most of these travel mugs come in various sizes, but that's naturally an important feature to pay attention to when buying. Eight or 12 ounces is on the smaller side, both good for standard cappuccinos or cortados or if you don't consume that much coffee or tea. Twenty ounces is pretty big — useful if you're going to be toting your drink around all day without the chance for refills. And then, of course, 16 ounces is somewhere in between.
Lid type: The type of lid on your travel mug can make a fairly big difference in how you experience drinking. Some have bigger openings, some smaller. Some snap shut; others twist open and close. This can come down to personal preference — meaning the literal mouthfeel of each one. It's also important to consider when and how you'll be using your travel mug, whether that's commuting by train or car, sitting at a desk, or running errands around your neighborhood.
How to clean: Some travel mugs on this list are dishwasher safe; others need to be cleaned by hand. Take note if that's an important factor for you.
Best overall travel mug
Best travel mug for cappuccinos
Best travel mug for iced coffee
Best travel mug for commuting
Best travel mug with a handle