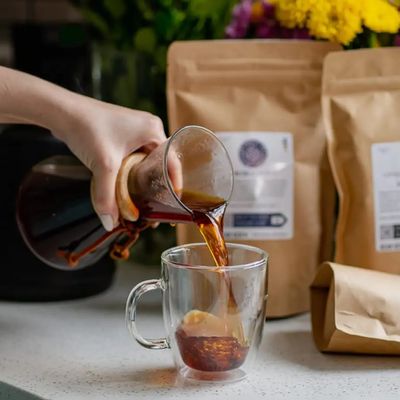 Brewing good coffee is like cooking: Quality ingredients often trump fancy equipment. This is why a better morning brew starts with good coffee beans.
I tested eight popular coffee subscriptions that choose bags of whole beans and send them right to your door tailored to your taste and timing preferences. I brewed each brand's offerings using the pour-over method with a coffee-to-water ratio spelled out by the Specialty Coffee Association, then I sipped it black and took notes. I've tested a lot of different coffee beans and makers in my career as a journalist (with stints at Serious Eats and Men's Journal), and overall, I was impressed with the quality of the beans and service. All of these subscriptions deliver a better cup of coffee than pre-ground or even whole-bean options from the supermarket. Here's what I learned about each.
Consistency vs. variety: Coffee drinkers tend to fall into one of two camps: You either find a coffee you like and stick with it or jump from one roast to another. Coffee subscriptions work the same way. Some let you order the same bag of beans while others ship you new flavors each month. This depends on whether the purveyors sell beans they roast themselves (like Blue Bottle Coffee and Craft Coffee) or deal in beans provided by smaller roasters (like Trade and MistoBox). If you prize consistency, those who roast their own beans have more control and likely an easier time delivering the same flavor month to month. But if you want variety, having access to a network of independent roasters is a plus. Below, I've noted whether each subscription is best for consistency or variety.
User experience: Like with your favorite streaming platform, you want an easy-to-use website or app to help control a coffee subscription. Ideally, you can go to the website, see your order history and the next shipment headed to you, and make changes on the fly — like pausing delivery when you'll be on vacation.
Some purveyors do more hand-holding than others to help newbies find the right coffee. They include quizzes on which roast levels you like, how you plan to brew the coffee, and which popular chain coffee you enjoy — all in hopes that the feedback guides the website's recommendations for you. Here, I've noted these features to show how user-friendly the different interfaces are.
Bag size: Most subscriptions mail out 12-ounce bags of beans, which makes somewhere around 16 cups of coffee if you make them at 12 fluid ounces each (or a Tall size at Starbucks). If you drink two cups per day, a 12-ounce bag is about what you'd need per week; you can scale up based on how many coffee drinkers are in your household. But if you don't drink that much coffee, or if you live alone, you might want a smaller bag to ensure freshness. Some subscriptions offer to ship your coffee in smaller bags — usually between six and eight ounces. Still others ship beans as flights, so you get four or five bags in one delivery. For the sake of consistency, all prices listed below are for a 12-ounce bag of beans.
Best overall |Best less expensive | Best for single-origin coffees from around the world |Best for Latin American coffees | Best for learning about beans | Best for expert advice | Most reliable | Best simple
Best overall coffee subscription
Variety | Personalized preference quiz, personalized coffee ratings, delivery-management dashboard | 12-ounce bags of beans only
Trade makes it easy (and not overwhelming) to access a massive range of U.S. roasters working with about 450 different coffees. The very first thing to do on the company's site is take a quick quiz which asks how much of a coffee newbie you are, whether you add anything to your brew (like cream or sugar), the shade of roast you most enjoy (light, medium, or dark), and if you like classic coffee flavors or want something unconventional. (The site asks a few practical questions, too, like whether you drink it caffeinated or decaf and if you want whole or ground beans.)
From there, Trade matches you to a bag of beans — with more in your queue for later. Every time you try a bag, you can give it a thumbs up or not (kind of like on Netflix) and Trade will use that information to home in on your preferences over time. The dashboard and dedicated app make account management easy, so you can always change things up — including delivery frequency, grind setting, and tasting notes. We named Trade our top pick for its wide variety, and the site makes it easy to reorder a favorite bag from a specific roaster — satisfying coffee drinkers who want consistency. Note that shipping will cost you an additional $5.
Best less expensive coffee subscription
Consistency | Easy-to-change shipping date, asks what kind of supermarket beans you like | Offers tasting flights and four-ounce bags of beans
In a category with competitive pricing, it's hard for other subscriptions to touch Craft's value, which starts at about $1 per ounce. I can find whole beans at the supermarket for less when they're on sale, but the flavor won't be nearly as fresh. This is the only subscription I tested that asks which mainstream brands you buy — like Starbucks, Dunkin', or Peet's. Craft recommends a blend based on your answer, and you can adjust it to be lighter or darker or switch to a pricier single-origin coffee. Craft roasts its own beans, and most of what it offers are blends — like the Streetlight Mix from Latin America and Sumatra that I tasted, which has a rich, roasted flavor and pleasing bitterness.
Best coffee subscription for single-origin coffees from around the world
Variety | Good customer service, easy-to-change shipping date | six-ounce bags of beans
Atlas orders beans from all over the world — including areas that tend to fall under the radar like Congo, Bolivia, and China — and roasts them in Austin, Texas. Everyone who subscribes gets beans from the same location at the same time roasted to their personal preference. Cards that accompany the coffee explain the history of the region of origin and tasting notes. If you get a bag of beans you don't like, Atlas will help you troubleshoot your brewing method or send you a replacement. (Shipping is not included in the subscription price.)
Best coffee subscription for Latin American coffees
Variety | Basic website and UX experience | Ten-ounce bags of beans
The beans from Quintal are roasted near the farms where they're grown, then shipped to you. The selection changes each time, but it's always ten ounces of a single-origin coffee sent out on the last week of every month. The coffee I sampled, Guayabina Pacas from Honduras, had a bright, fruity flavor that I could smell before I brewed it; it was one of the most unique I tasted. The one drawback of this coffee journey is a lack of control: You don't get much say in the beans Quintal ships you, the website doesn't provide much beyond the basics, and if you get a bag you don't like, the company usually won't replace it (unlike most of the others on this list).
Best coffee subscription for learning about beans
Variety | Well-designed dashboard, place to store coffee notes, easy-to-change shipping date | 12-ounce bags of beans only
If you enjoy taking notes on new coffees as they arrive, MistoBox's well-designed dashboard is for you. Store coffee-tasting notes for yourself or send them to MistoBox — the more you send, the more dialed-in your next order of coffee should be. The website makes it easy to adjust shipment dates, pause your subscription, and switch between different pricing tiers. The only knock is that bags are locked in at 12 ounces, which makes it harder for infrequent drinkers to work their way through the 500 coffees from more than 60 countries — including the single-origin, medium-roast Soulmate from Georgia-based Alma Coffee, which had the most pleasing aroma of any beans I sampled and a nutty and balanced flavor. Shipping will cost you and extra $5.
Best coffee subscription for expert advice
Variety | Zoom calls with experts available, personalized coffee ratings, delivery-management dashboard | eight-ounce bags of beans and tasting flights with four-ounce bags
Driftaway's Explorer Coffee Kit ships five bags of beans — each with a different two-ounce blend from around the world that the company roasts in Brooklyn. From there, you can jot notes on a provided chart about what you taste or do it alongside an expert on a Zoom call. This helps you dial in your subscription so Driftaway can send you a bigger bag based on your preferences. Or you can keep ordering the Explorer with five new coffees each month to mix it up. If you want a crash course in coffee tasting with real professionals to talk you through it, this subscription is for you.
Most reliable coffee subscription
Consistency | Personalized preference quiz | six-ounce bags of beans
What Blue Bottle lacks in range — there are essentially four coffee blends, a single-origin coffee, and a few varieties for espresso — it makes up for in its consistency and speedy shipping. Find a coffee you like (there's a coffee-match quiz to help narrow down the options), and it will be a uniform experience. (The Beta Blend I tried, for example, has a rich, toasted aroma with a nice sweetness; I could see myself drinking it again and again.) I like that you can opt to buy smaller-than-usual six-ounce bags and that Blue Bottle has nontraditional offerings — like a New Orleans–style coffee made with chicory.
Best simple coffee subscription
Variety | Easy-to-reorder beans, personalized coffee rating, well-designed dashboard with the ability to text a coffee order | 12-ounce bags of beans only
Along with your first 12-ounce bag, Bean Box sends new subscribers a one-time tasting flight with multiple 1.8-ounce coffee blends. That sampling kit can help speed up zeroing in on what you like so that your second order is a better fit. The beans are roasted by nearly 50 independent coffee shops in the Pacific Northwest, and here, the focus is less on learning about the coffee's story and more on brewing a better cup at home with how-to guides for everything from storing the beans to using a moka pot to frothing milk. Setting up an account is easy and doesn't require any quizzes — just pick a bean-roast level, whether you want bags or a kit, and your delivery frequency. Each coffee has a roast number on it, and the bags have QR codes, which makes it easy to reorder a coffee you love without having to remember a name like Ethiopia Bedhatu Jibicho.
The Strategist is designed to surface the most useful, expert recommendations for things to buy across the vast e-commerce landscape. Some of our latest conquests include the best acne treatments, rolling luggage, pillows for side sleepers, natural anxiety remedies, and bath towels. We update links when possible, but note that deals can expire and all prices are subject to change.