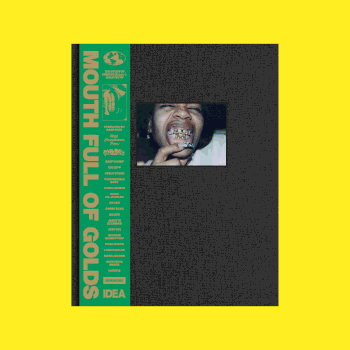 Photo: Courtesy of the retailer
The coffee-table-book sphere is an unwieldy one filled with hundreds and hundreds of options, so our writers and editors rounded up the best and most giftable publications. In our list, you'll find something for every type of person you want to buy for (and possibly something for yourself) — the mom who bird-watches in her free time, the dad who loves '90s hip-hop, the hard-to-shop-for sister who just got a new apartment, the best friend who loves to cook, even the teen girl who considers herself too cool for school. Below, we've organized the books by category, just use the links to navigate.
All you really need to play soccer is a ball and a field. But anyone who's watched a single match on TV knows it's far more complicated — and beautiful — than that. This catalogue, based on a now-closed exhibit at London's Design Museum of the same name, highlights the deep thought and careful design that goes into each of the sport's elements, from the cleats and kits that players wear on the pitch to the stadiums themselves and the fans who fill them. — Maxine Builder
The yeehaw agenda endures. This coffee-table book celebrates modern-day Black cowboys by documenting the annual Bill Pickett Invitational Rodeo. Author and photographer Gabriela Hasbun has been photographing the event for over a decade and captures both the intimacy of the community and the spectacle that surrounds it. There are photos of stunts alongside one of a hand brushing a horse, for instance, highlighting the duality of the rodeo. The book also includes stories and conversations Hasbun has had over the years, which really brings it to life. — Tembe Denton-Hurst
​​Through Roland Miller's photography, this extensive work commemorates NASA's Space Shuttle program. It looks back at 140 missions and nearly 500 million miles traveled through images of launches and landing tests, the deployment of the Hubble Space Telescope, the first untethered space walk, and much more. Any backyard astronomer or space enthusiast would be delighted to have this visual journey on their shelf. — Arielle Avila
Florida is the setting of many of A24's movies — Spring Breakers takes place in St. Petersburg, Zola in Tampa, Oscar-winning Moonlight in Miami, and, of course, The Florida Project in Orlando. So it makes sense that the production company would publish a 547-page travel guide to the Sunshine State in all of its glory, from the Redneck Riviera down to the Keys, chock-full of travel tips, fold-out maps, infographics about Cuban sandwiches, and full-bleed photographs. — M.B.
Try to name an influential figure who hasn't posed for Annie Leibovitz, and you'll be stumped — her lens has captured the likes of John Lennon, Rihanna, and even Queen Elizabeth II. For this volume, Leibovitz sifted through four decades of her portraits (a task that took years in itself) to create a visual narrative of her career. Photographers will appreciate not only a collection of rare and never-before-seen images, but a glimpse inside Leibovitz's brain. — Rachael Griffiths
It's estimated that six out of ten Black Panther Party members were women — this book tells their story. With a foreword by Angela Davis and images that document the group at its height, this book would make a great gift for anyone who wants to learn more about the time period or gain a different perspective on one of the most impactful social movements of our time. — T.D.H.
Acclaimed author and performer Patti Smith posted her first Instagram picture in 2018 — a simple, straightforward "Hello everybody!" Today, Smith's account has blossomed into a rich tapestry exhibiting her singular vision, including photos of her kids, her home, and her beloved cat, Cairo. A Book of Days offers even more insight into Smith's documentary process, with over 365 photographs chronicling one year in her life; it also includes vintage snapshots pulled from long-ago archives and cheeky commentary from the artist herself, making it the perfect gift for any Smith superfan. — Kitty Guo
Through an exhaustive archive of articles, criticism, and essays reproduced in their original form and dating back to 1967, Documents traces the tumultuous ongoing conversation surrounding Diane Arbus's photographic oeuvre. With over 50 texts written by authors such as Hilton Als, Peter Schjeldahl, and Susan Sontag, the book is a new way of looking at any major artist's career. It's at once a valuable resource for historians and students of art history as well as a fascinating read for fans of contemporary photography. — Liza Corsillo
Steven Klein's self-titled Phaidon monograph contains more than 400 pages of the fashion photographer's provocative 30-year body of work. The book includes stunningly reproduced images of some of the world's most recognizable faces, from Brad Pitt to Kim Kardashian, originally published in the likes of Interview, W, Vogue, Vogue Paris, and i-D. — L.C.
The idea behind The Only Woman is simple: Each photograph shows a single woman in a male-dominated environment — whether that's an art collective, a jazz band, or on a football team. The visual effect makes the woman pictured even more compelling. Luckily, every photo comes with a bio of the woman in the photo so you can learn about them. — T.D.H.
Weems is probably best known for her Kitchen Table Series, which came out in 1990 and has reverberated through the art world and pop culture ever since. This book is a retrospective of her work and spans four decades of her career. It includes the iconic series along with some of her earlier work, like Family Pictures and Stories, in which she photographed her relatives and close friends, and later projects like Not Manet's Type and Obama Project. — T.D.H.
Even if you didn't follow Mark "The Cobrasnake" Hunter's blog of party photos back in the mid-aughts, you probably recognize his aesthetic, now more commonly known by Gen Z as "indie sleaze." And you'll certainly recognize many of the folks in this extensive catalogue of his work. There's Katy Perry before she kissed a girl, Alexa Chung at karaoke with Kelly Osbourne, and even a deeply bronzed Kim Kardashian on her T-Mobile Sidekick. The Cobrasnake: Y2Ks Archive is a capsule of a simpler time, when the gold lamé leggings from American Apparel were extra-tight, the tallboys of Sparks were abundant, and the parties were never live-streamed. — M.B.
Bronx collective Ghetto Gastro's first cookbook is, like the collective, multifaceted. It contains a mix of photography, interviews, and — of course — recipes. There are 75 of them, most of which are plant-based and draw inspiration from the Bronx and the wider diaspora. Every recipe comes with an immersive story, bringing you closer to the intent behind the dish. Coco Loco, Ghetto Gastro's take on summertime staple coconut ice cream, is cast as a childhood fixture, and the Black Power Waffle is offered as an homage to Kwame Ture, who grew up in the Bronx. — T.D.H.
Who amongst us didn't pick up baking during the early days of the pandemic? And while most of us didn't stick with it long enough to publish a cookbook of inventive Filipino desserts, that's exactly what happened for baker Abi Balingit. Many of her recipes, like adobo chocolate chip cookies, put a spin on quintessential American baked goods, but there are traditional Filipino desserts to test out too. Similar to Black Power Kitchen, the recipes are accompanied by anecdotes about how Balingit discovered the spices and flavors she infuses into her bakes. - T.D.H.
What's the deal with Seinfeld food? This collection of recipes inspired by the iconic, food-centric "show about nothing" has the distinction of being the first official Seinfeld cookbook, perfect for the '90s TV partisan who hosts a lot of dinner parties. It includes Festivus meatloaf, Elaine's big salad, black-and-white cookies, and, of course, an entire section of soup recipes. — Erin Schwartz
To paraphrase Carl Sagan, if you wish to make a taco from scratch, you must first invent the universe. The next step would be getting familiar with the tortilla's foundational ingredient, masa. This delectably designed photographic recipe collection dedicated to all things corn flour emphasizes both tradition and cutting-edge technique, whether you're cooking up arepas, pupusas, or even gnocchi. Author Jorge Gaviria (whose company, Masienda, sources heirloom corn from small farms in Mexico) predicts that this humble but ubiquitous ingredient is "the new sourdough," and his book makes a compelling case. — Katherine Gillespie
Our colleagues over at Grub Street have described Via Carota as one of the absolute best Italian restaurants in New York, and if you haven't had the opportunity to walk in to James Beard Award–winning chefs Jody Williams and Rita Sodi's Greenwich Village gem, you can now make their traditional-ish Italian dishes at home. That includes potato gnocchi, lasagna cacio e pepe, and their cultish — and voluminous — insalata verde, which is so good they recommend that you eat it with your hands. - M.B.
The Grateful Dead played well over 2,000 shows between their creation in San Francisco in 1965 and Jerry Garcia's death in 1995, and most of them were taped by audience members. That deep live catalogue of tapes, both bootlegged and official, is why the Dead is more than just a "band," and this book is a celebration of the Dead Heads who spent years fanatically recording, collecting, and sharing them. Author Mark A. Rodriguez, a sculptor whose work often features thousands of Dead show recordings, highlights collectors with in-depth interviews and shares hundreds of archival cassette covers. — M.B.
As Frank Sinatra's preferred lensman, Faye Dunaway's lover, and a close friend of all four Beatles, the late Terry O'Neill was extraordinarily well connected — even by celebrity photographer standards. His wonderfully intimate relationships with musicians in particular are spotlighted in this visual chronicle of rock's golden age, featuring unusually candid snaps of David Bowie, Janis Joplin, Chuck Berry, and endless others. A scrapbook of 20th-century pop culture, except with some of the most iconic images ever pasted into it. — K.G.
In his first book of new writing since 2004's Chronicles: Volume One, reluctant Nobel Prize winner Bob Dylan analyzes a range of pop musical forms — from bluegrass to heavy metal — and songs by other artists, including Elvis Costello, Hank Williams, Little Richard, and Nina Simone. The book also includes over 150 photographs and short sections of text that "taken together, resemble an epic poem." — E.S.
This book is an homage to a specific design format: the seven-inch sleeve covers of punk singles, including releases by the Sex Pistols, the Stooges, the Ramones, the Clash, and the Talking Heads. It's edited by music journalist Jon Savage and Soul Jazz Records founder Stuart Baker, and in addition to hundreds of photographs, it features text and interviews with a range of punk luminaries. — E.S.
Co-written by archivist John McDermott and Janie Hendrix, Jimi Hendrix's sister, this book marks what would have been the artist and legendary guitar player's 80th year. It includes biographical texts, memorabilia, and "a trove of lesser known and never-before-published photographs," plus quotes from musicians including Paul McCartney, Lenny Kravitz, and Drake about Hendrix's influence.​​ — E.S.
For the audiophile in your life, here's a comprehensive and visually stunning history of turntables and vinyl technology from the 1950s to today. With hundreds of illustrations and words by Gideon Schwartz, an audio-design expert who's created home music systems for Rick Rubin and other high-profile folks, the book is essential for both seasoned collectors and anyone new to the vinyl-revival movement. — A.A.
African art has only continued to grow in popularity and impact over the years, as has the number of coffee-table books dedicated to detailing its most important figures. Last year we spotlighted African Artists and this year African Art Now, which offers a closer look at 50 of the most prolific and impactful artists working today. The author, Osei Bonsu, profiles each artist, offering a closer look at their processes and stories. It includes a mix of established figures — like Tunji Adeniyi-Jones — along with up-and-coming artists. It's an ideal gift for the art buff in your life or the person who wants to become one. — T.D.H.
Ruth Asawa is best known for her abstract hanging sculptures made of intricately looped wire. But this book, produced as a document of the exhibition "Ruth Asawa: All Is Possible" at David Zwirner gallery in 2021, gives the reader an all-encompassing view of the artist for whom daily life and the creative process overlapped constantly. Rarely seen works — including ceramic casts of the faces of Asawa's friends, neighbors, and family; the carved redwood door to her San Francisco home; and drawings of her children and grandchildren sleeping — accompany feature texts and photographs from Asawa's life. — L.C.
Who wouldn't want to read a graphic novel tracing the life of long underappreciated Swedish pioneer of abstract painting Hilma Af Klint? Since her groundbreaking posthumous exhibition at the Guggenheim in 2019, Af Klint has had a mystical hero status, leaving viewers curious as to who she was and where she came from. With references to a new biography of Af Klint by Julia Voss, artist Philipp Deines spins a brightly colored five-chapter tale of Af Klint's life through her friends and family, her journey to become an artist, and her relationship with the spiritual realm. — L.C.
As Lego art gets increasingly elegant, lavish, and ambitious, it's a good time to return to basics with a book dedicated to the brand's classic cylinder-headed, trapezoid-bodied, half-pipe-handed yellow minifigure. Written by Wired news editor Brian Barrett, the book tracks the 40-year history of the toy and includes "never-before-seen visuals from inside the LEGO archives," perfect for obsessive Lego builders to pore over. — E.S.
Social-justice Instagram graphics are much maligned at this point, but there's actually a long history of bold typeface and lettering being used for effective activism. In fact, this book makes it clear that graphic design has been essential to resistance movements for more than 150 years. As you'd expect, the layouts are stunning, celebrating the impact of early abolitionist broadsides, counter-cultural '60s protest signs, and '80s Guerrilla Girl screenprints in vivid color. But a series of critical essays and interviews also offers plenty of substance. — K.G.
Chicago-born painter, sculptor, and designer Hebru Brantley's work is inflected with echoes of fine art, street art, fashion, and hip-hop in a testament to the artist's cultural omnivorousness. Split into two parts, Hebru Brantley explores the breadth and diversity of his work; it features both his paintings — you may recognize his joyful depictions of Black kids in superhero garb — as well as his collaborations with streetwear giants such as A Bathing Ape, Billionaire Boys Club, Adidas, and more. This is the first monograph of Brantley's work but likely won't be the last. — K.G.
During the pandemic, Maira Kalman started painting images of women holding things — a cake, balloons, the weight of the world, a daughter. They were initially published in a booklet in 2021 as part of a fundraiser in support of charities combating hunger, but Kalman and her son Alex have since expanded it to a full book with 86 paintings, which Kalman herself describes as a "love song to women, and at times everyone (as exhausted as we all are from holding everything)." — M.B.
André Saraiva has worn many hats: club owner, hotelier, entrepreneur, graffiti artist. His inaugural book is a retrospect of his career as the latter. The 320-page tome includes photographs of his graffiti (including his alter ego Mr. A) on the streets of Paris, New York, and London; collaborations with high-end designers like Chanel and Louis Vuitton; and even "diplomas" (a.k.a. tickets) he's received from various authorities. Contributions include words by the late Virgil Abloh, Jeffrey Deitch, and others. — A.A.
Whether you're a bit of a hypochondriac or a fan of the body and its functions, Nicole Angemi's anatomy book is a treasure trove of information and compelling vintage artwork. The guide includes descriptions of the various conditions that can affect the body (from anus to zygomatic bone) along with images so you can compare it to your own ailments — real or imagined. — T.D.H.
When Pippa Garner released the Better Living Catalog in 1982, it immediately became a thing, catapulting her into the Zeitgeist. Fashioned after mail-order catalogs of the day, Garner's version included whimsical inventions like high-heel roller skates and digital diet loafers, which show the wearer's weight whenever they take a step. Once a hard-to-find artifact, it's now widely available thanks to a new print run with Primary Information. - T.D.H.
Interiors
and
Architecture
The orderly minimalism and smooth functionality that characterize Japanese interior design are on full display in Mihoko Iida's Japanese Interiors, which provides a tantalizing glimpse into 28 private residences across the country. From smartly arranged urban spaces to airy, expansive nature retreats, Iida showcases the aspirational vision of some of Japan's top architects, including Arata Endo, Kengo Kuma, and nendo. However, the Vogue Japan editor also ensures that the more modest, pared-back aesthetic of daily living receives its due shine, as well as the traditional historic dwellings that continue to influence contemporary Japanese design ethos today. — K.G.
Aphrochic is something like a Black MTV Cribs — offering a peek into the homes of actors, musicians, artists, curators, entrepreneurs, and executives. It's a celebration of Black homeownership and also Black design, showcasing the condos, houses, townhomes, and studios of notable figures like author Jason Reynolds, actor Danielle Brooks, and chef Alexander Smalls. — T.D.H.
If you've ever sat on a jewel-toned velvet chair, you've felt the influence of Drake/Anderson. Jamie Drake and Caleb Anderson's New York–based interior-design firm is among the industry's most celebrated and influential, and their polished aesthetic earns commissions from discerning Park Avenue types. Here we get detailed visual tours of 11 residences that represent the duo's best work, featuring crystal-rod chandeliers, polished marble countertops, and curvy custom sofas. — K.G.
If you spend much of your downtime scrolling through listings on Zillow, consider this more analog option of manifesting the future manse of your dreams. This book is a monograph of architect Thomas Kligerman's work. He's best known for blending aesthetics, mixing European and English architecture with Southwest and East Coast architecture (think: pueblos and shingles). With over 200 images, the book showcases 13 of Kligerman's favorite projects alongside renderings and sketches that display how his homes go from blueprint to real life. — T.D.H.
Gift a little slice of summer with visual designer turned photographer Brad Walls's Pools from Above. Featuring 89 overhead shots of swimming pools located all over the world, from Mexico to Australia to Bali, Walls uses an aerial drone to capture his unusually placid compositions. Devoid of wave makers (save for an occasional swimmer or sunbather), the pools invite you to contemplate their serene cerulean depths from a fresh vantage point. — K.G.
After Hurricane Andrew swept through Miami Beach in 1992, destroying a handful of lifeguard towers, the city commissioned an architecture firm to design new, more interesting structures — and over the last 30 years, these candy-colored lifeguard towers have become a landmark of Miami Beach unto themselves. They caught the attention of New York City–based photographer Tommy Kwok in 2019 when he first came upon and photographed the pink tower on 17th Street (which is featured on the cover). Over the next few years, he photographed all 38 lifeguard towers across the 8.5-mile stretch of sand, and the resulting catalog, which was backed on Kickstarter, allows you to appreciate and compare each one without a single person in sight. — M.B.
Costume designer Machine Dazzle has been outfitting cabaret and drag performers for decades. His aesthetic is defined by over-the-top maximalism, which takes the form of glitter, feathers, sequins, and sometimes ping-pong balls. The book's release accompanies and exhibition at the Museum of Arts and Design, where almost 100 of Dazzle's costumes are on display — including over two dozen that he designed for longtime collaborator Taylor Mac's Pulitzer Prize–nominated art concert production Taylor Mac's A 24-Decade History of Popular Music. — T.D.H.
Founded in 1972, W magazine has been capturing the cultural zeitgeist for 50 years. To celebrate the milestone, this volume enlists the magazine's many friends to curate a collection of W's most iconic moments. With gorgeous shots, thought-provoking extracts, and a whole chapter dedicated to Kate Moss, it's a likely hit with the fashion conscious and followers of art and culture. — R.G.
Despite shutting its doors mid-pandemic after only five years in business, Sies Marjan still remains one of fashion's most admired houses. Here, Sies Marjan chronicles the story of his ephemeral brand, championing the jewel-toned color palette that the brand became known and celebrated for. The stunning volume also includes insights from industry leaders (and loyal fans), like Marc Jacobs, Isabella Rossellini, and more. — R.G.
Cult Los Angeles streetwear label Brain Dead gets the Rizzoli treatment in this highbrow ode to Californian skater aesthetics. Essentially a hardcover zine, Clothing for a Curious Life contains a collage of the artistic and pop cultural influences behind Kyle Ng and Ed Davis's now eight-year-old brand (known for its collaborations with everyone from Lil Wayne to Magic the Gathering), as well as an archive of its best designs up until now. It would make the perfect gift for anyone with an extensive bootleg T-shirt collection. — K.G.
Jewelry has always been part of hip-hop culture and, as a result, has made celebrities of the jewelers themselves. Ice Cold offers a history of jewelry in hip-hop — starting in the 1980s with Run DMC's Adidas pendants and working its way to recent years, when artists like Cardi B and Gucci Mane turned their ice into an art form. It also spotlights jewelers, offering an inside look at the work of industry vets like Jacob the Jeweler along with newcomers like Avianne & Co. and Ben Baller. — T.D.H.
Gold fronts are also a longtime staple. Mouth Full of Golds serves as an oral history of one gold-teeth pioneer, New York–based dentist "Famous" Eddie Plein. In addition to gorgeous full-bleed images, there's a chorus of famous people whose teeth he's iced out, including Va$htie, A$AP Rocky, Janette Beckman, and Marc Jacobs. The book was originally self-published in 2021 and sold out immediately. Now, with the help of independent publisher IDEA, the book now has a print run of 2,000 copies. — T.D.H.
Before BTS shots of stars were a given, photographer Bob Willoughby was inventing the art of the on-set candid. With his camera, Willoughby went backstage on My Fair Lady with Audrey Hepburn, A Star Is Born with Judy Garland, and High Society with Bing Crosby and Grace Kelly, to name just a few. A collection of intimate and legendary shots, this collection would be a great gift for those eternally enchanted by the golden age of cinema. — R.G.
Casting director Jennifer Venditti — whose portfolio includes Euphoria, Uncut Gems, and The Rehearsal — often begins her process by approaching strangers with the opening line, "Can I ask you a question?" This book, published by A24, includes a trove of Venditti's early casting photos, including shots of stars like Julia Fox and Hunter Schafer. There are also contributions from collaborators, including director Josh Safdie and photographer Alec Soth. — E.S.
Photographer Carell Augustus has been putting Black Hollywood together for over a decade. The book features the who's who of Black Hollywood and casts them in classic roles: Vanessa Williams as Cleopatra, Adina Porter as Barbra Streisand, and Kel Mitchell as Forrest Gump. The foreword is written by Forest Whitaker, and there's an afterword by Niecy Nash-Betts. And if that's not enough name dropping, Queer Eye's Karamo Brown is in there too. — T.D.H.
The Strategist is designed to surface the most useful, expert recommendations for things to buy across the vast e-commerce landscape. Some of our latest conquests include the best women's jeans, rolling luggage, bed sheets, coffee makers, and bath towels. We update links when possible, but note that deals can expire and all prices are subject to change.

Every editorial product is independently selected. If you buy something through our links, New York may earn an affiliate commission.