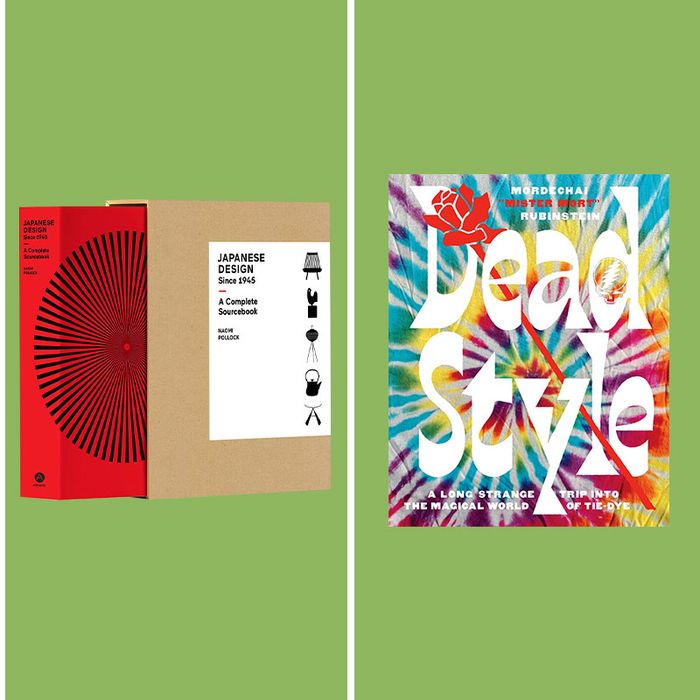 Photo: Courtesy of the retailer
The coffee-table-book sphere is an unwieldy one, filled with hundreds and hundreds of options. So we've rounded up the best and most giftable publications of the year just in time for the holidays. Here, you'll find something for every type of person on your list — the mom who enjoys her Pinot Grigio, the dad who knows every song written by Dolly Parton, the hard-to-shop-for sister who's spent the last eight months pining for a vacation, the best friend who adopted a dog, and even the teen girl who's been wearing tie-dye sweatsuits all year long. (Please note that some titles listed here are not yet published, but everything is expected to arrive by December 25. But given that it's 2020, you're better off ordering your holiday gifts sooner rather than later.)
Photo: retailer
Seniors often have the best style, whether intentionally or not, which is more or less the premise of this book that collects portraits of sartorially daring poh pohs (a.k.a. grandmothers) across six different Chinatown neighborhoods, including San Francisco, Oakland, Los Angeles, Chicago, New York City, and Vancouver. But it's about more than just fashion: It's also a celebration of Chinese American and immigrant culture.
Photo: retailer
What nonnas are to Italian cooking, bibis are to the cuisines of Somalia, Eritrea, Madagascar, and the five other countries whose shores are lapped by the waves of the Indian Ocean and fussed over in this gorgeous travelogue-cum-cookbook. Plus, Somali-born chef and entrepreneur Hawa Hassan and activist food writer Julia Turshen are the women leading this thoughtful journey through the food of Eastern Africa recipe by recipe, story by story.
Photo: retailer
If you've ever thought, I'd really like a giant book of Naomi Campbell photos, then this is definitely your speed. The oversize tome gathers the best of the '90s supermodel's portfolio — like Naomi dancing as Josephine Baker for Italian Vogue and racing against a cheetah for Harper's Bazaar — and includes text written by Campbell herself.
Photo: retailer
Last year, we wrote about Walter Chandoha's Cats, and this year, it's all about his dogs. Dubbed the 20th century's greatest pet photographer, Chandoha put away a collection of his favorite pet photos before he died in 2019 — and Dogs features luscious, Technicolor portraits of over 60 different breeds taken over the course of his 70-year career.
Photo: retailer
In 1917, Marcel Duchamp's presentation of a urinal as a "ready-made" piece of sculpture shocked the art world. A century later, Samuel Ryde has followed in the artist's footsteps by photographing more than 250 hand dryers — some that "ooze nightclub sex appeal," others a "clinical sleekness" — for this unexpected (and surprisingly moving?) tribute to another utilitarian bathroom appliance. And who better to ease us into the images than Sir James Dyson, the founder of the vacuum company, who pens the introduction.
Photo: retailer
Nest, the kooky shelter magazine, was only around for seven years, but its influence on the design world has been outsize. Sixteen years later, its founder Joe Holtzman and contributor Todd Oldham have reunited to create a book about the magazine, which our own Wendy Goodman calls "both like a time capsule and entirely fresh."
Photo: retailer
For the person who lined up to go to the Met after it reopened this summer, here's a book celebrating the museum's 150th anniversary, as well as the 20th anniversary of its Heilbrunn Timeline of Art, an online resource with essays and images that any casual or serious art-history fan would appreciate. This book pulls from the most viewed images in the Heilbrunn Timeline to collect over 800 works from the museum's collection, which are then organized by keywords and themes, rather than chronologically. As a result, you'll find unexpected connections between works like a Vermeer painting, a gown by Charles James, and an ancient Egyptian statue.
Photo: retailer
If you bought a tie-dyed sweatsuit this year, then this is the coffee-table book for you. Written by GQ "style-in-the-wild correspondent" Mordechai "Mister Mort" Rubinstein, this "lookbook for current Deadhead culture," tracks the influence of the Grateful Dead and hippie style on contemporary fashion (and why we're still seeing tie-dye everywhere).
Photo: retailer
A complement to the BBC series of the same name, hosted by horticulturist Monty Don, this book features lush photographs of public and private gardens across the country. That includes historical places like the gardens originally cultivated by slaves on Thomas Jefferson's Monticello estate, public spaces like Central Park in New York City and Millennium Park in Chicago, and even the rarely photographed home gardens of Bob Hope and Frank Lloyd Wright.
Photo: retailer
Celebrity photographer Magnus Hastings invites over 300 different members of the LGBTQIA+ community — including plenty of RuPaul's Drag Race alumna — to pose for a portrait. But there's a catch: Each of them must pose in an empty white box that they can use however they'd like. The ensuing photos, which are an exercise in creatively taking up space, are also accompanied by text from each individual, including Kathy Griffin, Boy George, and Alaska Thuderfuck.
Photo: retailer
The latest from artist and musician Grimes — following the AI-designed lullaby she released just last month — is her first (and very on-brand) publication: an ethereal coloring book featuring more than 16 original digital drawings and AI-generated poetry. It's designed for all ages, and can be colored with oil, paint, pencils, or crayons.