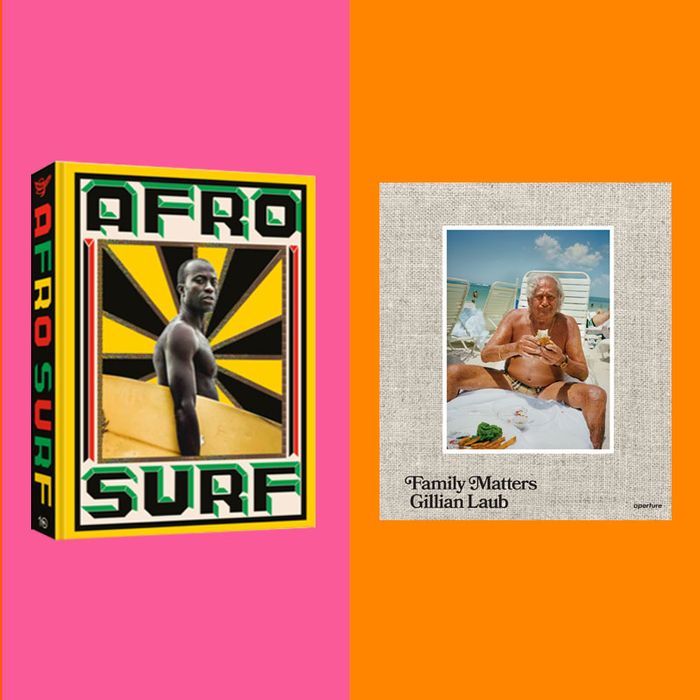 Photo-Illustration: Courtesy of the retailer
The coffee-table-book sphere is an unwieldy one, filled with hundreds and hundreds of options. So our writers and editors rounded up the best and most giftable publications of the year just in time for the holidays. Here, you'll find something for every type of person on your list — the mom who bird watches in her free time, the dad who loves '90s hip-hop, the hard-to-shop-for sister who just got a new apartment, the best friend that loves to cook, and even the teen girl who considers herself too cool for school. This year, we've organized the books by category; use the links below to navigate. (And don't forget to check out the rest of our holiday gift guides, too.)
Photo: Publisher
Jimmy Chin is the Academy Award–winning director of Free Solo as well as an incredibly skilled climber and mountaineer in his own right. Chin has made first ascents of ​​Chad's Ennedi Desert and Antarctica's Queen Maud Land, climbed El Capitan in Yosemite in one day (fifteen different times), and even skied down Mount Everest — and he's compiled photographs from many of these adventures, along with stories, into his first book. —Maxine Builder
Africa's thriving, vibrant surf culture is captured in this book — compiled by South African surf company Mami Wata. The book covers 18 different coastal countries and is made up of stunning full-bleed images, essays from some of Africa's most prolific thinkers and writers, and profiles of some of the continent's most talented surfers and skaters. The book also does good: 100 percent of the proceeds from the book go toward two African surf therapy organizations. —Tembe Denton-Hurst
If racing down the face of a 70-foot-tall wave off the coast of Portugal sounds like a lifelong dream rather than a nightmare, you'll appreciate this ode to big-wave surfing written by Hawaiian-born surfer Kai Lenny. Lenny shares stories and jaw-dropping photographs from his own escapades — including the time he successfully surfed that massive wave in Nazaré — alongside the experiences of 30 other big-wave surfers who have ridden giants across the globe, from Jaws in Maui to Teahupoo in Tahiti. —M.B.
Photo: Publisher
British photographer Martin Parr has been cataloging Grand Slam tennis tournaments from Wimbledon and the US Open since 2014 with exclusive backstage access. Now, he's sharing 85 of his favorite photographs in this new book, which includes shots of players, fanatic fans, and more.
Recent episodes of the basketball podcast Cookies Hoops have covered espresso martinis and Mayor-elect Eric Adams as well as Ben Simmons's beef with the Sixers and why the Boston Celtics are in shambles this season. The Joy of Basketball, written by the podcast's co-hosts Ben Detrick and Andrew Kuo, is just as freewheeling and surprisingly informative. The encyclopedic entries range from "Africa" and "Barkley, Charles" to "Knicks 4 Life" and "Snitching" alongside brightly illustrated charts, like a matrix demonstrating "The Kardashian Blessing Through Those Who've Dated Them." —M.B.
Photo: Publisher
If you couldn't get enough of Juergen Teller's off-kilter photoshoot of actor Steven Yeun and other celebrities for W magazine, you'll love his latest book of photographs that includes never-before-seen outtakes from iconic shoots with Cindy Sherman, Marc Jacobs, Victoria Beckham, and more. The 608-page tome, which covers over 30 years of work, features wry and humorous annotations by and commentary from the master himself. —Lauren Ro
Photo: Publisher
Gillian Laub has spent much of her career documenting conflict, from the second intifada to still-segregated communities in the American South. But in 2016, her focus turned toward her own family, as her parents, sister, brother-in-law, and nephew became devout Trump supporters. Family Matters is the result — an intimate portrait of her close-knit family over 20 years, even as Laub reckons with their differing political views. —M.B.
Slim Aarons's photography is synonymous with glamour, so a book on style comes as no surprise. Along with early black-and-white fashion photography and portraits of designers (like Oscar de la Renta, Emilio Pucci, Mary McFadden, and Lilly Pulitzer), the book also features never-before-seen images and insights from fashion historians. —Arielle Avila
For the person who missed Fashion Week, here's a star-studded anthology of fashion images from Annie Leibovitz with an introduction by Anna Wintour. The tome includes 350 images from her work with Vogue (many of which were previously unpublished), featuring everyone from RuPaul to Rihanna. —Dominique Pariso