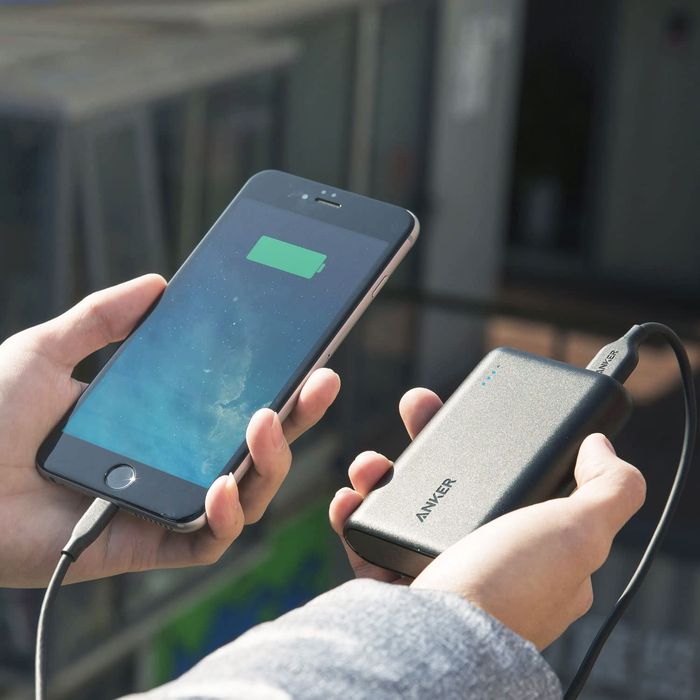 While we've written about lots of chargers before — including one writer's favorite light-up charger, the best wireless chargers, and the best charging stand — here we've rounded up the best portable chargers and power banks, as praised by the most enthusiastic reviewers on Amazon.
Related Articles: Best Wireless Phone Charger | Best Charging Stand
Best-rated portable charger
With over 18,000 five-star reviews, this charger is often described as compact and light, making it a favorite for travel. One frequent traveler writes, "In celebration of my seniority of 70 years, I am making my next two-month trip with just a small Marmot backpack and an Eagle Creek Load Hauler Expandable duffel. Packing weight and compactness is my primary motivation for anything I take on the next trip. One extra pound is too much for this trip, so I chose the Anker PowerCore+ Mini 3350 mAh lipstick charger, which weighs around three ounces." Many also call this charger "reliable" and a "necessity," like one who writes, "I absolutely trust this charger. With a surplus of portable chargers on the market, it's difficult to identify and separate the good from the junk. I've tried over eight different ones and can't say enough about this extremely reliable, user friendly, and ergonomically distinct product that can fit in your pocket." Many who use it constantly can attest to its strength, like one who writes, "During the height of Pokémon Go, my 5-year-old and I spent hours in Central Park hunting for imaginary beasts, and I found my cell phone battery was not up to the task. I purchased this charger two months ago to help with my power needs and it delivered. I get a full charge and a half from this."
Best-rated (less expensive) portable charger
One reviewer, who "used these as backups on a Disney trip," says they are "definitely worth the weight to pack around. If you use a Disney app for rides, etc., the app burns up battery like crazy." They called the battery pack a lifesaver that was able to keep four phones alive throughout the entire day. Another reviewer says they are "on the road almost 11 days out of every month." For them, "the last thing I need is a dead phone or tablet." They say "these chargers fit in your pocket or easily in my portfolio, start charging as soon as you plug your device in, and allows you to charge two devices at once."
Best portable charger for PC laptops
"I am a bowling league secretary and treasurer, and I use a laptop to take care of my records at the bowling center. I had occasions where my laptop would run out of power from a full charge in the middle of entering my records and I had to scurry around looking for a place to plug in my laptop," writes one reviewer, who feels this battery gave him peace of mind. "It's been about 3 weeks since I started using it and now I wonder how I managed before I got this." Some warn that the battery is difficult to travel with because it's bulky and heavy, but one frequent camper loves it for his hiking trips, writing, "As the treasurer for my boy's Boy Scout Troop, I usually always have my computer and other things with me on campouts and this battery has kept them running. Having this battery during the week of summer camp is a lifesaver every year." Many attest to how long it lasts, like one who writes, "I call this the MOAB, Mother Of All Batteries. It works beyond my expectations. I have used it to power a laptop for two 10-hour workdays straight plus a tablet and phone, and it still was not put of power."
Best portable charger for MacBooks
This power bank is popular among those looking for a portable option that's still strong enough to fully charge their MacBooks. One person writes, "I use this battery to charge my 16-inch MacBook Pro when I'm not near electricity, it works great. I'm a photographer and I shoot tethered on most location shoots. So having this last me past the morning and well into the afternoon without power is impressive." Another reviewer says the PowerCore+ is an absolute workhorse, using it for a year to charge up their smartphone, Garmin Watch, and MacBook while traveling. "I had to rely on this as my main power source for five months and it delivered flawlessly," says another reviewer, who says, after an extended hike, "It was able to give me enough power to recharge everything at the end of each day."
Best portable charger for tablets
Reviewers looking for a stronger battery to charge their tablets, not just smartphones, felt this one from INIU was up to the task, like one who writes, "This thing lasts forever I swear. Great capacity and holds charge for a week in my case. Super good looking and charged everything from iPads to iPhones and all else quickly." Lots comment on how compact it is compared to those from competitors. One reviewer describes the size as "a little longer than a deck of cards." Others love how durable it is. "I'm glad it came out sturdy. I'm quite clumsy so it's really great that it can survive being dropped," writes one. One reviewer summed up the appeal of this power bank, calling it, "a must have for anyone that owns a smartphone or tablet. A simple, versatile product that will become an essential part of your everyday life."
Best portable charger for travel
"Most of us would agree that we all carry or own multiple devices in this day and age and they all need frequent recharging after continuous usage. I personally travel a lot for work and I find myself needing battery juice for my devices on a very frequent basis," writes one reviewer. "I always thought it would be great if one these days they made a power bank which could charge all my devices a few times and it wasn't so heavy. Well, guess what? Anker PowerCore 20100 is the answer." Others agree that this is the most portable, yet long-lasting power bank they've used, like one who writes, "As a local semi-celebrity in the Washington, D.C., area, my girlfriend and I use our phones a lot. We do Facebook Live, lots of pictures and videos. This charger is amazing. It does take a bit to charge, at least 12 hours, but even a heavy user like myself has juice for at least a week." Another reviewer who notes it's not always possible to sit at an outlet to charge your phone writes, "These portable chargers come in so much handy. Heck, there are even times when I'm sitting darn near next to an outlet and I use it to charge. Why? Because I have 4 kids running around and a charge cable running across the floor is like some sort of tripwire trap you'd see in a bad Vietnam movie. I've had several of these chargers over the years and Anker has been the best of them all."
Best lightweight portable charger
"If you're looking for peace of mind every time you leave the house, this power bank doesn't disappoint. It's the size of a credit card and only a hair heavier than my iPhone 6 making it extremely portable without being bulky and heavy," writes one reviewer. Many reviewers claim to use this daily, saying because it's so lightweight, it's easy to carry around in their bag or pocket. One writes, "This product is a life saver. I work two jobs, almost 80 hours a week. The Anker Powercore 10000 saves me every time and makes my phone last two entire work shifts. No more being tied to the wall outlets and guarding my phone from thieves in the breakroom. I keep my phone in my pocket and charge it on the go." Others say that its small size doesn't take away from its power, like one who writes, "I bought this for a 2-week vacation to South Africa seeing as I was out most of the day taking lots of pictures and nowhere to readily plug in my phone. This thing is super small, fits in my small purse and I did not have to recharge it at all the whole time I was gone."
Best portable charger with built-in lightning cable
Many chose this power bank because of the built-in cables. One reviewer describes it as "super convenient, sleek, and the battery life is very good." Another says the lack of cables means they have one less thing to worry about carrying while traveling. "This little thing charges my phone from 40 percent to 100 percent in 25 minutes flat. Plus, I've used it 5–6 times and the battery light has yet to drop below 3 lights (goes 1–4). I'm super impressed," says an enthusiastic mom who often lends the charger to her teenage son. Another customer says, "I've had mine for three months and have recharged it at least 20–30 times. It holds a charge enough to charge an iPhone 11 at least twice before needing to be recharged. I love not having to carry a separate USB charger."
Best solar-powered portable charger
Frequent campers purchased this for long trips to guarantee a full charge throughout. "My family and I are into camping and it's a must have to bring a portable battery charger. The solar technology attached to the battery is pure genius. I've since then purchased a couple other models but this one beats them all because it has 4 total panels," writes one. A few were concerned the panels would make the charger too bulky to take, but one hiker comments, "This is a very well made and durable solar charger. The panels collapse down to a small enough size that I can pack it in a backpack." Many agree with a few calling this a "must-have" for camping, like one who notes, "This is easy to throw in my bag for camping or traveling. I think it is a great product and it even has a flashlight. It is not the brightest flashlight but will work great for little things around the campsite at night."
The Strategist is designed to surface the most useful, expert recommendations for things to buy across the vast e-commerce landscape. Some of our latest conquests include the best women's jeans, rolling luggage, pillows for side sleepers, ultra-flattering pants, and bath towels. We update links when possible, but note that deals can expire and all prices are subject to change.
Every editorial product is independently selected. If you buy something through our links, New York may earn an affiliate commission.