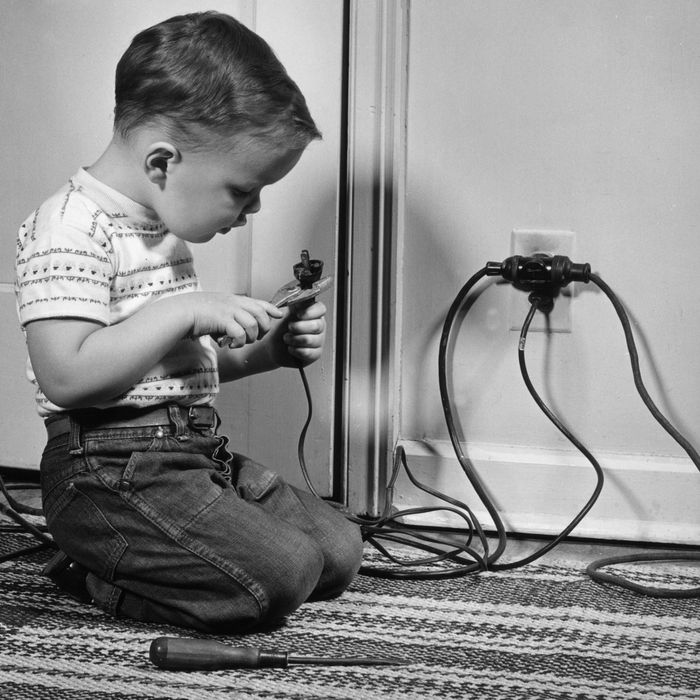 Photo: Harold M. Lambert/Getty Images
Here at the Strategist, we like to think of ourselves as crazy (in the good way) about the stuff we buy, but as much as we'd like to, we can't try everything. Which is why we have People's Choice in which we find the best-reviewed products and single out the most convincing ones. (You can learn more about our rating system and how we pick each item here.)
And while we've written about lots of chargers before — including one writer's favorite light-up charger, the best wireless chargers, and the best charging stand — here we've rounded up the best portable chargers and power banks, as praised by the most enthusiastic reviewers on Amazon.
Best-rated portable charger
With over 18,000 five-star reviews, this charger is often described as compact and light, making it a favorite for travel. One frequent traveler writes, "In celebration of my seniority of 70 years, I am making my next two-month trip with just a small Marmot backpack and an Eagle Creek Load Hauler Expandable duffel. Packing weight and compactness is my primary motivation for anything I take on the next trip. One extra pound is too much for this trip, so I chose the Anker PowerCore+ Mini 3350 mAh lipstick charger, which weighs around three ounces." Many also call this charger "reliable" and a "necessity," like one who writes, "I absolutely trust this charger. With a surplus of portable chargers on the market, it's difficult to identify and separate the good from the junk. I've tried over eight different ones and can't say enough about this extremely reliable, user friendly, and ergonomically distinct product that can fit in your pocket." Many who use it constantly can attest to its strength, like one who writes, "During the height of Pokémon Go, my 5-year-old and I spent hours in Central Park hunting for imaginary beasts, and I found my cell phone battery was not up to the task. I purchased this charger two months ago to help with my power needs and it delivered. I get a full charge and a half from this."
Best-rated (less expensive) portable charger
Although few reviewers bought this power bank for the flashlight, it became their favorite feature, like one who writes, "The hidden surprise (to me at least) is that there is also a flashlight embedded within the battery. So cool. If I were to say one thing about most products, it's that I wish they had a flashlight embedded within it." Another uses it frequently saying it's great for "getting your key in the lock when the porch light is out or reading menu in a dimly lit restaurant." Overall, reviewers were impressed with how functional this charger is for traveling and everyday use. "This is quickly becoming my favorite piece of new tech. It is so easy to use. It comes with the battery charger and the charging cord, no USB wall plug, but that was fine since I have tons around the house," writes one. "It's very solid and well made. I've used it several times now, and while it does take a while to charge the actual battery, it does a wicked fast job of charging whatever device I have it connected to. "
And now for some micro-picks for every type of portable charger you might be looking for.
Best portable charger for PC laptops
"I am a bowling league secretary and treasurer, and I use a laptop to take care of my records at the bowling center. I had occasions where my laptop would run out of power from a full charge in the middle of entering my records and I had to scurry around looking for a place to plug in my laptop," writes one reviewer, who feels this battery gave him peace of mind. "It's been about 3 weeks since I started using it and now I wonder how I managed before I got this." Some warn that the battery is difficult to travel with because it's bulky and heavy, but one frequent camper loves it for his hiking trips, writing, "As the treasurer for my boy's Boy Scout Troop, I usually always have my computer and other things with me on campouts and this battery has kept them running. Having this battery during the week of summer camp is a lifesaver every year." Many attest to how long it lasts, like one who writes, "I call this the MOAB, Mother Of All Batteries. It works beyond my expectations. I have used it to power a laptop for two 10-hour workdays straight plus a tablet and phone, and it still was not put of power."
Best portable charger for Macbooks
This power bank seems to be popular among those looking for a portable option that's still strong enough to fully charge their Macbooks. One writes, "It actually charges your Mac quickly while you use it, whereas other usb-c battery packs just help you maintain charge." Another reviewer got into the nitty gritty details of this charger, writing, "Since overall this battery pack stores 96 watt-hours it can fully recharge a MacBook Pro battery (which is 54 to 58 watt-hours) about 1.5 times, but since its maximum power output is 30W, it'll just charge your laptop a bit slower than the 61W Apple power adapter. Still pretty impressive for a mobile battery pack."
Others note they love this for travel, like one who writes, "I can use my laptop all day without needing to find an outlet or dim the screen to save juice. I can use my laptop or Nintendo Switch through an entire transatlantic flight," writes one reviewer. Another reviewer bought this for the whole family to charge up, he writes, " It could easily charge my Macbook Air fully or charge all four phones and tablets all on one charge of the battery itself. It's pretty freaking awesome." Dozens note they have previously used and trust this brand, like one who writes, "Anker stuff is always top of the heap, but this thing continues to amaze me. I've had it for over a year and the fact that I can charge my 15-inch MacBook Pro with it still blows me away."
Best portable charger for tablets
Reviewers looking for a stronger battery to charge their tablets, not just smartphones, felt this one from INIU was up to the task, like one who writes, "This thing lasts forever I swear. Great capacity and holds charge for a week in my case. Super good looking and charged everything from iPads to iPhones and all else quickly." Lots comment on how compact it is compared to those from competitors. One reviewer describes the size as "a little longer than a deck of cards." Others love how durable it is. "I'm glad it came out sturdy. I'm quite clumsy so it's really great that it can survive being dropped," writes one. One reviewer summed up the appeal of this power bank, calling it, "a must have for anyone that owns a smartphone or tablet. A simple, versatile product that will become an essential part of your everyday life."
Best long-lasting portable charger
"Long-lasting" is a term used in hundreds of reviews of this power bank. One reviewer elaborates, "I have never had one work as well or able to go through so many charges for phones and Bluetooth headphones as this one. I originally bought it for a Disneyland trip since the Disneyland app completely zaps your battery life. I was so pleased it lasted the entire 14-hour-day through multiple charges." One reviewer even uses this when he's deployed overseas, writing, "I frequently find myself in places where a power supply just isn't available. Not only does it work very well, providing enough power to fully charge my iPhone 6+ from 10% to full 4 times but also charged my iPad from around 20% to 95% before running out of juice and needing to be recharged." Another reviewer warns that this battery won't offer a quick charge, noting, "Don't plug this in totally dead and unplug it an hour later expecting it to function as if it were fully charged, it won't. Imagine that the battery is like a human a one-hour power nap is not enough to face a full day with." But for those who are looking for a durable, long-lasting charger, this fits the bill. "I have had this over a year and it's still going strong. I love it," says one reviewer, adding, "It holds power and charged our phone 5 times in four days while at camp. It wasn't until the last day that we needed to charge the battery again."
Best portable charger for travel
"Most of us would agree that we all carry or own multiple devices in this day and age and they all need frequent recharging after continuous usage. I personally travel a lot for work and I find myself needing battery juice for my devices on a very frequent basis," writes one reviewer. "I always thought it would be great if one these days they made a power bank which could charge all my devices a few times and it wasn't so heavy. Well, guess what? Anker PowerCore 20100 is the answer." Others agree that this is the most portable, yet long-lasting power bank they've used, like one who writes, "As a local semi-celebrity in the Washington, D.C., area, my girlfriend and I use our phones a lot. We do Facebook Live, lots of pictures and videos. This charger is amazing. It does take a bit to charge, at least 12 hours, but even a heavy user like myself has juice for at least a week." Another reviewer who notes it's not always possible to sit at an outlet to charge your phone writes, "These portable chargers come in so much handy. Heck, there are even times when I'm sitting darn near next to an outlet and I use it to charge. Why? Because I have 4 kids running around and a charge cable running across the floor is like some sort of tripwire trap you'd see in a bad Vietnam movie. I've had several of these chargers over the years and Anker has been the best of them all."
Best lightweight portable charger