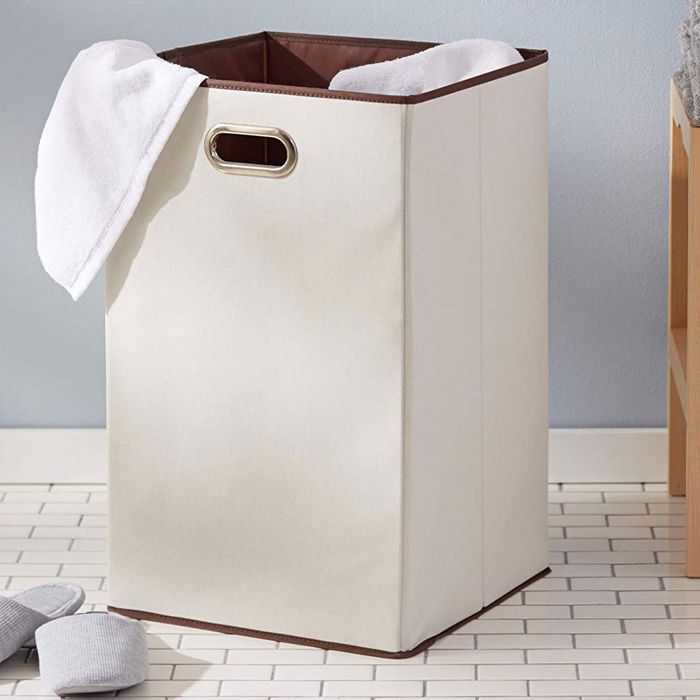 Photo: Courtesy of the retailer
Here at the Strategist, we like to think of ourselves as crazy (in the good way) about the stuff we buy, but as much as we'd like to, we can't try everything. Which is why we have People's Choice, in which we find the best-reviewed products and single out the most convincing ones. (You can learn more about our rating system and how we pick each item here.)
And while we've written about lots of our laundry favorites before — like wool dryer balls, drying racks, and at-home dry-cleaning alternatives — here, we've rounded up the best hampers and baskets, as praised by the most enthusiastic reviewers on Amazon.
Best-rated (and least expensive) hamper
Many reviewers were surprised by the high quality of this collapsible mesh hamper, especially at such a low price point. Buyers say it's "actually pretty sturdy," and "durable, yet light and easy to carry." One reviewer likes that the handles "make for easy carrying to distant laundry facilities," and another declares: "This hamper doesn't quit." Many were also fans of the side pocket that a reviewer calls "strong and able to hold items without tearing," and others love that the hamper can "collapse or pop up in a fraction of a second" for easy storage or transport.
Besides its heavy-duty construction, reviewers also note the hamper's impressive capacity. "It actually holds more laundry that you would think by looking at it," writes one, and another says, "I can transport both my clothes and large tub of laundry detergent in it without feeling like it will rip." It's not surprising that one reviewer says this workhorse of a hamper "makes doing laundry almost fun."
Best three-compartment hamper
For even more convenient laundry sorting and transporting, reviewers like this easy-to-assemble cart because it "rolls very easily and feels sturdy" and has "enough room for a full week of laundry and then some." One reviewer says it's "the best laundry hamper I have ever owned," and another writes, "I love rolling the laundry cart instead of carrying that heavy old basket back and forth." Others like that it's "solid and has nice, lockable casters on the bottom" to keep it from rolling away. "The wheels are amazing and the ability to lock them is even more helpful," writes a happy customer.
Best four-compartment hamper
Large families (and the super-organized) appreciate this hamper with its four separate compartments. "Having a sorter cuts down on unnecessary laundry sorting time and saves space by not having to have different piles of sorted clothes all over the place on laundry days," says one reviewer who also finds that it can hold two week's worth of clothes for a family of four. Reviewers find the hamper itself, along with the wheels and bags, very durable. One writes, "it is easy to wheel from one room to the other room" and another likes that it's "made out of a respectably heavy material."
Best two-compartment hamper with magnetic lid
Along with being durable (one reviewer writes, "I've now had this for over a year and it's still in perfect condition"), this hamper earns praise from reviewers for its good looks. "This blends perfectly with the neutral and brown tones of my decor," says one reviewer, and another adds, it "looks so nice and does not need to be hidden inside a closet." And thanks to the lid, one reviewer raves, "this sucker looks nice and modern and hides your stinky clothes like a garbage wearing a tuxedo."
Best foldable hamper
This no-frills, affordable hamper has over 1,000 reviews (mostly positive), likely because, as one reviewer describes, it's "very good quality … subjectively stylish and fits well in my room aesthetic." The same reviewer says, "I've been using it to carry large loads of laundry around [and] it doesn't feel like it's going to break on you." Another agrees: "I was surprised by how well-built this laundry hamper appears to be. The handles feel like they will last and I have a hard time imagining the rest failing either.""I'm a cheapskate, so I just needed something cheap but sturdy in order to be organized and haul laundry. This is a really sturdy, well-made basket, so it's easy to haul laundry. It looks nice, too. It's just enough for one person with a pretty moderate amount of laundry — about a full week of clothes."
Best hamper on wheels
One reviewer exclaims, "my back has been saved" thanks to this wheeled hamper that, they say, has "passed every test possible! It rolls on the thick carpet, and wood floors!" Another calls it "definitely a lifetime hamper" and "one of the most useful items I have ever invested in." This reviewer likes that she can easily wheel the hamper on her own "without having to ask my husband to carry around 'the mountain' of laundry we have every week," and another says its large capacity and wheels make it "a lifesaver."
Best hamper trolley
As one reviewer writes, "I would never imagine a better hamper for people that live in an apartment building with stairs or even a home where the laundry is located downstairs," and lots of apartment dwellers do love this stair-climbing, rolling hamper. One says it's "exactly what I needed." Another writes, "I live on the top floor of a three-floor walk-up with the laundromat a block away and it was very easy to get up and down the stairs and [it] rolls nicely on sidewalks and streets." It's also durable: A reviewer who's been using it for a year and a half says, the "wheel casing is holding up great after many trips to laundry room."