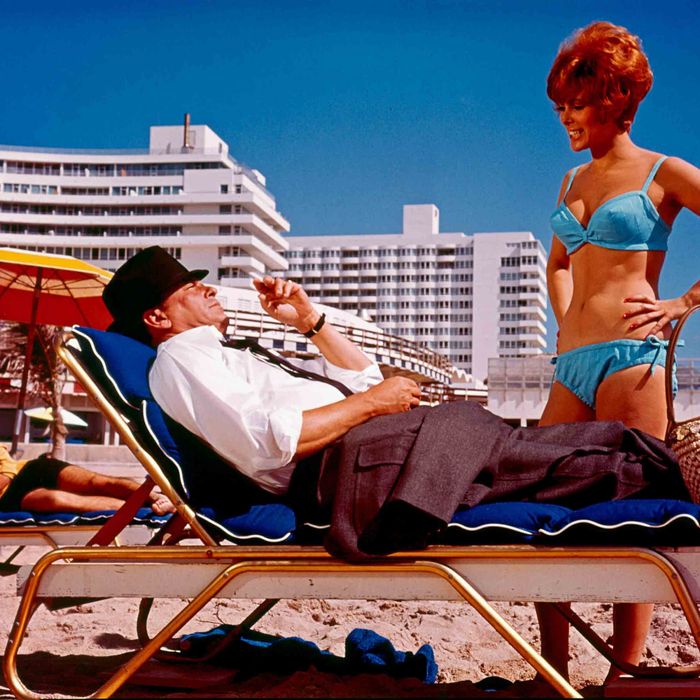 Photo: Silver Screen Collection/Getty Images
At this point in the coronavirus pandemic, New York City beaches are still closed. But, since summer weather is on the horizon, we think that (space permitted) you can sunbathe at a safe social distance on your stoop, backyard porch, or even fire escape. While we've written about the best beach gear before — including the best beach towels and beach bags — here, we've rounded up the best beach chairs, plus a couple of loungers and a two-person seat (that could all do double-duty on a porch or in the backyard), as praised by the most enthusiastic reviewers on Amazon.
Related Article: This Chair Turns My Fire Escape Into a Plein Air Office
Best-rated beach chair
While combing through the over 5,000 glowing reviews, we saw that reviewers consistently praised the Coleman Oversized Quad Chair for its built-in accessories and overall comfort. "This Coleman chair is worth every penny — it's comfortable, supportive, sturdy, convenient, and roomy. The cup holder is a common feature, but the cooler that is built into the left arm is unique. It comfortably fits three bottles with two small bags of ice. The side pouch with netting is good for keys, books, phones, sunblock, bug spray, or whatever else you're carrying with you," writes one reviewer. A second satisfied customer writes, "This chair is very comfortable. It has not only a cup holder, but a small mesh flap that will hold a cell phone, attached to that another flap for a book and/or magazine, AND on the opposite side, a small cushioned "cooler" pouch that will hold at least two soda cans or water bottles."
Reviewers also praised the chair for its accommodating size: "These chairs are plenty sturdy and sized for bigger folks. The backrest has a bit of an angle and very comfortable compared to more vertical designs," writes one reviewer. "My husband and I are both big people, and I needed a chair that would hold us, sitting upright, and not low to the ground, so we can sit comfortably and watch our grandkids' ball games. These chairs are great, so glad I ordered two!"
Best-rated (less expensive) beach chair
Dozens of five-star reviewers appreciate the low price of this beach chair, including one who "bought these to sit on our unfinished roof in NYC during quarantine and bring down to the shore this summer (if that ever happens!)." He continues, "They get the job done for the price — I researched a lot and wanted the cheapest chair that was sturdy and this does the job!" Sitting outside isn't the only activity they're good for, either. One reviewer uses it for gaming, and another sits in the chair while working from home: "I do online telehealth and was looking for something, anything that could help keep me aligned properly so my back didn't hurt after a few hours. Best decision I made! It's incredibly comfortable, sturdy and folds up nice to store" she says. Beachgoers also vouch for this chair's comfort, including one reviewer who describes the chairs as "comfortable enough we fell asleep in them." Plus, they're "easy to carry and perfect for sitting in sand and watching the waves."
And now for some micro-picks for every type of beach chair you might be looking for.
Best canopy beach chair
"Here was my WONDERFUL moment," begins one reviewer who took this chair to the beach. "89 degree Florida weather and a decent wind blowing. This chair, with its two cup holders and wide angle canopy were a Godsend. The adjustable canopy gave me FULL sun light protection, very impressed. It's really nice to know that you can get a really good canopy beach chair without emptying the wallet. I like it so much that I'm buying 3 more." Many other reviewers love the built-in canopy, including one who bought this "for my husband to use when we go to the beach because he is a huge shade freak. Very durable feel to the materials used so we hope to have use of this for a few years."
Best beach chair with pockets
"I got one of these for my father and my mother-in-law. These work way better than beach chairs for them because it's so much easier for them to sit down and get up from. They both have bad knees and hips, so sitting in a low chair on the beach is not very comfortable, and getting up is even worse. In fact, this is the first time I've seen my dad sit in a chair on the beach in years," writes one reviewer. "I'm 300 pounds, and these have held up great. I have no fear of collapse. I love the height, padded seat and arms, and how they're easy to get out of." On top of being easy to get in and out of, reviewers were delighted by the additional add-ons. "Tray table and pockets are well designed and useful. The grandkids arrange them tray-to-tray, side-by-side to eat, play games, etc." Another reviewer adds, "The pockets on the side and the table make this model highly coveted. It even has an umbrella loop on the back to keep your umbrella secure and your chair in the shade."
Best beach chair with cooler
"The second I sank into this one, I knew it was THE BEST BEACH CHAIR EVER," begins one five-star reviewer. "It's amazingly supportive, the armrests are comfortable, and … I can absolutely guarantee I'll fall asleep in it on the beach. The cooler addition and the hidden zippered side pocket are also great additions." Dozens of other reviewers say the cooler and side pockets make it easy to store all of their essentials during a beach day. "On one side the cooler came in handy with a large chunk of ice and my bottle of water. Could hold many drinks at once! The other arm rest had the perfect size pocket to hold my cell, wallet and flip flops," says one reviewer. Another calls the cooler "undeniably the best feature ever. I put a frozen water [bottle] in the bottom, then my beers (2) on top and they will stay ice cold for 2-3 hours in 90 degrees. Ultimate in comfort with the headrest pillow. My beach trips will forever be better!"
Best beach chair for two
Dozens of reviewers described this two-seater as "well made" and "sturdy." "First of all, it's really sturdily built and feels like it will last a long time. However, most importantly, it is so comfortable. I have never in my life found a camp chair that was comfortable; I always felt stuck in them. This chair makes lounging around the campsite an actual pleasure," writes one woman who is one month into a long van-and-camping trip with her husband. "This chair is a whole different beast. First, it is super-stable — both kids can crawl into and all over it, and I don't worry about it falling over. It's much heavier than the single chairs, which helps — but really the key is its width and the low profile. The fabric is really nice and thick; it feels like it will last forever." Reviewers did note that this chair is fairly low to the ground: "The low profile is awesome — what is means is that your feet can kick out a little more in front of you, which feels much more relaxing to me than being more upright. Also, the back fabric has just enough give to feel like you are a tiny bit reclined — our other single chairs have less give, and you are seated much more upright. I love the feel."
Best lightweight beach chair
Reviewers could not stop raving about how light this chair is. "They are so light. We used carabiners to attach them to our backpacks and almost couldn't tell they were there. Bonus feature is the fabric dries very quickly, too!" writes one reviewer who traveled on a cruise with two of the chairs in two. "Great little beach chair. Compact and lightweight. Good if you need to walk to your destination. Easily fits in a drawstring backpack with a towel," seconds another reviewer.
Best lightweight beach chair with cup holder