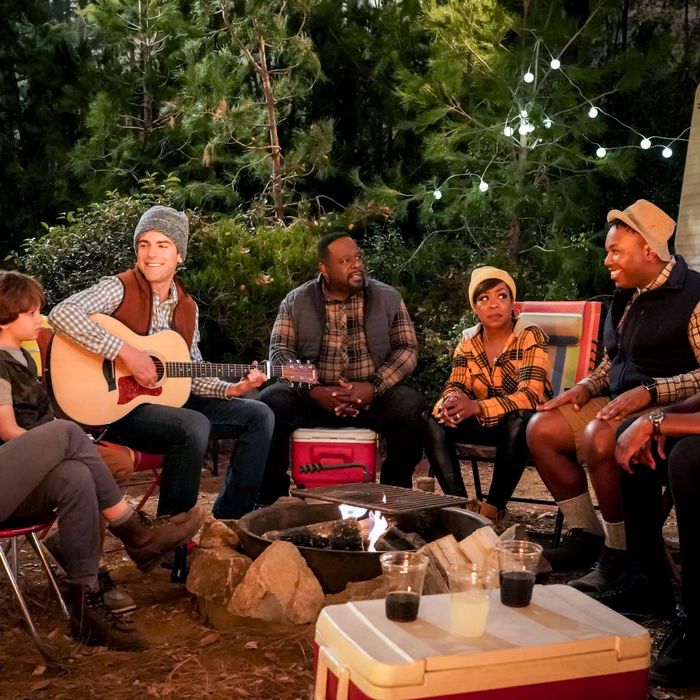 Photo: Monty Brinton/CBS via Getty Images
When the pandemic hit last year, exploring less trafficked parts of the great outdoors quickly became the pastime of choice for many. And while the situation has improved significantly since then, its lingering threat has left many opting for outdoors-centric vacations this year, too. If you're planning to hit the backcountry (or just the backyard) for the first time this summer, it's important to be prepared. Luckily, that doesn't require much for beginners beyond a little planning and some essentials (one of which will be a car if you cannot take public transportation to sites further afield). According to Kristen Bor, the founder of Bearfoot Theory, a website that encourages more people to get outside, "You're going to have more fun if you're prepared."
Preparedness, it turns out, doesn't require buying a lot of expensive things, either (in fact, you can rent or borrow gear from places like REI or LowerGear Outdoors if you're not sure you want to fully commit to the camping lifestyle). To help you plan your first prolonged visit with Mother Nature, we spoke to camping experts about the stuff you absolutely need (and a few things that may be nice to have) to ensure your first camping excursion is as memorable and comfortable as possible. While the price and quality of camping gear will change depending on your expertise, everything on this list has been recommended for beginner campers, so what you choose may come down to how much you want to invest in any supplies based on how much you may use them.
Before we get to what to pack, as a beginner camper, you might first be looking for some advice on where to go. Experiencing nature doesn't automatically mean traveling far, according to Scott Briscoe, the founder of WeGotNext, a nonprofit group that seeks to diversify who is using our outdoor spaces. "There are plenty of city parks where people can camp. You just have to take a little bit of time to find them," he says. Briscoe is based in San Francisco, but if you're in New York City, there are campsites within two hours of the urban jungle, some of which you can even get to by train.
If you want to venture beyond New York City–adjacent campsites, travel journalists and photographers Emily and Berty Mandagie, the husband-and-wife duo behind the outdoors-focused website The Mandagies, recommend using the Dyrt app to look for campgrounds and campsites. "It's one of the largest camping apps in the United States and has really extensive pictures, reviews, and details," explains Emily Mandagie, who notes that the app allows you to filter for amenities like bathrooms, individual fire pits, or even nearby lakes. No matter what you use to find a campsite, the Mandagies recommend reserving a spot ahead of time (and if you're interested in camping at a national park, they say that reservation may need to be made months in advance, or whenever the window for reservations opens, due to their popularity.)
According to our experts, having a comfortable place to sleep will either make or break a beginner's camping experience. "Getting a good night's sleep is really important — if you're tossing and turning all night, you're probably not going to want to go again," says Bor. The Mandagies recommend creating a setup that's "the closest thing you have to what you have at home," because "the most daunting part is sleeping somewhere that is not your house." In other words: You want to ensure you don't wake up in the middle of the night because you're too cold or the ground is digging into your back.
That's why, perhaps not surprisingly, sleeping bags lead our list of gear for beginner campers. According to Bor, sleeping bags can get really expensive depending on the filling material, which tends to either be synthetic or down. "If you're backpacking, you would want to get down," she says, because it is more lightweight (but therefore more expensive). "But for car camping" — which refers not to camping inside of your car but commuting to your destination on anything other than two feet — "synthetic-filled sleeping bags are great," Bor assures. "They're a little bit bulkier, but cheaper and just as warm." In choosing a sleeping bag, you also want to pay attention to its temperature rating, or the minimum temperature outside at which the bag will keep you warm. Since most beginner recreational campers will probably only camp during the spring, summer, and fall, the experts say a bag that's temperature rated for 30 degrees should be more than sufficient. The Mandagies and Briscoe both cite REI as a great resource for affordable, durable sleeping bags. "REI makes a great product that's more accessible, both in terms of their price as well as learning about the product," says Briscoe. "That's where I would start." REI Co-op's Trailbreak 30 sleeping bag, above, is filled with synthetic material, has a temperature rating of 30 degrees, and there's a hood to keep out cold air. But if you're looking for a quality sleeping bag for a little less, REI also sells a 30-degree-rated synthetic-insulated Kelty Catena sleeping bag for $50 (that can also be opened up for use as a blanket).
While the above sleeping bag will suffice for three seasons, if you're a beginner camper who is looking for one that will get you through four seasons (or one that can just handle cooler temperatures), the Mandagies recommend investing in this more expensive down-filled option from REI's in-house line. (Berty Mandagie told us this is his sleeping bag of choice.) It has a temperature rating of 17 degrees with a mummy-style enclosure that covers your head. Being down-filled, it's also lighter weight, which makes it easier to carry on foot if need be. While its price is far higher than the synthetic-filled sleeping bag above, down sleeping bags can sell for up to $1,000 depending on their down fill power (generally speaking, the higher the down fill power, the warmer it will be). They're also more durable than synthetic-filled bags, as they retain their loft (or fluffiness) after repeated use.
In addition to a sleeping bag, our experts say that a sleeping pad — which provides extra cushioning beneath you — is a must. While some admit that, in a pinch, you can get away with using an inflatable mattress you might already have on hand, they say investing in a proper sleeping pad is probably worth the money if you think you'll camp more than once or twice. Briscoe, Bor, and the Mandagies all recommend Therm-a-Rest sleeping pads, which come in a variety of options at various price points. Briscoe and the Mandagies say that beginner campers will be just fine with the cheaper Z-Lite model, which is made of foam and folds up accordion-style. "It's comfortable, light, and you don't have to worry about holes," says Briscoe. If you want to spend a little more, Bor says you can opt for Therm-a-Rest's self-inflating pad, which will be easier to transport since, without air, it can be packed down even more than the foam one.
In addition to what you're sleeping on, beginner campers should have a place to sleep inside of. Like sleeping bags and pads, tents can run the gamut in terms of options and prices, but the experts say you can definitely find up a reliable tent for about a hundred bucks (or sometimes less). The Mandagies and Chyla Anderson, the founder of Outdoorism (a brand geared toward Black women and other underrepresented communities in the outdoor-recreation space), both recommend Coleman's Sundome tent, which is available in sizes beyond the 4-person model shown. When it comes to choosing the right size for you, our experts suggest going a size up from the number of people in your party (so if two adults are sharing a tent, consider springing for one made for up to four people so you have more space for yourselves and your stuff).
Emily Mandagie says that the Sundome, a tent she and her husband own and let friends borrow all the time, is "the best for beginner campers because it's covered and completely dark on the inside," thanks to an included rainfly that not only keeps out the rain but also the sun. "You can sleep in longer because it blocks everything out. Plus it keeps everything cool, and doesn't cook you inside of it." The tent also has large windows and a ground vent for good ventilation.
Once you have your sleeping arrangements and apparel squared away, the experts say you'll want to think about your camp kitchen. While some campgrounds have grills at each site, a lot do not, so if you're planning for a few days (or more), you'll probably want to bring your own portable stove. Three of our experts recommend Coleman stoves, with Bor and Anderson specifically recommending the Classic Propane Stove, which has two burners (Bor says two burners are more versatile) and wind-blocking panels. It's powered by propane cylinders, which are sold separately. Anderson loves it because "it's compact, it's safe, and it's easy to set up." She also says that it keeps a really good fire.
Beginners don't have to get fancy, camping-specific cookware for your first foray outdoors — bringing stuff you already have at home (as long as you don't mind if it gets a little banged up) would do just fine, say the pros. Otherwise, investing in an affordable cast-iron skillet is great because it retains heat well and can fry or grill just about everything from eggs to veggies to burgers. Says Briscoe, "They're durable, they're strong, and they're large." Plus, he adds, "They can handle fires or your cooking stove." (While a skillet can cook most anything a beginner may whip up at a campsite, if you're going to be cooking soup or with any liquids, the experts suggest adding a pot to your packing list.)
As far as dishware and cutlery are concerned, the experts say you can bring just about anything. Anderson says her "secret weapon is the 99-cent store, which sounds really ridiculous, but I get most of my kitchen supplies there." If you want utensils that might last a little longer, Briscoe recommends this reusable set of utensils made from bamboo. "To-Go Ware makes dependable sets of utensils," he says. "Everything is really lightweight and you can have it for a really long time."
If you think you'll be cooking enough to have leftovers, To-Go Ware makes stainless steel food containers that Briscoe also likes. "They're light, stackable, and you can put food that you don't finish eating in one and have it later," he says. "These can serve a wide range of uses, whether you're camping in the backyard or in the backcountry." They can also double as your serving plate or bowl if you don't want to bring extra stuff.
When you're packing for several days worth of meals, it's imperative not to forget a cooler to keep all your food chilled. The Mandagies recommend Coleman's vintage-looking cooler that has a 54-quart capacity (if you're looking for another sense of its size, the cooler can fit 85 cans, according to the brand). And don't forget the ice: The couple says they usually swing by the grocery store on the way to a campsite to pick up a bag or two for their cooler. And as far as cooking, Emily Mandagie says, "We cook the freshest stuff the first night and then work our way from there. That way there's less chance of things spoiling."
Anderson, like many other people, swears by the Yeti cooler for her camping trips. It's an investment, but she says its flexible soft sides can make all the difference when you're trying to pack all this stuff in your car. "It just fits everywhere," she promises, noting that the Yeti also functions very well. "The ice never melted," says Anderson, adding that her Yeti M30, which has a capacity of 30 liters (or 20 cans), properly preserved three days worth of food for two on a recent camping trip.
Bor says that it's important for beginner campers to familiarize themselves with the concept of Leave No Trace, a set of ethics that encourages campers to treat the outdoors like they would their own home, and leave a campsite better than it was when they arrived. "It just teaches people that they need to make sure that they're not having a negative impact, and I think that that's really important for beginners to learn," explains Bor. Essential to these ethics is packing up and properly disposing of all of your trash. To that end, make sure you bring plenty of trash bags so you can take all your garbage with you when you leave the campsite.
Gear
for
making
your
site
more
comfortable
According to our experts, a headlamp is another must-have for beginner campers. Briscoe says that the "hands-free aspect is a tremendous benefit," noting how you can "just pop it on your head or around your neck" and then start cooking, get a fire going, or even change your kid's diaper. Both he and the Mandagies recommend Petzl headlamps as a good entry-level option. While this particular model runs on three AAA batteries, you can spend a little more and get one that's rechargeable via a USB port (a feature Briscoe says is really nice).
For a more ambient light source, a lantern is a time-tested piece of camping gear. The Mandagies recommend this one from Coleman, which Emily Mandagie likes because "it's really bright and has a little hook so you can hang it." Another plus: It has a built-in Bluetooth-enabled speaker, so you can play music from it, too (and cross one extra off of your packing list). And it's powered by a USB-rechargeable battery.
For inside your tent, Nailah Blades, the founder of Color Outside, an organization that promotes outdoor exploration among women of color, recommends getting a set of twinkle lights — and not only to make your setup look more like your college dorm room. "They're fun," she says, but they also serve a purpose: "If you go to the bathroom in the middle of the night, you're able to more easily find the tent when you come back." This set of lights is powered by three AA batteries and has a timer function.
Nearly all of our experts recommend getting a comfortable chair. "You are going to want to have somewhere to sit," says Hawkins. "That rock near the fire pit isn't as comfortable as you hope." Without a personal chair, Bor adds, "you're just sort of confined to the picnic table" or whatever furniture may be provided by a site. The Mandagies pointed us to this affordable model from Coleman, which has a zip-top soft cooler (that can hold four cans) attached to its armrest. It also has a mesh cup holder, a storage pocket, and the chair's armrests can be adjusted to different heights. And, importantly, "it's pretty small when you fold it up," adds Berty Mandagie. For even more options, check out our roundup of the best outdoor chairs, many of which come suggested by even more campers.
Even if you're "going off the grid," you're never really leaving the connected world on a camping trip, which is why Briscoe and Bor recommend investing in a power bank to charge all of your electronic gadgets like your phone or camera or any of the rechargeable gear above. Briscoe specifically recommends this one from Goal Zero because "it's really dependable and will give me four full phone charges or three full GPS watch charges" on a single charge of the power bank (which itself charges via USB port or from hours of just sitting in the sun).
Gear
for
making
yourself
more
comfortable
As far as apparel goes, what to pack depends on where you're going, what the weather will be like, and what activities you'll be doing. According to Briscoe, being comfortable is key. "I don't want folks to be concerned about what they're wearing when they're in an outdoor space, because that can be a barrier to them maintaining that experience," he says, recommending that beginner campers simply pack "some of the most comfortable, lightweight clothes that you have." Cherisa Hawkins, a photographer and avid camper who is also known as Switchback Shawty, agrees. "My main suggestion for beginner campers would be to focus on comfort." That said, if you think your camping trip will also involve some hiking (whether to your destination, or as an activity while you're there), both Hawkins and Briscoe say that getting a good pair of socks and shoes should be one of your first priorities. (Expert hikers recommended a couple styles of socks and shoes in our beginner's guide to hiking.) Beyond that, the experts recommended a few specific items of clothing and personal hygiene products that may come in handy for keeping yourself more comfortable.
In addition to any appropriate footwear you need to get to your campsite, Anderson recommends bringing a pair of slippers or flip-flops for wearing around the campsite itself. "Flip-flops are always good because you don't necessarily want to put socks on when you go out for your coffee in the morning," she says. "I would just bring a cheap pair."
If you're camping by a body of water, the Mandagies recommend packing shorts that can be used for both swimming and land-based activities, like these shorts from Cotopaxi (for women) and Topo Designs (for men) that they wear. "At the end of our hike, we like to jump in the water and then hike back," says Berty Mandagie, "and these shorts will dry up." (They say you could also wear a pair of Patagonia Baggies — if you're a fan, of course.)
[Editor's note: The Cotopaxi women's board shorts are currently limited in stock and sizing. While Cotopaxi doesn't currently have any other hybrid shorts available, there are plenty of the Patagonia Baggies that the Mandagies also mentioned — for women and men — available at REI.]
Bor says that "camping tends to be really warm during the day and really chilly at night," which is why she suggests bringing a layer to throw on when temperatures drop. The Mandagies say a nice, cozy fleece makes an ideal evening layer. "I honestly like the Patagonia ones with the quarter zip," says Emily Mandagie. "They just come in such fun colors and can't be beat." If you're camping in even colder weather, or in a rainy climate, our experts note that you might also need a rain shell or a warmer jacket.
Since you'll be spending the night, Blades says you should "bring whatever toiletries you need," which may include "sunscreen, bug spray, and toilet paper." Since you'll probably want to take a shower — and clean any dirty cookware — she also recommends packing biodegradable soap, like this one, which can be used on your body and the dishes.
Body wipes are a good idea, too, according to Anderson, who calls these wipes from ShowerPill "the next best thing if there's no shower available." She says they don't dry out, smell fresh, and actually make you feel clean. "I've tried a lot of different things, and these wipes are incredible."
According to our experts, it's also important to pack a small first-aid kit when you go camping, whether you put it together yourself or buy something premade. Briscoe says any premade kit you get should have bandages, gauze, and ibuprofen (the one above does), but suggests adding Benadryl. "If anybody has any type of allergic reaction, whether it be respiratory or from a bee sting, they can at least flood the system with the Benadryl while they get to a safer area in the meantime," he says.
The Strategist is designed to surface the most useful, expert recommendations for things to buy across the vast e-commerce landscape. Some of our latest conquests include the best acne treatments, rolling luggage, pillows for side sleepers, natural anxiety remedies, and bath towels. We update links when possible, but note that deals can expire and all prices are subject to change.