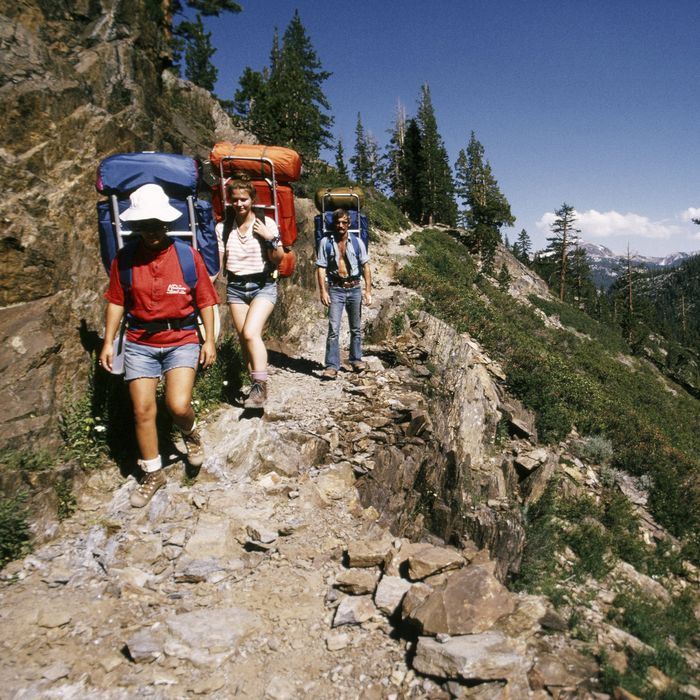 Photo: George Rose/Getty Images
After spending the past few months indoors, more people than ever are eager to get outside — especially since being in uncrowded, outdoor spaces remains a lower-risk activity. Among the different ways to spend time outside, hiking is one of the most accessible. "Money keeps a lot of people from hiking, but it doesn't need to," says Chyla Anderson, founder of the outdoor representation company Outdoorism, pointing to the misconception that expensive gear is needed even for a short day hike (defined by our experts as five miles or under). "All you need is gear that's comfortable and safe for your environment," she adds. Plus, contrary to popular opinion, hiking can happen anywhere. "See where you can hike from your front door," suggests Amiththan Sebarajah, a writer and distance hiker who says that beginning hikers can learn about their body and preferences by going on short urban hikes around their neighborhood. "Especially now with coronavirus being what it is, it's important to recreate responsibly. Do local hikes, and choose times during the day when trails are less crowded," he adds.
Whether you're going to hike across a city bridge or explore a nearby state park, we asked eight hiking experts, including a couple of folks who have thru-hiked the Appalachian Trail and several outdoor program leaders, about everything you need to know to begin hiking — down to how to choose a trail, what to bring in your backpack, and what to wear.
Choose your trail
Before you grab a water bottle or tie your shoes, all of the experts we spoke to suggest choosing a hike that meets your interests and physical needs. "Start out small," advises Maggie Slepian, an Appalachian Trail thru-hiker and managing editor of hiking site The Trek. "A five-mile walk in town is very different from a five-mile hike — two and a half miles out and back — with 2,000 feet of elevation gain. It's important to read a profile of the hike that you want to take and know what kind of terrain to expect," she adds. When it comes to learning more about a trail, nearly all of the experts recommend using All Trails, a free collection of 100,000-plus hiking, running, and mountain-biking routes (with an optional pro subscription), which are searchable by region, difficulty, and length. "You can also see community reviews of people who have recently been out on that hike, so if someone was just there, they might say if the trail was crowded or still full of snow," says Nailah Blades, founder of Color Outside, an outdoor organization for women of color. According to a couple of experts, another way to crowdsource information about a trail is on Instagram. "A lot of times, I'll find a trail on All Trails and then go on Instagram and look at the pictures people have posted, in order to scope the environment and read testimonials," explains Jonathan Solomon, assistant director of Washington University in St. Louis's John B. Ervin Scholars Program and an international hiker.
If you're taking a day hike on a popular national or regional trail, namely the Appalachian Trail and Pacific Crest Trail, Sebarajah recommends Guthook Guides, which has GPS tracking even while your phone is offline. "You just have to follow the line on the map, and it shows you where water and campsites might be," he explains. The app is free to download but requires in-app purchases for each guide, starting at $9 for different sections of the Appalachian Trail.
Another slightly more advanced app is Gaia, which both Sebarajah and Aaron Slosberg, director of student programming at Where There Be Dragons, recommend. "You can download topographic maps, and it has a little more capacity," explains Slosberg, though he cautions people against constant tracking themselves during a hike. "Don't be too scared about getting lost a little bit — it sounds kind of risky, but I really don't think it is. You can download an offline map with an app or even through Google Maps so your GPS will still work in a wilderness area without service," he explains.