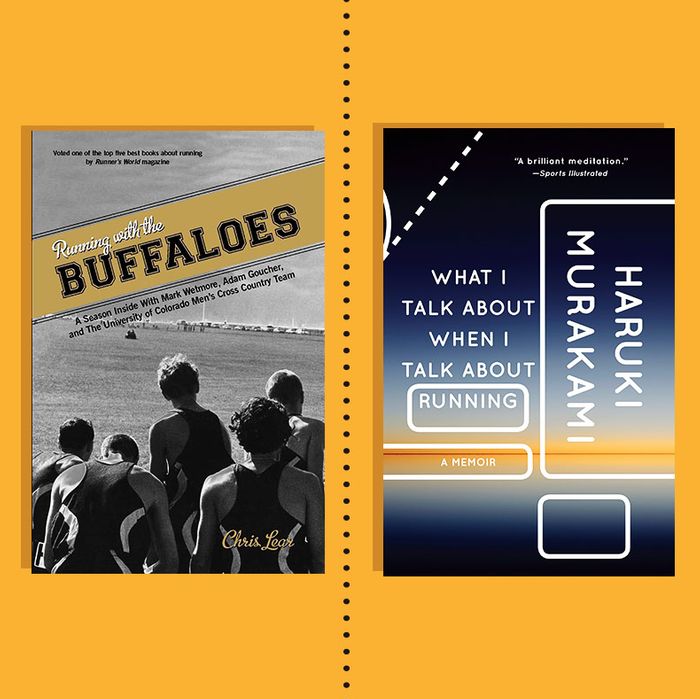 Photo: Courtesy of the retailer
For a sport that — on the surface — is as simple as putting one foot in front of the other, there are certainly a lot of books out there about running, ranging from training manuals to meditations on the joys of pounding the pavement day after day. "The most powerful books about running are things that inspire you, that will cultivate a love for running that will stay with you," says Rich Roll, ultrarunner, author of Finding Ultra, and host of the Rich Roll Podcast. And thanks to audiobooks, an inspiring running book can also be an inspiring training partner.
To find the best books for all types of runners, we asked for picks from a panel of 11 experts, including Roll; Jonathan Beverly, editor-in-chief of PodiumRunner and author of Your Best Stride; ultrarunner Kris Brown; Chris Chavez, Sports Illustrated writer and founder of the running website Citius Mag; running coach Elizabeth "Corky" Corkum; running coach Jason Fitzgerald; Erin Mink Garvey, blogger at Running Ruminations; Well + Good news writer Kells McPhillips; Katrina Miller, product manager at running apparel brand Rabbit; David Siik, co-founder and creative director of Precision Run; and David Spandorfer, co-founder of running apparel brand Janji. As always, each book comes recommended by at least two experts.
Most influential running book
If you've ever heard of barefoot running or considered buying an energy bar with chia seeds, you can thank Christopher McDougall's book Born to Run, which Spandorfer calls "the preeminent running book of all time." Driven to find out the cause of his frequent running injuries, the author tracks down members of the Tarahumara tribe in Mexico's Copper Canyons. The Tarahumara regularly run hundreds of miles barefoot or in thin sandals (not ultracushioned running shoes) and are fueled by seeds of the indigenous chia plant instead of sugary sports drinks or protein bars. According to Miller, the resulting book "almost seems like a gonzo-style fictional story filled with characters and situations too ludicrous to be true, but entertaining and inspiring enough that it doesn't matter."
Spandorfer explains that it "created the barefoot running movement [and] it even sparked nutrition companies." He notes that Health Warrior, a brand of chia-based bars and protein powders for athletes, drew inspiration for its products from Born to Run, and that minimal shoes like Nike Free sneakers took off in popularity after the book's publication. For many runners, though, the appeal is the book's portrayal of the love of running for its own sake. As Roll says "it helped inspire my imagination about what running could be outside of just signing up for a marathon."
Best book on collegiate running
A favorite of five runners we spoke with, this account of the University of Colorado cross-country team's 1998 season and their journey to the national championship is both "very inspiring," according to Siik, and "heartbreaking," according to Brown and Spandorfer. Brown explains that author Chris Lear set out to write what was "supposed to be a relatively technical journalistic piece," but ended up being "at the right place at the right time" to witness a season of tragedy and triumph featuring the Buffaloes' legendary coach Mark Wetmore and star runner — and future Olympian — Adam Goucher. Told through a series of journal entries, Running With the Buffaloes details the runners' vigorous training and each athlete's "commitment and dreams of the team," in the words of Chavez, who calls it his "favorite running book of all time." Finally, Fitzgerald says, "this is the book that made me fall in love with cross country."
Best running memoir
Prolific Japanese novelist Haruki Murakami is also an avid runner, as he describes in this meditative memoir on long-distance running. "This is a book that truly can inspire someone to lace up and take this journey on their own," says Siik. McPhillips likes how Murakami explains that running is "like you're creating a cocoon within yourself that you can return to again and again even when you're not running," and was inspired by his advice to "imagine that every mile is a journey further into yourself." Roll, who sees running as a way "to channel your creativity or unlock your creative mind so you can connect more deeply with who you are," loves that Murakami's book "is about so much more than just what is running, how to run, and how to run fast."
Best running novels
For competitive high-school and college runners, Spandorfer says this "cult classic" novel is "where the canon begins and ends." Originally published in 1978, Once a Runner delves into the life of a runner at a fictional college who's determined to break four minutes in the mile, even after being kicked off the track team for protesting the Vietnam War. Chavez says it's "the runner's bible. It encapsulates everything that a runner experiences when they're obsessed with goals, while also juggling the challenges and obstacles that come with balancing academics and personal relationships. Every runner can relate to pushing themselves to achieve the difficult." Brown jokes that, thanks to its focus on intense and dedicated training, this book has probably led to more than one stress fracture among high-school runners.
The young Rwandan runner at the center of this novel (which won the Bellwether Prize for Socially Engaged Fiction) dreams of becoming an Olympian, even when he and his family become the target of unspeakable violence. Beverly says Running the Rift "gives a face to the Rwandan genocide — especially for runners, who can relate to the joy the hero finds in the sport, and the way running plays a central role in how he survives the horrors of his context." Spandorfer likes how the book touches on "the unspoken beauty of running and its existence in a much larger geopolitical — and microlevel — tragedy."
Best book on the psychology of running
Corkum loves this book because it "dives into the mental preparation and adaptation necessary to embrace hard racing." In it, writer and running coach Matt Fitzgerald explains the psychological aspects of running success and mental toughness. Garvey says that runners struggling with fear of failure or other mental blocks will benefit from reading about how professional runners deal with these issues, as well as "case studies and the science behind a lot of the tests and procedures that have been done to help further mental fitness." Both Corkum and Garvey say Fitzgerald's book offers plenty of takeaway lessons everyday runners can apply to their own racing and training.
Best book on running as a vegan
If you're curious about running as a vegan, champion ultrarunner (or someone who runs distances longer than a marathon) Scott Jurek details how he regularly runs record-breaking times on a vegan diet. Siik likes it for its "interesting insights into plant based-diets," and Roll finds it to be a "really inspiring" book about how Jurek became "the most successful vegan runner of all time."
Best books on ultrarunning
Jurek's second book, which chronicles his experience setting a record-breaking time on the Appalachian Trail while running from Georgia to Maine, is also a favorite among runners. Garvey says that reading North makes "you feel really inspired," even if super-long-distance running doesn't appeal to you. She thinks Jurek's story "makes the wheels start to turn within you," motivating you to achieve your own personal "unicorn quest." Roll appreciates that North includes insight into Jurek's process of self-discovery.
Among other superhuman feats, writer and ultrarunner Dean Karnazes has run a marathon in each of the 50 states in 50 consecutive days, and once ran for more than 80 hours straight with no sleep. He details all of this and more in his book on ultrarunning which Brown says "has had the single greatest impact on the sport of ultrarunning." Roll is also a fan and calls Karnazes's book a "very inspirational story of transformation."
Best running training guide
For a straightforward guide on how to structure your running training — especially if you want to get faster — Corkum likes this "comprehensive training book that breaks down types of runs" and their different purposes. Beverly likes how it "presents clear and practical advice about marathon training, not only what you should do but why." Plus, he says "it's easy to read, easy to implement, and it works." Garvey has used the book in her own training and says, "I feel like a lot of my success in marathoning just as a normal everyday runner has come from the training components that are espoused" in its pages. Although it focuses on marathoners, all runners can benefit from the book's training principles and advice on everything from nutrition to racing strategy.
The Strategist is designed to surface the most useful, expert recommendations for things to buy across the vast e-commerce landscape. Some of our latest conquests include the best acne treatments, rolling luggage, pillows for side sleepers, natural anxiety remedies, and bath towels. We update links when possible, but note that deals can expire and all prices are subject to change.