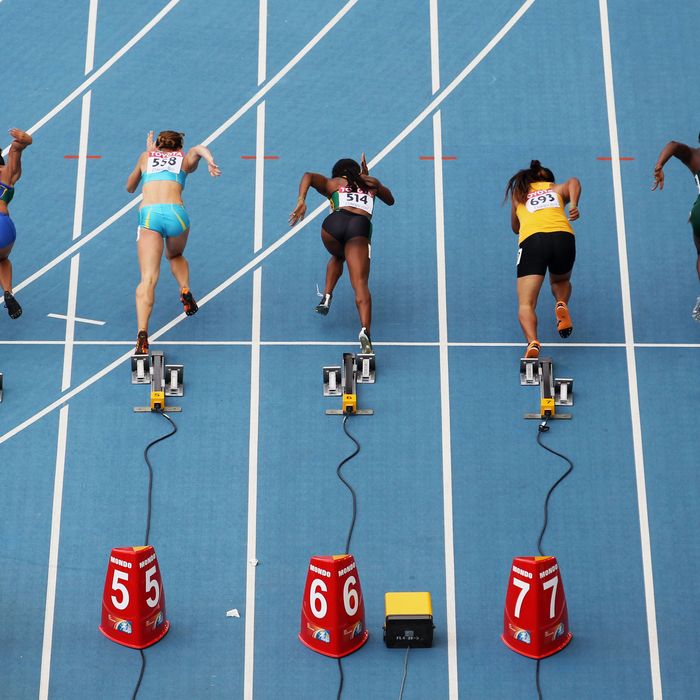 Photo: sampics/Corbis via Getty Images
While I have a running wardrobe equipped for any and all weather conditions, I run most of my miles in shorts. It's liberating to take off with nothing between your legs and the fresh air, and since legs warm up more quickly than the upper body, you can pair them with long-sleeve tops to keep shorts season going well into the fall. Between training for and running five marathons, dozens of shorter races, and working at a specialty running store for two years, I've tried out a lot of shorts and have narrowed down my arsenal to the best of the best — all on the list below.
All of these pairs meet my basic requirements for running shorts. They're each made of technical, moisture-wicking material; feature flat seams for minimizing chafing and so-called "chub rub"; include a pocket for stashing a key or card; and have a built-in brief liner (no underwear equals less chafing). It's the subtle differences that earn each a spot in my lineup.
Best all-around running shorts
When I say I run most of my miles in shorts, I really mean I run most of my miles in Nike Tempo shorts. I've written about them before, but they're worth mentioning again since they're durable, affordable (and frequently on sale), middle-of-the-road shorts that are a good starting point if you aren't sure what specific features you like. With a three-inch inseam they're in that Goldilocks sweet spot of being neither too short nor too long. That way you know if you want to go shorter or longer, or pick a style with a wider waistband. Or, if you love them, buy a week's worth and never worry about shorts again. I've worn them on everything from 5-Ks through marathons and they've never let me down. They also come in pretty much every color under the sun, and in plus sizes.
Best 2.5-inch inseam running shorts
The defining feature of this pair — a luxe upgrade on the basic short — is the silky-soft material. It's a unique, knit fabric that's smoother than typical nylon shorts, but still has technical features like four-way stretch and moisture-wicking capability. I love the heathered colors and how these feel like they disappear on my legs while I'm running. They're a hair shorter than most of my other pairs, so I prefer wearing them on the treadmill or low-mileage runs when there's less risk of chafing.
Best 3-inch inseam running shorts