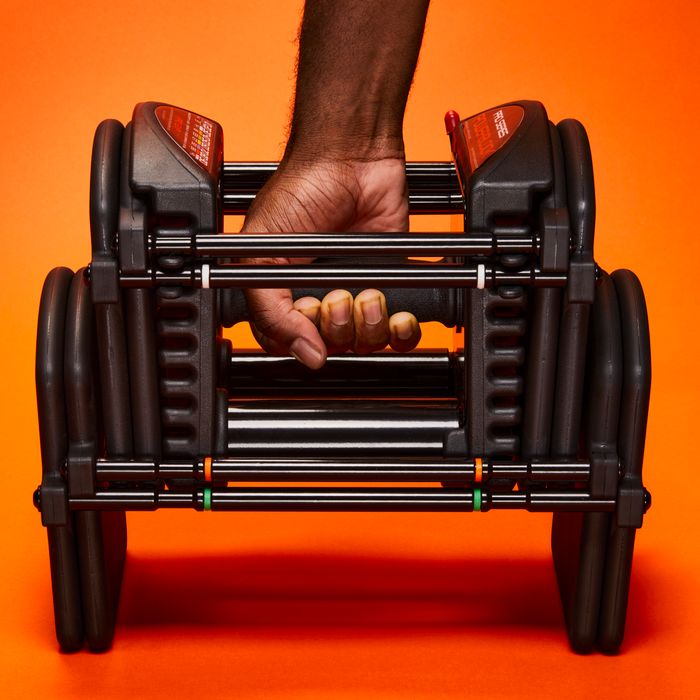 If you're looking to build your at-home strength-training setup, adjustable dumbbells are a great place to start. They save space and can even save you money when compared to the bulk and cost that come with purchasing multiple dumbbells — or an entire set. Whether you use them for weight training, cross training, or just the occasional lifting session, adjustable dumbbells are among the most versatile pieces of home gym equipment because they accommodate dozens of different workouts. We spoke to personal trainers and fitness experts to get their adjustable-dumbbell recommendations for every type of user.
Best overall | Best less expensive | Best dial adjustable | Best for heavier weights | Best smart dumbbells
Adjustment mechanism: The defining feature of an adjustable dumbbell is the ability to switch between different weights on the same handle. And how you switch between those increments is crucial — a complicated mechanism that requires lots of tinkering can result in an inefficient and unsafe workout. "Adjustable dumbbells come with an inherent risk factor," explains Colin Gray, the general manager and master trainer at EVF Performance. When compared to a traditional dumbbell, adjustable models have the potential to fail (though that's a rare occurrence because most models are designed well enough to avoid this): The mechanism could malfunction and potentially cause an injury. "My number-one criteria is ease of use," freelance writer and Outside magazine gear columnist Joe Jackson says. "So much can go haywire with an adjustable dumbbell. My worst fear is having one of those weights fly off the handle. If it doesn't click into place easily and well, I assume it's going to break on me." There are a few different types of adjustments to expect, and the best one for you comes down to preference.
Pin: Similar to what you might see on weight machines at the gym; you slide a pin to select the plates.
Dial: You turn the dial to select the weight you want. This type of adjustment can also come in a handle that you twist to make the weight selection.
Screw-on: Some of the more basic adjustable dumbbells have screw-on limiters, like the collars that prevent barbell plates from sliding off.
Electronic: Some dumbbells have electronic adjustments, which, like the dial adjustments, vary slightly from model to model. Most electronic mechanisms simply do the dial or pin adjustment automatically.
Range and increment of weights: We're looking at not just the overall weight of dumbbells but also the different increments of weight that each dumbbell set offers. "Some folks prefer to keep their home workouts simple — that means one or two weights — and therefore don't need an adjustable dumbbell with a big range of weight increments," says Gray. "Others who are generally lifting heavier will want a wider range of weights." Some of the weight ranges per dumbbell span two to 20 pounds, five to 50 pounds, and five to 90 pounds. The models in our list come with weights in 2.5- and five-pound increments.
Handle type: Some models come with different grip shafts, such as knurled metal, rubberized, or foam — all of which come down to preference, but could affect your workout. (Someone who wants to avoid calluses might opt for a softer, rubber grip, while users who want a more classic barbell feel might prefer the rougher texture of knurled metal, for example.)
Storage: While all of these adjustable dumbbells will save space, some have different modes of storage, such as round or flat plates (rounder ones are more prone to rolling), and the types of case or resting platforms they come with, if any.
Best overall adjustable dumbbells
Sliding selector pin | 5 to 50 pounds (can expand up to 70 and 90 pounds), 2.5- and 5-pound increments | Rubber grip | Rectangular plates
Multiple experts we spoke to mentioned PowerBlock as the most reliable brand of adjustable dumbbells, citing its durable, stable design and speedy weight adjustment. They're the adjustable weights they've personally used and would recommend to most new customers. Within the PowerBlock stable, the Pro Series was the most recommended because of its ease of adjustment — it uses a sliding selector pin rated to 500 pounds and magnets to hold the pin once it's in all the way — and its secure construction, which keeps all weights in place without jiggling or rattling. The PowerBlock's rectangular build makes it easy to store, and there's no need for a cradle or stand; the dumbbells rest flat and won't roll away. Its unique shape and recessed grip make some two-handed workouts a bit awkward. Customers have noted that when your wrist is surrounded by the plates, it's hard to grip one dumbbell with two hands at a time.
But what makes the PowerBlock Pro Series our top recommendation is how well they stand up to abuse over time. "Their quality makes them stand out from the rest of the competition," says Dean Pohlman, yoga instructor and founder of Man Flow Yoga, who uses PowerBlocks for weight training in addition to his yoga routine. Credit the urethane-coated steel construction throughout the dumbbell, as opposed to the plastic knobs and adjustment systems generally found in cheaper models, which are more prone to cracking and chipping. Phillip Doblosky, a sales representative at Johnson Fitness & Wellness, has been helping customers shop for adjustable dumbbells for over a decade, and recommends PowerBlocks for peace of mind: "I can count on one hand the amount of service calls I've received regarding defects with PowerBlock products that my customers have bought," he says. You can add one or two 20-pound kits (sold separately) to the EXP for a maximum weight of 70 or 90 pounds per dumbbell, if you want to expand the plate range beyond 50 pounds.
Best (less expensive) adjustable dumbbells
Screw-on | Up to 40 pounds, 5-pound increments | Knurled metal handle | Round plates 
These simple cast-iron dumbbells are about as bare bones as you can get. There are no fancy sliding pins or voice-controlled adjustments — just screw-on collars that tighten around the plates on each end. I've used these for quick at-home workouts over the past five years, and they've shown no signs of wear. Given how simple the weight adjustment is, the onus is on the user to tighten the collars as snug as possible to prevent the plates from moving around or sliding off the dumbbell. Some users might prefer a more streamlined, less manual process (which does take longer, compared to, say, the PowerBlocks), but I found the process similar to reracking a barbell in between sets. With a price point hundreds of dollars below every other item on this list, this pair is hard to beat when it comes to value.
Best dial-adjustable dumbbells
Dial | 5 to 52.5 pounds., 2.5- and 5-pound increments | Rubber grip around metal handle | Round plates with included plastic storage tray
The popular Bowflex SelectTech 552 dumbbells are a solid contender for our best-overall pick because their adjustment mechanism is straightforward and easy to use, and they come in at a cheaper price than the PowerBlocks. In our roundup of the best at-home workout equipment, celebrity fitness instructor Kira Stokes recommends the SelectTech 552, which "allow you to just click in the specific weight you want to use," she says. The most stand-out feature of the 552 is how long they are — each dumbbell is over 16 inches long (the PowerBlock Pro Series dumbbell is 12.5 inches long at most), and this bulk could affect certain exercises where you might pair them together (like front shoulder raises), but not to the point where the dumbbells will be unwieldy. Certified weightlifting coach Paolo Galang mainly teaches and practices Olympic weightlifting, which incorporates a lot of barbell work. "There's a lot of accessory work outside the use of a barbell that we do, too, and adjustable dumbbells are an efficient way to get it done," he says. Galang suggests keeping it simple when shopping for a new pair: "Pick something you can afford, there's no need to be too fancy with them. The SelectTech will be just fine for that."
Best adjustable dumbbells for heavier weights
Dial | 10 to 90 pounds, 5-pound increments | Studded, squared-off metal handle | Round plates with included plastic storage tray
Similar to the Bowflex SelectTech 552, the 1090 offer a straightforward adjustment dial and storage tray — just with more weight options (up to 90 pounds per dumbbell). When we asked strength and conditioning coach Hayden Carpenter for adjustable dumbbell recommendations, he pointed us toward the 1090: "Bowflex makes pretty high-quality equipment," he says. He frequently uses the company's adjustable kettlebell for hangboarding workouts. The biggest difference between the SelectTech 552 and the 1090 is the handle. The 552 has a rubberized grip, while the 1090 has a squarer, studded metal grip that some customers have called uncomfortable to hold, especially when lifting during heavier sets. That said, if you're looking for a relatively affordable set of adjustable dumbbells that offers heavier weights past 50 pounds, the SelectTech 1090 is definitely worth considering.
Best smart adjustable dumbbells
Electronic via app, voice-controlled via Alexa, or dial | 5 to 50 pounds, 5-pound increments | Knurled metal handle | Square plates with tray (power outlet required)
The coolest thing about these adjustable dumbbells from NordicTrack is their ability to change weight without any manual adjustment. The iSelect syncs with your phone via Bluetooth and the iSelect app, and if you have an Amazon account, Alexa can automatically adjust the weight increments via voice commands like, "Alexa, increase weights by ten pounds." The dumbbells switch weights according to what you specify in the app while they're docked in the tray. If you don't want to use voice commands, you can adjust them with a knob at the center of the tray. "NordicTrack totally streamlined the entire adjustable mechanism for dumbbells," Jackson says. "If I'm huffing it during a HIIT workout, it's easy to use the voice commands to change the weights for my next set instead of manually putting on or taking off weights."
The voice commands aren't a perfect solution: In her review of the iSelect, the Verge writer Victoria Song notes that Alexa could be a little hard of hearing when it came to her voice commands. Oftentimes, Song chose the other option: "Even if Alexa was working properly, nine out of ten times it was faster for me to manually adjust the weights myself using the knob." But all tech issues aside, we think the iSelect is worth considering because of its price. For folks who really enjoy smart home-gym equipment and app-connected workouts — and the guidance and performance tracking that those can provide — the iSelect is worth looking into.
Some more strength-training equipment we've written about
• Hayden Carpenter, strength and conditioning coach
• Phillip Doblosky, sales representative at Johnson Fitness & Wellness
• Paolo Galang, certified Olympic weightlifting coach
• Colin Gray, general manager and master trainer at EVF Performance
• Joe Jackson, Outside magazine columnist and home-gym expert
• Dean Pohlman, yoga instructor and founder of Man Flow Yoga
• Jeremy Rellosa, Strategist writer
• Kira Stokes, celebrity fitness instructor
The Strategist is designed to surface the most useful, expert recommendations for things to buy across the vast e-commerce landscape. Some of our latest conquests include the best acne treatments, rolling luggage, pillows for side sleepers, natural anxiety remedies, and bath towels. We update links when possible, but note that deals can expire and all prices are subject to change.
Every editorial product is independently selected. If you buy something through our links, New York may earn an affiliate commission.