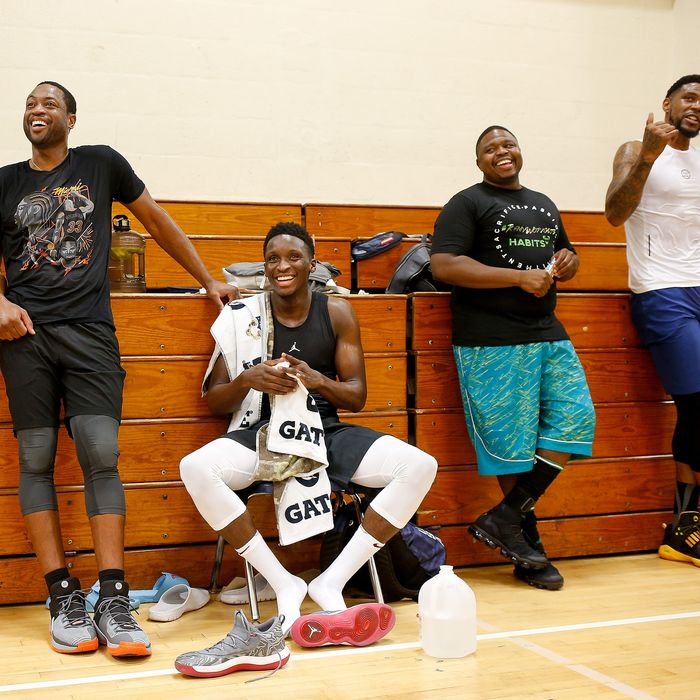 Photo: Michael Reaves/Getty Images
While finding a good pair of gym shorts should be simple enough, there are a lot of variables to consider. Some guys prefer a more form-fitting pair with a built-in liner, while others love the comfort of a simple pair of basketball shorts. There's no one universal gym short for everyone, of course; gym shorts come in a wide range of lengths and styles, so the main things to look for in a good pair are a comfortable fit and a high-tech moisture-wicking material. And bonus points for pairs that look as good when you're on the treadmill as they do when you're running the occasional errand. Besides those details, though, it really comes down to personal preference. To help narrow down the field, we spoke with a bunch of stylish guys — from personal trainers to regular, active dudes — about their favorite gym shorts. The majority tended to favor pairs with built-in liners, which they say provide more support and comfort during a workout, so most of the gym shorts on our list reflect that preference. Still, others preferred more breathable unlined pairs, and a lot of the lined pairs on the list come in versions without liners, so we noted that wherever relevant (and vice versa).
Best
four-inch
gym
shorts
Following last summer's TikTok-inspired discourse about the attractiveness of men who wear gym shorts with a (shorter than average) five-inch inseam, it kind of makes sense that some guys would opt to go even shorter. One such guy is Maurice Diong, a fitness coach and the founder of Sabi body butter, who told us his favorite gym shorts are these four-inch-lined ones from Lululemon (a brand many men we spoke to love at various inseam lengths). Diong describes these as "light and stretchy," noting that he ran a half-marathon in them and wears them for HIIT gym workouts. Despite their shorter length, Diong says the shorts still have enough room for useful features, including an "added waistband loop that's great for holding T-shirts during hot workouts." They also have appeal beyond exercise, he says. "Sometimes I just wear them with high socks, a black tee, and a smile and casually stroll around the city."
Best
five-
and
six-inch
gym
shorts
TikTok-approved five-inch shorts are actually the second-most-popular length preferred by the guys we spoke to (with slightly longer seven-inch shorts being the length that came up the most; more on those below). This unlined five-inch pair from Nike came recommended to us by personal trainer Chris Legitime of LegitFitNYC and Jackson Howard, an assistant editor at publishing house Farrar, Straus, and Giroux. Even without a lining, Legitime says the shorts are still "tight in terms of securing the hip," but the lack of a liner means they're "not tight on the groin or quads, making them super-breathable and flexible for hip movements," he explains. While Legitime says he's not so interested in how shorts look, Howard adds that these "ridiculously lightweight" shorts do have some aesthetic benefits too. "They make my butt look really good," he says. He wears his pair — which he has had for more than two years — for "running, yoga, or just flopping around the house." The shorts, which also have pockets, come in a lined version as well.
Chris Keyloun, a coach at New York City rowing studio Rowgatta, is a fan of Nike's lined five-inch two-in-one shorts, which have built-in compression shorts beneath their looser outer layer. "They're technically made for running," Keyloun says, but he likes them for cardio rowing workouts too. "The built-in compression ensures comfort, while the five-inch length keeps you free from snags on the slide of the boat or rower."
Model, actor, and body-positivity activist TJ Ngoma says that, despite going up to only size 2XL, Nike's six-inch training shorts fit really well. "They don't ride up; plus, the fabric is really breathable, and it doesn't stick to you after you've been sweating," he says. The moisture-wicking material and mesh panels on the sides and back of these shorts keep air flowing as you move. They don't have a liner, but they do feature multiple zippered pockets to hold your keys and wallet.
Copywriter Jon Roth is a fan of Outdoor Voices' five-inch gym shorts. "Since I mostly hate exercise, finding cool workout clothes has been a good motivator," he told us. "These are cut high enough to show some thigh but also lined so nothing else shows." Outdoor Voices has updated these shorts since Roth purchased them, but the brand told us that the new style — which comes in several colors — is very similar to Roth's pair and, of course, has the same inseam length.
"These shorts have been my go-to for years," says Ralph Lauren creative producer Yale Breslin, who calls himself a "guy who likes to work out." Like other Lululemon acolytes, he says "the Vancouver-based brand has mastered fit, simplicity, and technology" in creating this unlined pair that he calls "the ultimate gym shorts." Their length, according to him, is "not too long and not too short," making these ideal for his at-home HIIT, yoga, and boot-camp workouts. A smaller detail he appreciates is that the shorts have minimal branding, as Breslin is "not a guy who loves blatant labels." Lululemon offers these in seven- and nine-inch lengths,lined version too.