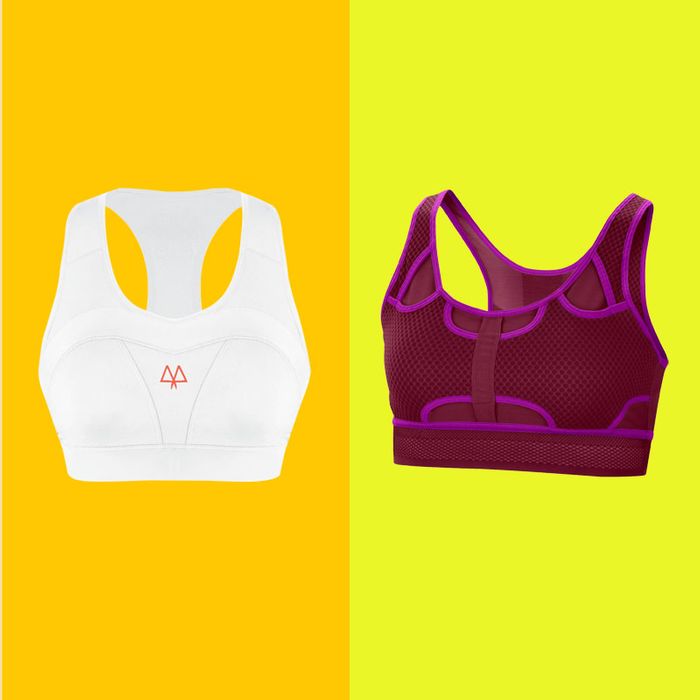 Photo-Illustration: Courtesy of Touchstone Pictures
A reliable sports bra keeps you comfortable and supported during a workout, but different types of athletes require different kinds of support. A yogi may not need the same thing as a Zumba instructor, so to find the best sports bras for a range of activities, we spoke to 27 fitness experts, including runners, yogis, dancers, movement trainers, cyclists, and boot-camp trainers. We broke their recommendations down by workout intensity (low impact, medium impact, and high impact) and note the size range for each bra. "I recommend buying multiple styles in multiple sizes when you're first trying out any bra from a new brand," says Athena Kasvikis, the founder of Behave Bras. "All brands size their products differently, so while that isn't awesome for consumers, it is a reality that you can compensate for by trying on multiple sizes at home." She also recommends finding a style that works for your breast shape. "Smaller breasts may do better with compression, and larger breasts should consider encapsulation sports bras," Kasvikis says.
While most bras on the market, especially the ones on this list, claim to be sweat wicking or breathable in some way, sweat stains are still possible. No matter which bras you buy, Kasvikis has tips for cleaning them. "My quick solution for any sweat rings or stains on my sports bras is a simple paste of baking soda, and I leave it on the sweat-stained material for one-to-three hours before washing," she says. "It does the trick every single time and doesn't require rinsing — you can just throw the bra into a mesh laundry bag and wash in the washer without having to rinse it first. Game changer."
Here are the 51 sports bras our experts recommend. If you're looking for something to wear with any of them, see our list of the best leggings for women.
Best sports bras for low-intensity workouts
Photo: retailer
When it comes to low-impact workouts like yoga or barre, there's a little more flexibility in how supportive your sports bra needs to be. Vanessa Chu, a certified yoga instructor and co-founder of Stretch'd, is mainly looking for comfort when it comes to her sports bras — "There is nothing worse than an uncomfortable sports bra while working out!" — and she's a fan of this longline bra from Alo Yoga. "My main activities these days are low impact like yoga and SLT (and let's be honest, a lot of desk sitting)," she says. "It's got great support but also has fun straps in the back." In addition to the strappy back, the fabric has a glossy finish, perfect for Chu, who likes to "dress up my workout outfits with a fancy sports bra, especially since I will usually be found in it for most of the day." The description says it provides light-to-medium support and is available in sizes XS to L, which is about a 36 C/D.
Photo: retailer
"I don't require a ton of support when I'm dancing, teaching, and training," says Rachel Warren, the founding instructor at Forward Space. "So for me, less is more." That's why she seeks out sports bras that are "highly minimal in design" like this textured style from Alala, which is available in sizes XS to XL. Warren says it provides a "lightweight, breathable fit" that's perfect for dancing and movement.