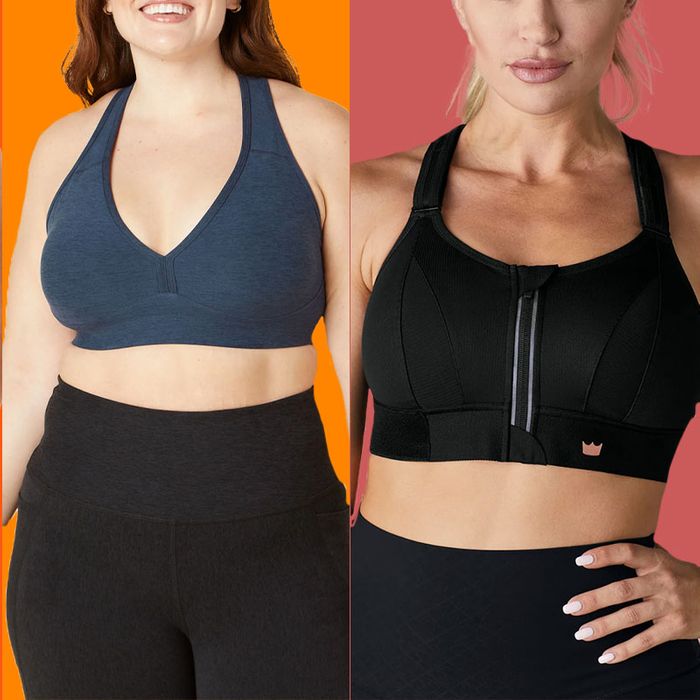 Photo-Illustration: Courtesy of Touchstone Pictures
When it comes to workout gear, my philosophy is simple: Everything I wear should minimize distractions. This rings especially true for sports bras. The best ones almost melt like a second skin and make me forget I have permanent pockets of fat affixed to my chest. There are tons of options out there, some of which are good for lower-intensity movement like yoga and Pilates, while others are better suited to high-intensity workouts like HITT and sprints. To find the best sports bras for a range of activities and intensities, we spoke to fitness experts, including runners, yogis, dancers, movement trainers, cyclists, and boot-camp trainers. If you're looking for something to wear with any of the bras, see our list of the best leggings for women. And if you don't want to scroll through all the options, you can click any of the links, below, to jump straight to the sports bra that sounds right for you.
What we're looking for
We wanted to include sports bras in a wide selection of cups and bands. Athena Kasvikis, the founder of Behave Bras, recommends buying multiple styles in multiple sizes when you're first trying out any bra from a new brand. "All brands size their products differently, so while that isn't awesome for consumers, it is a reality that you can compensate for by trying on multiple sizes at home," she says. But in general, you can look for something that fits your standard bra size.
The material of your sports bra can make or break your workout. It's best to wear something breathable and lightweight, like nylon, polyester, or Lycra. That way, it'll wick away moisture while providing the right amount of support. Mesh panels or cutouts are perfect for ventilation, giving added airflow so you won't overheat. We note the material makeup of each bra so you can pick the one that's right for you.
Depending on the intensity of the workout, compression or encapsulation is a necessary sports-bra feature. Most cup sizes need a bra that will fit snugly against the chest to prevent movement — i.e., it needs to pass the no-bounce test. Compression keeps large breasts in place during low-intensity workouts, while encapsulation will support each breast individually (think of an everyday bra) during high-impact activities like running. Kasvikis recommends finding a style that works for your breast shape. "Smaller breasts may do better with compression," she says, "and those with larger breasts should consider encapsulation sports bras." But if you're looking for the best of both, try a hybrid sports bra. This style pushes down, securing breasts in molded cups to prevent movement and underboob chafing.
Best overall sports bra
Size range: XXS–6XL | Material: Recycled polyester and spandex | Bra style: Compression with built-in support band
Girlfriend Collective's Paloma bra is our pick for most bodies (including mine—I own five and will likely buy a sixth). The compression fabric is made from recycled water bottles, and the racerback design's built-in support band makes this bra suitable for just about any activity. It's my most worn bra and holds up well during my daily gym workouts, which mostly comprises of walking and lifting. Lauren Roxborough, former head of marketing for hot-yoga studio Y7, is also a fan. She says the bra is her favorite for an active, sweaty class. Natalie Holloway, co-founder of Bala (maker of our favorite wrist weights), likewise relies on hers for intense workouts and lifts weights in them, too. "They are not restrictive in your movement and show no-to-little sweat, especially when you wear the black," she says. If black is too boring for you, there are ten colors to choose from. It's also surprisingly stylish beyond the gym. Brodie Lancaster, a longtime remote worker, wears it for WFH, saying it stays put, is structural, and supports her chest without becoming uncomfortable. "If anything," she says, "it encourages me to sit up straighter, for which my osteopath is grateful." Girlfriend Collective is known for being size inclusive, and this bra is no exception: It goes up to a size 6XL, which can accommodate a DDD and a 50-inch band.
Best less expensive sports bra
Photo: Retailer
Size range: XS–XXL | Material: Polyester and spandex | Bra style: Compression with removable pads
If you're a heavy sweater, Spiked Spin instructor Stacy Maharaj recommends Old Navy's racerback sports bra. "It's great for support and absorbency, and it's very fashionable," she says. "Not a bad price point, either." As a fellow Old Navy activewear acolyte, I can attest that it lives up to all of Maharaj's claims. I'm a big fan of the brand's PowerSoft material, which feels incredibly luxe despite the affordable price tag. It's also moisture wicking and offers light compression for a comfortable level of support. "It's all-around great for high-intensity workouts and training," Maharaj says. (Plus, you get the Girlfriend Collective look for less.)
Best sports bra for low-intensity workouts
Size range: XXS-4XL | Material: Polyester and elastane | Bra style: Compression with removable pads
"I wear this mostly because it's sexy," says writer and model Kendra Austin of the BeyondYoga Lift Your Spirits Bra. For Austin, who has a larger bust, it's her go-to for lower-intensity exercises like walking, yoga, and Pilates. It also works well for smaller busts (and offers a smidge more support). Although BeyondYoga rates this as having medium support, it's specifically designed for yoga, and while it might be supportive enough for a medium-intensity flow, it probably isn't ideal for a bouncier activity like running or trampolining. It's also a good option for a range of bodies, going up to a size 4X or 30-32. Currently, there are seven shades to choose from — four core neutral shades — and three limited-edition seasonal colorways. One thing to note: Some of the seasonal shades are available in a smaller size range and only go up to an XL (14-16).
Best sports bra for medium-intensity workouts
Photo: retailer
Size range: XXS–XXXL | Material: Nylon, Lycra, and polyester | Bra style: Compression with mesh racerback
Candace Taylor, the chief inspiration officer at 305 Fitness, says she's a fan of the sports bras from Outdoor Voices since there are a "variety of coverage and support options." Our writers and editors at the Strategist feel the same way. Although we've written about many of the brand's sports bras and crops before (like the Move Free Crop Top, editor Jenna Milliner-Waddell's go-to workout and WFH top), the Doing Things Bra is the best for medium-intensity workouts like cycling, using an elliptical, or other activities that call for moderate support and coverage. Taylor's favorite sports bra is this one because it's made with Outdoor Voices' light, breathable TechSweat fabric and has a comfortable honeycomb-mesh racerback, which is a good option for athletes who run hot. It's offered in cup sizes AA to D, making it one of the most size-inclusive options on this list.
Best sports bra for high-intensity workouts
Photo: Retailer
Size range: Cup sizes B–DDD | Material: Nylon and elastane | Bra style: Hybrid with adjustable cross-back straps
Lululemon is another brand we regularly recommend here at the Strategist. We've sorted through dozens of its sports bras (and other stretchy offerings), but this one is ideal for high-impact activities because of its molded foam cups, which add shape and separation to eliminate any jiggle-jiggle. This bra is also liked by Dominique Coleman, another Spiked Spin team member, and Alexa Javens, a fitness manager and coach at the Williamsburg workout studio Session. "It's great for all activities but especially training and running," Javens says. As someone who wears a C or D cup, she feels more supported in a bra for high-impact sports and says that even though this one has a hybrid design, it's still comfortable. It's made from quick-drying fabric, and "most Lululemon bras are already pretty sweat-wicking," she adds, though she still sticks to black or navy to avoid showing any sweat stains.
If you prefer a longline design, the Energy bra comes in that style, too. Fitness coach Hollis Tuttle says that when doing any kind of high-impact workout, she opts for the Energy Longline bra. "I don't often wear shirts while working out, and I like the bit of extra coverage this bra provides — I feel less naked but still stay cool in the middle," she says.
Best sports bra for large busts
Photo: Retailer
Size range: Cup sizes B–J | Material: Polyamide, polyester, and elastane | Bra style: Encapsulation with three-row hook-and-eye closure
Kasvikis's company makes wireless bras for bigger breasts, so she's well aware of brands that make good big-boob-friendly sports bras. Panache is one of them. Its sports bras are sized like regular bras and come in 28-to-40-inch bands and B-to-J cups. Kasvikis says this sizing is more helpful than mono-size bras when you're trying to find the right fit. "S, M, and L are sizes that may be too broad and too ambiguous to fit both your cup and band well," she says. "You're going to need the cup and the band to fit well to feel comfy in a sports bra." This Panache bra is designed to encapsulate instead of compress, which means there are individual cups for each breast to fill instead of being squashed down; Kasvikis, who wears size 32GG, says that works well for larger chests. "It's great because you still have two boobs under a shirt," she says. The straps are padded, and thanks to the uniquely curved stitching, the bra has enough lift to give a great shape without wires.
Best high-support sports bra for large busts
Size range: XS-6Luxe (cup sizes A-I) | Material: Nylon, spandex, and polyester | Bra style: Encapsulation with removable pads and adjustable straps
Personal trainer Kiana Jones says her large-busted clients are big fans of this bra from SheFit, which has over 70,000 five-star reviews. "Your boobs will literally not move," she says. "It's crazy." Crafted from two-way stretch fabric that reduces bounce, it has seamed cups to keep the breast shape natural-looking under clothes and adjustable straps to customize how high and tight the bra sits. The brand offers a fairly inclusive size range (up to a size 1), with the biggest a 6Luxe (when I cross-checked the measurements on the site, it translates roughly to a size 26/28).
Best sports bra for small busts
Size range: XS-2XL | Material: Polyester and spandex | Bra style: Compression with removable pads
Smaller busts don't need as much support, so it isn't necessary to go for something with super-sculpted cups or restrictive straps. This one from Nike offers "light support," but according to personal trainer Tamara Pridgett, who has a small bust, it's more than enough. "I can wear this when sprinting, hurdling, jumping, and lifting without any issues," she says. She also likes that it's comfortable and easy to take on and off. "And the cups don't get frumpy," she notes. Another bonus is the longline cut. It's a bit longer than the average sports bra and functions more like a crop top. It comes in a range of colors (new ones are added occasionally), is made from up to 50 percent recycled polyester, and fits up to a 2X.
Best longline sports bra
Size range: XXS–XL | Material: Nylon and Lycra | Bra style: Compression with supportive chest band
This bra is very size inclusive: It's available in XXS to 3X and has A-to-DD+ cup versions. Kasvikis says it's compressive and has a flattering longline design and racerback for extra support, making it great for "activities like Pilates, yoga, and barre because it provides enough compressive support without wires to work for activities that don't tend to have much bounce or quick, intense movement." Athleta says the fabric is buttery soft and the design features a bonded chest band, so we think this longline could double as a crop top.
Some more sports bras we've written about
Our experts
• Kendra Austin, model and fitness enthusiast
• Dominique Coleman, Spiked Spin team member
• Natalie Holloway, co-founder and CEO of Bala
• Alexa Javens, fitness manager and coach at the Williamsburg workout studio Session
• Kiana Jones, certified personal trainer
• Athena Kasvikis, the founder of Behave Bras
• Stacy Maharaj, Spiked Spin instructor
• Denajha Phillips, National Academy of Sports Medicine–certified personal trainer
• Tamara Pridgett, certified personal trainer
• Candace Taylor, chief inspiration officer at 305 Fitness
• Hollis Tuttle, fitness and nutrition coach
The Strategist is designed to surface the most useful, expert recommendations for things to buy across the vast e-commerce landscape. Some of our latest conquests include the best workout leggings, gym bags, workout gear, flattering sweatpants, running shorts, and compression pants. We update links when possible, but note that deals can expire and all prices are subject to change.