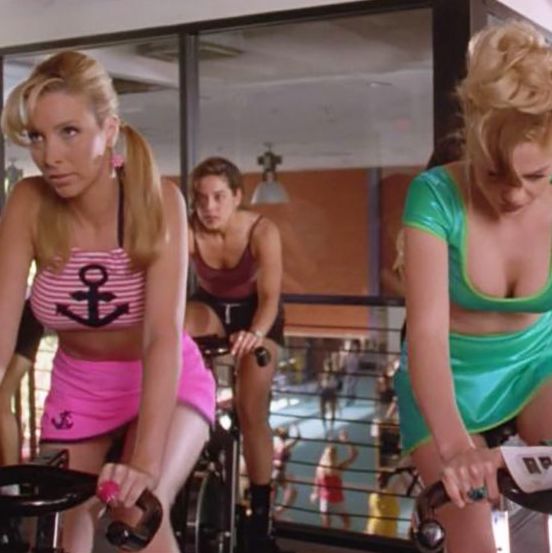 Photo: Courtesy of Touchstone Pictures
A reliable sports bra keeps you comfortable and supported during a workout, but different types of athletes require different kinds of support. A yogi might not need the same thing as a Zumba instructor. To find the best sports bras for a range of activities, we spoke to 19 fitness experts — including runners, yogis, dancers, movement trainers, cyclists, and boot-camp trainers. To make it easier to find the right sports bra for you, we've broken their 31 recommendations down by workout intensity (low-impact, medium-impact, and high-impact), and noted the size range for each bra. If you're looking for something to wear with any of them, see our list of the best leggings for women.
Best
sports
bras
for
low-intensity
workouts
Photo: retailer
"I don't require a ton of support when I'm dancing, teaching, and training," says Rachel Warren, the founding instructor and director of instructor training and development at FORWARD__Space. "So for me, less is more." That's why she seeks out sports bras that are "highly minimal in design," like this textured style from Alala, which is available in sizes from XS to XL. Warren says it provides a "lightweight, breathable fit" that's perfect for dancing and movement.
Fitness influencer Christine Abramo also likes Alala for low-intensity workouts, particularly this thermal bra. She says the bra, which can fit a range of band sizes from 30 to 43 inches, balances breathability and coverage with its mesh back and a high neckline in the front. "It's hard to find bras that mask cleavage and this bra definitely does," she promises.
Photo: retailer
"I am very picky with my sports bras," says trainer Katy Schuele, who works with the Sculpt Society. "I do not like thick straps or a ton of padding;" instead, she gravitates toward sports bras with enough support to keep her secure during dance-cardio workouts. One of those bras is the All Access Front Row Bra, which is available in sizes XS to XXL, because it offers "lots of support, is very flattering, and comes in a million different colors," according to Schuele.
Photo: retailer
"I fluctuate between a 34A and a 34B, so I don't need a lot of support," says professional dancer and actress Paloma Garcia-Lee, who recommends this crop-top-style sports bra that's available in sizes from XS to L and comes in 12 fun colors. She adds that she loves how Free People's activewear is versatile enough to wear with leggings or a pair of jeans. "I love having pieces in my closet that are multi-functional and can be worn in multiple ways," Garcia-Lee says, noting this is no exception.
Photo: retailer
Schuele also told us about this "comfy" bralette from Bandier's collaboration with sportswear company Year of Ours, which looks more like a stylish white tank top than technical apparel. "I love how thin the straps are and the shape is so chic," she says. It's available in sizes from XS to L and, like the above crop-top bra, a great option for someone seeking a sports bra that doesn't actually look like a sports bra.
As other folks who've recommended sports bras on this list have noted, a smaller chest in a low-intensity workout allows you to get away with wearing thinner, stylish things that don't look like traditional padded sports bras, like this one from Live the Process, which goes up to a size large. Erika Bloom, a Pilates instructor and former professional dancer who runs her own studio in New York City, tells us that this stretchy jersey bra is one of her favorites for wearing in and out of the studio. "I love how this bra feels like you're wearing nothing but still gives good coverage. The straps are thin so they disappear under tops and don't dig or slide off."
Photo: retailer
Candace Taylor, the chief inspiration officer at 305 Fitness, says that "in a shocking plot twist," she fell in love with Old Navy activewear because its low-cost sports-bra options are "great quality" and she "always gets compliments" on hers. She loves this light-support sports bra, which is designed to best fit A-to-C cups and has thin, crisscrossing straps. There are seven colors to choose from in addition to the black shown.
Bethany Lyons, the founder and CEO of Lyons Den Power Yoga, says that this Noli bra with a banded, crisscross back ticks off several of her boxes for style and comfort: "It's flattering, super-comfortable, and moisture-wicking for the sweatiest yoga class." She recommends going down a size for the best fit. The Vixen Bra's largest size will accommodate a band size between 36 and 38 inches, and the bra is best for those with small to medium busts.
Even for low-intensity workouts, if you're working with a larger bust size, you'll need more support in the form of thick elastic bands, higher necklines, or overlapping strap details. "I love working out in longline, high-neck sports bras," says Jessamyn Stanley, a yoga instructor and body-positivity advocate. "I find them to be the most supportive for bigger bodies and the most comfortable." Stanley says the thick straps of this Core 10 bra, which is available in sizes from XS to 3X, make it even more supportive.
Best
sports
bras
for
medium-intensity
workouts