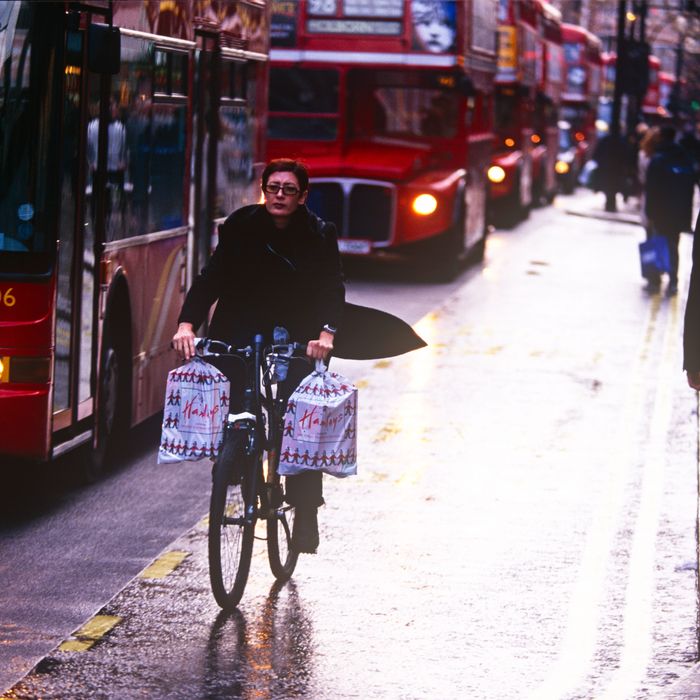 Photo: Richard Baker/Getty/In Pictures via Getty Images
Just like fishing, skateboarding, and surfing, cycling is a sport that can quickly become a lifestyle, consuming the minds of those who do it all the time and even influencing their fashion, travel, and friendship choices. This means that if you have a cyclist in your life, it's safe to assume that a surefire way to delight them would be with a gift that relates to their favorite activity.
But given the glut of cycling-related products you can buy, and the fact that cycling technology evolves quickly, it would be understandable if your head is left spinning over the options when it comes to what to actually give. To help you find gifts that the cyclist in your life will use (and not recycle), we spoke to eight avid bike riders about the types of things they think would make for excellent gifts for cyclists of any skill level, whether they're training to scale the Swiss Alps or just the hill around the corner.
Photo: retailer
Jeff Selzer, the general manager at Palo Alto Bicycles, told us about these ingeniously designed wireless cycling headphones that allow you to safely ride while also enjoying music. They "don't get into the ear canal but sit outside it, so you can still talk to people and hear cars," he explains. And because they use bone-conduction technology, which delivers sound through vibrations against your skull, only the wearer can hear what's being played. He told us he uses them all the time (and sells a lot to his customers), promising that "you don't notice them and they never make you sweat, unlike earphones."
Photo: retailer
Three of the cyclists we spoke to say this bike computer from Wahoo would make for a particularly useful gift. The wireless gadget, which can be programmed with whatever route a rider wants to take, attaches to a bike so that its screen serves as a live map for them to follow, much like the GPS systems found in many cars. But it's not just for getting from here to there: Selzer adds that this can also "track your speed, distance, elevation gain, and air temperature." In talking to him and the other two folks who recommended this computer (cyclist Melvin Onyia and bike mechanic Ben Sawyer of CycleMania), we learned that Wahoo is the brand to beat when it comes to tech accessories for a bike. Onyia describes the gadget's giftable appeal this way: "It helps me keep track of my progress, and it's safer too — being able to track stats and follow a map on a screen at the front of my handlebars, rather than looking at my phone or watch, allows me to always be looking forward."
Photo: retailer
If you're looking to splurge on the cyclist in your life, Selzer, Sawyer, and Onyia say this smart trainer from Wahoo would be a great choice. The way it works, Selzer explains, is "you take your existing bike, mount it on a Wahoo trainer, and then you can train indoors," making it a great way to ride during colder months (and, of course, at home during a global pandemic). The reason that this model — which Selzer calls "really solid and simple" — is "smart" is because it allows you "to pick the ride you want to do," he says. "If you want a mountain ride, it'll simulate an uphill climb and you'll really have to pedal, followed by downhills where you're essentially freewheeling."
Photo: retailer
As an add-on to the above gift (or for anyone who already has a trainer), Selzer, Sawyer, and Onyia suggest giving a subscription to the Zwift app, which connects at-home riders to a community of thousands of cyclists who can (virtually) ride with them. "They have full-on races, and when you choose a certain route, you may see 5,000 people riding on the same road as you," Selzer says. "You see their name and location: Bill from Australia or Linda from Germany may go buzzing by you. People worldwide are on this thing 24 hours a day."
Photo: retailer
For riders who like to track their heart rate (whether for health reasons or as part of a fitness goal), Selzer recommends giving this Wahoo armband. Lots of similar trackers will wrap around the chest, which can be problematic — especially "for women, because everyone is a different size," Selzer says. In addition to being more comfortable to wear, he notes Wahoo's armband monitor "won't move or bounce around like a chest band." The tracker comes with two different-size straps to accommodate the thinnest or thickest of arms and features a rechargeable battery that Selzer says goes "for well over 100 hours" on a single charge.
Photo: retailer
New York City bike messenger Paul Solis told us that his "favorite thing right now" is this saddle bag, which "fits right under your saddle but expands out really big." He says the nice thing about this bag is its size, explaining that, while it looks small, it expands so widely that he can ditch his backpack on shorter rides because he can fit everything he'll need inside. "It rolls up and snaps in and is the sweetest thing I've got," Solis assures of the bag. "The other day, someone gave me a bagel; I put it in, and it still had space."
Photo: retailer
For the cyclist who wants even more on-bike storage, cycling coach Robert Evans says this frame bag would make for a very functional gift because its design allows it to neatly slot into the awkwardly shaped empty space in the center of a bike frame. "If you don't use or don't have water-bottle mounts, this holds water, tools, and food and is perfect for long days in the saddle," he assures.
Photo: retailer
Selzer recommends this colorful, simple bike lock as a cheery gift for any cyclist. "You don't need to worry about losing the key, as it uses a combination lock," he explains. "And they're surprisingly durable locks for how lightweight they are."
Photo: retailer
Artist Timothy Uriah Steele, who bikes to his Sunset Park studio every day, told us that any biker who plans to carry medium to large objects on their two-wheeler needs a bike rack like this one. "You can only put so much on your back," he admits, "and this rack, which is perfect for the front of your bike, was designed by a bike messenger." While "very basic," Steele says the rack "distributes weight incredibly well, so you never feel your bike being pulled to one side." He adds that it has "in the know" status among cyclists and that he's even seeing people using it to haul "cardboard boxes full of stuff."
Photo: retailer
"Durable, properly structured, waterproof, and weight distributing" is how Steele describes this backpack that would surely get lots of use from cyclists who ride primarily to commute. He goes on to explain that "the extended cargo net on the back of it" can be stuffed with "your shoes, helmet, or lunch," noting that it's a "rare, great thing" to be able to pack so much and "still not have an enormous backpack that's wider than your shoulders." Adding to its appeal is the fact that the back of the backpack is padded, ensuring that it "never digs into your back" no matter what's inside, according to Steele.
Photo: retailer
While decidedly not the most exciting thing to unwrap, any cyclist who will be riding into the night as days get shorter will appreciate a good pair of bike lights — not only so they can see hazards like potholes and puddles but so other drivers can see them as well. This pair is used by Evans, who told us that "with four light levels, I use these on the brightest of days and at nighttime for maximum visibility." He adds that the lights' rubber-strap mount makes them "easy to swap from bike to bike" and that their 650-lumen brightness is more than enough for even the darkest ride. "For hardcore nighttime use, I always recommend a front light with at least 500 lumens," Evans says.
Photo: retailer
While the cyclist you're shopping for may already own a helmet, that doesn't mean you can't give them a better one. Onyia says that after going through a few helmet brands looking for the right one, he was thrilled to discover POC. "Their main focus is safety, whereas other brands are focused equally on performance and aerodynamics," he says. "They have the most up-to-date impact-absorption technology, and the strap is also much more comfortable than other helmets', with a really nice padding."
Photo: retailer
Adventure Journalist and cyclist Morgan Tilton told us that after recently starting to use these kneepads designed by POC, she "wondered how I'd allowed my shins and patellas to endure the wounds they have over the past two decades." She says they are "lightweight, streamlined, and well ventilated," adding that "the shape smoothly contours around my kneecap." According to Tilton, they're a year-round essential (making them that much more giftable). "They don't bake me in the summer months, but the extra layer adds a comfortable wall against windchill on fall-season rides," she notes.
Steele told us he slathers this balm on religiously to combat the muscle tightness that comes with extensive cycling throughout the week. "It's the best rub I've found for finding and releasing strange tensions," he promises. "I even put it on my neck because of the tension that sometimes forms there from riding with my backpack."
Photo: retailer
"I fell in love last October with the full-finger Norrøna Infinium gloves," Tilton says, adding that they "single-handedly extended my mountain-biking season." Made of "soft synthetic and fleece material that features Gore-Tex Infinium, an ultrathin weather-protective membrane," the gloves will likely keep a cyclist's hands warm at any elevation. "They completely brace against cold air and highly repel water," she promises, while still being "breathable."
Photo: retailer
Those looking for an affordable gift that will please a cyclist can always count on socks, according to Sawyer, who says, "In that world, it's a style thing as well as a performance thing." (Several folks echoed this wisdom, which is something other cyclists have told us before too.) While Sawyer notes that cyclists "go through socks a lot," he says that cycling-specific socks will last a little longer and perform better because they have support in the essential places. Socks made for cycling are also "thinner than athletic socks so you get better feedback from shoes and pedals," Sawyer adds. He particularly likes Swiftwick's cycling socks, which have been previously recommended to us by cyclist Sebastian Modak, who calls them a year-round essential: "When I'm wearing them, I never even notice if my feet are overheating or cold."
Photo: retailer
For a pair of cycling socks with a bit more personality, cyclist Alexa Lampasona pointed us to these. While she and her partner have "both been through our fair share of bad jobs, where we dreamed of yelling this phrase to our bosses," they instead chose to hold their tongues and now wear the sentiment on their feet. But the knit socks aren't just fun: Lampasona says they're also "breathable, with just the right amount of support."