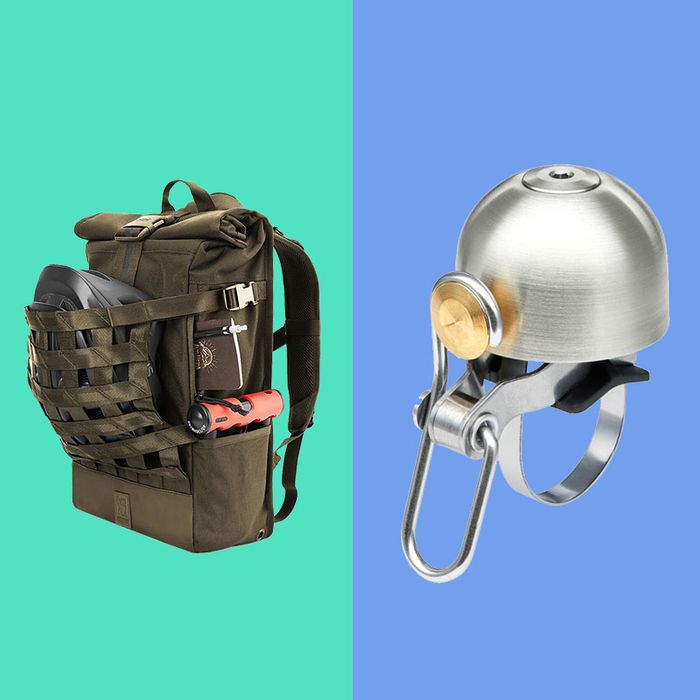 Photo-Illustration: retailers
Just like fishing, skateboarding, and surfing, cycling is a sport that can quickly become a lifestyle, consuming the minds of those who do it all the time and even influencing their fashion, travel, and friendship choices. This means that if you have a cyclist in your life, it's safe to assume that a surefire way to delight them — no matter the occasion — would be with a gift that relates to their favorite activity.
But given the glut of cycling-related products you can buy, and the fact that cycling technology evolves quickly, it would be understandable if your head is spinning over the options when it comes to what to actually give. To help you find gifts that the cyclist in your life will use (and not recycle), we spoke to 13 avid bike riders (and combed our archives) to find the types of things that would make for excellent gifts for cyclists of any skill level, whether they're training to scale the Swiss Alps or just the hill around the corner.
Gadgets and tech
Photo: retailer
Four of the cyclists we spoke to say a bike computer from Wahoo would also make for a highly useful gift. The wireless gadget, which can be programmed with whatever route a rider wants to take, attaches to a bike so that its screen serves as a live map for them to follow, much like the GPS systems found in many cars. But it's not just for getting from here to there: Selzer adds that this can also "track your speed, distance, elevation gain, and air temperature." In talking to him and the other folks who recommended this computer (cyclist Melvin Onyia and bike mechanic Ben Sawyer of CycleMania), we learned that Wahoo is the brand to beat when it comes to tech accessories for a bike. Onyia describes the gadget's giftable appeal this way: "It helps me keep track of my progress, and it's safer too — being able to track stats and follow a map on a screen at the front of my handlebars, rather than looking at my phone or watch, allows me to always be looking forward." If you're able to spend a little more, cyclist Diana Sacks, our fourth recommender, says Wahoo makes a more-expensive Elemnt Roam Computer that does everything this one can but has a longer battery life and color screen.
Photo: retailer
Jeff Selzer, the general manager at Palo Alto Bicycles, told us about these ingeniously designed wireless cycling headphones that allow you to safely ride while enjoying music. They "don't get into the ear canal but sit outside it, so you can still talk to people and hear cars," he explains. And because they use bone-conduction technology, which delivers sound through vibrations against your skull, only the wearer can hear what's being played. He told us he uses them all the time (and sells a lot to his customers), promising that "you don't notice them, and they never make you sweat, unlike earphones." After trying a pair ourselves, we found all this to be true — and discovered the headphones work just as well for listening to real-time directions from Google Maps.
If the cyclist in your life likes to pedal alongside friends, they'll appreciate how easily this Bluetooth speaker can clip on to various parts of their bike to play a soundtrack for group rides. Weekend cyclist Arielle Swedback, an associate producer at a documentary-film company, says that her JBL Clip has provided tunes for "plenty of warm-weather group rides" and that its battery "lasts for more hours than anyone can ride in a single day." She's not the speaker's only fan: Two of our writers use versions of it too.)
Photo: retailer
For riders who like to track their heart rate (whether for health reasons or as part of a fitness goal), Selzer recommends giving this Wahoo armband. Lots of similar trackers will wrap around the chest, which can be problematic — especially "for women, because everyone is a different size," Selzer says. In addition to being more comfortable to wear, he notes Wahoo's armband monitor "won't move or bounce around like a chest band." The tracker comes with two different-size straps to accommodate the thinnest or thickest of arms and features a rechargeable battery that Selzer says goes "for well over 100 hours" on a single charge.
Bags and storage
Photo: retailer
New York City bike messenger Paul Solis told us that his "favorite thing right now" is this saddle bag, which "fits right under your saddle but expands out really big." He says the nice thing about this bag is its size, explaining that, while it looks small, it expands so widely that he can ditch his backpack on shorter rides because he can fit everything he'll need inside. "It rolls up and snaps in and is the sweetest thing I've got," Solis assures of the bag. "The other day, someone gave me a bagel; I put it in, and it still had space."
Photo: retailer
For the cyclist who wants even more on-bike storage, cycling coach Robert Evans says this frame bag would make for a very functional gift because its design allows it to neatly slot into the awkwardly shaped empty space in the center of a bike frame. "If you don't use or don't have water-bottle mounts, this holds water, tools, and food and is perfect for long days in the saddle," he assures.
Photo: retailer
Selzer recommends this colorful, simple bike lock as a cheery gift for any cyclist. "You don't need to worry about losing the key, as it uses a combination lock," he explains. "And they're surprisingly durable locks for how lightweight they are."
Photo: retailer
Artist Timothy Uriah Steele, who bikes to his Sunset Park studio every day, told us that any biker who plans to carry medium to large objects on their two-wheeler needs a bike rack like this one. "You can only put so much on your back," he admits, "and this rack, which is perfect for the front of your bike, was designed by a bike messenger." While "very basic," Steele says the rack "distributes weight incredibly well, so you never feel your bike being pulled to one side." He adds that it has "in the know" status among cyclists and that he's even seeing people using it to haul "cardboard boxes full of stuff."
Photo: retailer
"Durable, properly structured, waterproof, and weight distributing" is how Steele describes this backpack that would surely get lots of use from cyclists who ride primarily to commute. He goes on to explain that "the extended cargo net on the back of it" can be stuffed with "your shoes, helmet, or lunch," noting that it's a "rare, great thing" to be able to pack so much and "still not have an enormous backpack that's wider than your shoulders." Adding to its appeal is the fact that the back of the backpack is padded, ensuring that it "never digs into your back" no matter what's inside, according to Steele.
Although it's designed to be worn while hiking or walking with dogs who would rather get a lift than use their feet, this backpack works just as well for cyclists who want to give Fido a ride, according to Candy Godoy, who uses it to bike with her influencer pug, Boogie, on her back. (She's one of four dog owners who recommended the backpack to us but the only one who wears it while cycling.)
Photo: retailer
Andrew Crooks of bike store NYC Velo says he'd gift this larger backpack to anyone who takes multi-day bike trips. He describes it as a "re-creation of a classic French mountaineering bag, but in modern materials," meaning it looks a bit more stylish but can still hold a lot and, as he notes, is "especially durable." He also appreciates the backpack's craftsmanship, telling us it's entirely made by hand.
For a gift to help your recipient store their bike, these exceptionally affordable hooks were the mos