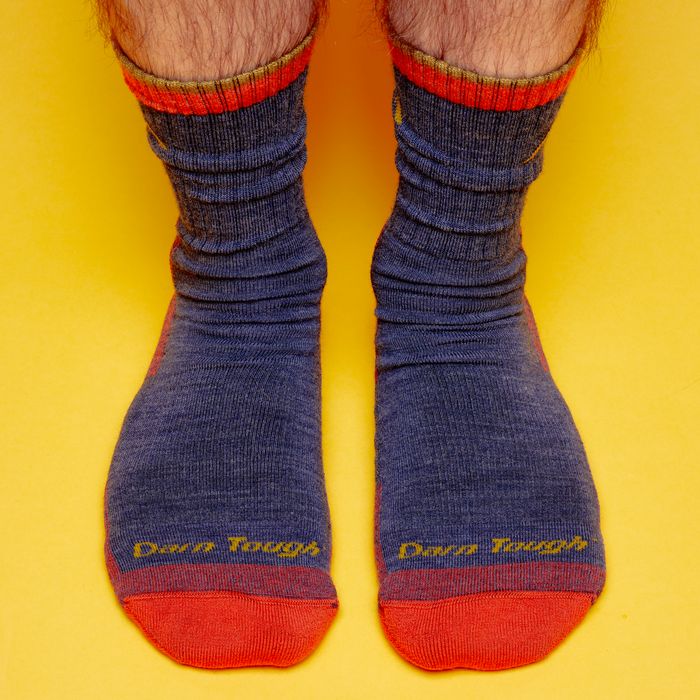 Cozy weather is finally here, which means that it's time to get your sock drawer in order. The warmest and most comfortable socks are woven from merino wool, a high-performance natural fiber that feels soft on the skin and doesn't cause discomfort when sweaty. "Traditional thicker lambswool, when it gets wet, it gets heavy," explains instructor of textile science Deborah Young. "But merino is so light that it's able to let go of the moisture. It's also the only natural fiber that is odor absorbent." This makes wool socks ideal for hiking, biking, and other sports and outdoor activities. Or just shuffling around in at home. As Merino Wool Gear's Jay Spring puts it, merino wool just has a nicer "foot feel — it's softer, and it cushions more."
Wool socks also tend to be much more expensive than other kinds, and not all of them are created equal. To find out which are worthy of your top drawer, I tried out a number of best-selling brands and consulted with textile experts, outdoor enthusiasts, and stylish people about what wool socks they stand by. And, well, walk around in. Below are their picks for the best wool socks for every activity.
If you're paying more than $20 for a single pair of socks, they should stay hole-free. Many brands — but not all — actually offer a lifetime guarantee on their wool socks, which can make them well worth that initial investment. Most of the recommendations here have a guarantee of at least one year, with the brand offering to replace any pairs that don't stand the test of time. Just a note on sock longevity, per Spring: Even if a brand says it's okay, you probably shouldn't put your wool socks in the dryer. "I would never," he says. "The best way to do it is to flat dry them on a towel — don't hang them up, because they'll lose their shape." He also suggests avoiding hand washing, "unless you really know what you're doing, because the detergent can get stuck in the fibers."
Materials and construction
I primarily looked for socks woven with at least 40 percent merino wool, which has fine, non-itchy fibers with natural odor resistance. Crucially, these fibers can absorb a lot of water before the wearer experiences any discomfort or cold. "Merino will keep you warm even when it's wet, which is really good when it comes to sweating," Spring explains. "The sock itself takes in the moisture." No, really: "Merino can absorb 30 percent of its weight and still feel dry, whereas a synthetic can absorb 7 percent of its weight and still feel wet," Young adds. The best merino wool socks, our experts noted, are still blended with other performance textiles like polyester, silk, spandex, and nylon, which makes them more durable and flexible, particularly for sports and hiking. Avoid wool socks blended with cotton, which doesn't share the moisture-wicking properties of wool, and won't regulate heat.
When it comes to weight and scratchiness, Spring says to go by this rule: The finer the weave, the softer the sock. Merino is already a very fine wool compared to other kinds, but sock manufacturers will adjust the weave across different designs. "The thinner wool socks are super soft, but not as durable, and harder to wash," he explains. "Those are more luxurious. The heavier wool is for outdoor use, and is often mixed with synthetics, because merino by itself isn't the strongest material."
On that note, when it comes to buying wool socks, Spring says that "it's about knowing what you need before getting it." Wool socks are highly engineered for specific purposes: hiking, lounging, or even wearing to the office. I broke down these picks according to intended use, whether that's a technical activity like skiing or just putting on boots to go to the store during winter. For example, technical wool socks are often woven with extra cushioning and support around the toes, heel, and sole, for durability and to prevent blisters. These would suit hikers but might be too heavyweight for everyday or formalwear.
Best wool socks overall
Durability: Lifetime guarantee | Materials: Merino wool and nylon | Comfort: Extra cushioning | Intended use: Hiking and outdoor
We here at the Strategist are big Darn Tough fans. I've worn my favorite pair of the Vermont brand's famously comfortable and durable merino wool socks while clambering up volcanoes in Guatemala and working from home in a building with capricious heating. Darn Tough socks have a thick, bootie-like weave that makes them a pleasure to wear. They also come with a lifetime guarantee, meaning the brand will replace your socks if you get any holes. Former Strategist writer Jordan Bowman says his pair stands up to snow shoveling and hiking expeditions. "They're padded to add comfort, so you will immediately notice the thickness in comparison to medium-weight socks like Uniqlo's and Muji's," he explains.
Darn Tough is Spring's wool sock brand of choice, too. He's been rotating between the same six pairs for years. "They're the kings of the industry for sure," he explains. "I can't say a bad thing about them." He thinks you can't beat Darn Tough's lifetime guarantee, and adds that it's a small-scale, independent operation with a higher degree of oversight than you might get with multinational outdoor brands: "Once you get that big business scale with merino, it's hard to maintain quality."
You'll also hear Darn Tough praised by many hikers and backpackers — especially those who venture out in all four seasons. REI's virtual outfitting team lead, Forrest Jarvi, tells us that it's worth paying extra for the brand's merino wool socks when embarking on multi-day backpacking trips, specifically because they're anti-odor. "Which is handy, especially if you're sharing a tent."
These hardy wool socks are even beloved by Transportation Secretary Pete Buttigieg, who wore them while serving in Afghanistan and still puts them on for long-haul flights.
Best less-expensive wool socks
Durability: No guarantee | Materials: Merino wool, nylon, polyester and spandex | Comfort: Reinforced toe and heel | Intended use: Hiking and outdoor
Considerably cheaper are these American-made merino wool socks discovered by former Strategist associate editor of audience development Mia Leimkuhler; she and her husband wear them all winter in Montreal, where they live. Leimkuhler marvels at the fact that they are so cheap while also being made of over 70 percent merino wool — but warns that they're bulky. "They are really, really good, but they are thick, perfect for winter boots, hockey skates, or wearing around the house," she says.
Best everyday wool socks
Durability: No guarantee | Materials: Merino wool, nylon, polyester and spandex | Comfort: Cushioned footbed, stay-up ankle | Intended use: Hiking, everyday
These wool-and-polyester socks from Strat-beloved brand Bombas are perfect for travel and everyday purposes, being stretchier and thinner than Darn Toughs, as well as much more neutral looking. Unlike some of the sportier styles listed here, these socks come in outfit-matching shades of charcoal, olive, and a popular off-white (that's currently sold out). They're available in three different sizes for optimum fit. Fashion-brand marketer Jenny Olson told us that she wore them while road-tripping through South America in a '70s Series Land Cruiser, adding that they are "super-soft" and also kept her feet warm and cozy while hiking.
Best wool boot socks
Durability: No guarantee | Materials: Merino wool and silk | Comfort: High length | Intended use: Everyday
Dan Snyder, a menswear designer and founder of Corridor, is a fan of these wool-silk-blend socks from American Trench. He says they're ideal for cold weather because they're warm and come up "superhigh," which makes them perfect for wearing with winter boots. Like the Darn Tough socks above, these are knitted in a small, family-owned North Carolina mill. Though pleasingly autumnal in hue, they're a little less crunchy in their aesthetic than the hiker-specific socks on this list — note those little flecks of color designed to peek out between your shoes and pants. Personal-branding and lifestyle consultant Victoria Hitchcock agrees that American Trench makes a "gorgeous sock" that's both "old school and hip." Trying a pair for myself, I agree that these are uncommonly old-fashioned socks, but in a good way. They're thick and just a little slouchy, and look beautiful above a Blundstone.
Best recycled wool socks
Durability: No guarantee | Materials: Recycled merino wool, polyester, acrylic | Comfort: Reinforced footbed | Intended use: Everyday
Sustainability credentials add to the cozy feeling of these recycled wool socks from Seattle-based basics brand Arvin Goods. Field Mag founder Graham Hiemstra says they are comfortably worn with slippers around the house or sneakers when you're going out because they have "just enough structure to stay up — this is not a baggy sock." The socks are also woven with elastic around the arches to provide additional foot support during the day.
Best wool tabi socks
Durability: No guarantee | Materials: Merino wool, nylon, and polyester | Comfort: Tabi toe | Intended use: Everyday
If you're wearing tabi boots or sneakers this winter, Peng recommends investing in these merino socks that feel like "a nice sweater for your feet." In fact, the brand says they're actually woven from the same high-grade wool used for luxury sweaters. They hold their tabi shape too, due to having "extra threads between the toes that make them stronger and more durable." The foot feel is smooth and luxurious, with a close and comfortable fit that makes them appropriate for a variety of toed and non-toed footwear, including loafers.
Best wool socks for the office
Durability: No guarantee | Materials: Merino wool and nylon | Comfort: Reinforced heel and toe | Intended use: Office
Spring put us onto the very-specific wool sock brand Boardroom, which makes socks for — you guessed it — office settings. The brand's classic-looking ribbed socks, made in the USA from merino wool, nylon, and spandex, are woven with reinforced heel and toe sections that will add comfort to the commute. So that you don't get any awkward scrunching between your shoes and trouser cuffs, they sit nice and high over the calf all day. We also like that the brand sells a mesh sock laundry bag that will protect up to six pairs of wool socks as their precious fibers churn around in the machine.
Best wool running socks
Durability: 2-year guarantee | Materials: Merino wool and nylon | Comfort: Seamless toe, padding | Intended use: Running and sports
As someone who runs outside in all seasons (including some questionable weather conditions), former Strategist senior writer Karen Iorio Adelson has tried a lot of sock brands. Smartwool's crew socks top her list for winter running: She likes that they "cover more of my ankles, compared to low-cut or no-shows, so the gap between my tights and my socks stays covered and warm." The socks are woven with runners specifically in mind, incorporating a "seamless" toe to avoid friction with your running shoes. The women's socks also have a narrower fit than the men's. Smartwool was a brand mentioned by a few of our experts, including Spring — like Darn Tough, they're synonymous with technical sock manufacturing. Though they don't quite offer a lifetime guarantee on their products, they do promise at least two years of wear or a free replacement. Which for everyday runners is still a pretty good deal.
Best no-show wool running socks
Durability: 2-year guarantee | Materials: Merino wool and nylon | Comfort: Seamless toe, padding | Intended use: Running and sports
For warmer months, Smartwool also makes these no-show socks with a similar merino-wool composition to the crew-length pairs above, and the same "seamless" toe for added comfort as you pound the pavement. These ones also have a two-year guarantee.
Best less-expensive wool cycling socks
Photo: retailer
Durability: Customer service form | Materials: Merino wool and nylon | Comfort: Flex zones | Intended use: Cycling and sports
Compared to regular athletic socks, pairs designed for cycling are generally thinner, so that riders can get better feedback from their shoes and pedals. But that doesn't mean they have to be cold. Recreational cyclist and travel writer Sebastian Modak tells us he wears these merino wool socks "religiously" in the winter to stay warm on his bike. "When I'm wearing them, I never even notice if my feet are overheating or too cold," he says. We especially like that this pair is designed with "flex zones" at the ankle, to prevent bunching while you're on the bike and are unable to reach down and make adjustments. While the brand doesn't exactly guarantee it will replace these socks if they fall apart prematurely, it does promise to "take care" of any unsatisfied customers via this complaint form.
Best adventure cycling wool socks
Durability: No guarantee | Materials: Merino wool, nylon, spandex | Comfort: Tension cuff, padding | Intended use: Distance cycling
For long-distance trail and gravel rides, the right pair of socks can make a considerable difference in comfort. Bikepack Racing Podcast co-host Ezra Ward-Packard says that, in general, merino wool is the best fiber to wear on your feet when adventure riding ("I don't know why I was wearing anything but wool before, but I'm never going back") and these trail socks from cycling brand Pearl iZumi in particular "just feel so much better" than others he's tried. Their seven-inch cuffs sit a little higher than the pair of Swiftwicks, above, with a tighter band that holds tension and stops them from slipping while you're on the seat.
Best wool socks with extra padding and ventilation
Durability: Lifetime guarantee | Materials: Merino wool and nylon | Comfort: Ventilation, padding | Intended use: Hiking and outdoor
Merino may be more moisture-wicking and odor-neutralizing than other fibers, but some of us still sweat enough to be wary. Enter Farm to Feet, another big player in the wool sock game that Spring says is known for its innovations around padding and ventilation. He also points out the brand's entirely U.S.-based supply chain: Its socks are all-American, from sourcing to manufacturing. This pair of technical merino socks, which would especially suit long-haul hikers with fussy feet, has a higher ratio of nylon to merino fibers than others on this list. This makes them both more durable and flexible. Ventilation strips sit on top of the foot, and the socks also have blister-protecting padding on the soles. Farm to Feet offers a lifetime guarantee on its products — and should you return a pair you're unhappy with, promises to recycle them.
Best lightweight wool socks
Durability: Lifetime guarantee | Materials: Merino wool and polyamide | Comfort: Reinforced toe, seamless | Intended use: Everyday
New Zealand brand Icebreaker makes some of our favorite merino products. When it comes to wool, it makes sense to trust a country known for its millions of sheep, no? While I'm loyal to my Darn Tough socks for hiking, I think these slimmer socks are great for more everyday wear. While still reinforced at the heel and toe, they are thinner and have fewer seams — this results in a looser and less rigid construction that more resembles your traditional cotton sock. Despite ostensibly being lighter and less durable than others on this list, all Icebreaker socks come with a lifetime guarantee and are replaceable — no questions asked — should you wear them out.
Best stretchy wool socks
Durability: 5-year guarantee | Materials: Merino wool, nylon, polyester, and lycra | Comfort: Extra stretch, padding | Intended use: Cycling and other sports
For a technical wool sock that will suit a variety of physical activities, look no further than Strategist writer Jeremy Rellosa's favorite pair from North Carolina "microsockery" DeFeet. They're designed for cycling, but he also wears them when running and hiking. The secret to their versatility? A higher percentage of nylon and polyester in the weave, plus some Lycra for extra stretch. "And they have just the right amount of cushion without being too plush," Rellosa adds. As for the profile, "they're stretchy but keep their shape and don't get frumpy like other chunky wool socks that I have." He's also convinced that the generous cushioning helped him break in a pair of stiff leather Paraboot shoes this past spring.
Best wool compression socks
Durability: No guarantee | Materials: Merino wool, nylon | Comfort: Gentle compression | Intended use: In-flight, medical
Compression socks, while great for both travel and medical purposes, are usually neither cozy-feeling nor attractive-looking. These from Bombas are both, which is why Strategist senior writer Liza Corsillo wore them during her pregnancy and ten-day hospital stay after giving birth. "I had another pair that I wore earlier in my pregnancy, and they were so ugly and uncomfortable," she says. "I thought that's what all compression socks were like — then I bought the Bombas and everything changed." Quite aside from being cute, the socks greatly helped Corsillo through a nasty bout of preeclampsia, during which her legs were so swollen that she could barely pull on pants. "These were stretchy enough to pull over my enormous calves," she recalls, "and they helped the swelling go down faster."
Best wool ski and snowboard socks
Durability: Lifetime guarantee | Materials: Merino wool and nylon | Comfort: Women's sock has footbed cushioning | Intended use: Ski and snowboarding
Snow sports is yet another category that Darn Tough socks dominate. Daryl Morrison, a former alpine racer and ski expert for the gear recommendation and shopping site Curated, says they're the only socks she buys because they're so warm and durable, adding that she still has pairs from high school. These socks sit nice and high on the calf, to accommodate ski boots, snowboard boots, or whatever shoes you're wearing while traversing between the slopes and your car. The brand promises "no slipping, no bunching, and no blisters," with a weave so fine that you should forget you're even wearing socks in the first place.
Best wool ski socks with shin padding
Durability: 2-year guarantee | Materials: Merino wool and nylon | Comfort: Padding on pressure points | Intended use: Ski and snowboarding
Whereas Darn Tough's ski socks are fairly slimline, these from Smartwool offer additional cushioning on the shins, which some skiers will prefer when wearing those notoriously punishing boots. They're useful off the slopes, too: Film wrangler and outdoor journalist Maggie Slepian wears them during 12-hour days on set in frigid Montana, where they pair nicely with her tall work boots. "The heavier-weight merino is insulating without feeling too hot," she says.
Best waterproof wool socks
Durability: One-year guarantee | Materials: Merino wool and nylon | Comfort: Water resistance | Intended use: Hiking and outdoor
For running, hiking, or just walking the dog on a rainy day, you can opt for a waterproof wool sock, like this one recommended by Strategist contributor Steven John. He says his feet "stayed totally dry" after running on a particularly wet day (with non-water-resistant shoes), thanks to the socks' three-layer construction. There's an inner wool layer to pull moisture away from your skin, and a waterproof mid-layer and nylon outer layer to prevent water from getting inside. Showers Pass socks are guaranteed for 12 months after purchase, with worn-out socks repaired or replaced. If you're after a lighter waterproof sock, the brand also sells a non-wool version of these.
Best alpaca wool socks
Durability: No guarantee | Materials: Alpaca wool, bamboo, nylon, and spandex | Comfort: Side ventilation mesh| Intended use: Sports and outdoor
The experts I spoke with were evangelical about merino-wool socks, and for good reason: Merino is a high-performance fiber that's increasingly well priced and widely available for purchase across many major fashion and outdoor brands. Alpaca wool is much less ubiquitous, but it's actually even better at retaining heat, reducing odor, and wicking moisture while you sweat. I've been wearing these socks from Peruvian brand Paka for the past year and am crowning them the softest that I've ever owned. They're fuzzy but never itchy, they retain their shape, and they are breathable enough to run or hike in. They're also super lightweight, which is ideal for backpacking.
Some more wool socks we've written about
• Karen Iorio Adelson, former Strategist senior writer
• Jordan Bowman, former Strategist writer
• Liza Corsillo, Strategist senior writer
• Victoria Hitchcock, personal branding and lifestyle consultant
• Forrest Jarvi, virtual outfitting team lead at REI
• Steven John, Strategist contributor
• Mia Leimkuhler, Strategist former associate editor of audience development
Sebastian Modak, cyclist and travel writer
• Daryl Morrison, former alpine racer and ski expert at Curated
• Jenny Olson, freelance brand marketer
• Chelsea Peng, former Strategist senior editor
• Jeremy Rellosa, Strategist writer
• Dan Snyder, menswear designer and founder of Corridor
• Jay Spring, founder of Merino Wool Gear
• Winnie Yang, Strategist senior editor
• Deborah Young, instructor of textile science at The Textile Expert
• Ezra Ward-Packard, co-host, Bikepack Racing Podcast
The Strategist is designed to surface the most useful, expert recommendations for things to buy across the vast e-commerce landscape. Some of our latest conquests include the best acne treatments, rolling luggage, pillows for side sleepers, natural anxiety remedies, and bath towels. We update links when possible, but note that deals can expire and all prices are subject to change.