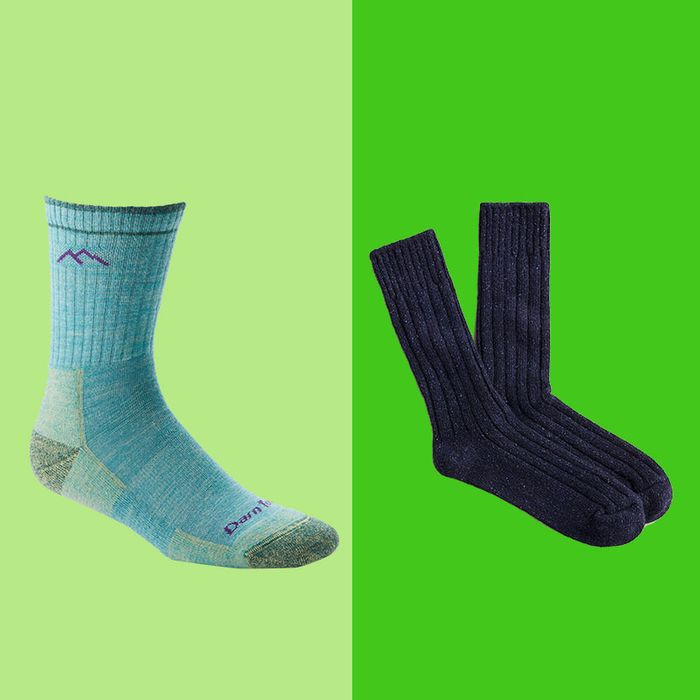 Photo-Illustration: The Strategist; Photos: Retailers
There are socks, and then there are wool socks. The latter are comfier than their cotton or synthetic counterparts — even in summer, which you might not expect. That's because modern wool socks are woven from merino wool, a high-performance natural fiber that feels soft on the skin and has odor-fighting properties. Despite stereotypes, merino wool tends not to be itchy, and is still warm and comfortable to wear when it gets sweaty. "Traditional thicker lambswool, when it gets wet, it gets heavy," explains instructor of textile science Deborah Young. "But merino is so light that it's able to let go of the moisture, and that provides a cooling effect. It's also the only natural fiber that is odor absorbent." This makes wool socks ideal for hiking, biking, and other sports and outdoor activities. Or just getting cozy at home. As Merino Wool Gear's Jay Spring puts it, merino wool just has a nicer "foot feel — it's softer, and it cushions more."
Wool socks also tend to be much more expensive than other kinds, and not all of them are created equal. To find out which are worthy of your top drawer, I tried out a number of best selling brands, and consulted with textile experts, outdoor enthusiasts, and stylish people about what wool socks they stand by. And, well, walk around in.
Best overall | Best stylish | Best for the office | Best for running | Best for cycling | Best for padding and ventilation | Best lightweight | Best for skiing | Best waterproof
Durability: If you're paying more than $20 for a single pair of socks, they should stay hole-free. Many brands — but not all — actually offer a lifetime guarantee on their wool socks, which can make them well worth that initial investment. Most of the recommendations here have a guarantee of at least one year, with the brand offering to replace any pairs that don't stand the test of time. Just a note on sock longevity, per Spring: Even if a brand says it's okay, you probably shouldn't put your wool socks in the dryer. "I would never," he says. "The best way to do it is to flat dry them on a towel — don't hang them up, because they'll lose their shape." He also suggests avoiding hand washing, "unless you really know what you're doing, because the detergent can get stuck in the fibers."
Materials and construction: I looked for socks woven with at least 40 percent merino wool, which has fine, non-itchy fibers with natural odor resistance. Crucially, these fibers can absorb a lot of water before the wearer experiences any discomfort or cold. "Merino will keep you warm even when it's wet, which is really good when it comes to sweating," Spring explains. "The sock itself takes in the moisture." No, really: "Merino can absorb 30 percent of its weight and still feel dry, whereas a synthetic can absorb 7 percent of its weight and still feel wet," Young adds. The best merino wool socks, our experts noted, are still blended with other performance textiles like polyester, silk, spandex, and nylon, which makes them more durable and flexible, particularly for sports and hiking. Avoid wool socks blended with cotton, which doesn't share the moisture-wicking properties of wool, and won't regulate heat.
Comfort: When it comes to weight and scratchiness, Spring says to go by this rule: The finer the weave, the softer the sock. Merino is already a very fine wool compared to other kinds, but sock manufacturers will adjust the weave across different designs. "The thinner wool socks are super soft, but not as durable, and harder to wash," he explains. "Those are more luxurious. The heavier wool is for outdoor use, and is often mixed with synthetics, because merino by itself isn't the strongest material."
Intended use: On that note, when it comes to buying wool socks, Spring says that "it's about knowing what you need before getting it." Wool socks are highly engineered for specific purposes: hiking, lounging, or even wearing to the office. I broke down these picks according to the intended application, whether that's a technical activity like skiing or just putting on boots to go to the store during winter. For example, technical wool socks are often woven with extra cushioning and support around the toes, heel, and sole, for durability and to prevent blisters. These would suit hikers but might be too heavyweight for everyday or formal wear.
Best overall wool sock
Lifetime guarantee | Merino wool and nylon | Hiking and outdoor | Extra cushioning
We here at the Strategist are big Darn Tough fans. I've worn my favorite pair of the Vermont brand's famously comfortable and durable merino wool socks while clambering up volcanoes in Guatemala and while working from home in a building with capricious heating. Darn Tough socks have a thick, bootie-like weave that makes them a pleasure to wear. They also come with a lifetime guarantee, meaning the brand will replace your socks if you get any holes. Fellow Strategist writer Jordan Bowman says his pair stands up to snow shoveling and hiking expeditions. "They're padded to add comfort, so you will immediately notice the thickness in comparison to medium-weight socks like Uniqlo's and Muji's," he explains.
Darn Tough is Spring's wool sock brand of choice, too. He's been rotating between the same six pairs for years. "They're the kings of the industry for sure," he explains. "I can't say a bad thing about them." He thinks you can't beat Darn Tough's lifetime guarantee, and adds that it's a small-scale, independent operation with a higher degree of oversight than you might get with multinational outdoor brands: "Once you get that big business scale with merino, it's hard to maintain quality."
You'll also hear Darn Tough praised by many seasoned hikers and backpackers — especially those who venture out in all four seasons. REI's virtual outfitting team lead, Forrest Jarvi, tells us that it's worth paying extra for the brand's merino wool socks when embarking on multi-day backpacking trips, specifically because they're anti-odor. "Which is handy, especially if you're sharing a tent."
These hardy wool socks are even beloved by Transportation Secretary Pete Buttigieg, who told us that he wore them while serving in Afghanistan and still puts them on for long-haul flights.
Best stylish wool sock
Merino wool and silk | Everyday
Dan Snyder, a menswear designer and founder of Corridor, is a fan of these wool-silk-blend socks from American Trench. He says they're ideal for cold weather because they're warm and come up "superhigh," which makes them perfect for wearing with winter boots. Like the Darn Tough socks above, these are knitted in a small, family-owned North Carolina mill. Though pleasingly autumnal in hue, they're a little less crunchy in their aesthetic than the hiker-specific socks on this list — note those little flecks of color designed to peek out between your shoes and pants. Personal-branding and lifestyle consultant Victoria Hitchcock agrees that American Trench make a "gorgeous sock" that's both "old school and hip." She's also a fan of the brand's merino activity socks, which feature antimicrobial silver for additional odor control.
Best wool sock for the office
Merino wool and nylon | Office
Spring put us onto the very-specific wool sock brand Boardroom, which makes socks for — you guessed it — office settings. The brand's classic-looking ribbed socks, made in the USA from merino wool, nylon, and spandex, are woven with reinforced heel and toe sections that will add comfort to the commute. So that you don't get any awkward scrunching between your shoes and trouser cuffs, they sit nice and high over the calf all day. We also like that the brand sells a mesh sock laundry bag that will protect up to six pairs of wool socks as their precious fibers churn around in the machine.
Best wool running sock