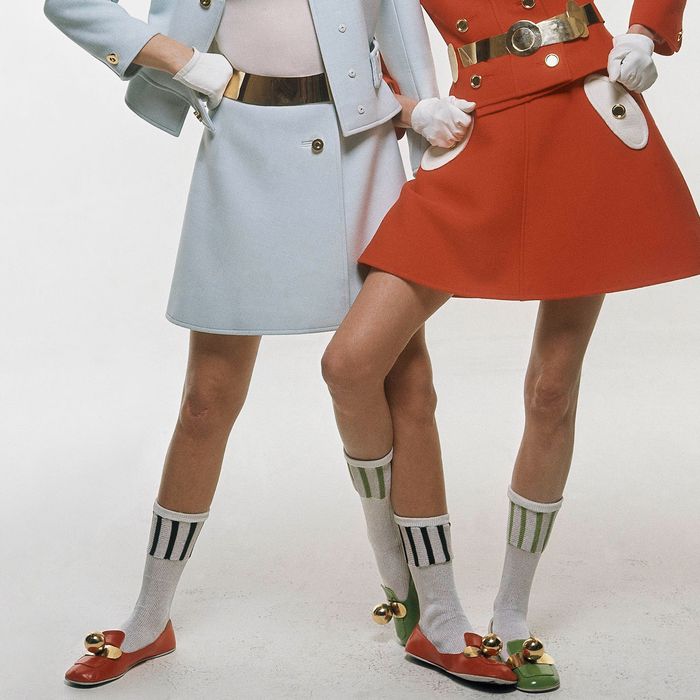 Photo: Bert Stern/Condé Nast via Getty Images
If you follow our monthly Strategist haul, then you're familiar with the idiosyncrasies of our editors' and writers' shopping habits. While we think of those as the highlights, there are plenty of other, less glamorous things that we buy — and love — on the regular, too. So whether you've wondered about the toothbrushes we use or the coffee makers we rely on, this is the Stuff We Buy Ourselves. This time around, with fall upon us: the socks we all like the best.
Jason Chen, deputy editor
Hands down, these are my absolute favorite socks for looking slightly interesting but not too wild. I'd say I have more than two dozen pairs bought over the course of years. Annoyingly, Muji doesn't sell the regular length online (mine hit right at mid-calf like you'll see on the Australian Muji site), but these are close.
In the summer, my favorites are the Sheec for no-shows — cheap and good.
Margaret Rhodes, senior editor
I've never cared much about my socks, beyond having enough of them to last longer than a laundry cycle. But then in the spring, I edited this post Katy Schneider wrote, on wearing socks with sandals, and I became fixated on the idea of getting some Darner socks. But a single pair of Darner socks is close to $40. Instead, I bought a bunch of Uniqlo's very nice and dainty socks. You can't tell in this picture, but these are ribbed around the ankle and look slightly dressy. That said, on the men's side of Uniqlo there's a whole wall filled with socks of every imaginable color. If anyone from the company is reading this: I think the women's side should get a rainbow sock wall, too.
For workouts, I wear these thin little Nike socks. All my gym and running clothes are black or navy blue, and the pop of sock color is a small daily joy.
Simone Kitchens, senior editor
Smartwool, but different types for different situations. Inside the house, in the middle of winter, I live in the men's thick gray hiking socks. They function more like slippers.
But day to day, walking around, usually in Converse, I need my socks to be very, very thin. I like the women's ultralightweight ones: They don't get all bunched up, still show a little ankle, and while not cheap, they seem to live a longer life.
Katy Schneider, associate editor