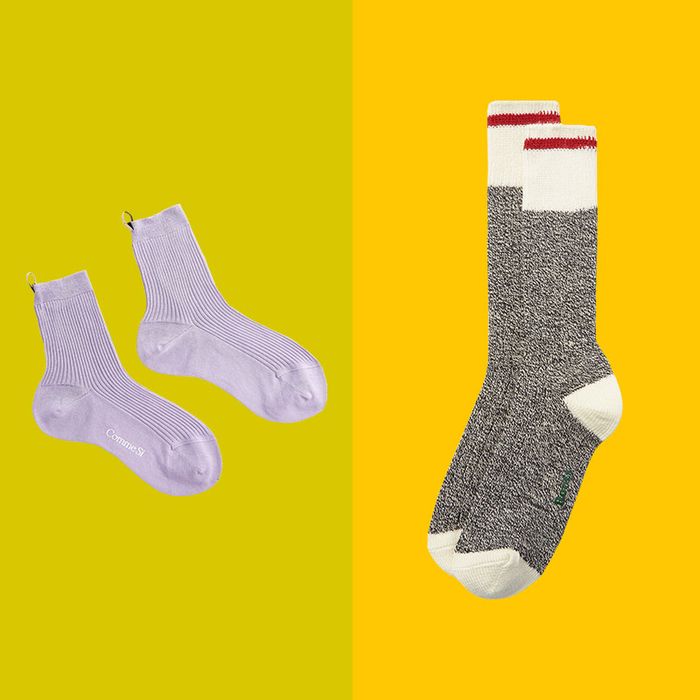 A sock for every occasion.
Photo: Retailers
Insignificant as they may be, socks can have an outsize effect on the course of your day. Too loose around the ankle, and you'll be pulling them up every few blocks. Too rough — blister city. Then there's the matter of picking a sock that's actually stylish — choosing between, say, a pair of actually attractive tube socks and some glittery mesh going-out socks. We reached out to 21 stylish women to hear about their favorites for all occasions — for slipping on under heels (Darners, Tabios), and avoiding slip-sliding on the pilates mat (Sticky Bes and Pointes). Consider your sock drawer revived.
Best no-show socks for sneakers and ankle boots
We've heard high praise for Bombas socks from everyone from Yeardley Smith (the voice of Lisa Simpson) to chef Jonathan Waxman. People are especially fond of the brand's no-show socks. "For me, it's all about comfort and functionality," says stylist Jasmine Caccamo, who loves the brand's no-show style. "When I'm wearing everything from my YSL Court Classic sneakers to my Nike Air Pegasus, Bombas socks are my go-to. These socks have a 'blister heel' (meaning gel grips on the heel that keep the socks in place) and the high quality of the cotton makes them super cozy, comfortable, and breathable." Allison Tray, founder of Tres Belle Spa in Boerum Hill, told us that she is "totally obsessed" with how comfortable Bombas socks are, and compares the feeling of wearing them to "a little hug on your feet." She wears them to the gym, and also pairs them with ankle boots.
Best no-show socks for flats
If you want to wear socks with flats, you're going to need something with a deep cut in the front, and, crucially, something that won't slip off. Dolley Frearson, co-founder and creative director of High Fashion Home, found a pair that does the trick: Hue's No-Show Socks. "They're the best no-show socks ever," she says. "I had to go through so many brands before I found ones that didn't slip off." These socks feature an elastic topline and a silicone back so they stay in place, and according to Frearson, they work with just about every type of shoe: "They're perfect for flats, booties, sneakers, everything."
We'd be remiss to leave off the pair of no-show socks that come recommended by investigative journalist Marian Wang, who applied her expert research skills to the hunt for the perfect no-show sock. Her answer: Jarseen Women's No-Show Low-Cut Non-Slip Liner Socks. "This sock was the clear winner," she wrote. "Unlike many no-show socks that have just a tiny dab of silicone gel at the heel for grip, these socks have a ring of gel all the way around the edge, which is much more effective." There's also silicone at the ball of the foot, which helps your sock stay in place in flats. "If I were only buying one pair, I'd get these," says Wang.
Best winter no-show socks
"Winter no-show socks" may sound like an oxymoron, but costume designer and Strategist contributor Alison Freer found a pair that is just that. They are knee-high no-shows, which she describes as "kind of like a pair of Peds on steroids." The socks cover your toes, the bottoms of your feet, heels, and calves, but leave your ankle exposed. It might sound strange, but Freer swears they're extremely versatile: "You can wear them under jeans or pants with high heels, moccasins, oxfords, ballet flats, or even Toms (seriously, have you gotten a whiff of your Toms lately?), and absolutely nobody will be the wiser," she says. The socks are made with Coolmax polyester, a moisture-wicking technical fabric, which Freer says helps cut sweat and odor in half.
Best socks to show off
Both former Maryam Nassir Zadeh buyer Carnelia Garcia and swimsuit designer Melisa Denizeri raved about Maria La Rosa silk-blend socks. "Maria La Rosa socks feel super luxurious and the colors are always fun," says Denizeri. Garcia, who calls the socks "super chic," told us that she liked to pair them with MNZ sandals (but you could wear them with any kind of sandals). We're into the brand's recent horoscope-themed silk-blend socks — which would make a great birthday gift for the Co-Star addict in your life — and this two-tone golden pair, which is at a slightly more affordable price point.
Denizeri is also a fan of Tabio socks — she says visiting the Japanese brand's London store is a highlight of her family trips to the U.K. — for their unique designs and high-quality construction. "I think what sets Taboio socks aside is the quality sourcing of the yarn and their production standards," Denizeri says. "But also the original designs — I don't really see any similar socks by other brands." Maayan Zilberman, founder of the confectionary company Sweet Saba, is a Tabio devotee, as well. "They have the finest yarns suitable for wearing with heels," she says.
Of all the brands making show-off-worthy socks on the market, art director (and former Need Supply Co. fashion director) Krystle Kemp says that Hansel from Basel "is the one that creates fun-to-wear socks in the most aesthetically appealing way." According to Kemp, the sock line's designs fall "somewhere between subtle and loud, and they strike the perfect balance of eye-catching interest and thoughtful design." Ear-piercing start-up Studs founder Lisa Bubbers is a fan, too. "Hansel From Basel socks are the most beautiful, delicate little works of art made in Japan," she says. "They're made for showing off with some loafers or chunky heel."
Editor's note: these exact socks are sold out, but there's a similar pair here.
"These feel so lovely on your foot, almost delicate — they feel special, like someone really cares about your feet (lol) and not so much like an afterthought," says stylist Juliana Salazar, who also notes that the brand offers colors you might not find elsewhere, like this summery lilac.
Best thick socks