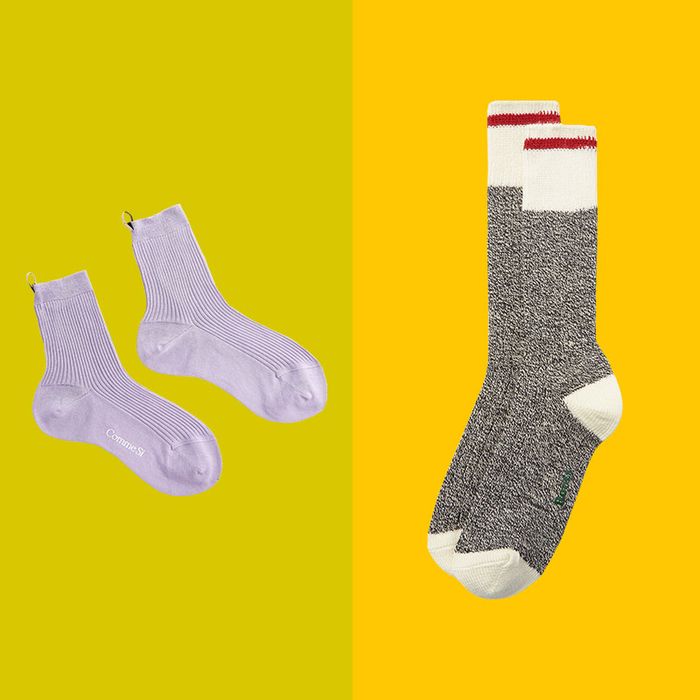 A sock for every occasion.
Photo: Retailers
Insignificant as they may be, socks can have an outsize effect on the course of your day. Too loose around the ankle, and you'll be pulling them up every few blocks. Too rough — blister city. Then there's the matter of picking a sock that's actually stylish — choosing between, say, a pair of actually attractive tube socks and some glittery mesh going-out socks. We reached out to 21 stylish women to hear about their favorites for all occasions — for slipping on under heels (Darners, Tabios), and avoiding slip-sliding on the pilates mat (Sticky Bes and Pointes). Consider your sock drawer revived.
Best no-show socks for sneakers and ankle boots
Best no-show socks for flats
Best winter no-show socks
Best socks to show off
Both former Maryam Nassir Zadeh buyer Carnelia Garcia and swimsuit designer Melisa Denizeri raved about Maria La Rosa silk-blend socks. "Maria La Rosa socks feel super luxurious and the colors are always fun," says Denizeri. Garcia, who calls the socks "super chic," told us that she liked to pair them with MNZ sandals (but you could wear them with any kind of sandals). We're into the brand's recent horoscope-themed silk-blend socks — which would make a great birthday gift for the Co-Star addict in your life — and this two-tone golden pair, which is at a slightly more affordable price point.
Best thick socks
You don't have to be hiking bear mountain to slide on a pair of thick socks — they work just as well for a day in the office. Denizeri says that in the winter her go-to are traditional camp socks, like these from L.L. Bean and Roots Canada. "I usually wear heavy boots and I love to wear thicker socks," she says. "They're super cozy when worn indoors." The L.L. Bean are made of a chunky cotton knit and the Roots are a cozy acrylic and wool blend.
Best knee-high stocking socks
Best mesh socks
Best tube socks
Best "investment" socks
Best novelty socks


Best anti-slip socks
Best black socks
Best white socks