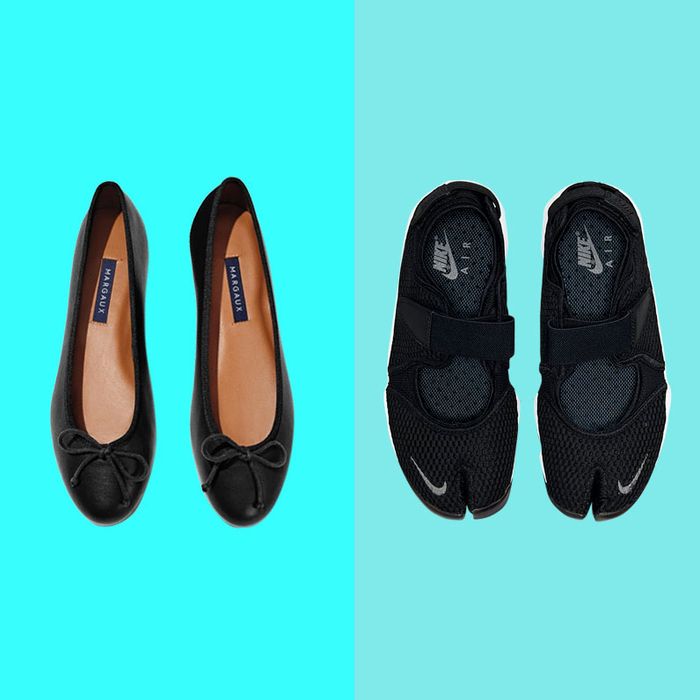 Photo-Illustration: The Strategist
Somewhere between heels and sneakers on the footwear-formality scale are flats. That's exactly what makes them such an essential (alongside the classic button-down or turtleneck). Somehow, wherever and whenever you wear them, flats will work. You can slip right into them for a 9 a.m. meeting, a quick lunch with work friends, or dinner with your real friends before you go out dancing until 2 a.m (if you're so inclined). But like all basics, the sheer number of options you have — from Alexa Chung–approved Repettos to The Row's minimalist mary janes — makes finding the right pair all the more difficult. Especially if you want a pair in black. Considering how much wear you can get out of a pair of black flats, an ultraluxe pair may seem like a justifiable splurge. But being the Strategist, we took it upon ourselves to find the best black flats under $200. So we asked the super-stylish among us — including fashion-brand founders, designers, and stylists — for their recommendations.
Best overall under-$200 black flats
In the making of this list, Margaux — the start-up shoe brand with a decidedly French flair — came up three times. But it was Chloe Varelidi, founder of the play-set label Follies, who name-checked the Demi. She initially thought the style would be too sophisticated — with its grosgrain trim and little bow — to last through her work in the studio and running around playgrounds. "But they held up so well that I order a pair each year now," she says. Margaux also counts Luisana Mendoza de Roccia, co-founder of Maisonette, and Nell Diamond, Hill House Home's founder, as converts. (Their pick from the company, the Classic, has been discontinued.) De Roccia wears hers everywhere from parent-teacher conferences to dinner parties with friends and points out that the flats feel "made-to-measure" from the first time you put them on, so there's no need to stock up on Band-Aids while breaking them in. (Varelidi seconds that sentiment with the Demis.) Diamond, a self-described "heels girl," praises these flats' "simple, chic ballerina shape."
Best black ballet flats under $200
By now, you've heard the news: Ballet flats are back. Their revival is probably due in part to the shoes' "fashion fluidity," meaning "they can look classic, they can look edgy, or they can look romantic," says designer-slash-blogger Gabrielle Arruda. The Sam Edelman Felicias are a favorite of hers, especially for how "insanely comfortable" they are. The pair stretches slightly with time but has a more structured fit to keep them from slipping off, Arruda adds. She mentions that Felicias help "tone down a trendier look," accentuating the centerpiece of an outfit, whether that's a boldly shaped sleeve or a can't-miss print. Stylist Erica Ball also praises their versatility, saying you can easily dress them up or down. "They look more expensive than they are because of the craftsmanship," she says.
These ballerinas, which Arruda turned us on to, have the distinction of being the cheapest pair on this list. Since she's bicoastal, Arruda thought it would make sense to have a spare, non-precious pair for schlepping around. (Her Chanel flats send her on a guilt trip — they're almost too delicate to wear.) Arruda says this pair's under-$20 price tag means she doesn't have to worry "about how shabby they will look in a month or stress if it starts raining later that day." Fortunately, the flats have qualities that rival pricier pairs: a cushioned insole and a top edge that doesn't "give you blisters like some inexpensive shoes," Arruda adds. "I can walk for miles in these shoes and not have them bother me."
While shopping for a client, style coach Kim Hancher laid her eyes on these flats from Everlane, which she immediately liked for their simplicity and slightly squared, sculptural toe. That shape gives them a little more edge than the daintier flats saturating the streets as we speak, she says (see Miu Miu's probably Degas-inspired ballerinas). She adds that the shoes "elevate anything I put on with them," even "old jeans and a T-shirt." Since the shoes sit higher on the foot, they can feel a little tight on top at first, Hancher explains, which equates to a little more time to break them in fully. Though once they are broken in, she finds the flats are "plenty supportive."
These are similar to the flats above, sans bow. "They stay true to their name and truly fit like a glove," says Maisonette co-founder Sylvana Ward Durrett. She has had hers for a while now and explains that the pair holds its shape very well. That's not so surprising considering these are made from the same soft Italian leather as their ballet counterparts. Similar to the earlier Everlanes, this pair features a higher box that, stylist Ansley Morgan explains, doesn't expose any toe cleavage. (A fun fact: When Morgan first moved to New York, she worked in one of Everlane's stores and says customers would come in just for this top seller.)
A brand that has been on Morgan's radar of late is the Montreal-based, sister-run Maguire. It has become one of her favorite sites to shop for high-quality shoes. This pair of ballet flats "has a whimsical shape that looks like you just stepped off the stage at a dance recital," Morgan says. The (admittedly) elvish effect is heightened by a cutout right underneath the bow as well as a squared-off toe. Morgan likes that they have a "little spark" that'll still fit right in with the rest of your wardrobe. The shoes are handmade in Montecatini Terme, a town in Tuscany.
Christiana Greene, founder of Bum-Cake Vintage, purchased this pair from Zara around two months ago, "in preparation for something I could wear in the fall in New York or as a casual but sophisticated everyday shoe in Los Angeles." To pull off this double duty, the flats are simple enough to go with most of her outfits. Greene will switch from wearing them with a secondhand T-shirt to a slip-dress–and–cardigan combo for a night out. Although these don't offer much support, they have enough padding not to hurt her feet. "Most ballet flats aren't very supportive, but these are cushioned," Greene says. If you're interested in snagging a pair for yourself, you shouldn't dillydally, as this style is quickly selling out.
Best black pointed flats under $200
Alyssa Kuchta Johnson, founder of FYB Jewelry, recommends Rothy's rather sharp-looking Point pair. The sustainable, San Francisco–based label's persistent Instagram ads convinced her to try the shoes — right around the time she was window-shopping for easy-to-pack flats. The Points are knitted from the shoemaker's signature thread spun from plastic bottles and are the only machine-washable pair we heard about (just make sure to air-dry them). Because of their construction, especially compared with leather, they don't take long to wear in, Johnson says. And the Points are incredibly lightweight — she keeps them in her bag for when she's hopping on the subway — so you can quickly slip them on and off. (If you're more into a rounded toe, the Cut's former fashion editor Indya Brown calls the brand's simply named Flat very comfortable.)
Best black D'Orsay flats under $200
Madison Sutton, a.k.a. "the NYC Agent" on TikTok, introduced us (in our guide to the most comfortable shoes, according to people who stand all day) to these convertible pointed-toe flats from Pashion, the brainchild of Shark Tank alum Haley Pavone. Sutton sometimes gets in 20,000 steps a day while showing apartments (and occasionally climbs multiple flights of shaky stairs to get to a viewing) and needs shoes that still look business-y. These can transform into flats in less than a minute — she can swap out the heel while standing, as it pops right off with just a click. With or without the heel, these shoes feature a D'Orsay cutout that reveals a little more than the traditional completely closed flat does (an ankle strap helps keep them in place).
Best black athletic flats under $200
Somewhere in the liminal space between flats and sneakers are these Nikes, which come recommended by Catbird's chief creative officer Leigh Plessner, who considers them the perfect pair for "the sport of life." Plessner became a full-fledged walker after she dropped her daughter off at school one morning and started walking around for hours until her mind got "quieter than the city streets in summer" — and she hasn't stopped since. Her slim, spangly slippers and sandals became unsuitable, as were her Repettos, which she wore through the soles twice. So she upgraded to the split-toe Air Rifts, which are "absolutely fuss free and slip on and off simply, just the way I like it." (The pair's design is even reminiscent of Maison Margiela's Tabis.) Plessner likes to dress them up with something frillier, from white antique nightgowns to a black silk Simone Rocha number, for contrast.
Best black mules under $200
If you're more into mules, consider the Piper from Cole Haan. Helen Patrikis, founder of public-relations firm HP-PR, points out their practicality as she can readily slip in and out of them. "You don't need to think about what you've got on your feet," she says. The combination of soft suede, the tiniest hint of a heel, and the dramatic pointed toe "creates an instantly classic look" so they can be worn both year-round and for years to come.
Best black slippers under $200
Stylist Jessica Cadmus of Wardrobe Whisperer now owns six pairs of Starlings after much research into finding the right flats that won't aggravate her plantar fasciitis, which makes comfort a top priority when shopping for shoes. Along with a fair amount of internal cushioning, these smoking slippers are light and airy, and the velvet fabric "gives them a little extra-special quality," she says. "I always tell my clients that shoes in a textured fabric are super-high value because they stand out and provide instant polish." (One of her favorite ways to wear the Starlings is with a pair of high-rise, wide-leg, leg-lengthening trousers from Milanese clothing house Del Core.)
Best black loafers under $200
Regular readers of the Strategist will probably recognize these Weejuns, which topped our roundup of the best loafers (there was really no contest for this blue ribbon). Former Strategist writer Hilary Reid says her much-complimented pair was even mistaken for Celine by a New York photo editor. Strategist writer Erin Schwartz describes them as "peak Ivy League, 'Walcott' by Vampire Weekend, tennis-lessons-on-the-weekends loafers" with "an aura powerful enough that it turns anything I wear into prep cosplay." And when we started reporting for this story, the pair was mentioned again by Biz Lindsay, head of corporate communications at Harry's Razors. When asked about her favorite flats, she replied, "Hands down, Bass Weejuns." Where does she wear them? "On walks, to work, on flights, and to dinners. In the fall, in the snow, with socks, and without," Lindsay says. "Obviously, I'm a fan."
Another pair that was recommended to us before is Franco Sarto's Boccas. Illustrator Alexandra Citrin-Safadi describes these shoes as "The Row on a budget, baby," for their seriousness (something the Olsen-twins-founded label is known for). "These shoes are plain. They are perfect. I am the embellishment," she says. As far as details go, these feature some stitching around the toe box and a bit of block heel. The Boccas also have "that good slight awkwardness," Citrin-Safadi explains, because of their somewhat higher vamp, which comes up more toward the ankle than what you usually see in loafers.
Portland-based personal stylist Grace Thomas likes that the Balins are a nod to the chunky-sole moment we're currently in without being "overly bulky." So they "still speak to the trend" without being excessively trendy, she explains. Along with the lug heel and platform, the shoes feature a penny-style strap and contrast stitching. Thomas points out that these details make the Balins stand out from other similarly priced loafers — the shinier leather reads more luxurious as well. She especially loves to pair the Balins with a blazer thrown over a minidress with short socks — but they work just as well with pants that show a hint of ankle. Keep in mind that these run narrower, according to Thomas (though since the shoes offer a little lift, they're more supportive than a loafer that's flatter).
"Loafers aren't going anywhere," says stylist Jasmine Caccamo. For a classic (and Gucci-esque) take on the style, she suggests these Sam Edelman loafers. They're an ideal shoe for when you're "running around the city or after your kids." Best of all, "your feet won't be screaming" after wearing them all day, according to Caccamo. They also have a timeless appeal with a horse bit meant to mimic what you see in men's loafers. The Loraines are cleverly designed to easily fold down in the back, which flattens the heel and gives you the option of slipping into them as a slide.
The Strategist is designed to surface the most useful, expert recommendations for things to buy across the vast e-commerce landscape. Some of our latest conquests include the best acne treatments, rolling luggage, pillows for side sleepers, natural anxiety remedies, and bath towels. We update links when possible, but note that deals can expire and all prices are subject to change.