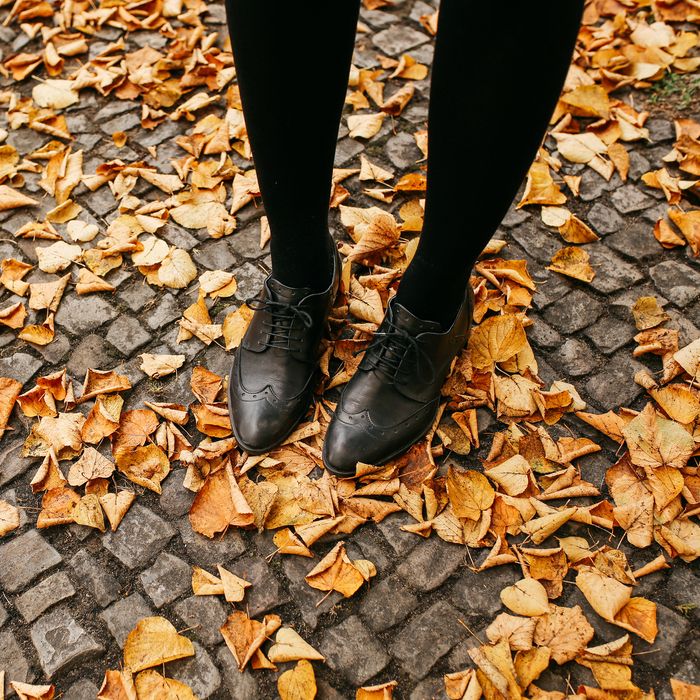 Photo: lechatnoir/Getty Images/iStockphoto
A solid pair of black flats — like white T-shirts, button-downs, and jeans — is a wardrobe essential, a true workhorse you can slip into for a 7 a.m. coffee run, then wear to a 9 a.m. meeting, then to grab a quick lunch with your work friend, then to grab dinner with your real friends, then maybe even to go out dancing, if you're so inclined. But, like all basics, there are tons of options out there. Given how much wear you get out of them, a pair of black flats might seem like a justifiable splurge. But readers have asked (and we've wondered ourselves) whether more affordable options — that look just as good and hold up for just as long as more expensive pairs — are out there. Being the Strategist, we took it upon ourselves to find out, asking 12 stylish women in all different fields for recommendations on the best pairs of black flats under $200. Read on for all their picks, which include classic ballerina flats, charmingly bookish loafers, flats with just the tiniest heel, and one pair that you can even fold up and throw in your tote — and each pair costs less than $200.
Best overall under-$200 black flats
The start-up shoe brand Margaux has been around since 2015, and we first covered it last year, when it opened a brick-and-mortar store on Bleecker Street. Recently, the brand came back on our radar when comedian Jacqueline Novak raved about its block heels when telling us about the things she can't live without. So it didn't come as a huge surprise when many of the cool women we spoke to for this story told us that Margaux topped their lists when it came to affordable black flats. "Margaux's black flats are a staple that take me from parent-teacher conferences to dinner parties with friends to office meetings," says Luisana Mendoza de Roccia, a co-founder of Maisonette. De Roccia told us that she'll wear these flats with anything and that what she likes best is there's no breaking-in process — they're comfortable enough from the start. "These are truly made-to-measure, eliminating all those stops for Band-Aids and the need to carry around spare shoes," she says. "And you cannot beat the price." Hill House Home founder Nell Diamond is a fan, too, and says she loves the brand's "simple, chic ballerina shape." Like de Roccia, Diamond says these work with any outfit and that they're her go-to for getting to work. "I wear these as my 'commuter shoe,' as I'm a heels girl once I'm in the office," she says. "I find these work with any outfit and are comfortable enough to walk in."
Best black loafers under $200
Photo: Courtesy the vendor
"Loafers aren't going anywhere; if anything, they're more prominent than ever," says stylist Jasmine Caccamo. For a timeless (and Gucci-inspired) take on the shoe, Caccamo suggests Sam Edelman's horsebit loafers, which she calls a "staple" and also an ideal shoe for days when you're "running around the city or after your kids." The shoes are comfortable enough that "your feet won't be screaming," according to Caccamo, who says she'd style them with skinny or cropped straight-leg jeans and a leopard-print sweater for the fall.
Photo: Courtesy the vendor
For an unadorned but still preppy take on the style, try this pick from Lisa Bühler, founder of e-commerce site Lisa Says Gah. "I'm into all the loafers at the moment," she says, but this Madewell pair is her favorite at the under-$200 price point. "I like the classic body and toe shape of this style," Bühler adds. "It could be from the '90s or today and will look relevant for years to come." Although the style is timeless, Bühler says, the way she's styling them these days is with some "cute sparkly socks." If you need some sock inspiration, might we suggest checking out our roundup of the best fashion tube socks, most of which would look great peeking out from a pair of loafers.