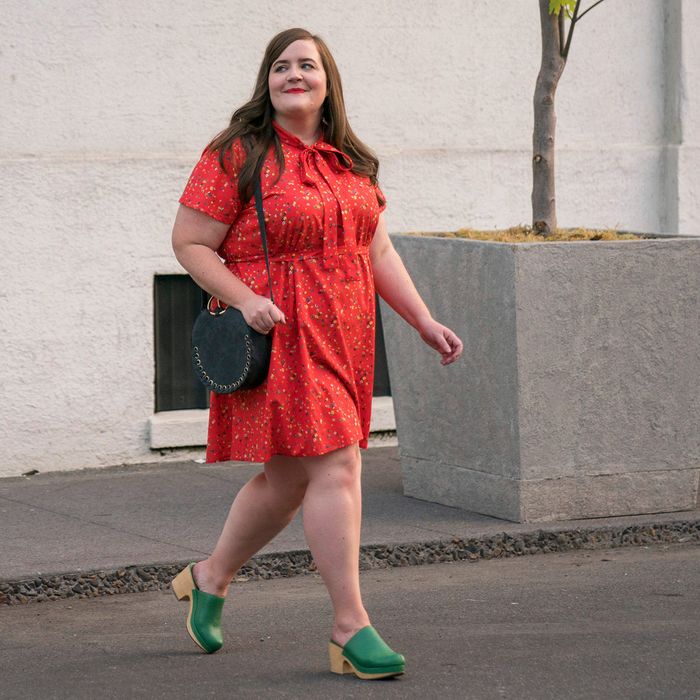 Photo: Allyson Riggs/Hulu/Allyson Riggs / Hulu
More than half of the shoes I own have been sitting unworn in the back of my closet since March. Too fancy for quarantine or socially distant walks in the park, they no longer make sense in my life. By contrast, the four pairs of clogs I own have been in constant rotation, lined up by my bed or at the front door. The perfect pandemic shoe, they function like a slipper — comfortable and easy to get into — but with an elevated style (and height) and soles sturdy enough to wear for hours outside. I am of course far from alone in my love of clogs. Doctors and nurses rely on them for long shifts, as do chefs and anyone else who stands at work all day. They look cool, giving off equal parts art teacher, with-it parent, and fashionable ceramicist. We've written a lot about clogs over the last few years — from the stylish ones worn by famous people to the hippie-ish ones preferred by men. So to help you decide which clogs are right for you we gathered up a list of our favorites from the archive.
Status clogs
If you've seen a celebrity in clogs, chances are those clogs were from No.6. It's the brand worn by Claire Danes, Julianne Moore, Michelle Williams, and Maya Rudolph, who wore several pairs in her Amazon show Forever. Although No.6 clogs are no longer trendy, they're not passé either. The brand has become so ubiquitous they're practically canonized. Its clogs come in a bunch of different styles, including sexy high heels, braided mary-janes, and winter-friendly shearling-lined booties. They're not cheap, but they do last a long time (I know from experience). Plus, once a year No.6 hosts a sample sale with lots of deep discounts.
Named the next clog to know by former Strategist editor Margaret Rhodes in her article about status clogs from 2018, Beklina's ribbed clogs are a bit funkier of a fashion move than most No.6 clogs. They come in a range of unexpected colors like teal, pink, lavender, and in various shades of patent leather. The brand recently launched a new pair of clogs with a separated blocky wooden sole.
For a pair of status-y clogs with a lower heel, Sweetbitter author Stephanie Danler recommends Swedish brand Troentorp. They're also a favorite of Jody Williams, a James Beard award winner and the chef behind Buvette and Via Carota in the West Village who introduced Danler to them. The brand makes basic clogs like these as well as a handful of more decorative styles with cutouts, laces, and braiding.