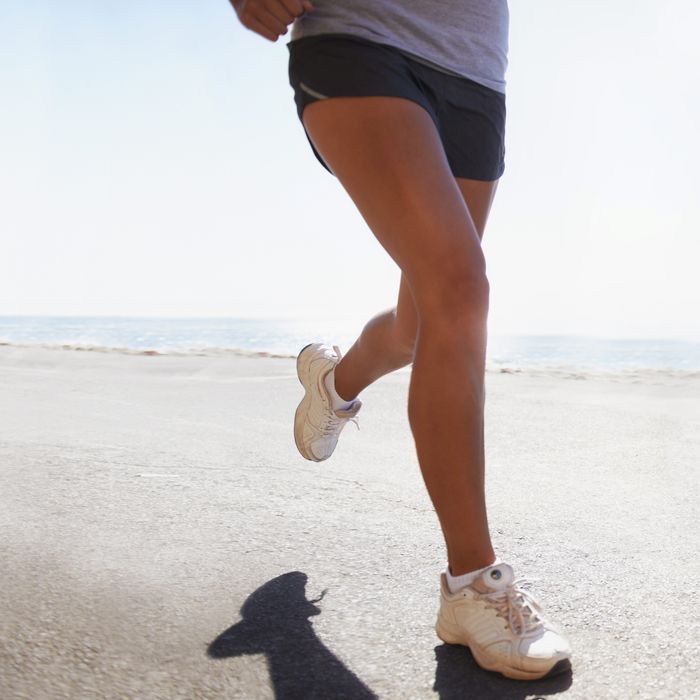 Photo: TH YAPR/Getty Images
The ugly-sneaker fashion trend is great news for the running shoe — and the people who love to wear them. Many of the stylishly questionable characteristics of running shoes — chunky soles, clashing neon colorways, orthopedic flair — are now selling points for designer sneakers that cost several hundred dollars and aren't even meant for exercise. In other words, we've entered a rare planetary alignment where running shoes can be fashionable. For runners, this means that the same pair of shoes can now go from work to workout to a night out. And if you don't run, these actual running shoes are more comfortable and affordable than the designer items, anyway. Below, 11 pairs of shoes that are equally trendy and technical.
Bright white sneakers will always look fresh, whether paired with a summer dress or your running gear. Constructed from lightweight mesh, these Under Armour sneakers feel fast on the road, and the metallic detailing is subtle yet eye-catching, kind of like the gold trim on the heels of these white Alexander McQueen platform sneakers — but $500 cheaper.
The Brooks Adrenaline is one of the best models on the market for overpronators (that's when you wear out the inner sides of your shoes quicker than the outer sides), and it has been for nearly two decades. The latest version is incredibly soft for a shoe with so much firm support. The built-up sole prevents the arch of the foot from rolling inward, and also echoes the exaggerated proportions of designer ugly sneakers. The two-tone gray-on-white design is not dissimilar from this much pricier Prada pair.
A little bit '80s and a little bit Isabel Marant with their jagged lines and rugged white sole, these Adidas sneakers hug your feet with a socklike feel. The light and bouncy foam underfoot is easy on the feet whether you're running intervals or running errands.
These all-black Balenciaga sneakers are so understated that they're almost not ugly; and these way less expensive Nikes, with a very similar black-and-white marled knit and thick white sole, also straddle the thin line between ugly and elegant. With stretchy overlays instead of leather, they're also a much better pick for actually running. There are two types of cushioning — soft foam in the mid-foot and Nike's signature sturdy Max Air in the heel — for a comfortable stride.