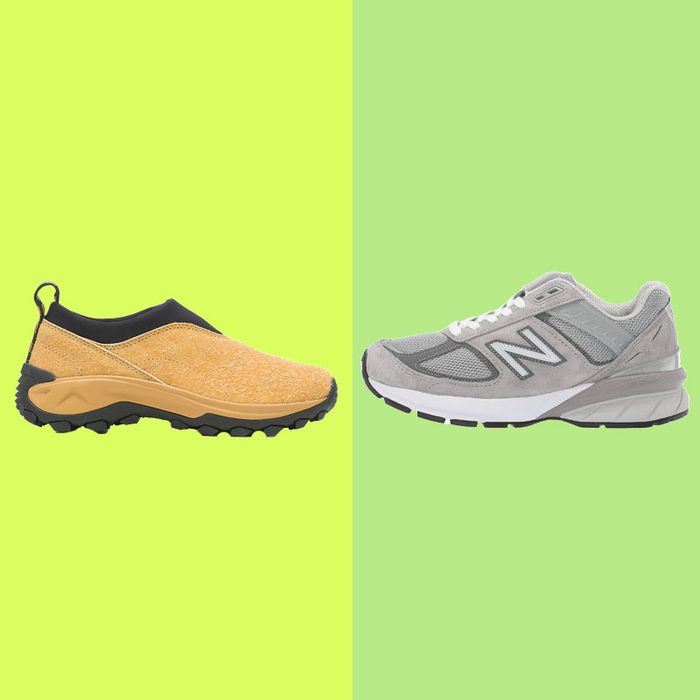 Photo-Illustration: The Strategist; Photos: Retailers
Most of us walk every day ("hot girl" style or not), but how much strain could it be putting on our bodies? If you've ever walked a long (or even long-ish) distance in the wrong shoes, you know the answer.
I've certainly been there: Over the years, I've clocked countless miles around my own city and while exploring new vacation destinations on foot. And on more than one occasion, I've headed out the door without giving much thought to my footwear — only to regret my decision hours later when my toes were uncomfortably crunched, my body was screaming in pain from my soles to my lower back, and my feet were sweating profusely.
Good walking shoes, on the other hand, can keep you moving all day with nary an ache or blister. To help you find the best, we combed through our (prolific) inventory of footwear stories and consulted several experts — including podiatrists, physical therapists, and experienced hikers — to assemble a list of the boots, sneakers, loafers, and flats that will support your feet for hours on end. Read on to see the best walking shoes you can buy right now.
Best overall walking shoe
Support: Medium | Materials: Breathable mesh | Width: Moderate toe box and multiple widths
New Balance "offers the most versatility to meet the various attributes" we should look for in walking shoes, Heimann says. "They generally have a gracious toe box, have some type of pronation control and arch support, can be lightweight and durable with excellent cushioning, and are often favored by podiatrists." Both Criscione and Lobkova singled out the 990v5 in particular, with Criscione highlighting the shoe's "perfect" balance between support and cushioning. "You really can walk all day in these, and your feet will still be happy at the end of the day," she says. Lobkova similarly notes the substantial cushioning in the midsole as well as the Ortholite insert, which she says has firmer arch support than other insole shoes.
The toe box tends to work well for people with wide feet, though this shoe also comes in narrow, standard, wide, and extra-wide. The upper is mostly mesh, letting your feet breathe even when you're clocking thousands of steps. And the construction — the mesh-and-suede upper and the polyurethane midsole — is built for the long haul. "They last for years and are stylish enough to wear in exercise or regular situations," Criscione says.
Best (less-expensive) walking shoe


Support: Moderate | Materials: Breathable mesh and cooling insole | Width: Medium
These slip-ons from Skechers' GOwalk line provide value way beyond what you might expect from a $65 price point and the "good arch buildup" Wu says the brand is known for. Like the New Balances above, these include an Ortholite insole, as well as a solidly cushioned midsole that can keep you comfortably upright for hours on end.
Kevin Mercier, a professional travel blogger who's walked all around the globe, is getting ready to order his second pair of GOwalk Maxes, which he calls "inexpensive but not cheaply made." "I honestly don't know where to begin with how comfortable they've made my travels," he says. "I don't have enough good things to say about this pair. They're lightweight and come with an extra padded heel for comfortable walking." (The women's GOwalk Joy style features the same cushioning and insole.)
The breathable mesh and insole also make for a lightweight shoe Mercier says is "perfect for hot summer days and can even be used as slippers." While you may not be keen on actually wearing these indoors, the fact that they're slip-ons makes them extra handy for getting out the door quickly.
Best walking shoe for uneven terrain
Support: Maximum | Materials: Waterproof Gore-Tex | Width: Standard
As someone who's injury prone, I insist on wearing a trail-running shoe even when walking on minimally uneven or slippery terrain. And I'm not the only one: Leslie Gilmour, the experienced hiker and travel blogger behind Outdoor Scott, recommends the trail-runner-inspired Salomon X Raise 2 Gore-Tex for such scenarios, noting the "exceptional cushioning that provides all-around comfort and prevents blisters and hot spots" as its biggest selling point.
But despite their cushiness, these Salomons are also extremely durable and protective, Gilmour says, with unique TPU reinforcements around the toe area that absorb impact and protect your feet from sharp rocks on the trail. "Fantastic support and stability are also guaranteed," he says, as well as "very reliable" traction on rocky and muddy surfaces. The Gore-Tex membrane, meanwhile, ensures your feet will stay dry even if you get caught in the rain or step in a puddle.
Best walking shoe for narrow feet
Support: Maximum | Materials: Moderate breathability | Width: Narrow
When you have especially narrow feet like I do, you develop a loyalty to the few brands that fit, such as Nike. I've worn countless styles in its standard width, and they've always been just right — the same goes for the Air Zoom Pegasus, the most recent model of which is the 39. (I bought the Air Zoom Pegasus 36 trail shoe a few years ago, which has since been discontinued.) Yes, it's a running shoe, but it works just as well for walking — especially if you need or want significant cushioning that almost feels like you're getting a slight bounce with every step. And while it's not as breathable as, say, the ultra-lightweight Skechers above, I've never had a problem with overheating — and I've worn them in warm weather far more frequently than cold.
Best walking shoe for wide feet
Support: Minimal | Materials: Breathable mesh | Width: Wide toe box
The Lone Peak falls under Altra's "Original Footshape Fit" category, which the brand notes is the roomiest fit. But what really sets the brand apart is that, even in its narrowest styles, the toe box is intentionally spacious, a feature Strategist writer Jeremy Rellosa — who's been wearing Altras for three years now and has previously written about the Lone Peak's many redeeming qualities — says he particularly appreciates. "That's basically why Altra is such a popular brand for hikers, because their toes can splay out," he says. "When I used to live in Santa Fe, you could pretty much guarantee that you'd spot someone wearing a pair of Lone Peaks on any hike you went on nearby." Rellosa indeed wears his for hiking and trail walking, but if you tend to feel like your feet aren't getting enough space, these may be worth it for any terrain. One note: While the Lone Peaks have moderate cushioning, their "zero drop" design (the heel and toe sit at the same level to promote a natural gait) means there isn't built-in arch support.
Best walking shoe for bunions and plantar fasciitis
Support: Maximum | Materials: Breathable mesh | Width: Multiple
To prevent a common walking injury like plantar fasciitis, there needs to be cushioning in the midsole to prevent impact on the heel, Lobkova says — and if HOKAs are known for one thing, it's just that. "HOKA has the tremendous cushioning and foot support to help offset the heel pain," Wu says, noting that they feel like "walking on clouds."
They're also accommodating of bunions — one Zappos reviewer even says their "bunion loves them" — and potentially other injuries. Criscione, who was diagnosed with Morton's neuroma, a condition that can "feel as if you are standing on a pebble in your shoe," says she was frustrated when she couldn't walk without excruciating pain. She tried athletic taping, icing, and many different styles of shoes before discovering the Bondi. "The day I put them on," she says, "I was walking again! I love that they're roomy for my bunions, and they're so comfortable even if I'm walking all day. And they've held up after who knows how many miles in multiple countries."
Best walking sandal
Support: Medium | Materials: Open-air breathability | Width: Narrow
"Teva's sandals are the best walking sandals because they offer versatility in their materials, great cushioning, and fit that supports the natural arches, plus straps that are durable and adjustable," Heimann says. I can personally attest to all those points, particularly with the brand's Sanborn line. While planning a long international trip in which I could only bring a carry-on, I did hours of research on the best single pair of sandals I could bring before settling on Teva Sanborn Universals (the style isn't widely available anymore, but the Mia is a very close version).
I wore them for countless miles through airports, cities, and on trails and beaches on that trip and in the years since. The cushioned footbed means my soles don't get that telltale ache that comes from walking in flat shoes all day, the padded heel strap keeps me from developing blisters, and the adjustable top straps easily fit my narrow feet. And, of course, as outdoor-adventure sandals, they're plenty airy and water-friendly. Pro tip: If you're looking for Sanborn-esque comfort but with Teva's classic Universal strap style, the Hurricane XL2s are practically a dupe for the Sanborn Universals.
Best waterproof walking boot
Support: Maximum | Material: Breathable mesh panels | Width: Standard
Unless you only walk in dry, sunny conditions, it's a good idea to have a pair of sturdy, all-weather walking shoes in your closet. Strategist writer Rachael Griffiths put these Gelert waterproof boots to the test at Glastonbury, which covers about 900 acres, and found them to be "absurdly comfortable." "With springy cushioning across the ball and heel, my feet only really started to ache once I was hitting the 25,000-step mark," she says. "Although they're waterproof, there are several mesh panels so that your feet can have a breather, and the padding around the ankles was something I really appreciated as the weekend drew on." She recommends going a half-size up if you're worried about having space for thick socks.
If you don't plan on tromping around festival grounds, Griffiths says she also wears these boots on her daily after-work walks. They've accumulated a few creases and some dust, she says, but "they're still just as comfortable as the first time I tried them on."
Best cushioned walking boot
HikingGuy.com founder Cris Hazzard says these Hoka boots are great shoes for "when either your foot's injured and you need something with extra cushion, or if you don't have the miles on your legs, but have signed up for a long trail." The soles have a plush EVA top for comfort and a bottom layer of rubberized foam for support and durability. Hazzard describes them as "very forgiving, very cushy — it's like walking on a little mattress." And although they look chunky, the boots are incredibly lightweight and super-agile, says Strategist senior editor Simone Kitchens, who adds that she loves them for winter hiking.
Best slip-on walking shoe
Support: Medium | Materials: Breathable mesh | Width: Standard
It's rare to find a sneaker this supportive without laces, but On's "speed lacing system" means you can quickly slip the shoes on (and off). As for comfort, Strategist managing editor Kelsie Schrader has been wearing her On Clouds (an earlier version that she was gifted) for three years — and with something like 1,000 miles on them, she still stands by their aptly named cloudlike comfort. "I found these provided plenty of cushion and a nice bounce, but it wasn't so soft that I didn't have any support," she says of the "simultaneously rigid and almost plush shoe." "I like how the shape is slightly curved; I feel like that shape promotes good heel-to-toe form."
While they're a sturdy and well-supported sneaker, the Clouds are still plenty breathable, thanks to the (recycled) antimicrobial mesh upper that Schrader says is great for walking in warmer weather yet durable enough to withstand running-induced ripping. She does note that the foam sole has flattened near the heel, but attributes that to the fact that she's "worn the hell out of them" — and she's planning to stick with the same style when it's time for a replacement.
Sandy Liang has written about her collection of slip-on Merrells plenty of times, including when she took her Moc 3s on a Normal People–inspired tour of coastal Ireland. "I love these for walking around all day. They hug my feet and make them so happy," she says. "There aren't laces, so I pop them off in the car and shove my loaves back in when it's time to walk." With a grippy rubber outsole for traction and foam insoles for stability and comfort, the roomy, utilitarian shoes contrast against Liang's feminine designs, as she frequently styles them — she even wore a version at her recent wedding.
Best walking shoe for cold weather
Support: Moderate | Materials: Mild breathability | Width: Standard
Two of our experts swear by Blundstones, multiple styles of which have also appeared in our roundups of the best ankle and Chelsea boots. "I was able to walk miles in them with no break-in period at all," says Strategist senior editor Jen Trolio of her Classic 550 Chelseas. "I would not call them 'cushioned' the same way a sneaker would be, but they are still totally comfortable. Plus I love a pull tab for getting them on easily."
Schrader, meanwhile, has found her high-top version to be supremely comfortable and durable — even after wearing them extensively over the past year and a half, including on a long weekend during which she walked no less than 15 miles each day. Schrader says she felt fine and even found the brand's claims about their "double-shock-absorption soles" and tech that reduces fatigue all to be true. Given that they're leather, they're not super breathable, though they're comfortable enough that Schrader wears them as her primary footwear in fall, winter, and spring. "I thought long and hard about investing over $200 in a shoe, but I'd do it again without thinking if anything ever happens to my current pair," she says.
Best walking shoe for heel comfort
Support: Maximum | Materials: Breathable knit | Width: Medium
Trolio says these sneakers do a great job of protecting against painful blisters caused by rubbing, thanks to a well-designed heel tab that curves slightly away from the back of your foot. It not only makes them easy to pull on, Trolio says, but is also very soft and smooth and helps prevent friction between your foot and the shoe. And though these are technically meant for running, Trolio swears by them for long-distance walking. "I like that they are especially cushioned and bouncy under the heel," she says, noting that the upper material is breathable and flexible while still feeling secure.
Best low-profile walking shoe
Best chunky walking shoe
Support: Maximum | Materials: Moderate breathability | Width: Standard
"I love a cushy, '90s-dad-at-the-barbecue sneaker, and these are definitely on the chunky end of the spectrum," Strategist writer Erin Schwartz says of the Li-Ning's thick insole, which is balanced by a fairly breathable mesh-and-leather upper. As for durability, they note that the tongue and collar's fabric components have frayed slightly, "but that's after about a year and a half of frequent use and hiking and beach trips, so that feels like par for the course." Schwartz adds that the Li-Nings offer much more than just comfort and stability, as they can be worn to walk 5,000 steps in a day while anchoring to a stylish outfit that can go from the office to after-work plans. Plus, they add that these aren't "a sneaker that you see a gazillion people wearing."
Best sustainable walking shoe
Support: Mild | Materials: Lightweight eucalyptus fiber | Width: Medium
Allbirds changed the comfortable-shoe game when the brand launched its highly recognizable (and environmentally friendly) wool sneakers. But while the Wool Runners are good looking and plenty cozy (seriously — I've had mine for years, and I always look forward to wearing them as soon as I feel the first chill in the air), the Tree Pipers are more versatile for wearing year-round. They're sustainably made from eucalyptus-tree fibers, making them both lightweight and breathable, and the slightly contoured insole is made from sugarcane. If you tend to need more substantial arch support, you may want to go with the Tree Runners or Tree Dashers, though Keri Baugh, a travel writer who runs the blog Bon Voyage With Kids, has put the Pipers to the test with great success. "I wore my AllBirds Tree Pipers all through our week at Disney World, some days walking over 22,000 steps, or eight miles," she says. "I didn't get a single blister, had no foot, back, or knee pain, and they were supportive and comfortable."
Best platform walking shoes
Best flats for walking
Best women's loafer
Best men's loafer
Best walking shoes for kids
Some more walking shoes we've written about
The Strategist is designed to surface the most useful, expert recommendations for things to buy across the vast e-commerce landscape. Some of our latest conquests include the best women's jeans, rolling luggage, pillows for side sleepers, ultra-flattering pants, and bath towels. We update links when possible, but note that deals can expire and all prices are subject to change.
Every editorial product is independently selected. If you buy something through our links, New York may earn an affiliate commission.