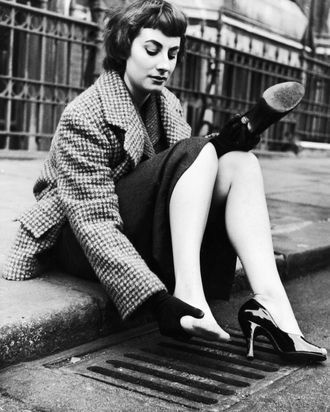 Photo: Carl Sutton/Getty Images
If you've ever happily stepped out of the house in a new pair of shoes only to limp home hours later in pain, you know shoes that are comfortable in the store don't always feel that way after a full day of wear. Sometimes you even end up with blisters. "Blisters are fluid build-ups under the most superficial layers of skin," says Jacqueline Sutera, a podiatric surgeon in New York and New Jersey. They're caused by friction in the areas where your shoe rubs against your foot, says New York City sports podiatrist Lori Weisenfeld. She sees the most blisters at the start of sandal season, when many people are wearing fresh pairs for the first time.
According to podiatrist Michael J. Trepal, vice-president of academic affairs and academic dean at New York College of Podiatric Medicine, "The best means to deal with blisters is to prevent them in the first place by utilizing a combination of proper-fitting shoes and appropriate management of foot deformities." Your podiatrist can treat those deformities, including bony prominences, like bunions, but you can also stretch out shoes on your own or with the help of a shoemaker. If those issues are addressed and you're still having problems, check out the products below that doctors love for preventing and treating painful blisters.
Best for preventing blisters