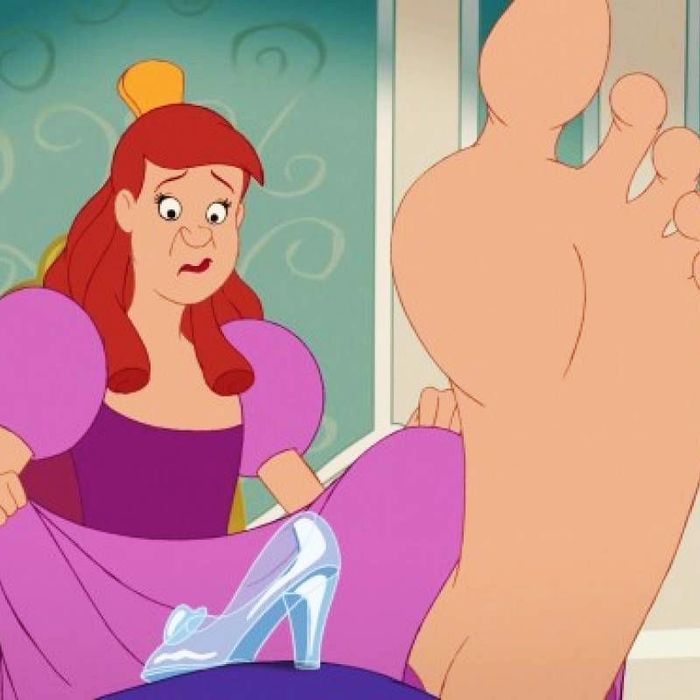 If you happen to fall on the extreme ends of the shoe-size bell curve (think: under size 6 or over size 10 for women, and under size 8 or over size 13 for men), you've probably had the experience of walking into a shoe store full of options, only to watch that selection shrink dramatically when a salesperson narrowed it down to what was available in your size. As someone with a relatively small foot (I'm a women's size 5 or 5.5 depending on the shoe), I know the struggle.
Squeezing into a too-small shoe or trying to make a slightly too-big one work is not only uncomfortable, it could be harmful to your feet. "Wearing shoes that are a size too small may cause discomfort and blisters at first. Over time you can develop bent toes — or 'hammertoes,'" says podiatrist Casey Ann Pidich, of Park Avenue Podiatric Care. "Wearing shoes that are too large can cause blisters from too much movement against the skin. It's also dangerous because we're more likely to trip or fall when walking in too large of a shoe."
Along with consulting with retail experts and podiatrists on the best places to shop for both big and small feet, we asked a panel of stylish people with uncommon sizes to recommend their favorite brands and pairs. Their picks, below, span from a women's size 4.5 to a men's 17.
Best women's boots in small sizes
Chi Li, owner of the petite clothing store and blog Petite Dressing, has an especially tough time shopping for shoes, as her left foot is a size 4.5 and her right foot is a 5. She normally buys size 5 shoes. That way they won't be too tight on her larger foot, but they're usually still snug enough to fit her smaller one. Her go-to is Taryn Rose for comfortable weather-proof boots she can wear all winter. "They don't look like those heavy-duty storm boots," she says. "You can wear them to a date or to a meeting. I can always find my size with Taryn and they're hands down the most comfortable dress shoes."
While they start at a size 5, Aquatalia's boots fit both of Li's feet. They're her favorite for winter boots that are also stylish. "They're pricer, but they're really nicely made and they're waterproof as well," she says.
Best women's heels in small sizes
On both the large and small ends, Nordstrom came up a lot as a great resource for tracking down hard-to-find shoe sizes. "Nordstrom started as a shoe store, so it's focused on the foot," says podiatrist Yolanda Ragland, founder and CEO of Fix Your Feet. The store will even let people with two different sized feet (like Chi Li, above) buy a pair of shoes in two different sizes. It's also where Sindy Sagastume—who wears a size 4 and is relaunching her shoe brand for women sizes 4–5.5, The Odd Slipper, this fall—shops for most of her shoes. Her favorite brand is Sam Edelman, which offers classic styles like these nude heels starting at sizes 4 (and going up to size 14 if you have bigger feet).
Freelance writer and editor Molly Elizalde, who wears a size 4.5, explains that heels are often the most difficult shoes to shop for in small sizes. "If a heel is slightly too big and it doesn't have a strap it's going to fall off my foot, or my foot's going to slide forward [leaving] an extra gap in the back," she says. Along with scouring vintage stores, Elizalde says her search often leads her "deep into the depths of the internet." Back in high school, she shopped from the catalogue of New York–based petites-only shoe store Giordano's, which sold brands like Marc Jacobs exclusively in sizes 4–5.5. Giordano's has since shuttered their physical store, but still sells shoes of their own design online, like these Chloe-esque scalloped heels.
Best women's flats in small sizes
Both Ragland and Sagastume recommend Naturalizer (sizes range from 412 in most styles), and although the brand might bring to mind shoes that are, while comfortable, perhaps not the most stylish, this soft leather loafer with a collapsible heel looks like something you'd find (for lots more money) from L.A.-based designer Jenni Kayne.
Best women's sneakers in small sizes
"If I'm looking at sneakers, I'll often see if there's a similar pair in children's, not only because it might fit me better, but also because it's usually cheaper and often the same style," says Elizalde. She'll often shop for kids' sneakers from brands like Adidas and Converse that are virtually identical to adult styles. And she's not the only one: Strategist intern Kayla Levy also told us about all the kid-sized dupes she buys for "adult" shoes.
Best women's sandals in small sizes
Elizalde says the same goes for Birkenstock sandals, where she'll find cheaper versions of women's shoes in the kids' department. This metallic pair looks just like the adult version — but for a lot less money.
Best women's boots in large sizes
Self-confessed shoe-obsessive Deborah Porter ("the license plate on my car says 'Shudiva,' and I own over 200 pairs," she says), wears a women's size 11.5, which can be very difficult to find as lots of brands only make whole sizes at the upper end of the range. "I either squeeze into an 11 or try to make a 12 work," says Porter. But she has had luck with Stuart Weitzman, which sells lots of popular styles, like these boots with a stretchy calf, up to a size 12, including 11.5. Karrie Meiklereid, creative director for The Style Room at Zappos, also recommends Stuart Weitzman for women with small feet, as their sizing start at 4.
Both Meiklereid and Ragland single out Vaneli for their comfortable, stylish shoes in a broad range of sizes and widths. Available in up to a size 12, these boots also feature a wide calf, which can also be difficult to find in tall boots, as well as the option to select a wide width.
Best women's heels in large sizes
Pidich points her readers and patients with large feet to specialized shoe stores like Long Tall Sally that carry popular brands, as well as their own designs, in sizes up to 15. They sell these office-friendly heels exclusively in sizes 11–13.
For something more formal (and flashy), these heels from Jeffrey Campbell — a favorite of Porter's — are available up to a size 12.
Best women's flats in large sizes
When Strategist writer Hilary Reid went in search of the best black flats under $200, this pair from shoe start-up Margaux came out on top. Exceedingly comfortable (and available in lots of colors other than black), the flats are also a great option for women with larger feet, as they can be ordered up to a size 13.5. "These are truly made-to-measure, eliminating all those stops for Band-Aids and the need to carry around spare shoes," says Maisonette co-founder Luisana Mendoza de Roccia.
Ragland and Meiklereid like Sam Edelman for large feet as well as small feet. It's also a favorite of Mindy Rose, vice president of the NYC-based Prominent Cleaning Corp, who wears a size 11. Several of the brand's styles are available up to a size 14, including these elastic-back ballet flats.
Best women's sandals in large sizes
Also from Sam Edleman, these sandals, one of Rose's picks, are available up to a size 13.
Meiklereid, Porter, and Rose all recommend Steve Madden for bigger feet, as the brand makes plenty of styles in larger sizes, like these dressier sandals that go up to a size 13.
Best women's sneakers in large sizes
Like Sam Edelman, Naturalizer is another brand that's lauded for making shoes in both hard-to-find small and large sizes. "They make good shoes for big and wide feet," says Rose, "and they're stylish." She's a fan of these casual slip-on sneakers that are available in sizes 4–12 in both wide and narrow widths. (Strategist editor Alexis Swerdloff bought the same pair for a trip to Portugal back in 2018 and happily reported that they were "comfortable enough to spend all day navigating the city's super-steep cobblestoned streets.")
Best men's sneakers in large sizes
Zac Longaker co-founded Oddball Shoe Company in Portland, Oregon, with his brother (they both wear size 16 shoes) after years of struggling to find shoes that fit. They now lead the market in pushing for cool men's shoes in sizes over 15. "We're constantly setting up meetings and fighting for us guys with bigger feet to get newer and fresher and better styles," he says. They've had the most success with athletic brands like Nike, and he's happy the brand offers popular models, like the Air Max, in sizes up to 18.
"I generally have had good luck with Nike and New Balance in my size," says James Cart, who works in higher education in Boston and wears a size 15. The New Balance 990 running shoe (a favorite of our columnist Chris Black for everything from date night to travel), is available up to a size 16 — and a 6E (extra, extra wide) width.
Best men's loafers in large sizes
Mike Lamood, who wears a men's size 15 and founded a line of large-size hats for men, Lamood Big Hats, calls Rockport "the most comfortable brand I have found in my size." He admits that there's a smaller selection of dress shoe styles in the larger sizes, so when he finds a "nice, plain black shoe" that fits, like this one that's available up to size 16, he'll buy two or three pairs at once.
While Longaker stocks plenty of athletic shoes at his store, he says that more formal shoe brands haven't caught up in terms of carrying larger sizes. He personally loves Gucci shoes for dressier options, like these that go up to a size 16. "If I could get a fancy shoe for my store, I'd definitely get Gucci," he says.
Best men's dress shoes in large sizes