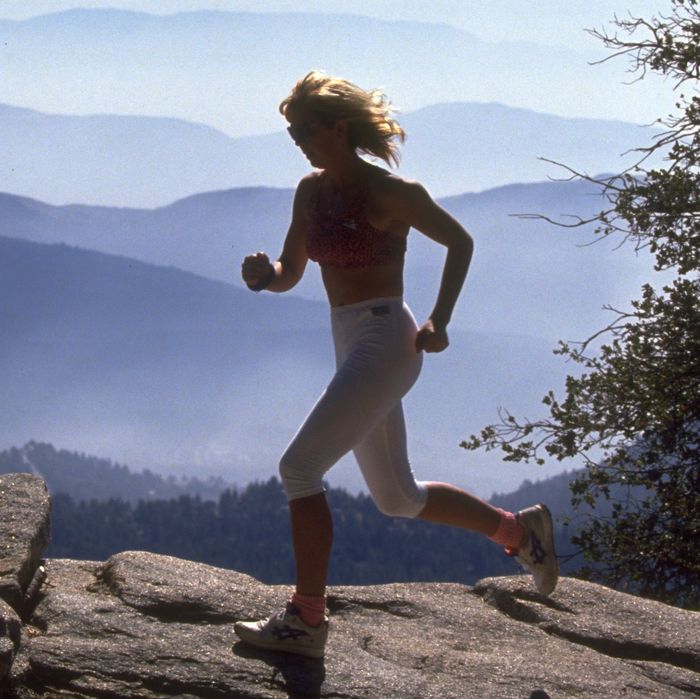 Outdoor running included.
Photo: Mike Powell/Getty Images
While we might be reaching peak house sandal season, sometimes you need a bit more — technology, support, strength — in a shoe you're going to work out in. But not all workout sneakers are created equal: Wear the wrong type and your performance may be seriously impacted. To find the best sneakers for any sort of exercise, we spoke to 17 fitness-minded cool women. Read on for their picks, which include workout sneakers for doing spin in your living room, traversing 18 miles of asphalt, and practically every other way you can work up a sweat.
Best workout shoes for running


"I've been wearing Asics Gel Kayanos for years," says Well + Good beauty and fitness editor Zoë Weiner. "I have pretty major issues with overpronation, which these help to correct." She adds that they have "just the right amount of cushioning and help relieve some of the pounding on my knees when I'm logging a lot of miles." Weiner told us a more recent favorite is a pair of Asics Glide Rides, which she says "might just unseat the Kayanos as my go-to shoe of choice."
Latoya Julce, an instructor at 305 Fitness, says that Asics "are great for running as they withstand a ton of wear and tear." She loves her Asics GT-2000 8s, which come in a variety of color options.
"At Box + Flow, we are barefoot for a smooth transition from boxing to yoga in class, but I run two-to-eight miles every day to warm up before I teach," says Olivia Young, founder-owner of fitness studio Box + Flow. She relies on a pair of "durable, breathable, and lightweight" Nike Pegasus sneakers, because "they have just enough support, are balanced between soft and structured, and allow me to run like the wind."
When it comes to outdoor running, ON Cloud Trail Shoes are a favorite of yoga teacher and author Shona Vertue, who says that after trying quite a "few trail-racing shoes in my lifetime, this is by far my favorite." The sneakers are lightweight and breathable enough to carry you through long distances, while their "Missiongrip" outsoles provide traction to keep you from slipping on wet and uneven terrain.