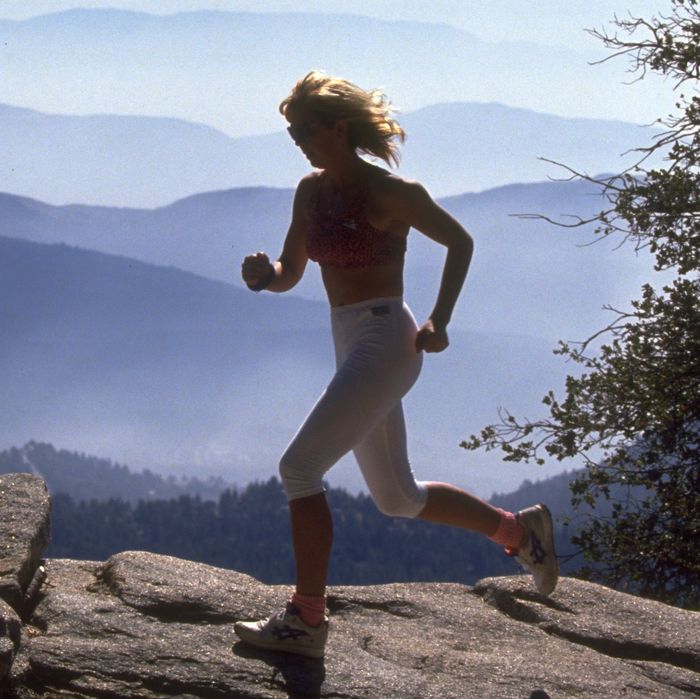 Outdoor running included.
Photo: Mike Powell/Getty Images
While we might be reaching peak house sandal season, sometimes you need a bit more — technology, support, strength — in a shoe you're going to work out in. But not all workout sneakers are created equal: Wear the wrong type and your performance may be seriously impacted. To find the best sneakers for any sort of exercise, we spoke to 17 fitness-minded cool women. Read on for their picks, which include workout sneakers for doing spin in your living room, traversing 18 miles of asphalt, and practically every other way you can work up a sweat.
Best workout shoes for running


"I've been wearing Asics Gel Kayanos for years," says Well + Good beauty and fitness editor Zoë Weiner. "I have pretty major issues with overpronation, which these help to correct." She adds that they have "just the right amount of cushioning and help relieve some of the pounding on my knees when I'm logging a lot of miles." Weiner told us a more recent favorite is a pair of Asics Glide Rides, which she says "might just unseat the Kayanos as my go-to shoe of choice."
Latoya Julce, an instructor at 305 Fitness, says that Asics "are great for running as they withstand a ton of wear and tear." She loves her Asics GT-2000 8s, which come in a variety of color options.
"At Box + Flow, we are barefoot for a smooth transition from boxing to yoga in class, but I run two-to-eight miles every day to warm up before I teach," says Olivia Young, founder-owner of fitness studio Box + Flow. She relies on a pair of "durable, breathable, and lightweight" Nike Pegasus sneakers, because "they have just enough support, are balanced between soft and structured, and allow me to run like the wind."
When it comes to outdoor running, ON Cloud Trail Shoes are a favorite of yoga teacher and author Shona Vertue, who says that after trying quite a "few trail-racing shoes in my lifetime, this is by far my favorite." The sneakers are lightweight and breathable enough to carry you through long distances, while their "Missiongrip" outsoles provide traction to keep you from slipping on wet and uneven terrain.
Amanda Freeman, founder of SLT and Stretch*d, also loves ON for its lightweight designs. She prefers the Cloud X style because it has a molded heel to keep your foot in place, a "zero-gravity" foam midsole, and a breathable knit-mesh upper. Lieberman says ON "is a little more under-the-radar than Adidas and Nike, but they make really solid sneaks." For running, she likes their "springy" Cloudswift sneakers, which also have "great arch support."
For running indoors on a treadmill, Vertue prefers Nike Joyride sneakers, which combine the brand's popular Flyknit material with new cushioning technology. "The beads in the shoe act like a beanbag and support your foot where it's most needed, according to your gait," she explains. This allows the Joyrides to adapt to a variety of runners and their specific support needs. Rachel Lapidos, a beauty and fitness editor at Well + Good, agrees. "I feel like I'm bouncing when I wear them," she says.
If you're looking for a pair of workout sneakers that you won't be embarrassed being seen in on the street, Melanie Miracolo, the head of retail at yoga studio Y7, recommends this pair of Nikes. She says these "lightweight and supportive" sneakers make you feel like you're running on a cloud, and "keep you going for miles."
The Strategist's resident running expert and senior writer Karen Iorio Adelson loves the "lightweight and generously cushioned" Saucony Triumph ISO 4, which she credits for getting her back to a regular routine after a nagging hamstring strain. "My hamstring is thankfully feeling better, but I've been sticking with the Triumph just because it's a well-constructed shoe that feels great on the foot." Adelson says that while these sneakers will work for all types of running, they're especially great for outdoor distance runners, because the added cushioning will protect your joints from lots of impact.
Caitlin Carlson, the deputy editor at Equinox's Furthermore, says that while she was initially super-skeptical of Adidas' UltraBoost sneakers when they first came out, they "actually do feel like clouds on your feet, and I've never felt faster." She's since run three marathons — in Boston, Berlin, and New York City — in different versions of the UltraBoost, and used the sneakers to train for other competitive runs. Carlson adds that these are "one of the most stylish workout-shoe options out there," saying that she tries to keep one pair "just for running and another for the gym and for walking around." Personal trainer Bari Lieberman also says that the "comfy, springy" sneakers have become a "go-to option" for anything from running just a few miles to half-marathons. Julce calls them her "all-time favorite sneaker," because of their "versatility and support." Lauren Kleban, founder of L.A.-based (and Busy Philipps–approved) workout studio Lekfit, agrees: "Not only are they the best-looking sneaker, but they provide the most support with very little added weight."
"When I was training for an Ironman after coming back from knee surgery, a friend who had done the race a year before recommended I check out Hokas," says Jen Ator, editor-in-chief of Women's Running magazine, who runs both on treadmills and outdoors. "After going to the gym and doing a five-mile run in them, I was hooked." She says that while they may look big and bulky, they actually feel very light when running. The toe box is also slightly wider than a standard running shoe, which gives a "noticeably more comfortable and relaxed fit" without having your foot slide or shift around. "And thanks to the ample amount of cushioning packed into the outsole, I have far less aches and pains in my knee compared to other sneakers when running long distances."
Best workout shoes for dance cardio
"For dance cardio, the key to healthy feet is shock-absorption capacity and ankle protection," says Candace Taylor, instructor and chief inspiration officer at 305 Fitness. While she notes that many of Puma's styles "do this and do it well," she particularly loves these Shatter XT Trail Women's Training Shoes because they have "cushioning technology and a higher 'collar structure' to support the ankle."
"I've recently fallen back in love with Reebok," says Taylor, because they not only "bring quality and iconic style to the table," but their shoes are always "super-flexible, comfortable, and supportive."
For a more affordable option, these Nike Air Max Bella TR 2s are currently on sale. "These are well-crafted shoes that are incredibly supportive and structured," says Taylor. They help you push the envelope with your style — they come in various colorways — while also keeping safety in mind, she notes.
Best workout shoes for spin
"Despite the fact that I spin multiple times a week, investing in spin shoes always felt like a huge waste of money, because you can't actually wear them on the street," says Weiner. She loves these Tiem sneakers because you can "hop straight from the street onto the spin bike without having to change your shoes." If you prefer for your workout sneakers to pop, the shoes also come in nine other colors, including bright pink, red, and blue.
Best workout shoes for cross-training


For cross-training, Vertue likes shoes that are "varied in flexibility and stability" to adapt to the different types of motions those workouts usually require. The Nike Metcons — which she calls her "go-to all-around shoe" for working out— fulfill both requirements, because "they're flexible at the front of the foot, which allows for good movement through things like lunges or running" while having a "stiff heel, which creates stability in movements like heavy deadlifts and squats." Miracolo also loves the Metcons because they have a "sleek design, incredible fit, perform great, and stabilize your foot when doing any cross-training workout."
While Lapidos says she digs "the futuristic style" of these shoes, she promises that they "don't just look cool." There's a carbon-fiber plate within the cushion that "literally springs you forward more nimbly as you move" and gives "cloud-like support" when doing strength training, or even running, she explains.
These Nikes, which have a bit of a throwback look to them, are "one of the most comfortable sneakers on the market," according to Miracolo, who says they get her through some of the toughest cardio classes she takes. The shoes are "as unique and stylish" as they are cozy and supportive, she says, with a "chunky design that is an updated version of a sneaker you probably wore in the '90s."
Best workout shoes for high-intensity interval training


Designed for the variety that HIIT and cross-training workouts offer, these sneakers feature a great deal of traction and a "supportive foam midsole and insoles that can be removed to add your custom orthotics," explains Freeman. "They offer performance, versatility, and unique design."