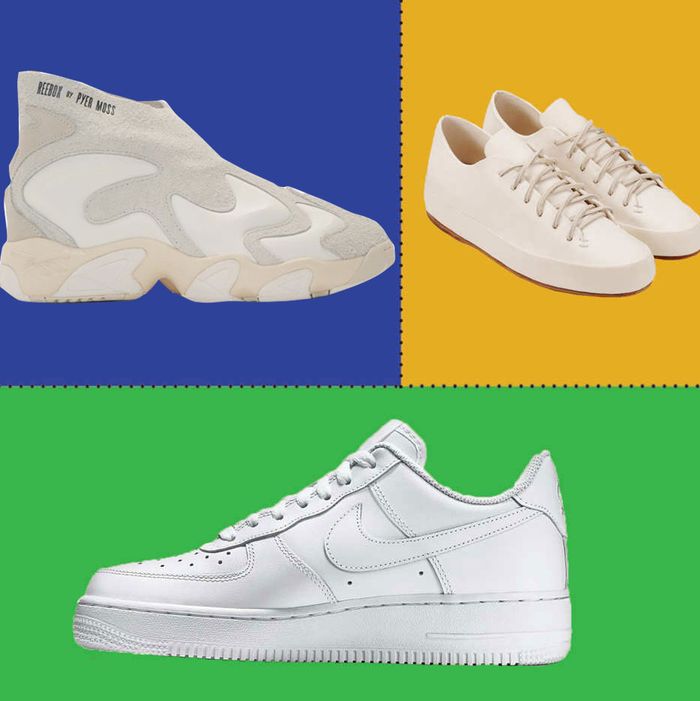 Photo: Courtesy of the vendors
The past few years have taken us on something of a white-sneaker odyssey, with the boom of Stan Smiths around 2017, the rise of the ugly dad sneaker in 2018, and Common Projects becoming the ubiquitous shoe of "creatives" somewhere along the way. In 2020, the dust of the white sneaker craze seems to have settled somewhat, but they're still our go-to for work, errands, going out, and just about any other time we leave the house. Like a white button-down shirt, a just-right pair of jeans, or a perfectly broken in black T-shirt, white sneakers are timeless. To get some inspiration for our next pair, we reached out to sneakerheads and casual sneaker fans alike to hear about their favorites. They reported back with picks that are minimalist, sporty, and some that even look a little like a piece of sculpture. Read on for all of our cool people's favorites (and don't forget to brush up on our guide to cleaning sneakers if you want to keep those whites bright and shiny).
Best sporty white sneakers
Three of the women we talked to named the classic Nike Air Force 1 as their white sneaker of choice. Michelle Silva, co-founder of the Con.cept, says she chooses what sneakers to wear based on her mood, but that her go-to is a pair of classic Air Force 1. "They are supremely versatile, and are a staple piece in my closet," Silva says. Personal shopper and stylist Christel Langué, who buys a pair of Air Force 1's every year, feels similarly: "You can't go wrong with Air Force 1's, and as a native New Yorker I would feel embarrassed not to own a pair," she says. "A staple for sure." Leigh Plessner, creative director of Catbird (and noted glittery nail polish collector) is a fan of the style, too, mostly for its versatility. "When my daughter was born, I bought myself a pair of AF1s," Plessner told us. "They looked cool and unexpected worn with my dresses and nightgowns, and were perfect for dropping her off at daycare and then speed-walking to work."
For a new spin on the classic, Madison Hartman, social director at sneaker and streetwear retailer Stadium Goods, says her pick is the Nike Air Force 1 Jester XX. The pair was part of the brand's "Reimagined" collection, which was designed by a team of fourteen women at Nike. The shoes are "tweaked just enough to stand out," says Hartman, who points to the elevated heel, tag on the outside, and the askew Nike swoosh and back heel logo as the details that set the Jester XX apart from classic Air Force 1s. "I would pair them with either a dark-wash jean or a pair of plaid pants," she says.
Diane Abapo, director of content at authentic sneaker resale site GOAT, says she's been wearing Nike's Zoom Gravity sneakers "nonstop." "They're extremely lightweight — like a pile of feathers — athletic-looking and have a midsole that tapers to a pointed heel," she says. Abapo calls the tapered heel on the Gravity a "less muted" version of the eye-catching tapered heel on the A-Cold-Wall* x Air Zoom Vomero 5s. And while Abapo's sneaker selections usually revolve around Air Jordan 1s and Air Force 1s (which make appearances further down this list), she's been into lighter-weight running-style sneakers from Nike lately. "Another perk of opting for lighter running-style sneakers is they're lighter to pack in a suitcase," she says. "I've been traveling a lot over the last few months and know firsthand that choosing what sneakers to pack is key."