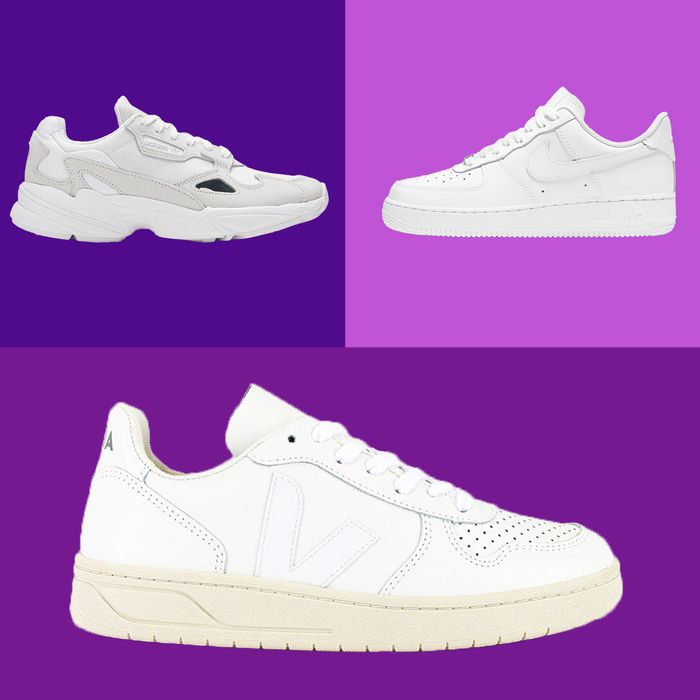 The past few years have taken us on something of a white-sneaker odyssey, with the boom of Stan Smiths around 2017, the rise of the ugly dad sneaker in 2018, and Common Projects becoming the ubiquitous shoe of "creatives" somewhere along the way. These days, the dust of the white-sneaker craze seems to have settled somewhat, but they're still our go-to for work, errands, going out, and just about any other time we leave the house. Like a white button-down shirt, a just-right pair of jeans, or a perfectly broken in black T-shirt, white sneakers are timeless.
To get some inspiration for our next pair, we reached out to 31 stylish sneakerheads and casual sneaker fans — people like Stadium Goods social director Madison Hartman and artist Shantell Martin — to hear about their favorites. We also looked back over recommendations from notable people we've interviewed over the years, including yoga instructor Adriene Mishler and environmental activist Erin Brockovich. If you already know the style you're looking for, click on any of these links to jump ahead to our sporty, high-top, low-top, platform, minimalist, or fashion-forward recommendations. Otherwise, read on for all of our cool people's favorite white sneakers (and don't forget to brush up on our guide to cleaning them if you want to keep those sneakers crisp and bright).
Best sporty white sneakers
Three of the women we talked to named the classic Nike Air Force 1 as their white sneaker of choice. Michelle Silva, co-founder of the Con.cept, says she chooses what sneakers to wear based on her mood, and that her go-to is a pair of classic Air Force 1's. "They are supremely versatile and a staple piece in my closet," Silva says. Personal shopper and stylist Christel Langué, who buys a pair of Air Force 1's every year, feels similarly: "You can't go wrong with Air Force 1's, and as a native New Yorker, I would feel embarrassed not to own a pair," she says. "A staple for sure." Leigh Plessner, creative director of Catbird (and noted glittery-nail-polish collector) is a fan of the style, too, mostly for its versatility. "When my daughter was born, I bought myself a pair of AF1s," Plessner told us. "They looked cool and unexpected worn with my dresses and nightgowns, and were perfect for dropping her off at day care and then speed-walking to work." Air Force 1's come up often when we talk to celebrities about the things they can't live without, too. Model Delilah Belle Hamlin was the proud owner of six pairs when we talked to her about a year ago. "I get a new pair whenever they start to get dirty," she told us.
They're so popular, in fact, that they're verging on ubiquitous — so if you'd like to set yourself apart, consider custom AF1s. TikTok star Loren Gray says she didn't even like the shoe until she started designing her own. Now, "I have Rick and Morty ones, Powerpuff ones — I have at least four pairs," she told us. When we talked to Gen-Zers about the coolest sneakers among their generation, they, too, co-signed going custom. Justina Sharp says it's all about the made-to-order AF1s, which have "become commodified in a way that custom Vans and Converse really haven't." She likes them because they're more accessible than other sneakers beloved by "adults," like Golden Goose, and adds that AF1 redesigns, especially ones featuring luxury logos, "feed into a very specific part of the TikTok cool-grunge-luxe aesthetic."
For a new spin on the classic, Madison Hartman, social director at sneaker and streetwear retailer Stadium Goods, says her pick is the Nike Air Force 1 Jester XX. The pair was part of the brand's "Reimagined" collection, which was designed by a team of 14 women at Nike. The shoes are "tweaked just enough to stand out," says Hartman, who points to the elevated heel, tag on the outside, and the askew Nike swoosh and back-heel logo as the details that set the Jester XX apart from classic Air Force 1's. "I would pair them with either a dark-wash jean or a pair of plaid pants," she says.
One of Cassadi Currier's favorite pairs of sneakers are Yeezys. As a hair-extension stylist who is sometimes on her feet for 12 hours a day, she thinks they are "indescribably comfortable." They do, however, come with a steep price tag and may even require you to turn to competitive resale markets to get your hands on a pair. These Adidas sneakers, which employ the same Boost technology that make Yeezys so comfortable, are a close second for Currier. Not only are they cheaper and readily available, but "they're super-comfortable, easy to put on, and they go with a lot of different things because they come in so many different colors," she says.
Yoga instructor Adriene Mishler, the founder of Yoga With Adriene, told us that the latest addition to the Ultraboost line looks and feels good no matter where she wears them. "I probably don't go a day without wearing these. I've been really loving them for walks and runs," she says, but they're also great for casual wear. "Yes, they look cool and are hip, but they feel good, too. It's nice to have a shoe I can wear for everything." Mishler likes this pair with bright-yellow accents, but they're also available in all-white.
Gen-Zer Lucy Norris told us back in August that she thinks the Adidas Falcon is "a big contender to be the next big sneaker," because "they're the perfect hybrid of a delicate shoe and the chunky trainer." She just might have been on to something. The sneaker that was once widely available is now nearly sold out on most sites, and now your best chance at finding your size is on resale websites like GOAT.