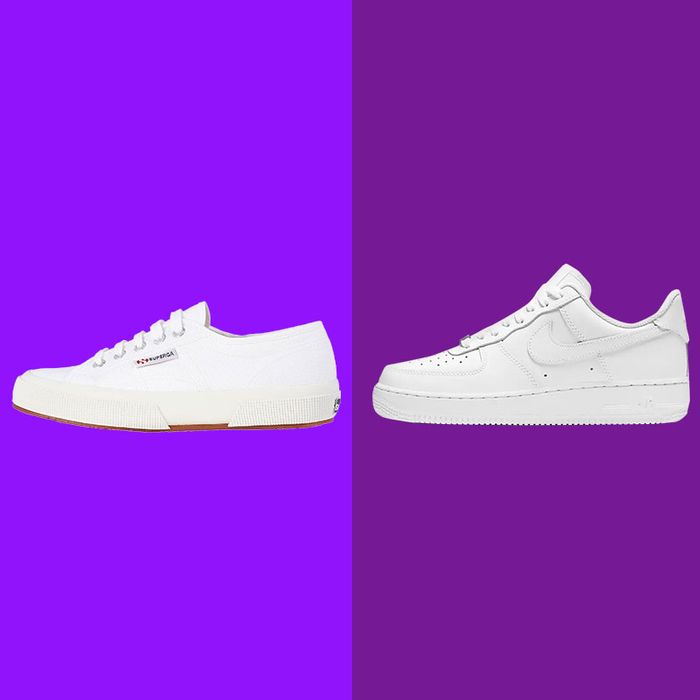 Photo-Illustration: The Strategist; Photos: Retailers
Hypebeast or not, it's hard to ignore the white-sneaker boom in the latter half of the past decade — think of the Stan Smiths craze that unleashed many a copycat, the ubiquitous ugly trainers trend, and the orthopedic-esque Balenciagas out on the streets as we speak. These latest iterations (and the inevitable ones to follow) are just further proof of the kicks' power. To find the very best of the best, we turned to sneakerheads and shoe obsessives for their favorites.
Best overall | Best low-top | Best high-top | Best minimalist | Best platform | Best leather | Best slip-on | Best dad | Best less expensive dad | Best trainers | Best sporty | Best less expensive sporty
What we're looking for
Material: Material affects comfort. As shoemaker Lauren Brinkers explains, cottons, linens, and leathers wear better because of their breathability. On the other hand, synthetics like polyester tend to hold more moisture, making them feel less airy in comparison. "As a general rule, the less synthetic materials, the better," Brinkers explains.  What a shoe is made of will also determine the proper maintenance process, whether that's a sneaker solution or a waterproof wax. This is important if you hope you keep them as close to the box-fresh state they came in.
Sizes: Generally, women's sneakers come in a size range of 5 to 11. Occasionally, this won't include half-sizes, especially with shoes following European sizing (take French label Veja, which only offers two half-sizes, 11.5 and 12.5). Then there's unisex sizing, where the men's size equivalent is listed alongside the women's; this sometimes means the shoes a) come in a wider numerical range, and b) run slightly bigger. All of these sizing-related facts are detailed, below, including whether wide options are available.
Design: What counts as a well-designed sneaker will be different for anyone you ask. To judge the pairs recommended to us as fairly as possible, we searched for the standout details that might make you pick one over the other. Is there a large logo on a side that lets everyone know these are Nikes? Is there a chunky, almost-cleat-like sole that makes them look like something you picked up at a sports store? Whatever those special features are, we've made sure to note them, below.
Price: The sneaker market is fraught with high price tags — the more fashion-forward, the more expensive (usually). So in the making of this list, we focused on worth-it brands and their more affordable options. Every sneaker here is denoted as either $ (under $100), $$ (under $150), or $$$ (over $150).
Best overall white sneaker
Leather | Sizes 5–13 with half-sizes | High-foam midsole, toe perforations | $
Unsurprisingly, the sneakerheads we talked to had much to say about the cult-favorite–to–classic Air Force 1. These not only top our list but take the superlative of "most mentioned," an astounding feat when you consider that we heard about more than 40 pairs when creating this post. There's something undeniably timeless about them, from the white-sock–revealing low top to the Nike swoosh that complements the clean lines of the shoe. These are also on Nike's more affordable side, coming in at just under $100.
Their versatility is what makes them an essential for so many. Michelle Silva, co-founder of content creation agency Con.cept, calls AF1s her go-to. Leigh Plessner, creative director of fine jewelry label Catbird, brought hers when her daughter was born — and loved how cool the kicks looked alongside nightgowns whenever she dropped her off at day care. They're so good that stylist Christel Langué buys a new pair every year. "You can't go wrong with Air Force 1s, and as a native New Yorker, I would feel embarrassed not to own a pair," she says. "A staple for sure." A self-described "die-hard buyer" of AF1s, Gia Kuan, who runs a namesake consulting company, has gone through at least five pairs in her lifetime.
Best white low-top sneaker
Canvas | Sizes 5–15 with unisex sizing and wide options | Converse red lining, All Star "license plate" in back | $
Equally iconic, Chuck Taylors are your best bet for low-tops. "There's something inherently cool, nostalgic, and rebellious about Converse," explains Jenny Walton, fashion director of the Sartorialist. Walton has worn Chuck Taylors since middle school to feel "a little punk-rockish," always in the low-profile shape, as she feels she's "too short to pull off high-tops."
Converse was just shy of getting that "most mentioned" title, too, with a few other styles coming up in our reporting. The high-top version is a favorite of artist Shantell Martin — and among Strategist staffers. "It's an off day when at least three of my co-workers aren't also wearing Converse," explains senior editor Simone Kitchens. If you want a slightly more unexpected Converse option, however, consider the pair Dominique Porter, founder of sleepwear label the Glad Hours, prefers: Jack Purcells. "If they're cool enough for Steve McQueen, they're cool enough for me," she says.