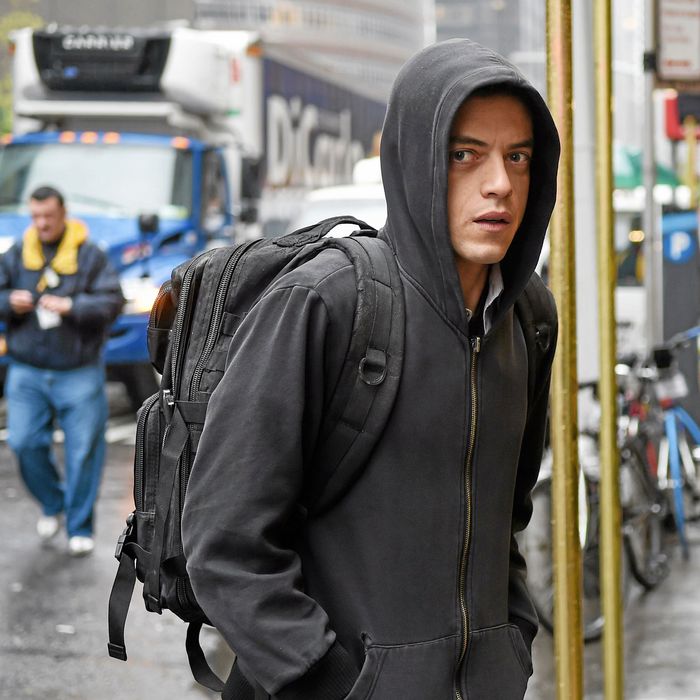 Photo: USA Network/Sarah Shatz/USA Network
We've written about all kinds of backpacks before — including the best work backpacks, children's backpacks, and commuter backpacks — but here, we've rounded up the best laptop backpacks, as praised by the most enthusiastic reviewers on Amazon.
Related Article: Best Backpacks for Work
Best-rated laptop backpack
Over 6,000 five-star reviewers endorse this laptop backpack from SwissGear, highlighting its multiple compartments, padded laptop sleeve and sturdy build. "Love love love this backpack," exclaims one happy purchaser. "I highly recommend this backpack for traveling, school, anything in between. Lots of storage space without being too bulky." Many others also mention how great it is for travel, citing the "TSA scan" feature that lets them "unzip" the laptop compartment so it scan through security machines without needing to be removed. It might seem like a small thing, but as one reviewer puts it, it's still "super convenient to be able to just unzip the back part of the backpack and not need to take it out." But even reviewers who don't travel that much appreciate bringing it to school and work. One reviewer, who purchased this for their college-aged daughter, writes, "She loves that there are a lot of pockets and it has held up for two years now which is pretty wonderful because she is rough on it and uses it daily." Another says, "I am thrilled with my purchase. I know it's just a backpack, but I have back and knee problems and having a good backpack just makes my life so much easier."
Best-rated (less expensive) laptop backpack
"I LOVE this thing. I've been looking for a slim, stylish laptop backpack forever," recalls one five-star reviewer, who, after seeing the price, thought, "This was going to be 'too good to be true.'" They continue, "For the price, this thing is AMAZING and is absolutely worth the money." One reviewer describes this as a great basic laptop backpack that offers "incredible value for the price." Another says, "It really is comfortable and makes carrying my laptop to and from work much easier." The majority of purchasers describe this as a very well-priced laptop backpack that hits all the marks: "I can fit my laptop, travel screen, makeup bag, a pair of shoes, and so much more in here … My coworker even bought this backpack after seeing mine, and she loves it just as much … Overall, this is a great bag for an even better price."
And now for some micro-picks for every type of laptop backpack you might be looking for.
Best laptop backpack with padded sleeve
Photo: Courtesy of the Vendor
Over and over reviewers expressed their surprise at how "well-made" and "strong" this AmazonBasics backpack is considering its "great price." One reviewer, who was admittedly "skeptical as to whether a backpack for just 30 bucks would meet the rigorous demands of an IT technologist," ended up calling the backpack "the best 'IT crash bag' I have ever owned." Another pleasantly surprised reviewer writes, "My Samsung pack (which was supposed to last over 10 years) fell apart after only one year. So I was looking for a strong pack that didn't cost a small fortune, to keep my laptop and tablet safe, and BINGO I found one with this pack. It's sturdy and has lots of pockets and compartments!" It also has a padded internal laptop sleeve inside the main compartment which reviewers say can accommodate laptops up to 17-inches while offering reliable protection. "My 17-inch laptop fits into the padded sleeve perfectly," attests one purchaser.
Best laptop backpack with USB charging port
"The USB port is a lifesaver" says one five-star reviewer, highlighting one of the most-reviewed features of this laptop backpack. "Everything was thought of for this bag," says one college student, explaining, "I mean the pockets are endless for an organized bag beyond belief, and I can walk around and have my phone charging without having to carry my battery pack in my hand. All in all, it's the best investment I made toward college thus far." And this admittedly picky reviewer writes, "I haven't had this bag long, but so far I am very happy with it. I've tried other bags with that kind of port but the battery just kind of flops around in the bag. This design is much better." It's also a good laptop backpack for commuting to work, as one reviewer explains: "This backpack is really perfect for commuting in the super packed subways of NY. It's slim yet has so many compartments. The USB port for charging was also a great convenience when [you] are on the go."
Best laptop backpack for travel
Frequent travelers who reviewed the Ebags laptop backpack called it "well built" and "sleek" with one reviewer saying it's their "favorite go-to bag" This reviewer who travels for work says, "This bag is simply outstanding in every way. Of course, you can buy a Tumi or a high-end leather bag but I can't bring myself to spend that kind of money on a bag that's going to be under the seat in front of me on the plane with my feet on top." A self-described "road warrior" who travels "30 weeks or so a year" explains, "I am constantly looking for the right bags to take with me. This bag is my new favorite. For full disclosure, I have owned this bag only a couple of weeks and gave it its first real trial this past week. 4 planes, 3 cities and 3 hotels. It holds a surprisingly large amount of stuff." And another happy customer writes, "I travel over 100,000 miles a year and my bags take a lot of abuse. I needed a slick bag with more structure to replace a Swiss army workhorse bag I had that lasted 8 years but one that looked better. This fits the bill."
Best laptop backpack for college students
Reviewers of the Jansport laptop backpack (the #6 best-selling laptop backpack on Amazon) were impressed by its quality, roominess, leather bottom, and lifetime warranty. "Worth every penny! 5 star rating!! Anything else would be uncivilized!!!" exclaims one reviewer who loves that the Jansport has plenty of room for his 15" MacBook Pro, textbooks, and water bottle. Another reviewer writes that she upgraded to the Jansport recently and love how much it can hold. "It's well-made and fits everything I need for a day at school. I carry my laptop, four books, a notebook, a planner, and a pencil case in just the main compartment. I also carry a lunch container with me, as well as a few other school supplies." And this reviewer writes "Has lots of room and the heavy fabric holds all my books!"
Best laptop backpack for women
Two reviewers rave, " I've gotten so many compliments." One self-described "bag snob" admits, "I really hate having to switch bags all the time, and I also have a really hard time finding one that can do what I want it to do: Look nice, not be too bulky, have room for everything I need." But this one fits the bill, as she concludes, "This bag, though — this bag does it all." Another happy customer writes that they, "Love this bag! I was looking for a work and travel bag. This one is perfect. Plenty of space for my large iPad or laptop, two water bottle holders, waterproof (already tested this), and super cute. I've received multiple compliments on this bag." And this tech professional says, "As a girly girl in tech (lol), I haven't really found a laptop bag I like. I wanted a backpack. I wanted it to look chic. Didn't want it too bulky. Needed a big pocket and a small one in front. This one checked all my boxes with even more