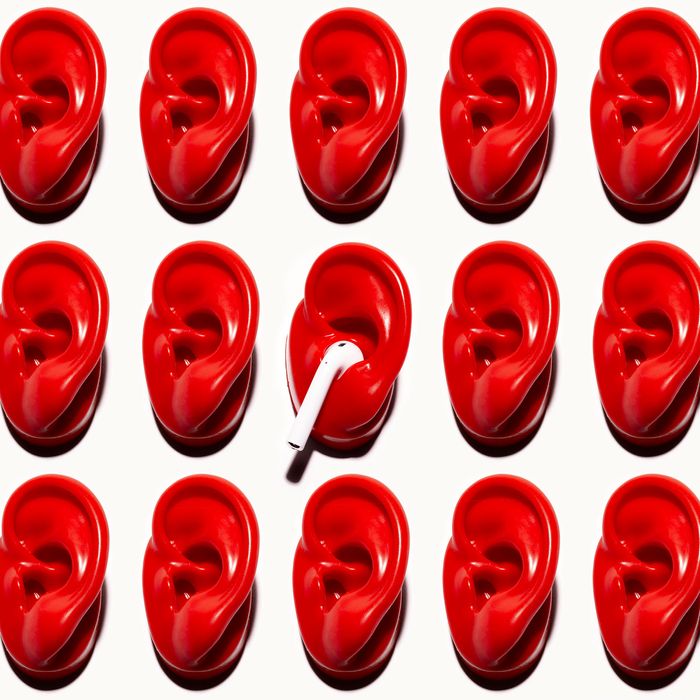 One benefit to working from home throughout the pandemic is that my simple morning routine — I place my earbuds into my ears, press play on a new album or podcast, and stare at my screen until it's time to take a break with a drink or a snack — provides the perfect opportunity to test earbuds. There's no subway noise and no co-workers doing interviews nearby. In the relative quiet of my home office, I can focus on the way the earbuds sound. Then, whenever I venture out, I can see how that sound holds up against the noise of the outside world and test the effectiveness of any noise-canceling features.
I have now tested 14 pairs of wireless earbuds, incorporating them into my life to gauge how comfortable or cumbersome they are during a full day of interviews and Zoom meetings. Since it's once again easier to travel, I've also been able to test the noise-canceling models during a six-hour cross-country flight. Outside of work calls, I've spent upwards of nine hours with each pair — laughing with Desus and Mero, playing Ghostface Killah's Supreme Clientele or Paul McCartney and Wings' Band on the Run — all while juggling a lengthy list of Bluetooth connections in my settings app. As Jay-Z once said, "Hov did that, so hopefully you won't have to go through that."
Overall, I'm impressed by how dramatically earbuds have improved over the past few years. The technology is at the point where you shouldn't have to worry too much about a dodgy Bluetooth connection or a dropped signal. You can also get decent sound, battery life, and noise-canceling capabilities at a variety of different price points. As a result, comfort, convenience, and how much you care about premium sound quality are likely to be deciding factors in which earbuds are best for you. Use the links below to jump straight to my top picks or keep reading to learn more about how I tested them.
Best for iPhone users | Best for Android users | Best noise-canceling for Android users | Best noise-canceling for iPhone users | Best less expensive | Best for audiophiles | Best for simple setup
What we're looking for
Sound: Good earbuds should deliver well-balanced sound with clear vocals and powerful bass that doesn't get in the way of other instruments or backup vocals. I made sure to pay attention to how each pair of earbuds sounds at higher volumes, how they sound when other people are chatting nearby, and how external noise like a subway announcement might interrupt the listening experience. Some of the earbuds I tested suffered from muddy bass (especially at higher volumes) or a further loss of definition with drums and other instruments fusing together to create a mishmash of sound. Many of the earbuds on this list have noise-canceling capabilities, so I listened for how effective they are at blocking out background noise whether I'm inside my home or moving through the city. (Note that some people find noise-canceling headphones uncomfortable because they can cause a feeling of pressure in your eardrums. I didn't experience this issue during my tests, but if you are new to noise-canceling headphones, be sure to choose a pair that lets you turn off the noise-canceling feature or has a hear-through mode that makes it easier to hear the noise around you.)
Comfort and size: Great sound quality can only go so far if earbuds are uncomfortable to wear. Size, weight, and design will affect how earbuds feel. Some of the earbuds I tested were so heavy I felt like someone had attached an anchor to my ears, and they quickly became miserable to wear. Poorly designed earbuds can feel even worse if you wear glasses (as I do) or if the ear loops of a face mask are competing for limited space on the side of your head. I paid close attention to the way the earbuds fit inside my ears. Some models feature memory-foam ear tips that expand and contour for a more comfortable and customizable fit. Others, like Apple's OG AirPods, have a more rigid plastic design that might not fit as well as some people would like. Models like the AirPods Pro, which come with different sizes of interchangeable ear tips, will provide a more bespoke fit. Finally, don't forget to consider the size of the earbuds' case. If the case is too large to fit comfortably in your pocket or bag, it might add a lot of hassle to your listening experience.
Setup and connection: I expect earbuds to quickly and easily pair with my devices once I take them out of the case without having to fool around with settings or extra apps. Apple's first-generation AirPods are a standard-bearer; you open the case, press the button on the back, place them in your ears, and once they're initially paired to your phone, you hear a familiar connection tone that lets you know you're good to go. For me, that tone triggers a Pavlovian response, letting my brain know that the hustle and bustle of the settings menu or a separate app is done — I can just listen to whatever I want without any extra tapping or scrolling. I tested all of the earbuds with my iPhone, and I was looking for a similarly uncomplicated experience. All of these earbuds work with mobile devices like smartphones or tablets, and they all work with my laptop (an Apple MacBook Pro). I also tested whether they were able to sustain a strong connection throughout different floors of my house. All of the earbuds that made it into this guide have Bluetooth 5.0, which was a big technical leap when it first appeared on some smartphones in 2017. It allows wearable tech like wireless earbuds to communicate with your phone at further distances and to transfer data faster, and it is more energy efficient, which helps preserve battery life.
Battery life: Wireless earbuds are meant to free us from the tangle-prone labyrinth of wired headphones. However, a major trade-off is wired headphones never need to be charged, while wireless ones do. If you've ever used wireless earbuds and felt your heart drop along with the beat when the battery got too low, you'll appreciate a pair that boasts significant battery life. The average battery life for the earbuds in this guide is about five and a half hours, which makes sense given their small size. (For comparison's sake, wireless over-the-ear headphones — which can hold a bigger battery because of their larger size — can last as long as 30 hours.) The good thing about wireless earbuds is they have batteries in their cases, which recharge the earbuds every time you place them back in the case. The cases typically hold enough power to fully recharge the earbuds at least two more times, which helps ensure you have enough battery life for a full day of calls, podcasts, and music before you have to recharge the case.
Water resistance: Most earbuds have an Ingress Protection rating, which tells you how resistant they are to water or solid particles like dust. The higher the IP rating, the more resistant they are. The IP rating sometimes has two numbers such as IP57; the first number indicates how well the product is protected against dust, and the second indicates how well the product is protected against liquid. Sometimes products are specifically tested only for water resistance, so you might see an IP rating like IPX7 — the X indicates that the product has a water resistance rating but wasn't tested for dustproofing. With earbuds, the most important IP factor is that they have some water resistance to ensure they'll hold up against sweaty workouts or wearing them in the rain.
Best earbuds for iPhone users
5-hour battery life | No noise-canceling capabilities | Hard plastic earbuds; no multi-size ear tips | No IP rating
AirPods started off as kind of a joke thanks to their oblong shape and relatively high price, but public perception gradually changed, and now you see them everywhere. Teens, athletes, and tech experts love them, and for good reason: They're portable, they sound good, and the setup process is basically seamless — just open up the AirPod case and your iPhone starts connecting. I appreciate that easy connection more than ever after testing other earbuds; often the most frustrating part of my experience was getting various devices to sync. The fact that Apple made the setup process so easy is something anyone can appreciate, but it will be especially welcome for people who aren't overly tech savvy. A key ingredient in Apple's secret sauce is making products that work together seamlessly within the Apple ecosystem. The OG AirPods lack noise-canceling capability, but I don't think this should be seen as a negative. The AirPods' extreme convenience and price make them an easy option for many people looking for a basic earbud.
The AirPods' controls are simple and intuitive. You tap or double tap the sides of the earbuds to pause, play, or skip songs, and if you're using an iOS device, to activate Siri. You can use the AirPods with other devices, though the experience is much smoother within the Apple ecosystem. There aren't many options for customization on the AirPods' tap function — unlike the Jabra, Sony, and Sennheiser earbuds discussed below, which all allow you to customize the controls — but Apple's standard controls work well in most situations. And although some people have had issues with the AirPods' fit, that can often be improved with an inexpensive accessory. Once they're in your ears, the buds should provide five hours of listening time based on my testing. And you can always top off the battery by dropping them in their case for 15 or 20 minutes to get an additional three hours of listening time. If you keep it in for an hour and half, you can get an additional 24 hours of listening time. One warning: The all-white case tends to attract dirt and grime no matter how clean you think you are.
Best earbuds for Android users
5.5-hour battery life with noise-canceling turned on; 7 hours without | Multi-size ear tips included | IPX4 rating — sweat and water resistant  
I'd already reviewed most of the other earbuds in my testing queue when I received the Jabra Elite 85t earbuds, and when I put these in my ears, I was shocked at how small and comfortable they are. When I wore them for a jog, they did jiggle a bit, but after a quick adjustment, they stayed perfectly snug. Even after a particularly long meeting, they weren't pulling at my ears like cinder blocks. They're also sweat and water resistant and have a five-and-a-half-hour battery life with Active Noise Canceling (ANC) turned on and a seven-hour battery life without. A fully charged case will re-up the earbuds between three and four times depending on whether you're using noise-canceling.
The noise-canceling worked perfectly during my testing, blocking out the sound of construction workers slicing through concrete outside my house. For those moments when you might need to hear someone talk, a convenient button activates hear-through mode, a feature on every noise-canceling earbud I tested that temporarily pauses the ANC. (I wish more brands used physical buttons like Jabra does as opposed to touch-sensitive panels, which are never as responsive.) This was especially useful on runs, when I had to quickly hit the hear-through button so I could figure out if my running partner was trying to get my attention.
The 85t earbuds had some of the best sound out of all of the earbuds I tried. The bass really delivered during a listen to Nicolas Jaar's Space Is Only Noise, and th