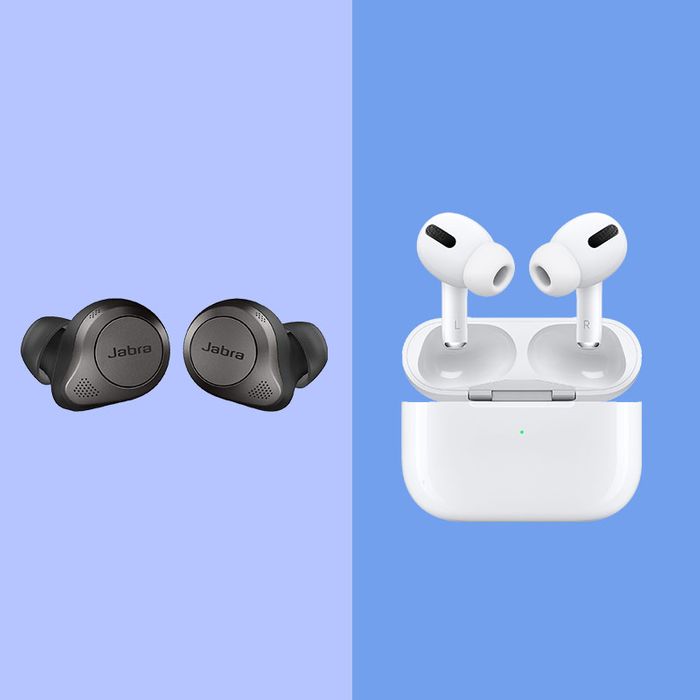 Photo-Illustration: retailers
One benefit to having spent the past year cooped up in my house following the same simple morning routine (placing my earbuds into my ears, pressing play on a new album or podcast, and then staring at my screen until it was time to break the monotony with a drink or a snack) is that it provides the perfect opportunity to test earbuds. There's no subway noise or street preachers, and no co-workers doing interviews nearby. In the relative quiet of my home office, I can really focus on the sound.
Over these past months, I tested 11 of the newest and most popular headphones. I tried earbuds from Apple, Sennheiser, Google, Samsung, Sony, JLab Audio, Audio-Technica and Jabra. When I wasn't on Zoom calls, I spent hours laughing with Desus and Mero and playing Ghostface Killah's Supreme Clientele, all while juggling different earbuds and an endless list of Bluetooth connections. My testing focused on five features: sound, comfort, connection quality, size, and price. For a great set of earbuds, you really need to hit all of them. If you spend a ton of money but always have connection issues, you are going to be frustrated. If your new earbuds sound great but are uncomfortable, that's just as bad.
After all this time testing, I was encouraged by how dramatically earbuds have improved over the last few years. The technology is at the point where you shouldn't have to worry too much about a dodgy Bluetooth connection or a dropped signal. You can also get decent sound, battery life and noise cancelling at a variety of different price points. What might ultimately be the deciding factor for you is the convenience of the setup process and how much you care about premium sound quality.
Below are six of the best options you can buy, all extensively tested and categorized to help you find the best pair for you with as little effort as possible. As Jay-Z once said, "Hov did that, so hopefully you won't have to go through that."
Best earbuds for iPhone users
Airpods started off as kind of a joke, thanks to their oblong shape and relatively high price, but public perception gradually changed and now you see them everywhere. Teens, athletes, and tech experts love them, and for good reason: They're portable, they sound good, they're comfortable in the ear even after long listening sessions, and the set up process is basically seamless — just open up the Airpod case and your iPhone starts connecting. I appreciate that easy connection more than ever after all this testing, when often the most frustrating parts of my experience was getting certain wireless earbuds synched. The fact that Apple made the set up process so easy is something we can all appreciate, but it will be especially welcome for people who aren't tech savvy.
The controls are simple and intuitive. You simply tap or double tap the sides of the Airpods to pause, play, or skip songs, and to activate Siri. There aren't many options for customization on the tap function—unlike the Jabra, Sony and Sennheiser (all below), which allow you to pick and choose which earbuds activate the controls— but Apple's standard controls work well in most situations. And although some people have had issues with the Airpods' fit, that can often be solved with an inexpensive accessory. Once they're in your ears, the buds should provide 5 hours of listening time, based on my testing. And you can always top off the battery by dropping them in their case for 15 or 20 minutes. One warning: the all-white case tends to attract dirt and grime no matter how clean you think you are.
Best earbuds for android users
I'd already reviewed most of the other earbud options when I received the 85Ts, and when I first put these in my ears, I was shocked at how small and comfortable they are. When I wore them for a jog, they did jiggle a bit, but after a quick adjustment, they stayed perfectly snug. Even after a particularly long meeting, they weren't pulling at my ears like cinderblocks. They're also sweat and water resistant, and have a 5.5-hour battery life with Active Noise Canceling (ANC) activated and a 7-hour battery life without (28 hours if you count the extra charges you can get from the case).
The noise-cancelling worked perfectly during my testing, which is to say, it was able to mask the Zoom calls of my Covid-lockdown officemate (my mom). For those moments when you do need to hear someone talk, there is a convenient button that you hit to activate hear-through mode, a feature on every noise-canceling earbuds I tested that temporarily pauses the ANC. (I wish more brands used physical buttons like these, as opposed to touch-sensitive panels, which are never as responsive.) This was especially useful on runs, where I had to quickly hit the hear-through button so I could figure out if my running partner was trying to get my attention.
The 85T also had some of the best sound out of all of the earbuds I tried. The bass really delivered during a listen to Nicolas Jaar's Space is Only Noise, and the heavy synth and bass on "Space Is Only Noise If You Can See" managed to flow beautifully as the track hit a peak in the beginning of the song, instead of falling apart into a muddied mess. If you don't like the way they're tuned out of the box, or if you're switching from a podcast to a bass-heavy playlist, adjusting the settings is easy in the app. Maybe most important, pairing is easy. The Jabras have a reliable Bluetooth connection that I set up once and never had to think about again.
Best noise-cancelling earbuds for Android users
Although they lack the finesse of the two headphones above, the 1000XM3s have superior sound to Airpods and better noise cancelling capability than the Jabras. (Before the pandemic, I brought these on a flight where I was seated next to a screaming kid. It turned out to be no problem: I popped them in my ears and was out before the plane took off.) They also have some of the best battery life of any earbuds I tested. These things could power a New York City block. They're rated at six hours on a charge if you're using noise cancellation, or eight hours without it. Even with heavy usage, I found it lasting a few days between charges — or longer.
One of the few complaints I have is the size of both the case and the earbuds. This is the Constanza wallet of earbud cases. It's almost 50% bigger than all the other cases I tried — so big that I could barely fit it in my front pocket, and there's no way I could sit down comfortably with it in there. The earbuds themselves protrude out of your ears, making them feel constantly at risk of falling out when I did anything other than lounge around the house or take a walk. Since they're not sweat or water resistant, I wouldn't recommend taking them on a run. But if your main concern is noise cancellation, like if you know you'll be sitting in a loud office again when things are back to normal, these will make you very happy.
Best noise-cancelling earbuds for the iPhone
The Airpod Pros borrow many of the same features that made the OG Airpods great: a simple set up process, a seamless connection to your iPhone, a compact size and a relatively comfortable design. (Thanks to the rubberized tips, which come in three sizes, this one should fit in your ears, even if you struggled with the original.) They have ANC and they are a significant step up in sound quality, with richer and better balanced bass. Plus Apple added these little black vents to the outside of the Pros to alleviate that completely-sealed-off, underwater feeling that some earbuds can give you. As much as I love Sony's 1000XM3, they might have been the worst culprit for this.
Apple swapped the touch sensor for a disappointing "force sensor" that allows you to trigger Siri or noise cancelling with a long press, or play/pause, skip or rewind tracks with a quick squeeze. The Airpods have the most intuitive touch controls of any of the earbuds I tested, so I'm not sure why you'd want to mess with them. Thankfully you can do the most important thing the force sensor does (switching between noise cancellation and transparency mode) fairly quickly in your phone's control center if, like me, you don't like using the sensor itself.
They have a somewhat average 4.5-hour battery life that should be fine for most people, but you'll definitely be charging them more often than the Sony or Jabra earbuds. I also found that sometimes my left Airpod Pro earbud wouldn't charge. Once in a while, even after leaving them in the case overnight, I'd pull them out to find my left earbud completely drained, but the problem has happened less after a recent update.
Best budget earbuds
The JLab has a 12 hour battery life, the longest of any of the earbuds I tested. That could get you through Lord of the Rings: Fellowship of the Ring four times, including some of the bonus footage. On top of that, the case can provide an additional 36 hours of listening time. The noise cancellation isn't top of the line like the Sonys or Sennheisers, but it's excellent for the price, and it does a decent job of blocking out people talking and other ambient sounds. With the variety of included eartips, you shouldn't have trouble finding the perfect seal. My favorite was the "cloud foam tip," which you squeeze down before inserting it into your ear, where it expands for a tight grip. It made the seal (and the earbuds) feel a little more luxe.
Best earbuds for audiophiles
These are excellent earbuds, with incredible, studio-quality sound. They're also a huge headache. When I went to configure the touch sensitive settings — I wanted to be able to trigger noise cancelling with the left ear and play/pause on the right — I almost gave up. It just took forever for the earbuds to figure out that the commands had been adjusted. After I paired my phone with the earbuds it managed to work out but it was a learning curve some people might not be able to forgive at this price point. Once I managed to get them set up, though, they were exceptional. In terms of fit, when I wore them for a run, they were even more comfortable than the 1000XM3s. With ANC activated, the battery life is a decent 6 hours. The sound really managed to shine when I turned up the volume while listening to tracks from James Blake's album, Unluck; its crackling snare hits managed to stand out without overwhelming the soulful vocals. When I listened to the popular track, "Grindin" from the Clipse's Lord Willin, I was reminded of why every student would bang the beat on every public school table in 2002. The earbuds managed to balance the vocals and bouncy drums all without any sense of the grimy harshness you might expect from lesser headphones.
The Strategist is designed to surface the most useful, expert recommendations for things to buy across the vast e-commerce landscape. Some of our latest conquests include the best acne treatments, rolling luggage, pillows for side sleepers, natural anxiety remedies, and bath towels. We update links when possible, but note that deals can expire and all prices are subject to change.