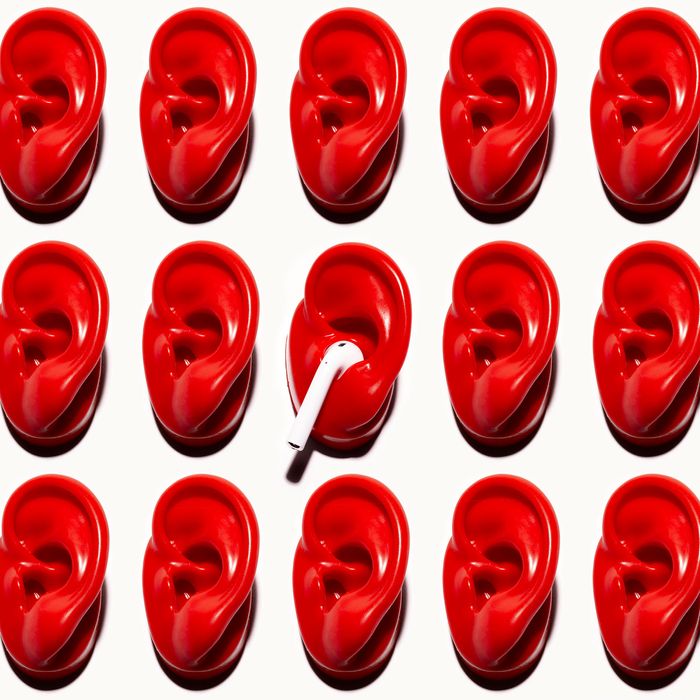 Earbuds have improved dramatically over the past few years. The technology is at the point where you shouldn't have to worry too much about a dodgy Bluetooth connection or a dropped signal. You can get decent sound, battery life, and noise-canceling capabilities at a variety of different price points. As a result, comfort, convenience, and how much you care about premium sound quality are likely to be the deciding factors for which earbuds are best for you.
To find the best wireless earbuds, we tested 18 models between two writers, spending at least ten hours using each model and trying them across a variety of devices with different operating systems to check for sound and connection quality. We listened to music and podcasts as well as an audiobook for good measure in loud and quiet environments, such as a busy subway station and a coffee shop, to account for sound quality and the effectiveness of noise-cancellation features.
We don't have an overall best pick for wireless earbuds because more and more manufacturers are taking Apple's approach and locking the best features to first-party hardware. That means a pair of third-party wireless earbuds from a company such as Jabra simply can't offer the same integration with an iPhone or MacBook Air as a pair of AirPods can, and Samsung is able to make its earbuds sound better when used alongside a Samsung device such as a Galaxy phone or one of the company's TVs. This — along with the fact that features such as noise transparency and voice assistant triggers won't work when using one company's earbuds with another company's hardware — make finding the right fit for most people a bit trickier. In many cases, those advantages result in a better experience for the user, so we've picked out the best earbuds for each major mobile operating system along with picks based on other criteria such as sound quality and price.
For models with noise-canceling capabilities, we listened for how effective they are at blocking out background noise whether we were at home or moving through the city. Note that some people find noise-canceling headphones uncomfortable because they can cause a feeling of pressure in your eardrums. We didn't experience this issue during our tests, but if you are new to noise-canceling headphones, be sure to choose a pair that has a hear-through mode that makes it easier to hear the noise around you.
Great sound quality can go only so far if earbuds are uncomfortable to wear. Size, weight, and design will affect how earbuds feel. Some of the earbuds we tested were so heavy they felt like anchors on our ears. Poorly designed earbuds can feel even worse if you wear glasses or if the ear loops of a face mask are competing for limited space on the side of your head. Some models feature memory-foam ear tips that expand and contour for a more comfortable and customizable fit. Others, including Apple's OG AirPods, have a more rigid plastic design that might not fit as well as some people would like. Models such as the AirPods Pro, which come with different sizes of interchangeable ear tips, provide a more bespoke fit.
The average battery life for the earbuds in this guide is about five and a half hours. Many wireless earbuds have batteries in their cases, which recharge the earbuds every time you place them inside. The cases typically hold enough power to fully recharge the earbuds at least two more times, which helps ensure you have enough battery life for a full day of calls, podcasts, and music before you have to recharge the case.
Most earbuds have an Ingress Protection (IP) rating, which tells you how resistant they are to water or solid particles like dust (the higher the number, the better the protection). For water resistance, we only recommend earbuds with at least a waterproof rating of 4 (out of 9).
Best earbuds for iOS users
Noise cancellation: None | Comfort: 3g per earbud, hard plastic with no additional ear tips | Battery life: 5 hours | Water resistance: No IP rating
Teens, athletes, and tech experts love AirPods and for good reason: They're portable, they sound good, and the setup process is more seamless than that of any other earbud in the Apple ecosystem — just open up the AirPod case and your iPhone starts connecting. The fact that Apple made the setup process so easy is something anyone can appreciate, but it will be especially welcome for people who aren't overly tech savvy. Airpods may lack basic noise-cancellation features, but their convenience, as well as the third generation's addition of MagSafe charging and spatial audio, make them a convenient and decent-sounding option for those seeking a basic earbud.
The AirPods' controls are simple and intuitive. You tap or double tap the sides of the earbuds to pause, play, or skip songs and, if you're using an iOS device, to activate Siri. You can use the AirPods with other devices, though the experience is much smoother within the Apple ecosystem. There aren't many options for customization on the AirPods' tap function — unlike the Jabra, Sony, and Sennheiser earbuds below, which all allow you to customize the controls — but Apple's standard controls work well in most situations. And though some people have had issues with the AirPods' fit, that can often be improved with an inexpensive accessory like a plastic hook that attaches to each earbud and latches onto your ear for a more secure fit.
With the charging case, third-generation AirPods can provide up to 30 hours of total battery life, depending on your usage. One warning: The all-white case tends to attract dirt and grime, but you can always throw a cover over your AirPods case.
Best less-expensive earbuds
Noise cancellation: Yes | Comfort: 7g per earbud, memory-foam ear tips | Battery life: 9 hours with noise canceling turned on, 12 hours without | Water resistance: IP55 rating — dust and water resistance
The JLab Epic Air earbuds have a 12-hour battery life if you're not using noise canceling, one of the longest of any of the earbuds we tested — it matches that of the much higher-priced Sony XM4s. That could get you through a viewing of the entire Lord of the Rings trilogy (even the extended edition) and some of the bonus footage. The case can provide three full charges for an additional 36 hours of listening time. The noise cancellation isn't top of the line like that of the XM4s or the Sennheisers discussed below, but it's excellent for the price, and it does a decent job blocking out the sound of people talking and other ambient noise. With the variety of included ear tips, you shouldn't have trouble finding the perfect fit. Our favorite was the "cloud" memory-foam tip, which you squeeze down before inserting it into your ear, where it expands for a tight grip. It's similar to Sony's ear tips and makes the seal (and the earbuds) feel a little more luxe.
Best earbuds for Android users
Noise cancellation: Yes | Comfort: 5.7g per earbud, multi-size ear tips included | Battery life: 6 hours with noise canceling turned on, 8 hours without | Water resistance: IP57 rating — sweat and water resistant
It's shocking how small and comfortable Jabra's Elite 10T earbuds are. They're slightly chunkier than Apple's AirPods Pro, but they don't have the stem, and they produced a more comfortable fit than the AirPods for my picky ears. Even while I was riding my bike, they didn't jostle around or come loose in my ears, so I didn't have to worry about losing them on the trail. Pairing isn't as simple as with Apple's AirPods or Google's Pixel Buds Pro, which both allow you to pair without going into the settings app.
Whether listening to music, podcasts, or audiobooks, the Elite 10s produced clear, vibrant sound that doesn't let any extra sound in. With noise canceling enabled, I could walk across downtown without hearing more than a few muffled car horns. There's also a transparency mode that does an excellent job of letting external sounds (like someone talking to you or the doorbell) through without lowering the volume of what you're listening to too much.
Among my favorite things about the Elite 10s is that they charge pretty quickly: Just 15 minutes is enough to get me through a couple hours on the bike. Overall battery life has been on par with Jabra's estimates, and I've never had to worry about leaving the house without enough juice to get me through my commute.
Best noise-canceling earbuds for Android users
Noise cancellation: Yes | Comfort: 7.3g per earbud, memory-foam ear tips | Battery life: 8 hours with noise canceling turned on, 12 hours without | Water resistance: IPX4 rating — sweat and water resistant
Sony's WF-1000XM4s are an exceptional pair of earbuds for anyone in the Android ecosystem. Using the company's V1 chip, the noise canceling is so efficient that even the sound of your own breathing won't come through, and the low hum of a plane's engine was barely noticeable in our testing. While these earbuds are the most expensive option on this list, their noise canceling is so good it feels as if these tiny earbuds were competing with their class-leading big sibling, the over-the-ear Sony WH-1000XM4. The case for the XM4s is slightly shorter but thicker and wider than the AirPods Pro case, writes Chris Welch, an editor at The Verge. The XM4s have an IPX4 rating, meaning they can withstand sweat from your most intense workouts and even from light rain. Just as important, they stay in place thanks to form-fitting memory-foam ear tips that expand to contour to the inside of your ears. With ANC enabled, the battery will last up to eight hours (compare that with five hours for the AirPods Pro below). And if you don't want noise canceling, the XM4s will last a stunning 12 hours. You get up to 16 more hours of listening time with recharging from the case.
Best noise-canceling earbuds for iOS users
Noise cancellation: Yes | Comfort: 4g per earbud, multi-size ear tips | Battery life: 6 hours with noise canceling turned on; 5 hours without | Water resistance: IPX4 rating — sweat and water resistant
The AirPods Pro boast many of the same features that make the OG AirPods great: simple setup process, seamless connection to your iPhone, compact size, and a relatively comfortable design. Thanks to the rubberized tips, which come in four sizes, you can get a more custom fit, which should appeal if you struggled with the fit of the originals. The AirPods Pro have ANC and offer a significant step up in sound quality with richer and better-balanced bass. Plus Apple added little black vents to the outside of the Pros to alleviate that completely sealed-off, underwater feeling that some earbuds can cause.
The latest AirPods Pro feature the same transparency and active noise-cancellation modes as the first-generation model with an additional feature Apple calls Adaptive Transparency. When transparency mode is active, if the AirPods detect a sound above a certain decibel level (sirens, loud yelling, overly loud engines being revved), they'll reduce the volume of those sounds before passing them to your ears.
The second-gen AirPods Pro are the first wireless earbuds Apple has put out that allow you to adjust playback volume right on the stem of the AirPods. It's one of those features that you miss when using another pair of headphones and makes using the AirPods Pro even more convenient than before. The second-gen AirPods Pro have the same U1 chip as Apple's AirTags, which makes it easier to track them if you ever lose them; there's a speaker on the bottom of the new case that will play a loud chime whenever you ping the AirPods from the Find My app. It's loud enough to hear from across the house and easily cuts down on the time spent hunting for your headphones before running out the door.
Best earbuds for audiophiles
Noise cancellation: Yes | Comfort: 6g per earbud, multi-size ear tips | Battery life: 7 hours with noise-canceling turned on, 9 hours without | Water resistance: IPX4 rating — sweat and water resistant
These are excellent earbuds with incredible studio-quality sound; they're a huge headache to use. When we tried to configure the touch-sensitive settings — we wanted to be able to turn on noise canceling with the left earbud and "Play"/"Pause" with the right — we almost gave up. It took a very long time for the earbuds to register that the commands had been adjusted, a delay some people might not be able to forgive at this price point. Once they were set up, though, they were exceptional. You can choose between four sizes of ear tips (XS to L) to get your preferred fit, and when worn on a run, the Sennheisers stayed in place and were incredibly comfortable. With ANC activated, the battery life is a decent seven hours, and you get an additional four charges with the case for up to 28 more hours of listening time. (The battery life is nine hours with noise canceling turned off.) Most important, the sound through these earbuds really shined. Even crackling snares weren't enough to drown out soulful vocals on the tracks we tested these with. The earbuds nicely balanced the vocals and bouncy drums without any sense of the grimy harshness you might expect from lesser headphones.
Best earbuds for simple setup
Noise cancellation: Yes | Comfort: 7g per earbud, multi-size ear tips | Battery life: 4.5 hours with noise canceling turned on, 6 hours without | Water resistance: IPX2 rating — sweat and water resistant
These well-made earbuds have one of the more seamless setup processes we've seen in our testing outside of Apple's AirPods and AirPods Pro. To connect them to your phone, all you do is hold the tiny button on the side of each earbud for a few seconds and find them under Bluetooth in your settings app. When you hear a chirp, you're done. Like the Jabras, they have real buttons with a satisfying click instead of the inconsistent touch controls of many other earbuds. You won't have to worry about mistakenly skipping a song or accidentally activating your smartphone assistant. Audio-Technica's noise canceling is impressive — and made even better by the fact that the earbud tips really seal in sound. They're incredibly comfortable, too, despite the somewhat clunky shape. Our only complaint is that, a couple of times, we noticed a low-sounding ring after pausing a podcast, but it passed after a few seconds.
In terms of music playback, these earbuds balanced vocals and bass well. Low notes came through clearly without muddying up the vocals or drums. Like most of the other noise-canceling earbuds we tested, these have a hear-though function, and like the setup process, it is easy to operate. You simply click the left earbud button once, and after about two seconds, the volume lowers and makes it easier to hear nearby conversations or other outside sounds. The earbuds have a four-and-a-half-hour battery life with noise canceling turned on and about six hours with it turned off, and the charging case provides up to 13.5 more hours of listening time. The case is a little on the large side but not so big you can't comfortably slide it in and out of your front pockets.
Best earbuds for Samsung Galaxy users
Noise cancellation: Yes | Comfort: 5g per earbud, multi-sized ear tips | Battery life: 5 hours with noise canceling turned on | Water resistance: IPX7 rating — sweat and water resistant
If you're envious of the convenience and integration the AirPods and AirPods Pro provide but don't want to ditch your Samsung gear to join Apple's ecosystem, you should get Samsung's Galaxy Buds2 Pro. They're effectively the company's response to the AirPods Pro: They have a similar-style charging case and active noise canceling (with similar adaptive features to the second-generation AirPods Pro), and they easily connect to Samsung devices without having to go through the typical (and annoying) pairing process.
They're not just similar to the AirPods Pro, though: In some cases, they're better. We found that the Galaxy Buds2 Pro had richer sound with more vibrant bass while listening to music on Spotify (the Buds2 Pro have been tuned by AKG, a subsidiary of Samsung that manufactures professional and consumer-grade headphones and microphones), and the noise cancellation was equally effective. Unlike the AirPods Pro, the Samsung's earbuds work surprisingly well with other Android devices, too, as Welch notes in his review for The Verge.
Best earbuds for multiple platforms
Noise cancellation: Yes | Comfort: 6.2g per earbud, hard plastic with three additional ear tips | Battery life: 7 hours | Water resistance: IPX4
If you have devices across multiple platforms and find yourself switching between them for all your audio needs, Google's Pixel Buds Pro will make the transitions more seamless than the other earbuds on this list. They don't sound quite as good as the second-generation Samsung Galaxy Buds2 Pro, but they're on par with the Apple AirPods Pro 2. The real strength of the Pixel Buds Pro is that they're able to pair with multiple devices simultaneously, so you can watch a video on your MacBook, then pause and start playing your favorite playlist from your Android device, and the Pixel Buds will automatically switch. Best of all, even with an iPhone, the touch controls on the sides of the earbuds still work great, as does the noise cancellation, so you don't have to worry about missing out on too many features — which is not true of many of the non-Apple earbuds on this list.
Verge editor and reviewer Chris Welch notes that, though the noise cancellation on the Pixel Buds Pro is effective at subduing noise in many interior spaces, he writes, "I do notice that some parts of the frequency spectrum (like street noise from passing cars) cut through louder than they would on the AirPods Pro or Sony's WF-1000XM4 buds."
Best earbuds for work productivity
Noise cancellation: Yes | Comfort: 6.5g per earbud, hard plastic with three ear tips | Battery life: 5 hours with noise-canceling turned on | Water resistance: IP68
If you plan on using your earbuds for hopping on work calls as often as you use them for podcasts and playlists, Logitech's Zone earbuds may suit your needs. Like a few other earbuds in this guide, the Zone earbuds are platform agnostic, so you can pair them with an iPhone and a Windows laptop or an Android phone and a Mac without running into any trouble or missing any features.
The sound isn't quite on par with that of the Samsung Galaxy Buds2 Pro, nor that of the AirPods Pro, but it's still quite good. For that tradeoff, you're getting a more customizable set of buds that can carry you to and from work, all without missing a meeting.
Like many of Logitech's products, they're geared toward making your work a little easier. In addition to standard features like noise cancelation and an IP68 rating, the Zone has customizable buttons that provide a little more functionality than the other earbuds we recommend.
If you download Logitech's Tune app, you can tweak the functions of taps and short and long presses on the earbuds' buttons. On the left earbud, the presses can be configured for things like switching songs, triggering your phone's voice assistant, adjusting the volume, or toggling noise cancelation without having to bounce into settings. The right earbuds have many of the same options, as well as the ability to activate Microsoft Teams without having to manually switch apps. The buttons aren't as convenient as the touch controls on the AirPods Pro or Pixel Buds, but frequent task switchers will appreciate the added functionality of Logitech's earbuds.
The Tune app has a built-in equalizer with four preset options: default, volume boost, podcast, and bass boost. You can create your own EQ settings to suit your ears, and the adjustable graph makes it easy to see how those changes will affect the overall sound.
Best earbuds for phone-free controls
Noise cancellation: Yes | Comfort: 12.2g per earbud, hard plastic with three ear tips | Battery life: 8 hours with noise-canceling turned on | Water resistance: IPX5
If you'd rather not have to whip out your phone to deal with your headphones, JBL's Tour Pro 2 wireless earbuds have a screen right on their case that allows you to control things like playback, volume, and sound mode (transparency or noise canceling). You can even set timers, enable a flashlight, and play a loud sound from stray earbuds to more easily find them. As Chris Welch, an editor and reviewer at the Verge, notes, the screen provides a handy way to make sure your earbuds have plenty of battery before you head out for the day.
Beyond a fancy on-device screen, the Tour Pro 2's sound great for casual listening while you work, and its noise cancellation is effective even in noisy settings like busy streets or crowded coffee shops. In transparency mode, however, they sound more muddled than Apple's AirPods Pro, which do a better job of playing your audio over the sounds of the outside world. That quibble aside, the sound is still great, and the buds can last up to 40 hours total when used with the charging case, which is plenty of juice to get through a few days without needing to recharge.
Other mobile accessories we've tested
The Strategist is designed to surface the most useful, expert recommendations for things to buy across the vast e-commerce landscape. Some of our latest conquests include the best acne treatments, rolling luggage, pillows for side sleepers, natural anxiety remedies, and bath towels. We update links when possible, but note that deals can expire and all prices are subject to change.