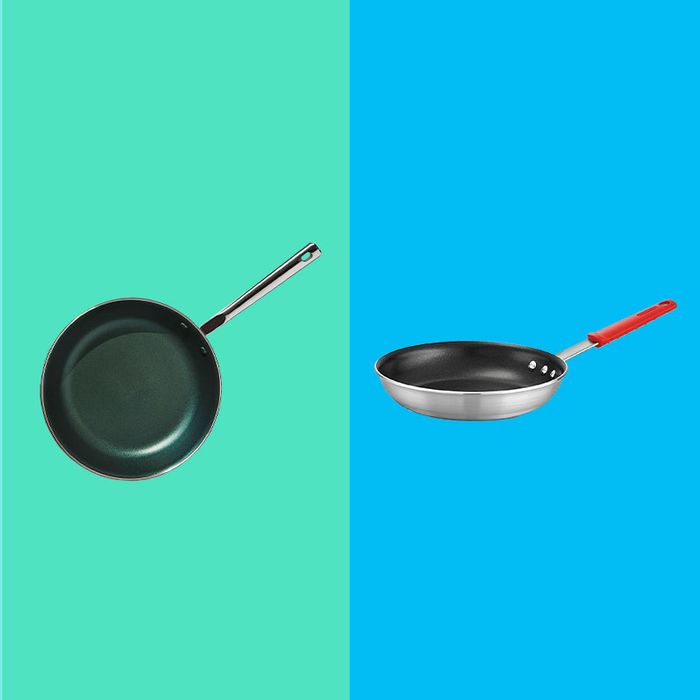 Photo-Illustration: The Strategist; Photos: Retailers
Nonstick skillets — one of three types you should probably own — are a necessity in the kitchen. They're the only pans that will produce perfectly soft scrambled eggs and fluffy omelets, but they're also good for getting crispy skin on fish, flipping pancakes with ease, transferring frittatas from stove to oven, and all manner of sautéing. But which one you should buy can be divisive. Unlike, say, cast iron, where one brand reigns supreme and all others are, for the most part, pretty similar, nonstick pans have variations that are cause for debate. Some people say ceramic is best, while others swear by different coatings (more on that later). Some say you should buy the cheapest pan possible, given that these aren't lifetime pieces of cookware, while others believe that investing more will, in fact, make them last longer. We spoke to experts to get their two cents on the matter and rounded up the very best options so you can decide for yourself.
One note on price: We've listed the starting price for each pan, which in most cases gives you an eight-inch diameter — the perfect size for two eggs. With the exception of Material Kitchen's pan (which only comes in 10.5 inches) and Our Place's (available only in 10 inches), you can buy larger versions of each, usually somewhere between 10 inches (the most versatile size) and 12 inches (great for larger households and bigger-batch cooking).
Best overall | Best less expensive | Best even less expensive | Best lightweight | Best with a removable silicone handle | Best ceramic | Best for high heat | Best with high sides
What we're looking for
Material: Some nonstick skillets have a ceramic coating, which several of the experts I spoke to preferred, given that it's allegedly the safest option. But it also tends to lose its nonstick properties the fastest, and, in my personal experience, the surface doesn't provide quite as smooth of a release, even from the beginning. If you don't feel strongly about ceramic, you'll notice a lot of other coatings, most of which advertise under trademarked names or avoid telling you the exact makeup altogether. While this might feel more confusing than informative, the main thing to know is that you should look for the terms PFOA-free and PTFE-free. Both are chemical compounds that were used when nonstick pans first came on the market in the early 1960s and were eventually found to be potentially toxic to the human body if ingested. Excluding them is "definitely the standard" today, says editor and writer Matt Rodbard, but as he writes in his cookbook, Food IQ, "Nonstick pans should be thought of as disposable" and replaced whenever their surfaces are compromised.
That's why it's smart to avoid metal utensils that might scratch the surface and release any unwanted chemicals (rubber and wood are much gentler). I also hand-wash mine, but I've noted when any experts mention that they put theirs in the dishwasher without negative effect. For this category, I've marked each pan as either ceramic or non-ceramic.
Weight: While most nonstick skillets are on the lighter side, their weight can affect how they feel in your hand. If you like a sturdier pan, look for ones that weigh a bit more. If you think you'll be maneuvering yours a lot (picking it up, transferring from oven to stove), you might want a slightly lighter option.
Oven safety: Beyond using softer cooking utensils and handwashing, another way to ensure your nonstick skillets hold up is to be cautious when putting them in the oven. Though all the brands on this list have declared their skillets oven-safe up to a certain degree, I've noted their exact specifications, below.
Best overall nonstick skillet
Non-ceramic | 1.65 pounds | Oven-safe to 300 degrees
After cooking with the Zwilling Madura for about three years, I can say that it falls into the sweet spot many of our experts point out as being key to a good nonstick-pan purchase: affordable enough and still well made. "I love that it's technically safe for metal utensils, something that I've always considered a nonstick no-no," recipe developer and writer Rebecca Firkser says. "I still try to be cautious when flipping things with my metal fish spatula, tongs, and slotted spoons, but even when I've scraped the pan accidentally, I've never seen a scratch on the surface." She also appreciates that the handle stays cool to the touch. Recipe developer and cookbook author Molly Baz notes that feature too. "I like the way it feels ergonomically," she says. "I can hold it in one hand without it hurting my wrist or flopping over to the side." Recipe developer and cookbook author Andy Baraghani likes its lightweight design and the flared lip that makes it easy to toss ingredients.
Though many nonstick skillets claim to be oven- and dishwasher-safe, the Zwilling Madura has proven that it holds up when you use it in these ways. I use mine to make frittatas (as do Firkser and Baragahni), and Baz says she has even put it in a 400-degree oven with great success. She's also been "putting it in the dishwasher since I bought it four or five years ago, and it shows no signs of degraded coating."
Best less expensive nonstick skillet
Non-ceramic | 1.5 pounds | Oven-safe to 450 degrees
Chef and cookbook author Anito Lo is a firm believer in spending less on your nonstick pan. She has used many different brands, including higher-end ones like All-Clad (our top pick for stainless steel skillets) and Calphalon. She admits those look nicer but "don't last any longer" than her Cook's Standard one, which she has owned for about two years. "I like its weight," she says. "It's sturdy but not too heavy. And the sides are sloped, so sautéing is easy."
It's a buyer favorite on Amazon, too, with 4.7 stars and more than 1,500 ratings. The pan is "well made, properly weighted, heats evenly," and easy to clean, one reviewer writes.
Best even less expensive nonstick skillet
Non-ceramic | 1.75 pounds | Oven-safe to 500 degrees
Along with my ten-inch Zwilling Madura, I use an eight-inch Cuisinart nonstick skillet. It lives on my stove for eggs (I make scrambled, fried, omelets, or a frittata most mornings), which only require low-to-medium heat and a gentle hand, two factors that ensure you're not irritating the surface. But I've also used it to crisp up leftover rice, toast nuts, make grilled cheese, reheat proteins (I don't own a microwave), and more. In my two years of using it, the skillet has held up beautifully with no signs of wear on the bottom.
Best lightweight nonstick skillet
Non-ceramic | 1.23 pounds | Oven-safe to 390 degrees
Oxo is a Strategist-favorite brand, and this skillet is no exception. In the six months I've been using it, the surface has sustained no scratches or deterioration. It's worth noting that this is one of two cheaper pans I own (the other being the Cuisinart, above), and as such, I treat it gently, not putting it in the dishwasher or oven, the latter of which I do with the other two (the Zwilling Madura and the Material, below). Still, Oxo maintains it can withstand heat up to 390 degrees. The standout feature, though, is its weight, the lightest on this list. In my experience, you can really feel the difference between even a few ounces. Combined with the comfortable silicone grip, this means maneuvering the pan around the stove, picking it up to toss ingredients like nuts, making stir-fries, and inverting it for a tortilla española are all easy to achieve.
Best nonstick skillet with removable silicone handle
Non-ceramic | 1.9 pounds | Oven-safe to 400 degrees
The Tramontina is the preferred nonstick skillet of Rodbard, as well as Jessica Battilana, cookbook author and editor at King Arthur Baking. Both use theirs almost daily. "I like how it feels in the hand," says Rodbard of the riveted, "nonslip" handle, a design feature none of the other skillets on this list have. "Plus, the grip is ovenproof." Battilana is also a fan of the pan, saying "it's light but durable, and it doesn't feel cheap, even though it's not an expensive pan." She mentions the handle as well, calling it "super-sturdy" and pointing out the removable silicone cover "so you don't have to worry about scorching your hands."
Best ceramic nonstick skillet
Ceramic | 1.5 pounds | Oven-safe to 600 degrees
Despite the disclaimers about ceramic nonstick skillets at the beginning of this story, three experts say GreenPan is their favorite. Recipe developer and food stylist Caroline Lange initially chose the brand because of the nontoxic material and has now been employing her eight- or ten–inch daily for the last couple of years for eggs, tahdig, and her favorite tofu recipe and to reheat leftovers and more. (She even used them to test three different cookbooks.) She swears that despite heavy use, they haven't worn down at all. "They're oven-safe — really oven-safe — up to 600 degrees," she says. "My oven doesn't even go to 600 degrees! I love a pan that I can start on the stove and transfer to the oven." She also appreciates how easy they are to clean. "If there's ever any oil cooked on (like if I fry an egg really hot), scrubbing with a bit of baking soda takes it right off," she says. While recipe developer and cookbook author Vallery Lomas admits that ceramic "isn't the most nonstick," the material won out for her as well. She, too, appreciates the fact that it can go into the oven and has even made a galette in it. Alana Kyser, cookbook author and writer of Fix, Flair, Feast, uses her GreenPans regularly, noting that they lasted her two years before they started to show wear. "The golden rule in my book for nonstick is no high heat," she says. "I don't use any metal utensils on mine and never put them in the dishwasher."
Best nonstick skillet for high heat
Non-ceramic | Five pounds | Oven-safe to 500 degrees
Even though Material's skillet doesn't claim to hold up to the highest heat in the oven (that would be the pan above), I have found it to be unparalleled on the stove. The inside is made from copper, a material that "conducts heat, retains heat, and then cools down in an incredibly exacting way," says Daniel Cutler, co-owner–chef of Ronan in Los Angeles. As such, I've found it to be particularly effective for foods where you're trying to get a bit of color, like lacy-edged fried eggs, crispy rice, and hashes. Recipe developer and cookbook author Hetty McKinnon also owns this skillet, which she calls the most durable one in her arsenal. "After a year, it's not even close to being trashed," she says. (I've had mine for more than two years and can attest to the same.) "It heats up super quickly and cooks evenly. It also feels balanced and light in my hand, which is such a nice change from my cast iron." One final plus: The Coated Pan is, in my opinion, the most attractive on this list, with a beautiful angled handle and understated yet distinctive colors for the coating.
Best nonstick skillet with high sides
Non-ceramic | Three pounds | Not oven-safe
I'll say this up front: I know Our Place's Always Pan is divisive. There are some users who say the nonstick coating doesn't hold up, but there are many who love it, myself included. While the company boasts that it's designed to replace eight different pieces of cookware, I think that's a stretch, and I would never actually get rid of my other pots and pans in favor of this one. However, the biggest appeal is the high sides, which does make it incredibly versatile. It captures splatter when I'm searing a piece of fish, which is a big time-saver when I'm cleaning the stove. It works beautifully for fried rice, sautéing a pile of vegetables that might otherwise spill over, and frying tofu. It also has a pour spout that's handy for dispensing sauces. Strategist editor Maxine Builder got one recently and is "obsessed with it," even keeping it out on her stove because she turns to it so often. "I have been very careful with it," she says, "using low-to-medium heat and only handwashing after it's cooled down completely." If you don't want to only take our word for it, Lani Halliday, owner and founder of Brutus Bakeshop, endorses the Always Pan, saying that the "weight, heft, and finish are all excellent."
Some other skillets we've written about
Our experts
• Rebecca Firkser, recipe developer and writer
• Molly Baz, recipe developer and cookbook author
• Andy Baraghani, recipe developer and cookbook author
• Anito Lo, chef and cookbook author
• Matt Rodbard, food writer, editor, and cookbook author
• Jessica Battilana, editor at King Arthur Baking and cookbook author
• Caroline Lange, recipe developer and food stylist
• Vallery Lomas, recipe developer and cookbook author
• Alana Kyser , writer of Fix, Flair, Feast and cookbook author
• Daniel Cutler, co-owner–chef of Ronan
• Hetty McKinnon, recipe developer and cookbook author
• Maxine Builder, Strategist editor
• Lani Halliday, owner and founder of Brutus Bakeshop
The Strategist is designed to surface the most useful, expert recommendations for things to buy across the vast e-commerce landscape. Some of our latest conquests include the best acne treatments, rolling luggage, pillows for side sleepers, natural anxiety remedies, and bath towels. We update links when possible, but note that deals can expire and all prices are subject to change.