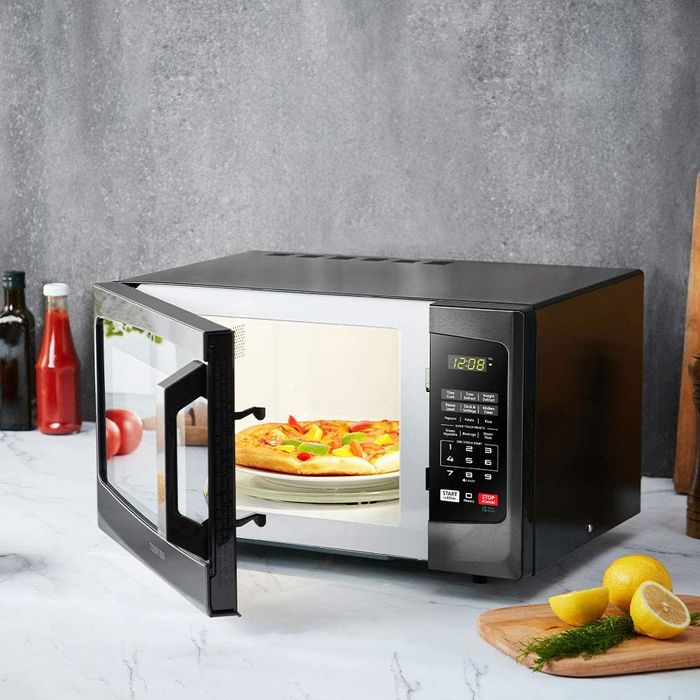 While we've written about lots of kitchen appliances — including juicers, vacuum sealers, mini-fridges, deep fryers, and slow cookers — here, we've rounded up the best countertop microwaves, as praised by the most enthusiastic reviewers at Amazon.
Related Articles: Best Toaster Ovens | Best Smart Kitchen Appliances
Best-rated (and least expensive) microwave oven
This microwave's voice-control integration with the Amazon Echo is a big selling point among reviewers. Hundreds of people mention Alexa in their reviews, and commenters use it in some unique ways: "It's great and has some unexpected uses besides the coolness factor. For example, sometimes I'll reheat a cup of coffee while working at home and forget about it. The Echo alarm in my room lets me know the microwave is done. If I forget about it, I can just say, 'Alexa, reheat for one minute,' and it goes. Verbal confirmation from the Echo is a great feature." Another reviewer shares, "Surprisingly, the voice command is more fluid to use even than using the buttons we all are so used to."
Its high-tech capabilities don't seem to cause complications with set-up, though. A visually impaired reviewer writes: "I'm always hesitant when I buy something that needs to be paired with something else in order to get the full benefit of it. Sometimes, something on the screen needs to be entered which we can't see. There might be on-screen prompts or whatnot. This microwave had none of that. It was a cinch to set up and works beautifully." Others love its small size. "We have a VERY small kitchen with barely any counter space so I was very pleased with how compact it is," writes one commenter.
Best compact microwave oven
Customers enjoy the small footprint this Panasonic microwave. In fact, it's one customer's favorite feature. He calls is a "good microwave," because it's "nice and compact on a counter" and doesn't take up too much space. A second reviewer also "really likes the small size" because while, yes, it is compact, it's still "large enough for any of our needs" and doesn't hog counter space. Aside from the size, customers also point out how well it works. "This cooks your frozen dinners to perfection, is quiet, and sits easily on a counter. Great microwave," adds one. And one more agrees, it "heats evenly and extremely fast." He even appreciates that "the glass tray has yet to fall off the tracks, even after cleaning."
Best large microwave oven
"I'm actually happy that my old microwave blew up so I could get this one," writes one reviewer said of this very powerful and large microwave. "This is a large countertop item and can fit large items … large plates, two small plates, big Tupperware," one says, while another notes "this will fit a 10" tall travel mug in the center of the platter or about a 9.5" by 16" the full surface of the platter for full rotation." This microwave is large partially due to the fact that it can serve as a built-in, over-range microwave as well, but just on a counter top one user says it is "very sleek outside." This microwave is not only large but powerful. It comes with inverter technology that landed it on our list of best smart kitchen appliances. "The inverter technology on this microwave, though, allows it to use reduced but steady heat to thaw and cook foods without those dreaded hot and cold spots," writer Steven John said. "It even automatically detects cooking progress and self-adjusts its temperature and timing." Other reviewers are impressed with the technology, too. One says, "You can reheat or cook three meals at once or defrost a turkey or large roast with the turbo inverter technology."
Best inverter microwave oven
Just like the above, this is an inverter microwave — but it's smaller, which, according to one reviewer, means that "when you set the power level, the actual power level changes, rather than the power going on and off." Many users find that this technology helps heat things more evenly. "You can reheat certain foods much better at a lower temp (like pasta, veggies, and meat), and don't get all dry around the outside," one writes. Reviewers also call out the defrost mode, because "it doesn't 'cook' the edges of the meat and the automatic sensor reheating mode takes the guessing out of how much time you need to set," according to one reviewer. And if you do decide to manually set the cook time, reviewers said not to go too high: "This machine really heats things quickly with it's wattage," one says, adding, "We've had to get used to not needing so much time to heat a drink or food." And while the 1.2-cubic-foot capacity is relatively compact compared to larger microwaves, one reviewer says it does "take up less space; but it did not disappoint — it still has a 13.5" turntable and does everything I need."
Best microwave oven with smart sensor
"Why, hello, Jetsons! I hadn't realized how far microwaves had come until we had to replace the one we've owned since we got married 20+ years ago," writes one customer. He says this microwave has "got all of the bells and whistles," including the smart sensor, which he calls "crazy" for how impressive it is. The smart sensor has preprogrammed options for heating up popular foods. "Things we've made: popcorn, rice, oatmeal, reheated pizza, pastas, and other leftovers, hot cocoa, and a few other things. We have yet to burn anything, including popcorn," he writes. He fully expects a "food replicator" by the time he's ready to replace this model. And dozens more five-star reviewers are enamored with the smart sensor. One customer didn't think he needed "a fancy machine with all the bells and whistles" because he "just needed something that would reheat leftovers," but now that he has it, he can't live without it. Another reviewer also is new to the smart technology and was skeptical at first, but after testing it out, he says "this oven is truly smart. It's the best microwave I've ever owned." He explains, "I placed a frozen one pound ribeye in this microwave and pressed one pound defrost and it was perfect."
Best quiet microwave oven
Fifteen percent of reviewers mention how quiet this microwave is, including one who writes, "IT IS SO QUIET I BARELY HEAR IT, EVEN IN THE KITCHEN NEARBY." Another reviewer writes, again in all-caps, "YOU CAN SHUT OFF ALL SOUNDS, hooray." All you have to do is hold down the 8 on the keypad to turn on or off the sounds. And unlike a lot of modern microwaves, this one still has a handle, which traditionalists also appreciate. "No cheap springy push button to pop out and render the unit unusable." As for the actual function of heating up food, "It has all the 'bells and whistles' of a more expensive microwave, and has the power of a commercial oven, 1,100 watts," writes one reviewer, who appreciates the pre-programmed settings for reheating things like pizza, potatoes, and veggies. One even says, "I cooked 4 baked potatoes in 10 min."
Best microwave oven with adjustable sound