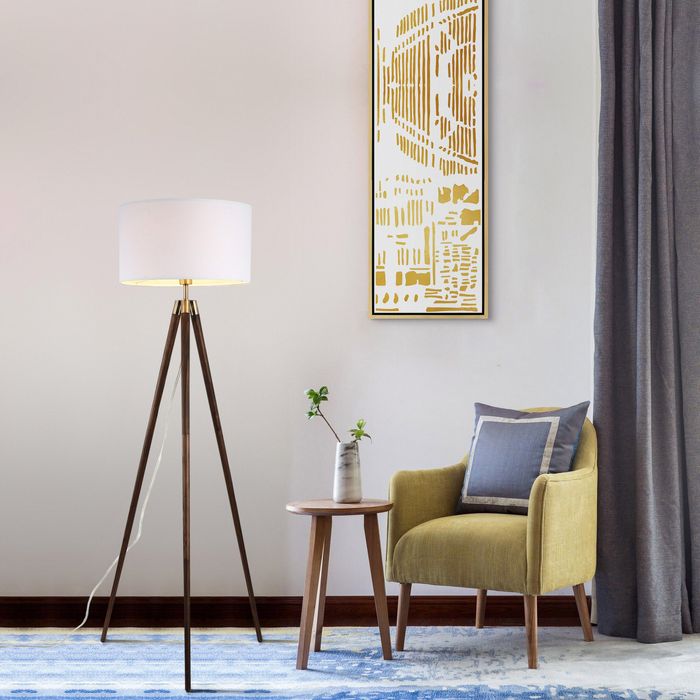 Photo: Courtesy of the vendor
Usually cast in corners or shoved between sectionals and chairs, a floor lamp is one of those easily overlooked pieces that shouldn't be — it's practically a stand-alone piece of furniture, and choosing the right one can change a room's décor scheme. Do you go decorative or trendy? Or should you focus on task and function? To find out, we reached out to interior designers and other design-adjacent folks who we think have exceptional taste to get their recommendations. Below are 32 floor lamps for every budget, from surprisingly expensive-looking ones under $100, to splurge-worthy lamps that definitely steal the spotlight.
Best
floor
lamps
under
$100
According to home decorator Carrie Carrollo, who told us she's been doing a lot of shopping for floor lamps lately, "The one consistent design element I've been gravitating toward is orbs," which she says "feel timeless, super modern, and very much vintage at the same time — it really depends on the context." She recommends this floor lamp with an orb light for its "minimal but definitely stylish" look, adding that it would work well in "tons of different interiors." The lamp has a very small footprint and is lightweight and portable, making it a great option for small-space living.
Carrollo has also been noticing mushroom lamps everywhere on Instagram right now, though they're mostly vintage. If you're curious about that trend, consider this nonvintage lamp, which she likes because it "borrows part of that style (in the shape of the lampshade) but with a bit of a new construction." She adds: "The brass tone is so in demand right now, too, so at $65, it seems like a great choice — especially for someone in their first apartment." The metal shade also happens to be adjustable.
If you're tired of what Carrollo calls the millennial-approved "all gold- (or brass-) toned everything" that she, too, has gotten weary of, she suggests trying chrome. "This lamp feels like a nice way to potentially experiment with the tone," she says. It also marries two of the shapes she mentions above, with a shade that is both orblike and mushroom-reminiscent.
Here's a lamp that will provide light without stealing the show, thanks to its slim profile. It comes recommended by Stacy Harwood, a senior designer at online interior-design service Havenly, who likes its "sleek design" and calls it "super versatile," meaning it pairs well with any décor style. Designed by Strategist-favorite Hay for Ikea, it also has a swiveling base and head, and full dimmer capability for just $60.
Another Ikea lamp, this one comes to us by way of interior designer Tiffany Thompson of Duett Interiors, who likes that it's simple and adjustable. Designed by Tom Dixon for Ikea, it has a curving neck and works great as a task or reading lamp.
For a column-style lamp, consider this one that interior designer Jenny Norris recommends. "The lines on this no-frills floor lamp are statuesque and clean, and can be a mature addition to your space," she says. Its frame is made of blackened bronze and topped by an understated linen shade, a design that gives the lamp both an industrial and traditional feel.
For an affordable (and rather unique) floor lamp, you could try this standing paper lantern, which "brings an airiness and awesome texture" to a room, according to Shannon Retseck, the owner of Cuttalossa, a home-goods and textile company, and Cuttalossa & Co., a retail space in Philadelphia. She particularly likes that the lamp is perforated, which allows it to emit diffused light. The $35 price tag feels like a major steal.
According to Carrollo, the tripod shape is "classic and easy to style, but still sleek." Even though this has a bigger footprint than a standard one-legged lamp, she says it can be used in a variety of spaces. "What I love most about this lamp is how versatile it is," she says. "This particular version comes in black and Lucite with the tiniest gold details, so you can pick the one that best fits your décor style and interior." While the Lucite version is currently unavailable, the black one, which has metal legs, would add a bold touch to a room.
Thompson agrees with Carrollo that tripod lamps go with almost any décor style. She recommends this elegant-looking one from Poly & Bark that has wooden legs and a white fabric shade, especially for those who prefer a more subdued look. It's available in a walnut base or a pale, natural color.
For a different kind of ambient light, two of our designers, Thompson and Retseck, suggest trying round floor lamps, like this one recommended by Thompson. "This is a nontraditional version of a floor lamp," she says. "I love it directly on the floor or propped up on a stack of books." It casts a soft glow and comes with 16 LED color options.
This round steel floor lamp recommended by Retseck is a bit more industrial. She suggests using it to "illuminate a wall, a painting or a large house plant," adding that it would "make the space feel more elevated and cozy."
Best
floor
lamps
under
$200
Alessandra Wood, the VP of style at online interior design service Modsy, likes this floor lamp for its classic shape that she says lends itself to minimalist or mid-century-leaning spaces. It has a brass base and a pole accented with dark wood, elements that Wood says "add a touch of warmth to any space without becoming the center of attention."
"I love a good pharmacy lamp," says Wood, who adds that because of its classic look, this will always be in style. "This has the perfect blend of vintage and industrial charm, and the aged brass introduces an upscale feeling of warmth to any rustic space." It's available in other finishes, including nickel and bronze.
Here's another streamlined task lamp that comes recommended by interior designer Elizabeth Damrich. The slightly angled iron frame is powder-coated in a white matte and has an adjustable shade that can be tilted to illuminate whatever you please. And the base has a diameter of just over a foot, making the lamp ideal for nooks and small spaces. "I love that this provides the right amount of light next to a cozy chair," Damrich says.
For a so-modern-it-verges-on-futuristic arc lamp, consider this space-age-y one that Thompson pointed us to. The curving neck itself is actually the light — no shade or head is attached at the end. "Think of this like a modern reading light, where you have the light coming directly overhead but it's still super dramatic and sculptural by itself," she says.
This tripod lamp will definitely steal the show wherever it is placed. Thompson loves that it's inspired by a photographer's lamp, calling it "unique and industrial but also extremely functional, as the shade can be adjusted to direct the light at different spots in your home." It may be more expensive, but with this and a nice couch and a good rug, you really wouldn't need much more in the way of living-room décor. A note that the image shows two lamps, but they are sold separately and the price shown is for one.