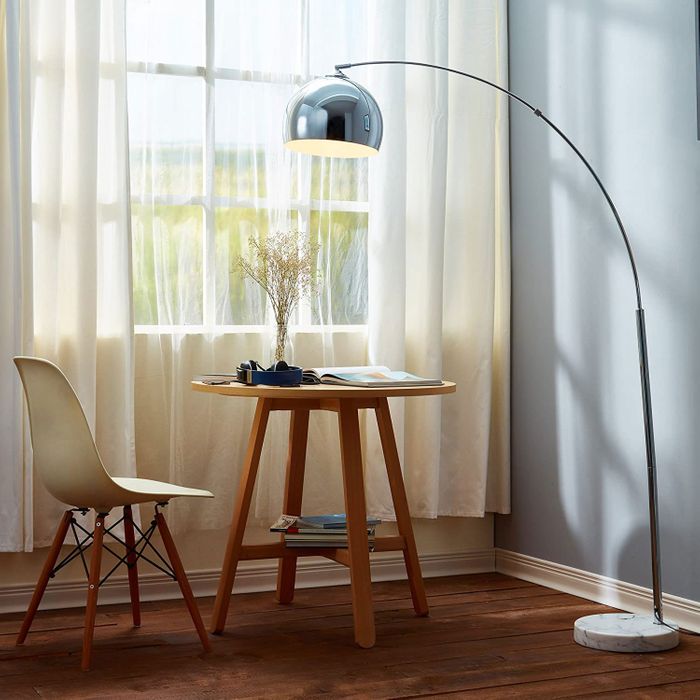 Usually cast in corners or shoved between sectionals and chairs, a floor lamp is one of those easily overlooked pieces that shouldn't be — it's practically a stand-alone piece of furniture, and choosing the right one can change a room's décor scheme. "You should have fun with lighting, as they are illuminating sculptures in your space," says interior designer Lauren Ashley Allan, adding that lamps can act as "the jewelry to a room." But do you go decorative or trendy? Or should you focus on task and function? To find out, we reached out to 11 interior designers and other design-adjacent folks for their recommendations. Below, 16 floor lamps for every style and budget, from surprisingly expensive-looking ones under $150 to splurge-worthy lamps that make an impression.
Best overall | Best tripod | Best mid-century-modern tripod | Best arc | Best (less expensive) arc | Best task | Best modern task | Best wooden | Best sculptural | Best mushroom style | Best Edison style | Best vertical light | Best LED | Best paper column | Best (splurge) paper column | Best low
What we're looking for
Style and Design: Among the hundreds of thousands of floor lamps out there, most of them fit within just a handful of categories. You've got your basic upright floor lamp that's supported by a single post; tripods that stand on three legs; arcing lamps, whose shades suspend over a space; task lamps that let you direct the light right above a reading chair; and lamps that have columnlike supports. Everything else is a variation therein, with different shade types dictating the overall look of a lamp. Fabric drum shades are among the most classic kind, but you also have mushrooms, globes, cones, and pleated options, among others. In my own never-ending search for floor lamps, I've found it helpful to search by basic style, so I've categorized the ones below that way as well, and then by shade.
Material: The basic components of a floor lamp — base, support, and neck — are typically made of metal or wood, but many lamps also mix materials. Marble is a popular base material, and sculptural, ceramic bottoms have recently become the darling of the high-end-design world. You'll also find lamps whose posts act as the light source itself, which we see in paper column styles as well as in more contemporary LED options.
Adjustability: Unlike desk lamps, floor lamps are typically fixed, but a few do come with adjustable components. Task lamps, for example, usually allow you to adjust the shade and even a swing arm, if they come with one. Some upright styles come with telescoping necks that are height adjustable. A couple of floor lamps are even dimmable.
Best overall floor lamp
Bent neck | Metal | Adjustable | Dimmable
Here's an LED lamp that will provide light without stealing the show thanks to its slim profile. It's recommended by Stacy Harwood, a senior designer at the online interior-design service Havenly, for its "sleek design," and she calls it "super-versatile," meaning it pairs well with any décor style — which is why we think it will work well for most people. Designed by Strategist-favorite Hay for Ikea, it also has a swiveling base and head and full dimmer capability for just $70, a price that truly can't be beat.
Best tripod floor lamp
Tripod | Drum shade | Mixed materials (metal and cotton)
Tripod floor lamps are as classic as they come, but this one that Havenly lead designer Toussaint Derby recommends stands apart thanks to its black-and-gold combination that she says "makes it feel more glam" than your run-of-the-mill lighting out there. Gold accents offset the black fabric drum shade and sleek legs for a moody, high-impact look.
Best mid-century-modern tripod floor lamp
Tripod | Metal | Adjustable
If you like a lamp that stands on three legs but prefer something with a slimmer profile, consider this lamp by Greta Grossman's original 1947 Grasshopper design that Allan recommends as an "alternative reproduction if you are working toward building your own iconic collection." It has a tubular steel tripod stand that is "tilted backward, creating a modern silhouette," and a conical shade with an elbow joint that can be adjusted up or down to direct the light where you please. In terms of placement, Allan recommends "placing it behind your favorite reading chair in a family room, bedroom, or kids' room."
Best arc floor lamp
Arc | Drum shade | Mixed materials (metal and cotton) | Dimmable
A floor lamp with a dramatically arcing neck can double as overhead lighting if you position it correctly — above seating or even a dining table, for example. Another favorite of Harwood's, this more traditional option has a simple metal base and cotton shade, making it especially versatile. "With an extending arch that's over six feet high," Harwood says it is a practical option for both small and large rooms. She adds that it comes with full dimmer capacity and that you can get it in two finishes (brass and nickel).
Best (less expensive) arc floor lamp
Arc | Globe shade | Mixed materials (metal and marble) 
This arcing lamp has more of a '60s vibe thanks to its globe shade. It's recommended by home decorator Carrie Carrollo, who, tired of what she calls the millennial-approved "all gold- (or brass-) toned everything," suggests trying chrome. "This lamp feels like a nice way to potentially experiment with the tone," she says. It also marries two of the shapes she mentions above, with a shade that is both orblike and mushroom reminiscent.
Best task floor lamp
Task | Metal | Adjustable
For something a little more traditional, try a task lamp, like this one that Alessandra Wood, the VP of style at online interior-design service Modsy, recommends. "I love a good pharmacy lamp," she says, adding that because of its classic look, this will always be in style. "This has the perfect blend of vintage and industrial charm, and the aged brass introduces an upscale feeling of warmth to any rustic space." It's available in other finishes, including nickel and bronze, and has an adjustable height, swing arm, and lamp head.
Best modern task floor lamp
Task | Lantern shade | Metal
If you like the overhead nature of a task lamp but prefer something a bit more contemporary, consider this lamp that Derby recommends. "Task lamps can have a tendency to feel overly traditional, but this option is the perfect mix of traditional and modern," she says, thanks to its black lantern-style shade and brass and gold finishes.
Best wooden floor lamp
Upright | Drum shade | Mixed materials (wood and linen)
Here's an upright, shaded style that would fit in just about anywhere. Harwood calls it "simple," with a "versatile design that pairs well with coastal, Cali-cool, and transitional styles." We would agree. The pale rubberwood base and textured linen shade feel so relaxing and make it easy to imagine this lamp in the living room of our (theoretical) summer cottage.
Best sculptural floor lamp
Upright | Drum shade | Mixed materials (resin and fabric)
"An '80s nod with a muted, ancient feel" is how Shannon Retseck, the owner of Cuttalossa, a home-goods and textile company, and Cuttalossa & Co., a retail space in Philadelphia, describes this unusual lamp. The twisting resin neck and woven drum shade are muted enough in color that the lighting won't overwhelm a room, she says, adding that this would be "such a great way to add visual interest to a space lacking charm."