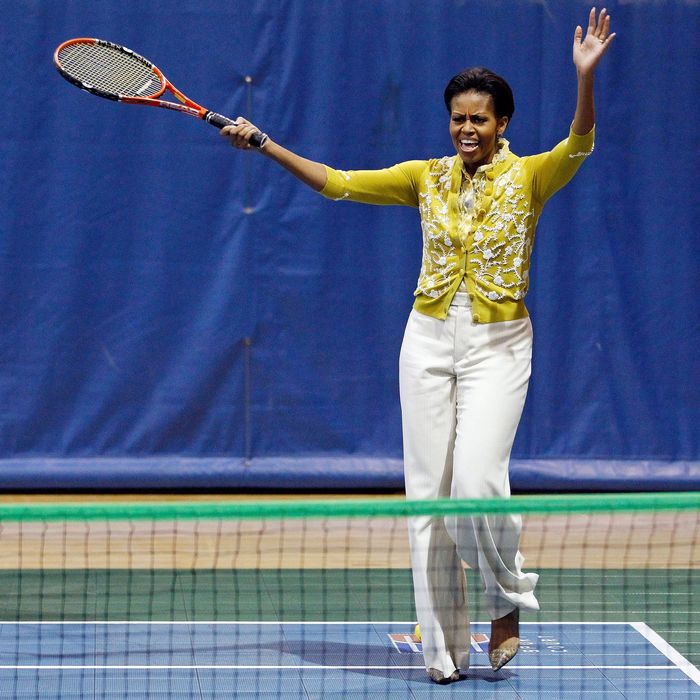 Photo: Chip Somodevilla/Getty Images
While perhaps too sporty for some, tennis is generally a low-impact activity with an even lower barrier of entry — especially in warmer weather, when all the gear you really need to play outside is a racket, some balls, and a pair of gym shoes. (Tennis shoes, to be specific.) Anyone looking to pick up or return to the sport right now, according to the experts we spoke to, may also find it easier to do so than ever before. "It's actually never been a better time to be a beginner tennis player," says Caitlin Thompson, a co-founder of tennis magazine Racquet and a former Mizzou tennis coach and player. "Manufacturers have made the rackets a lot more approachable, a lot more affordable, and geared for recreational players."
To find the best rackets for beginners, we asked Thompson and ten other experts — who include tennis pros, coaches, and retailers — about the ones they recommend. The eight rackets below all came up multiple times, but for different reasons, which we've used to categorize them so you can better determine what might work for you. While these rackets all come recommended for beginners, know they aren't exactly made for them. All of our experts, in fact, say they rarely recommend true beginner rackets to anyone, because even those who only play semi-regularly will likely grow out of them too quickly. "People who have decided to buy their own tennis racket are often buying for life," explains Karen Moriarty, a co-owner of the Tennis Professionals store in Rye Brook, New York. "I don't want anyone to spend $100 then have to come back and spend $200 more shortly after."
Our experts also shared some general tips when shopping for a beginner racket. First and foremost, novices should look for something lightweight that makes it easier for them to perfect their form and move across a court. (All of the rackets below weigh between eight and 11 ounces, which is typically seen as on the lighter side.) In terms of size, beginners will want rackets with a large — but not too large — face, which will make it easier to find your sweet spot, or the area toward the center of a racket every player should be trying to hit the ball with. (Too large, our experts say, is a face with a surface area bigger than 107 square inches.) The last thing they note you'll want to consider is a racket's handle or grip; the ideal grip will "allow a player to essentially lock their hand in place and relax the rest of the arm with relative ease," according to Jan Griga, the head coach of Long Island University's women's tennis team. When shopping for rackets online, you're almost always asked to choose a grip size before checking out; our experts say No. 2 is the most common size and a good place to start, adding that a grip can be resized with new tape and a heat gun (or by a professional at most tennis stores) if it's not quite right after purchasing.
Best overall tennis racket for beginners
Babolat (along with Wilson and Head) is one of the Big Three brands we heard about. This racket from its Pure Drive series got the most recommendations by far, with six of our experts telling us it's a fantastic beginner's racket. "It's lightweight, at 10.6 ounces, with a larger face size, making it a very comfortable racket if you don't have much experience," says Moriarty. (The 107 in its name refers to its face's 107-square-inch surface area.) But the real reason this racket shines, according to NYU's head tennis coach Horace Choy and many of the people who recommend it, is because it's versatile enough to use even as players get better. "The Pure Drive will grow with someone," says Choy. "Babolat has earned a reputation for making very player-friendly rackets — beginners use them, a lot of the players on my team use them, as do major players."
Best tennis racket for (serious) beginners
Even though our experts say any beginner who picks up a Pure Drive racket could play with it for years to come, Moriarty notes that those who intend to play more competitively might prefer a racquet with a slightly smaller face. As she and other experts explain, the smaller the face, the more control you have over your shot. "If you stick with the game, your strokes get longer, and you can't develop longer strokers with a larger racket, because the ball won't stay in the court," says Phil Parrish, the tennis director at the Longfellow Sports Club in Wayland, Massachusetts. That's why he and three other experts recommend this Babolat racket with a face that has a 100-square-inch surface area to beginners who are more serious about their game. Choy is among its fans, noting that Babolat's Pure Aero rackets have frames based on those of rackets used by Rafael Nadal.
Best (less-expensive) tennis racket for beginners
Woody Schneider, the co-owner of NYC Racquet Sports, has been selling rackets for some 40 years. He is one of three experts who told us about this Wilson racket, all of whom say it's another a beginner can grow with, but at a more appealing price. It has a 100-square-inch face and clocks in at 11 ounces, making it fall (just) within the range of what the experts consider lightweight. "It's good enough that you're not going to outgrow it after a couple years," Schneider promises. "You'll stay with this racket."
Best (even-less-expensive) tennis racket for beginners
For something even more affordable, Schneider and Frank Green, a high-performance tennis coach based in Philadelphia, recommend the Head Extreme. The 11-ounce racket has a 100-square-inch face and, according to Schneider, is comparable to the Balobat Pure Drive in terms of performance. Green adds that "the No. 1 player in the world, Novak Djokovic, plays with a Head racket."
Lightest tennis racket for (serious) beginners
While this is not the lightest tennis racket on this list (that would be the Head model below), at 9.7 ounces, it is the lightest tennis racket with a 100-square-inch face. And together, those two features make it a great option for beginners who hope to get serious with their play, according to Parish and David Shaftel, the other co-founder of Racquet magazine. Shaftel says it's "the only recreational racquet that can do everything well: It gives you both spin and power, it's stable at the net, you can play effectively both defensively and offensively with it, and it has a nice, big sweet spot."
Best beginner tennis racket for knock-around play
With a 115-square-foot face, this ultra-light nine-ounce Head racket is probably not going to work for beginners who intend to play even semi-competitively, because as your skills improve you'll likely want to size down. But if you're just looking for a knock-around option you can use to hit balls with your kids, or if you lack the hand-eye coordination to start with something smaller as you learn the basics of the sport, two of our experts say it could be an option to consider. Eric Cole, a two-time Philadelphia Championship winner, recommends it to "beginners still deciding if tennis is going to be recreational or more competitive." Because the racket is larger, both he and Green note its sweet spot is, too, meaning you'll hit more good shots on your first go-around. "A face size that big gives you so much room for error," explains Green.