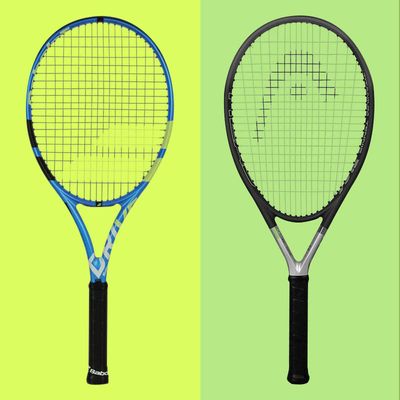 Photo-Illustration: The Strategist; Photos: Retailers
Whether you have U.S. Open aspirations or hope to become the local club champ, you have to start somewhere. You may be tempted to select the same model your favorite pro uses, but this isn't the wisest strategy. In fact, you might even disadvantage yourself by going with Roger Federer's racket right off the bat. The kind of racket that works best depends on your skill level and body size. There are plenty of learning-curve-friendly options, according to Caitlin Thompson, co-founder of tennis magazine Racquet and a former University of Missouri coach and player. "It's actually never been a better time to be a beginner tennis player," she says. "Manufacturers have made the rackets a lot more approachable, a lot more affordable, and geared for recreational players."
To determine the best rackets for new players, we spoke to 11 experts including tennis pros, coaches, and retailers. While oversize rackets are marketed to beginners, most experts do not recommend them because even those who play only semi-regularly will outgrow them quickly. "People who have decided to buy their own tennis racket are often buying for life," explains Karen Moriarty, co-owner of the Tennis Professionals store in Rye Brook, New York. "I don't want anyone to spend $100 then have to come back and spend $200 more shortly after." If you already have an idea of what you want, skip directly to the type of racket you're looking for in our table of contents to the left. Otherwise, read on for nine options that will suit all types of beginners.
Novices should look for something lightweight that makes it easier for them to perfect their form and move across a court. Mark Mason, the owner of Mason's Tennis in New York City, explains that a new player's footwork will not be intuitive out of the gate and a lighter racket will be more maneuverable as they try to learn many things at once. Mason says there is a risk of "overhitting with too light a racket. We want them to feel the ball through the racket head, and if it's too light, you really can't do that." All of the rackets below weigh between eight and 11 ounces, which is considered on the lighter side. For comparison, Rafael Nadal plays with the Babolat Pro Aero, which is 11.3 ounces strung, but he adds extra weight with lead tape to bring the weight closer to 12 ounces.
In terms of size, beginners will want rackets with a large — but not too large — face, which will make it easier to find the sweet spot, or the area toward the center of a racket every player should be trying to hit the ball with. A midsize racket is roughly 102 square inches, and oversize starts around 107 square inches. Even though an extra-large face can give the illusion of helping a beginner player make contact, it's ultimately a disservice to their game. "I like midsize rackets for beginners. What happens is a lot of players tend not to follow through when using an oversize racket. There's no control. They don't hit a complete stroke. You start out with bad habits, and they're hard to break," Mason says. He recommends staying below 107 square inches for beginners, even though there are options that go up to 115 square inches.
The ideal racket grip will "allow a player to essentially lock their hand in place and relax the rest of the arm with relative ease," according to Jan Griga, the head coach of Long Island University's women's tennis team. When shopping for rackets online, you'll be asked to choose a grip size before checking out. Mason says men's grips usually fall within sizes 1 and 4 and women's grips between 0 and 3. Our experts say 2 is the most common size and a good place to start, adding that a grip can be resized with new tape and a heat gun (or by a professional at most tennis stores) if it's not quite right after purchasing. Tip: On sites that don't use 0-to-4 sizing, size 0 converts to a circumference around the handle of four inches, size 1 is 4⅛ inches, size 2 is 4¼ inches, size 3 is 4⅜ inches, and size 4 is 4½ inches.
Best overall tennis racket for beginners
Weight: 10.6 oz. | Size: 107 square inches | Grip sizes: 1–5
This racket from Babolat's Pure Drive series got the most recommendations by far with six of our experts telling us it's a fantastic choice. "It's lightweight at 10.6 ounces w ith a larger face size, making it a very comfortable racket if you don't have much experience," says Moriarty. (The 107 in its name refers to its face's 107-square-inch surface area. Babolat also makes a 110-square-inch model. While the 107-square-inch model might be low in stock, we've found more in-stock Pure Drive models with smaller faces, like the 100-square-inch version.) Mark Mason calls the Pure Drive "powerful" and a solid choice for the beginner player. But the real reason this racket shines, according to NYU head tennis coach Horace Choy and many of the people who recommend it, is because it's versatile enough to use even as players get better. "The Pure Drive will grow with someone," Choy says. "Babolat has earned a reputation for making player-friendly rackets — beginners use them, a lot of the players on my team use them, as do major players." After taking a hiatus from tennis, I played with the Pure Drive to shake off the cobwebs and work on my ground strokes. Its large, 107-square-inch face helped me ease into my shots again — more so than the 98-square-inch racket I'd used for years previously — and hitting with it felt effortless because of its generous sweet spot.
Best (less expensive) overall tennis rackets for beginners
Weight: 9.2 oz. | Size: 102 square inches | Grip sizes: 0–4
Mason likes to recommend pre-strung rackets, like this Babolat model, for his beginner customers. The beauty of pre-strung rackets is you can get out on the court right away, while if you buy an unstrung racket, you'll need to take it to a pro shop and pick your strings, which is an unnecessary step for a beginner. "Pre-strung rackets are great for players who might play a couple times a year, or for folks who are just trying out tennis to see if they like it," Mason notes. These rackets are ideal if you're new to the sport and don't want to commit by splurging on a more expensive intermediate racket. Mason says this model is midsize — but "a little bigger midsize. So a little more room for error." Mason also likes that the Boost Rafa weighs less than 10 ounces. "Beginners will generally want a lighter racket that they can maneuver easily," he says.
Weight: 10.4 oz. | Size: 102 square inches | Grip sizes: 0–4
The Babolat Boost S in another pre-strung and wallet-friendly option at $99. Mason says he sells this racket to "men more than women" because of the slightly heavier weight. The weight also makes it a smart option for not quite beginners — perhaps those who are reentering the sport after a long break and may be comfortable handling a slightly heavier racket. This racket has been described as having a "whippy" feel, which makes it great for generating spin. Mason says the Boost S and the Boost Aero Rafa models are his best-selling pre-strung rackets.
Best beginner tennis rackets for control
Weight: 10.5 oz. | Size: 100 square inches | Grip sizes: 0–4
Mason recommends the Yonex EZone 100L (the lighter version of the standard EZone 100) for beginner players looking to improve their control. Players who typically hit deep shots and want to curl their shots inside the baseline will find the 100L a helpful tool. "The EZone has a big sweet spot, so you have more room for error," Mason says. "It gives you enormous control."
Weight: 10.6 oz. | Size: 100 square inches | Grip sizes: 0–5
Although our experts say the best overall racket mentioned above (the Babolat Pure Drive) is a great option for those who intend to play for years to come, Moriarty notes that those interested in playing more competitively might prefer a racket with a slightly smaller face. As she and other experts explain, the smaller the face, the more control you have over your shot. Mason recommends this racket for more serious beginners who intend to play consistently. "If you stick with the game, your strokes get longer, and you can't develop longer strokers with a larger racket because the ball won't stay in the court," says Phil Parrish, tennis director at the Longfellow Sports Club in Wayland, Massachusetts.
Best tennis racket for beginners with tennis elbow
Weight: 11 oz. | Size: 100 square inches | Grip sizes: 1–4
A "soft" racket, according to Thompson, feels "a little more flexible in your hands and doesn't send shock waves up your arm when you hit." For these reasons, she explains someone who is just starting to play tennis might find that a soft racket offers "a nicer feeling, less like they're hitting a ball with a plank of wood." It's also a smart choice for players who may be prone to tennis elbow, which can develop in the forearm tendons after repetitive motion. Thompson says anyone interested in giving the style a whirl should consider the Wilson Clash 100, which also came recommended (for the same reasons) by Woody Schneider, co-owner of NYC Racquet Sports, who says the model has been "deemed as revolutionary" for its design.
Best lighter tennis racket for (serious) beginners
Weight: 9.7 oz. | Size: 100 square inches | Grip sizes: 1–4
While this is not the lightest tennis racket on this list (that would be the Head Ti.S6, below), at 9.7 ounces, it is the lightest tennis racket with a 100-square-inch face. Together, those two features make it a great option for beginners who hope to get serious with their play, according to Parish and David Shaftel. Shaftel, the other co-founder of Racquet magazine, says it's "the only recreational racket that can do everything well: It gives you both spin and power, it's stable at the net, you can play effectively both defensively and offensively with it, and it has a big sweet spot." Mason agrees: "Head rackets have a very high comfort level and feel nice at the point of impact."
Weight: 10.5 oz. | Size: 102 square inches | Grip sizes: 0–4
The Radical Team is a solid option for players in the beginner-to-intermediate range who hit fast strokes but want a dose of control to keep their shots within the lines. I've played with the Radical Team and like how its light weight allows me to swing fast at the baseline, jump on serve returns, and react more quickly to volleys at the net. The Radical line of rackets is great for intermediate players: Folks who want a little more power than what they find in the Radical Team could graduate to the slightly smaller and heavier version of this racket, the Radical MP ("MP" stands for mid plus). I've played with it since high school, and I like the mix of control and power it gives me for my baseline-heavy game.
Best heavier tennis racket for (serious) beginners
Weight: 11.2 oz. | Size: 100 square inches | Grip sizes: 1–4
This 11-ounce model from Prince is a solid option for beginners who are looking for a heavier racket to pack more power into their shots. As the name suggests, the Ripstick will feel most like home to players who swing fast and want to hit powerful, deep ground strokes. I'm a player who hits fast with a lot of topspin, and when I was first starting to play again after a four-year hiatus, I was looking for a racket that could help me push my ground strokes deeper. The Ripstick gave me the extra oomph I needed. (Prince also makes a lighter, 10.4-ounce version of the Ripstick.)
Best beginner tennis racket for knock-around play
Weight: 9 oz. | Size: 115 square inches | Grip sizes: 1–5
With a 115-square-foot face, this ultralight nine-ounce Head racket is probably not going to work for beginners who intend to play competitively (as your skills improve, you'll likely want to size down). But if you're just looking for a knock-around option you can use to hit balls with your kids, or if you lack the hand-eye coordination to start with something smaller as you learn the basics of the sport, two of our experts say this could be an option to consider. Eric Cole, a two-time Philadelphia Championship winner, recommends it to "beginners still deciding if tennis is going to be recreational or more competitive." Because the racket is larger, he and Frank Green, a high-performance-tennis coach based in Philadelphia, note its sweet spot is also larger, meaning you'll hit more good shots on your first go-around. "A face size that big gives you so much room for error," explains Green.
Best beginner tennis racket with a smaller face
Weight: 11.4 oz. | Size: 98 square inches | Grip sizes: 1–4
Shaftel and Parrish say any beginner (or intermediate) player looking for even more control than a 100-square-inch face offers should consider this Yonex racket: At 98 square inches, its face is the smallest of any on this list. Shaftel explains that the V-Core 98 is "a version of the (heavily modified) racket Stan Wawrinka uses," but it's "way more forgiving." While no expert says a racket's look should be a deciding factor in choosing one, Shaftel also told us the Yonex would probably get noticed on a court if that's important to you. "With their squarish heads, nothing looks cooler," he says.
Some more beginner tennis gear we've written about
•Horace Choy, NYU's head tennis coach
•Eric Cole, two-time Philadelphia Championship winner
•Frank Green, high-performance-tennis coach based in Philadelphia
•Jan Griga, head coach of Long Island University's women's tennis team
•Mark Mason, owner of Mason's Tennis
•Karen Moriarty, co-owner of the Tennis Professionals
•Phil Parrish, tennis director at the Longfellow Sports Club
•Jeremy Rellosa, Strategist writer
•David Shaftel, co-founder of tennis magazine Racquet
•Woody Schneider, co-owner of NYC Racquet Sports
•Caitlin Thompson, co-founder of tennis magazine Racquet and a former Mizzou tennis coach
Additional reporting by Sanibel Chai and Hilary Reid.
The Strategist is designed to surface the most useful, expert recommendations for things to buy across the vast e-commerce landscape. Some of our latest conquests include the best acne treatments, rolling luggage, pillows for side sleepers, natural anxiety remedies, and bath towels. We update links when possible, but note that deals can expire and all prices are subject to change.