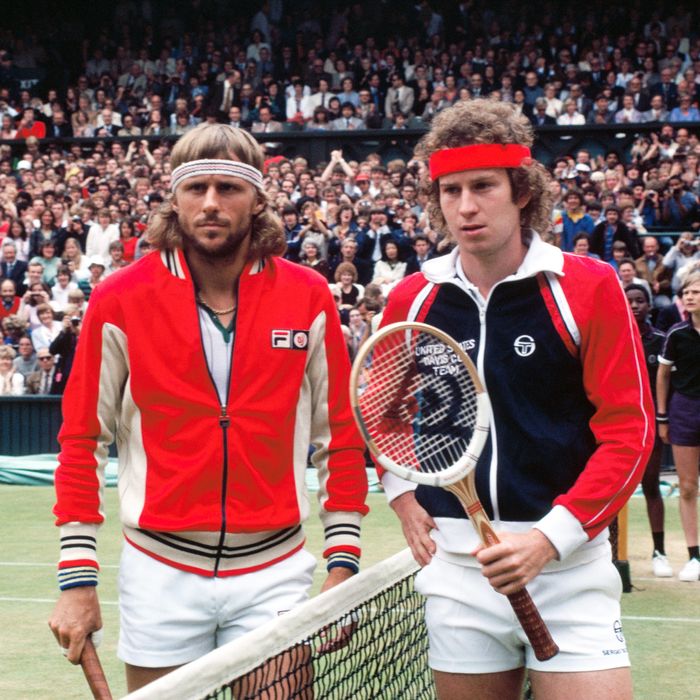 Photo: Professional Sport/Popperfoto/Getty Images
A low-impact sport with an even lower barrier of entry, tennis is a great outdoor activity now that the weather's warmed up. Of course, there's only one thing you really need — and according to Caitlin Thompson, a co-founder of Racquet magazine and a former tennis coach and Mizzou team alum, now is a good time to shop for a tennis racket. "It's actually never been a better time to be a beginner tennis player," Thompson says. "Racket manufacturers have made the rackets a lot more approachable, a lot more affordable, and made for recreational players." We spoke with eight tennis pros, coaches, and retailers about the best rackets for beginners.
The best "soft" rackets
One of the rackets that Thompson says she would "really, really strongly recommend" is the Wilson Clash 100. It's a "soft" racket, which means that it's "a little more flexible in your hands and it doesn't send shock waves up your arm when you hit, which, for someone who's starting out, is a nicer feeling than feeling like they're hitting a ball with a plank of wood."
Woody Schneider, who has been selling rackets for 40 years and is the co-owner of NYC Racquet Sports, also recommended the Wilson Clash ("It's being deemed as revolutionary," he says) as a good beginner racket, but stresses that the goal should be to purchase a racket that will "remain appropriate 5 years, 10 years, 16 years." He named Wilson, Head, Dunlop, and Babolat as brands with rackets that would carry players from the beginner level through intermediate and beyond. "They'll have to change the strings and the grip, which is just maintenance, like if you have a car you have to change the oil, but I don't like to bring people along step by step by step until they finally reach the right racket. I like to do one-and-done, and that should be it." Two rackets that fit the one-and-done category: the Wilson Burn 100S and the Burn LS. "Now that's the kind of racket I'd like to see a new player be willing to spend right in that $160 to $180 range on," Schneider says. "It's good enough that they're not going to outgrow it after a couple years. They'll stay with that racket."
At a slightly lower price point, Schneider recommends the Head Extreme for men and the Head Extreme Lite for women, which he says are comparable rackets to the more expensive Babolat Pure Drive racket (though he recommended that racket, as well).
Best affordable rackets
Horace Choy, the head tennis coach at NYU, recommends the Babolat Boost Drive, which is both lightweight and powerful, and helps beginners gain control of their swing. The price is also fairly reasonable: "I would not overspend on a racket as it isn't necessary," Choy says. "There are a lot of good rackets out there and it's about finding the right fit. Money might be better spent on a lesson or two; as the expression goes, it's not the bow but the archer."
Jonathan Raude, the president and executive director of NYC Aces, a nonprofit that provides free and low-cost tennis lessons to underserved youth in New York City, also recommends the Babolat Boost Strike, saying it's "very affordable for a major brand" and an ideal racket for when beginners transition to the intermediate level. He also suggests the Babolat Drive G Lite as a racket at a "great price point."
And for those looking to take out some feelings on the court, Raude names the Wilson Burn 100 Team, a racket that's "great for those looking to be aggressive" — and it's also affordable.
The best slightly oversize rackets
Akilah James, a staff pro at McCarren Tennis Center, recommends the Head MicroGel Radical oversize racket. "The oversize rackets give you a broader look to find your sweet spot," she says. "It gives you great control over power as a beginner." She also says that with an oversize racket players will be less likely to "frame," which is tennis-speak for missing the strings and hitting the ball with the frame of the racket … something that as a beginner you may do, well, pretty often.
Generally, beginners should look for rackets with a head size in the mid-plus range, at 97 to 103 square inches," says Jan Griga, the head coach of Long Island University's women's tennis team. "Anything smaller will likely be too low-powered and cause over-hitting and mishits." The Wilson Blade 98L, which has a head size of 98 square inches, falls in this category.
As a general rule, Choy recommends rackets with a head size of 98 to 110 square inches, like the Prince Textreme Tour 100T. Ben Lee, the assistant coach of NYU's tennis teams, seconds Choy's recommendation for head size, and also suggests the Babolat Pure Drive 107.
Thompson's Racquet magazine co-founder, David Shaftel, recommends rackets from Babolat, a brand that several of our experts named. "A couple of good, really forgiving rackets are the Babolat Pure Drive Lite. This racket — all of the rackets in Babolat's Pure Drive series — are really forgiving and have really big sweet spots, so they give you a pretty big margin of error. Balls that might go out often drop in with these frames and you don't have to have perfect form to hit a decent shot with them."
And while the rackets in the Babolat Pure Drive series are "pretty evenly balanced," says Shaftel, you might also want to try a racket from Babolat's Pure Aero series. "These are based on the frames Rafael Nadal uses," he tells us. "They're great defensive rackets — you can hit with a lot of spin on the run."
Rackets with good balance
Finding a racket with "good balance" was a theme among the experts' recommendations. Thompson explained that balance means that a racket "isn't too heavy in the head, and it's not too heavy in the handle." She named the Elevate from Diadem, a new tennis-racket start-up, as a racket with balance and that "feels good in your head."