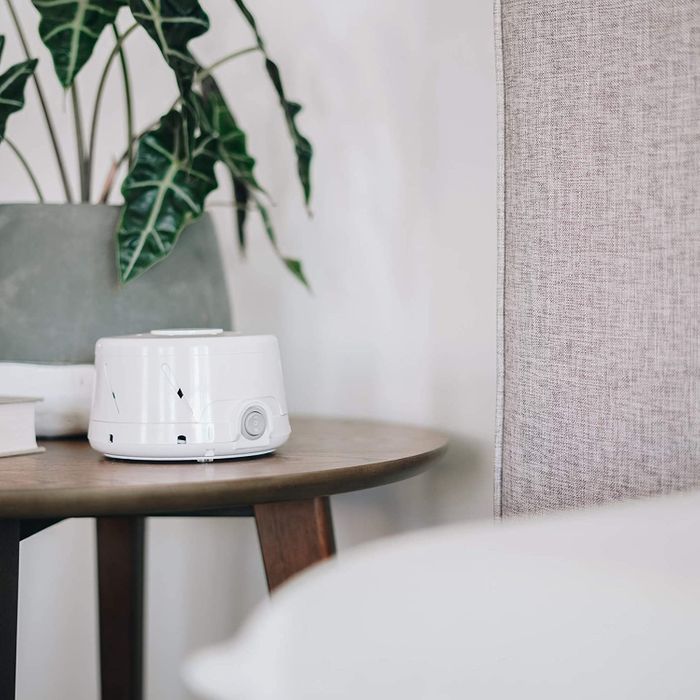 Because of how stressful everything feels right now, you might be having difficulty sleeping. If you've tried everything from meditation to journaling to weighted blankets but you're still not getting a good night's sleep, a sound machine might help. It'll drown out any noise, and can be soothing enough to help you fall asleep. To help you out, we've rounded up the best sound machines and white-noise machines, as praised by the most enthusiastic reviewers on Amazon, for you and your kids.
Related Articles: Weighted Blankets to Gift | Tech Gadgets for Sleep
Best-rated (and least expensive) sound machine
With nearly 6,000 five-star reviews, this sound machine is easy to use and, as such, often gets placed in kids' bedrooms. One mom bought this for her son who "couldn't sleep with his big brother's snoring," and found that "the volume control is very easy to work and can slowly adjust to barely on to clearly loud. Easy and clear one-touch button to pick sounds, too." Since it can be used with batteries as well as a plug, it doesn't need to be near an outlet. And according to many reviewers, it holds up well. "We have been using this item for five years now, and it is brilliant," one writes. The machine comes with six different soothing sounds, like ocean waves, thunder, and what's called "summer night" for cricket sounds, and reviewers appreciate the variety. One says regardless which sound you pick, they're all deeply relaxing: "I would wake up so nice and refreshed to the rain noise or white noise or thunder, and it would be great, BUT I can't leave my bed." Even though the mornings are hard, she thinks it's so worth it because it has turned her into a "sleeping beauty." Some people had difficulty gauging how big the machine is, and one says he "was a little disappointed at the size and build," because it's much smaller than he expected. But it still works so well he says, "This thing has quite literally changed my life."
Best easy-to-use sound machine
A lot of these sound machines are easy-to-use to an extent, but Strategist editor Alexis Swerdloff says this one "can be operated while you're basically still asleep." Just flip the volume switch to high or low, then rotate the cap to pick your sound. And nearly 200 reviewers on Amazon call it "easy" to use as well. "Buy it for yourself. Buy it for your sister. Buy it for a baby. Buy it for a guest room," one reviewer writes. It's so versatile, it even landed on our list of the most giftable things we've ever written about. There is no timer, so you have to manually turn it on and off every night and morning, but many reviewers aren't bothered by it. "I wanted the machine to be in constant on mode for all night and all nap," says one. He says it's basically the white noise of a fan, without the temperature changes. "There isn't any of the fancy lullaby and bubbling brook and waves crashing or anything more than just noise like a fan," he says. Another even says this is everything you could want in a noise machine: "small, portable, adjustable, powerful." She explains that it won't "drown out all noise," so "if your upstairs neighbors are blasting rock music and riding pogo sticks, you're still going to hear it," but this definitely helps and it's so simple to use at a good price range, it's worth the investment.
Best noise-blocking sound machine
Reviewers raved about the noise-blocking abilities of the LectroFan, with one reviewer writing that the noise from their neighbors was so loud at night, "I almost considered moving out or at least switching to an upstairs unit … That is, until I happened upon this amazing little device." They continue, "This thing was absolutely perfect for me, as it only had white noise and fan sounds (and a variety of 'em!) that can get loud enough to mask anything. I mean ANYTHING. I can now peacefully snooze through not only my neighbors' stomping kitchen antics, but also the 8 A.M. garbage truck arriving bright and early every Wednesday." Reviewers praised that it has "a plethora of choices concerning volume and intensity of sound," and one said, "I call the Lectrofan my 'Little Cone of Silence.'" Another reviewer said this machine "stopped me from causing bodily harm to my neighbor," who likes to shovel gravel in the morning. They continue, "The machine somehow COMPLETELY covers the noise from the shovel, the toilet flushing next to my room, dogs barking, etc. It is incredible."
Best sound machine with timer
"Much to my husband's dismay, I've had to run a box fan 365 nights of the year, because I have hot feet. This winter, I found that I don't need the fan blowing on me, but I needed the sound of the fan to fall asleep," one reviewer says, adding, "This little device has a fan sound that allows me to fall asleep with no problem with no cold air blowing around the room at night." And many other reviewers facing the same dilemma gravitate toward this sound machine, including this reviewer, who writes, "I got this because I have trouble sleeping without a fan on and then it would get to cold. This does the trick and I totally recommend. You can set it to time or just leave it running all night."
Best non-looping white noise machine
"Like most others who buy sound machines, I'm a light, fan sleeper and I'm surrounded by neighborhood kids, barking puppy dogs, and crowing roosters," writes one reviewer, who calls this LectroFan white-noise machine "beyond awesome. I have absolutely no idea why the Marpac has twice as many reviews and followers on Amazon as this machine, because the LectroFan is obviously the superior machine. It is MUCH louder and FAR more extensive in range of ability." Many reviewers appreciate that it's a non-looping machine, as well. "My favorite feature is the no-looping," says one, adding, "If you have had to listen to a sound machine with a looped noise for any length of time, you will begin to hear what sounds like alien chanting, or repetitive phrases that sound rather creepy coming through a baby monitor." Another reviewer admits, "Loved it so much I bought a second for myself and my husband. It's small, simple to use, and effective — We sleep really well, and I'm used to waking up to every single noise!"
Best travel sound machine
This portable sound machine is a top pick for those who need a white-noise machine when they travel, like one who writes, "Size is great, especially if you want to take it on your travels. Great features and ability to set a timer. Bought on recommendation of friend who travels internationally often and uses on trips and at home." Another reviewer and her husband like this sound machine so much, they brought it to the great outdoors: "My husband and I have gone camping with this machine on many occasions for several days at a time. The description says it holds a charge for up to 12 hours, but we have used it for at least two nights at a time (16+ hours) without needing to recharge it. It's also portable and light weight so it is really easy to take anywhere with us."
Best travel non-looping white noise machine