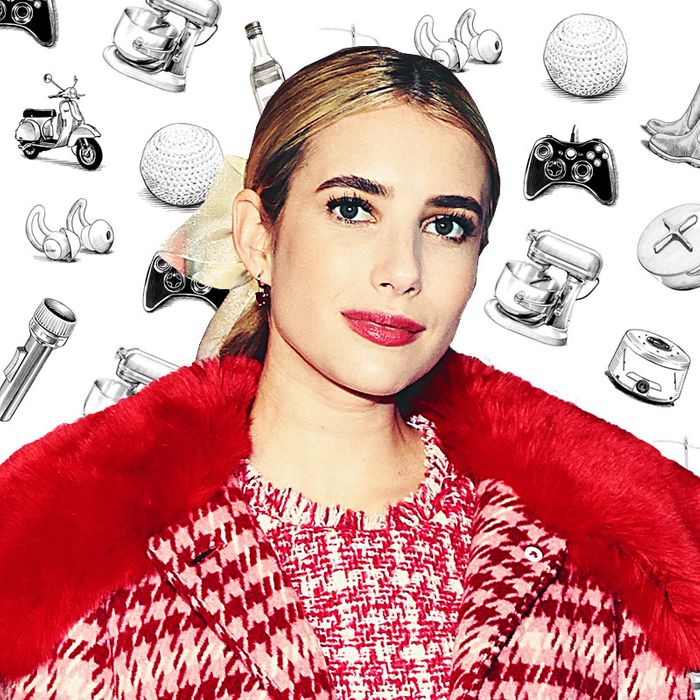 Photo-Illustration: The Strategist; Photo: Dimitrios Kambouris/Getty Images; Illustration: Joe McKendry
If you're like us, you've probably wondered what famous people add to their carts. Not the JAR brooch and Louis XV chair but the hair spray and electric toothbrush. We asked actress Emma Roberts — who recently became an ambassador for beauty-device brand Finishing Touch Flawless — about the pillow, headlamp, and calming CBD bath soak she can't live without.
I originally got this for my son. Then I got so used to hearing it that I would go into my bedroom to sleep and be like, It's so quiet in here. That's how I first got into it. I was on location a couple months later and could hear traffic outside, so I got into it even more, because it would drown that out. Now my son and I can't sleep without it. We both have our own sound machine and love it. It's so soothing and lulls me to sleep. And it's easy. You just plug it in and turn it on. I had a couple other sound machines that were Bluetooth or needed to be charged, and it was too complex for me. The Bluetooth one had a life of its own. It would go into a million other noises. One day it was crickets and rainforest sounds and I was like, Where's the white-noise button? So I love a good ol' sound machine that you plug in, turn on, and you're done.
This blanket goes back 21 years. My sister was the one who had Little Giraffe blankets when she was little, and they became her "lovey" (her blankie). Then when I was pregnant with my son, my mom and sister got him his own Little Giraffe blankets. I still recognized the logo, and it brings me back to my sister, Grace, being born. I bought a couple more and realized that they make adult sizes, so I got one for myself. They're the softest blankets. It's made of chenille, and it's so silky and comfy. It's another thing I'm not sure who is more obsessed with — my son or me. They've become his own "lovey" and a sweet nod to my sister. Of course, his favorite is this huge blue blanket, and he knows the difference. When we travel, he only wants the humongous one and I look like the weird mom with the huge blanket at the airport.
The beauty of this pillow is you put it over your eyes and it blocks out light and sound. I used to suffer from really bad migraines, and the weight and darkness helped me so much. That's how I first got into it. Now I use it as a regular pillow and can't sleep without it. It's the most comfortable pillow. I'm so weird about pillows, which isn't great when I'm always sleeping somewhere else (on location for a movie or in a hotel or Airbnb). But this is so compact that I can throw it in my carry-on and bring it with me. Because of that, it's become a travel staple on top of a home staple. It's funny — the other day, my mom noticed I'd left it in her car before I went on set and called me and was like, "Emma, you forgot your pillow!" She knows I can't sleep without it. So now I have three of them: one at my house, one for my mom's house, and one for travel.
Anything by Joan Didion is just a must-have on your bookshelf. Slouching Towards Bethlehem was the first Joan Didion essay collection I ever read (in my early 20s). Reading it brings me back to that time, but I get something new from it every time. All of the essays are so beautifully written, and it's filled with facts about California or Hollywood in the '60s and '70s. I love it as a comfort read. I'm always hunting for different covers at local bookstores at locations I'm filming. I remember, in London, I saw a different cover for it and got so excited because I didn't have it yet. I'll even go on Etsy and try to find older copies with different covers. I think I have six or seven copies at the moment on my bookshelf. I like to keep them on hand, because I love to gift them to people when they come over. Someone's always going home with a book from my house — whether they want to or not. It gives me such joy to see which essay somebody loved the most. My personal favorite is "John Wayne: A Love Song." It's so beautiful, eerie, and informative. I read it at least once a year.
Everybody makes fun of me because of this headlamp. I'll just go out and say it: I've never found the perfect book light. It's not bright enough, the clip falls off, or it's not a good setup for me (especially if I'm not reading a hardcover book, the book light doesn't stay in place). So I wear a headlamp as a book light if I'm in the car at night going to work or on a plane. But the funniest place that I wear it is in the bath. I love to read in the bath. The lights in my bathroom are all connected, so it's either pitch black or super bright. My sister came over the other night, came in, and was like, "What's going on in here?" And I was like, "What? I'm reading a good book." It's the best. I can read a book, and the light's exactly where I need it to be and I forget about it. It's great. I got my Belletrist book-club partner Karah Preiss into it too. I've sold a lot of people on this headlamp.
After I've worked and put my son to bed, baths are my time to read, decompress, and disconnect. I'm very particular about the bath salts I'm using, and my ritual always changes. I tried getting into CBD bath salts and found that Prima does CBD best. A couple bath salts with great scents leave me really dry. And other CBD bath salts I've used don't smell good. This one smells great, makes my skin so soft, and relaxes me. I buy them in bulk, because I love getting in the bath after a long day — especially after being in heels and on my feet all day.
This mask isn't messy and gooey like a lot of other sheet masks. And I can use it up to three times instead of throwing it away after one use. It's dry, so I can bring it on the plane, throw it on, and put it back in my bag. I love that I can use it over makeup — unlike a lot of other beauty products that I have to apply before my makeup. If I'm shooting a 12-hour day, I can use it during lunch break over my makeup and get a little refresh. It gives me an extra glow, and it flattens everything. Sometimes I'll have a pimple that isn't red but is still sticking out, and this helps smooth it out, which is so important when you're putting on makeup.
I've always loved body oil, but I got super obsessed with it when I was pregnant. Some oils are either greasy, don't rub in, or smell synthetic, which I don't like and was really sensitive to when I was pregnant. This one is not greasy but still super moisturizing. The scent is very natural. It smells delicious but not overpowering. The bottle lasts a long time. I'm always shocked that I'm not out of it in a month. And I know that the ingredients are clean. I've been using this brand for a long time, and I love that it's female-owned. All of its products across the board are amazing, but this particular oil has stood the test of time. I've been using it for years.
My first introduction to Canyon was through the instant packs when I was on set. I loved them, because it actually tasted like coffee and I could drink it hot or throw it on ice. After that, I started buying the beans and fell in love with them too. I buy the pink bag. (I can't remember the flavor. I look at it every day, and it doesn't even register anymore.) The flavor is nice: It has the coffee taste but it's smooth. I don't have a very sophisticated coffee palate as far as telling you the notes of it, but I can tell you it's delicious. And not only do I love the taste but I love the packaging. Let's be real — we can love packaging as much as we love a product.
I have so many totes that there are baskets and baskets of totes in my closet. And anyone who tries to make me get rid of my totes — it's a problem. I'm not parting with my totes. It started with collecting totes from independent bookstores when I was on location. I thought it was the most fun way to support a bookstore. Now I buy totes if I love a brand, a business, a concert. Sometimes I'm wearing an outfit where I don't want to throw on a designer bag, and most of my purses are so mini that I can't fit a baby bottle for my son and a book in them. So it's been totes pretty much nonstop in the past year. It's a great way to show love to things you love and carry all your stuff. I'm a big fan of Moon Juice, and Amanda, the owner, is just so magical. This tote is a great color and the perfect size. It looks like something I'd buy even without the branding on it, and it's become my go-to tote. I had to buy another one the other day, because my mom loved it so much that she stole mine and told me to get a new one.
I'm always on the go, so I love products that are easy to pack and use. Since having a kid, I've been paring down my makeup bag and figuring out exactly what the essentials are. When I'm on the red carpet or working, I want my skin to be as smooth as possible, but I still have peach fuzz or get an unwanted rogue hair. This is amazing, because I can glide it across my face and pop it back in my bag. It's painless, so discreet, and so easy. I find that my serums and foundation lie much flatter and look better when I have an exfoliated, clean face. Even in my day-to-day life, I find myself using it. I don't know about you, but I notice rogue hairs mostly when I'm driving and look in the rearview mirror. Every time, I'm like, I can't wait a week to go to the salon. I need to deal with this now. With this, I don't have to wait and can fix it right there in my car.
The Strategist is designed to surface the most useful, expert recommendations for things to buy across the vast e-commerce landscape. Some of our latest conquests include the best acne treatments, rolling luggage, pillows for side sleepers, natural anxiety remedies, and bath towels. We update links when possible, but note that deals can expire and all prices are subject to change.