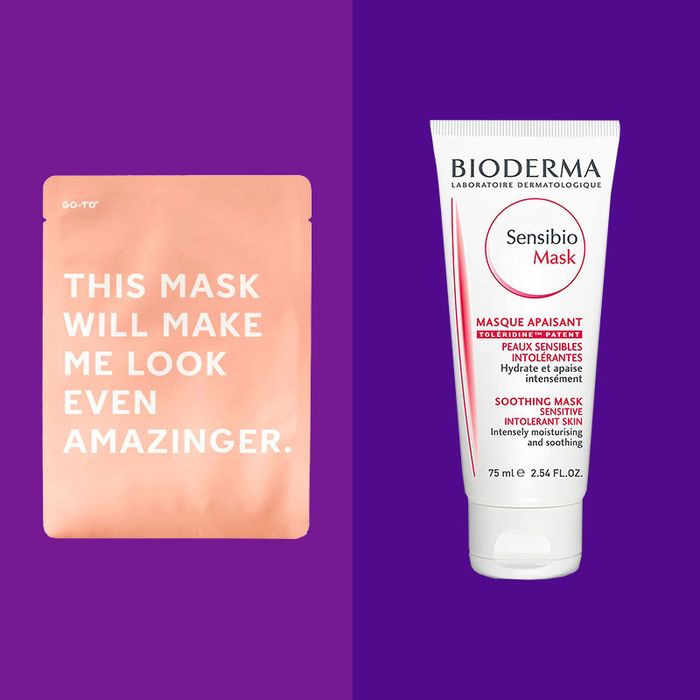 With few people around to see you slathering your face in a thick, earthy paste (and more free time in the day to spend on skin care in general), now is the time to try a new mask. Masks are a great way to address skin-care concerns big and small — from overall brightening to calming down angry inflammation. Here at the Strategist we have tested and written about many, many dozens of them — from the one invented to give Korean brides an extra dose of glow on their wedding day, to the convincing SK-II dupe, to the wash-off beloved by both author Buzz Bissinger and beauty consultant Alexis Page. We've rounded them all up, here.
Sheet masks
The SK-II mask contains about a third of a bottle's worth of Pitera (a yeast extract said to improve skin lucency, decrease wrinkles, and lighten dark spots) in it. "This mask makes me look like I have the dewiest, freshest, softest skin of all time after I use it," says Strategist writer Rio Viera-Newton. Comedian Rebel Wilson is also a fan: "It gives you hydrated, glowy skin," she says.
For fans of the cultish SK-II mask but not its high price tag, writer Brodie Lancaster recommends this affordable alternative from Australian skin-care brand Go-To, which she says works wonders and leaves zero residue behind after use. In addition to native Australian ingredients like Kakadu plum and Tasmanian pepper leaf, it also contains niacinamide, known for its hydrating and healing properties.
The My Beauty Diary masks are a favorite among beauty enthusiasts and experts, including Jude Chao of K-beauty skin-care site Fifty Shades of Snail. Rio is also a fan. "These masks are deeply conditioning, and hydrate and soothe irritated skin," she says.
This mask from Naruko contains Raw Jaw, a popular Taiwanese ingredient that Rio swears gives her practically poreless skin. "I wake the morning after I use it looking super radiant, like I've never had a pore in my life. If that doesn't sell it to you, I don't know what will," she says.
If you're struggling with cystic acne or under-the-surface pimples, this is the mask to reach for. It contains tea-tree oil (a popular acne fighter), willow bark (an exfoliator), and chamomile and redwort (both of which soothe redness). It's a favorite of Rio's and The Incendiaries author R.O. Kwon's, who calls it "magical," and says, "It calms down my skin when nothing else will help."
Rio likes this sheet mask for its calming properties, especially around her time of the month. "It makes my skin feel bouncy and supple, calms any redness or irritation, ensures that any brewing pimples are stopped in their tracks, and makes existing acne less red and inflamed," she says, adding that she uses it once or twice per cycle.
Another calming mask, recommended by Soko Glam's Charlotte Cho. "I use it to calm and soothe my skin," she says. Its superstar ingredient is centella, a popular K-beauty ingredient beloved for its healing properties.
For protecting the skin against outside pollutants, dirt, and grime, this mask is unparalleled: It uses a combination of ginger oil (for calming and soothing) and ectoine, which claims to strengthen your epidermis, to give the skin an extra layer of protection.
Men's grooming editor Garrett Munce dubbed this his favorite all-around sheet mask. "Unlike others I've tried, this one actually fits my whole face," he says. In addition to fitting well, it also addresses common skin issues men face, like redness, sun damage, and breakouts, using ingredients like green-tea niacinamide, ginger, and licorice root.
If you have a beard (masking can be difficult if you do), Munce recommends this one from HeTime. "It's shaped more like a Batman cowl than a Jason mask," he says. "For guys with facial hair, it covers more skin than just the top half of a split mask, so you don't feel bad about wasting the bottom part." Plus, it has good-for-skin ingredients like moringa oil, which leaves skin plump and smooth.
Munce calls this mask near perfect for men, and recommends using it before big events or special occasions (a Zoom birthday party, perhaps) due to its price tag (around $20 a mask). The results are worth it, he insists. "The hydration lasts four or five days after using it," he says. "It's like the ultimate post-hangover reviver."
Another special-occasion mask is this one from AmorePacific, that actress Julia Fox says leaves her skin soft for days. It contains fermented green-tea extract that gives skin a healthy dose of antioxidants, and heats up when applied to the skin. "Your skin has this amazing glow afterward," she says.
There is a near-endless amount of face masks available on Amazon, but these are particularly beloved. A pack of 16 will only run you $12 (that's around $0.70 a mask), and they work: "Not only did these give me bright and glowing skin, but most of my acne went away after literally one use," writes one enthusiastic reviewer, who swears by them. The pack of 16 comes with everything from collagen-soaked masks to ones saturated with charcoal, so you can tailor use to your specific skin-care issue.
Merbliss's Wedding Dress Mask was invented to give Korean brides an extra dose of glow on their wedding day. "It's super rich, hydrating, and leaves your skin looking illuminated," Rio says of this one.