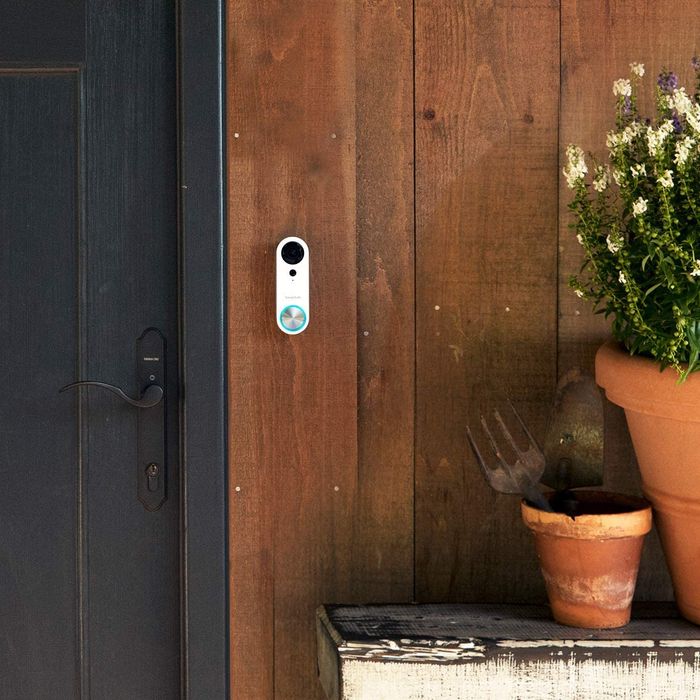 If you're unfamiliar, a video doorbell is essentially a camera that turns on when it senses nearby motion, paired with a two-way speaker and microphone that lets you communicate with the person at your door through an app on your phone. The first big name in the industry was Ring, a once-rejected pitch on Shark Tank that was acquired by Amazon in 2018 for over $1 billion. Following its success, a flock of similar devices have popped up on the market, which is great for competitive reasons, but makes choosing the right one for you a little harder.
Barak Ron, owner of Vertex Security, says, compared to traditional security systems that require expensive professional installation, these devices are appealing because they're "very easy to operate, very easy to use, and give you eyes on your front door." They're useful for deterring intruders or "porch pirates" (package theft tends to spike during the holiday season; it also increased last year with more people relying on online shopping due to the pandemic, a trend that looks like it'll stay even after things go back to normal), or monitoring the comings and goings of dog walkers, house cleaners, and anyone else passing through your door. Most companies offer a subscription service for storing and accessing past video, and some provide additional features like facial recognition.
If you already use other smart home devices, it makes sense to choose a video doorbell that will integrate within that ecosystem, like a Google Nest Hello for Google Hub users or a Ring if you have an Amazon Echo. Below, four security and tech experts break down the differences among some popular models and share their picks for everyone from budget shoppers to apartment dwellers.
Best overall video doorbell
While most video doorbells have similar features, all three experts we spoke with say the Google Nest Hello stands out from the rest of the pack, primarily because of its superior artificial intelligence and face-recognition function. "It can actually tell people apart from other moving objects," says Aliza Vigderman, content manager at Security.org, "so you only get alerted when it recognizes a person, versus other doorbells that alert you whenever there's movement, resulting in a lot of unnecessary notifications." Tech writer and Strategist contributor Kyle Schurman points out that, with a Nest Aware subscription (starting at $6 per month), the Nest Hello can also recognize familiar faces to let you know whether the person at your door is a stranger or the babysitter, announcing the person's name through your connected Google speaker.
"Because of Google's artificial intelligence and the data they've gathered over the years from people using their search engine [and other products], they have the only system that works consistently for facial recognition and delivery notification," says Mark Steinberg, senior technologist at B&H Photo, who tells us the Nest Hello is B&H's best-selling video doorbell. He also notes that the camera's vertical orientation and high resolution provide excellent quality video, and that Google offers exceptional support for its products.
Another benefit of the Nest Hello is that it streams video continuously (as opposed to most others, which are activated on when they sense motion), so you can check in on your front door at any time. Based on the subscription level you choose, you'll have access to up to 60 days of event footage (video taken when the motion sensor is active) and 10 days of 24/7 continuous coverage.
Best less-expensive video doorbells
Compared to the Nest Hello, Ring video doorbells are generally cheaper — both the devices themselves and the subscription service, which starts at $3 per month. They're a natural choice for people already using Amazon smart home products, as you can stream doorbell footage to an Echo Show or interact with the doorbell (by talking to someone at your door, for example) via Alexa. While Ring makes a number of different models, experts agree that the Pro is the one to choose. "It has high-definition video and it does a really good job overall," Steinberg says. While the camera isn't recording 24/7, it does have a "pre-roll" function, which Steinberg likes because it saves a few seconds of footage before motion is detected. That way you're not likely to miss anything that happens at your door. Schurman also likes the Ring and points out that "you can tell it to detect motion only in certain sections of what it sees, which should reduce the number of false alerts you receive."
Steinberg and Schurman both recommend the Ring Video Doorbell 3 Plus. Unlike the Nest Hello and the Ring Pro, it has a built-in battery so it doesn't have to be hardwired to your existing doorbell setup. This makes it easier to install, especially if your home doesn't already have a wired doorbell. Steinberg says it offers most of the same features as the Ring Pro, at an even lower price point. It is a bit bulkier, though, due to the addition of the battery (which lasts several months with each charge).
Best video doorbell for apartments
Even if you don't live in a stand-alone house, you can still enjoy the benefits of a smart doorbell with the Ring Peephole Cam. Steinberg calls it "a very low-cost option for people in apartments and renters, because it's not a permanent installation." This rechargeable doorbell doesn't require hard wiring and attaches right to your existing peephole. "It's a good camera all the way around and it's very easy to install," says Steinberg. Schurman agrees, saying, "Installation is a snap." He also likes that it has 1080p video quality and a good motion-detection algorithm.
Best video doorbell with professional monitoring
On its own, the SimpliSafe doorbell functions very similarly to a Ring or Nest Hello, but you'll get the most benefits if you pair it with other SimpliSafe products like cameras and alarms to create a full security system. For a $15 monthly fee, you can opt in to 24/7 professional monitoring, where a security team will notify you of any unusual activity or alert the authorities in case of an emergency. "It's probably the most comprehensive do-it-yourself system with a video doorbell," Steinberg says. SimpliSafe is also compatible with Alexa and Google Assistant for voice activation.
Best video doorbell for motion detection
Unwanted false alerts can be a real nuisance, Schurman says, and the Arlo is far more accurate than most other video doorbells. "Arlo does a good job of sorting animal motion detection from cars and from people, so you'll receive specific alerts regarding people and can ignore the alerts you don't want to receive," he says. "You even can create a motion zone within the video scene so the Arlo software only generates alerts when it detects motion within this small section, rather than in the entire video scene."
Best budget video doorbell
One of the few video doorbells clocking at under $100, the Ezviz is Steinberg's pick for a budget-friendly option. It has a high-resolution camera and comes with a microSD card for storing footage. Ezviz provides three hours of free cloud storage for video, and you can purchase additional storage starting at $4 per month.
Best subscription-free video doorbell
If you're really averse to paying a monthly fee, Steinberg recommends the Eufy. "They've got good privacy features, good security features, and all of the recordings are sent from the actual camera to your app," he says. The doorbell itself will save up to 4GB of video, which, depending on how much activity your front door sees, can be up to 30 days of "events" (times when the camera detects motions).
Best video doorbell with theft detection
"This camera includes a 180-degree-by-180-degree field of view, which is wider than the majority of video doorbells," Schurman says. After a delivery enters its field of vision, Vivint will automatically flash lights, emit a warning tone, and send you an alert on your phone if it sees someone stealing your package. The doorbell does require professional installation, but that's included in the price.
Best dual-camera video doorbell
Most doorbell cameras show you the space in front of your door, which is good for seeing who's coming or going. But they don't show you what's happening directly below the doorbell, Schurman says, which is where most packages end up. "The Maximus has a second downward camera with built-in LEDs to illuminate this sometimes dark area," Schurman says. He warns that this option lacks advanced features and has below-average sound quality but says "the dual-camera design is like nothing else on the market."
Best still-photo doorbell
It's not technically a video doorbell because it can only take still photos. There's no two-way talk feature, either. But this very affordable doorbell camera actually satisfied Strategist contributor Steven John's itch to buy a Ring. As he writes in his review, "For my purposes, it's perfect — a decent-enough camera to keep watch over your home and a doorbell that notifies you via both a chime and an app when someone is at the door."