Here at the Strategist, we like to think of ourselves as crazy (in the good way) about the stuff we buy, but as much as we'd like to, we can't try everything. Which is why we have People's Choice, in which we find the best-reviewed products and single out the most convincing ones. (You can learn more about our rating system and how we pick each item here.)
And while we've written about the dry-air essential before — including the best USB-friendly models, a germ-free humidifier, and even de-humidifiers before  — here we've rounded up the best humidifiers, as praised by the most enthusiastic reviewers on Amazon.
Best-rated humidifier
URPOWER Essential Oil Diffuser Humidifiers
Reviewers loved that this versatile product functions as both a humidifier and an essential oil diffuser, all with color-changing LED lights. "You can use essential oils if you want, but if you want to use it as just a humidifier it works too," explains one, continuing, "It makes absolutely no noise — at all! The mist is fine so it doesn't leave a damp spot around the diffuser. The colors are soft and nice but you also have the option to make it brighter or dimmer if you want." Plus, the water tank is large enough to last "12 to 15 hours a day without problem," adds another reviewer.
That combination of humidity and aromatherapy has the people singing its healing praises: "OMG! A friend convinced me that using a diffuser will help battle my allergies and produce better sleep at night. I was skeptical until the first time I plugged in this device. Sold instantly. It runs all night on one tank of water, and even my pets have noticed the difference."
One particularly satisfied customer writes, "I have dry heat and would wake up with my mouth feeling like it was stuffed with cotton — No longer any problem in that area, and I owe it all to this diffuser. I usually put lavender in the water and sleep like a baby. I have had many humidifiers, costing much more than this little machine … and none of them worked as well."
Best-rated (less expensive) humidifier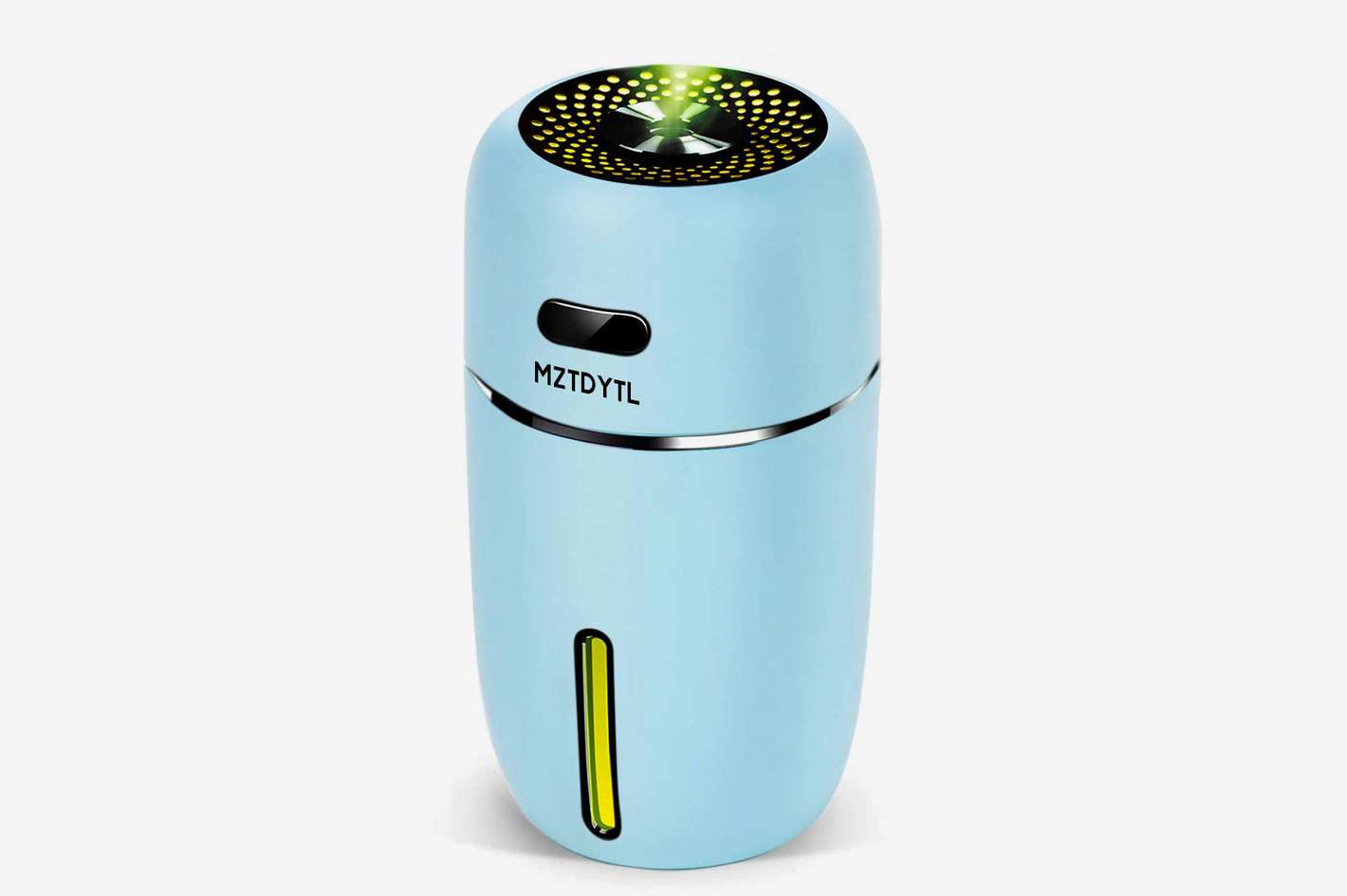 Portable Mini USB Humidifier
This "quiet, cute, stylish" little product plugs into a USB so it can be used at a desk or even in a vehicle. Reviewers noted that it's "not much bigger than a Coke can" and "fits in the cup holder of my car even!" There's also, conveniently, "a USB port on the side so you can charge other items with this device." Reviewers in an office environment who may want to do something about the dry air without bothering others also like this humidifier. One writes, "I work in an office that is incredibly dry. My nose was irritated. I had to use moisturizing drops in my eyes every few hours. My lips were chapped. I needed to put lotion on my hands while at work. I've had this desktop humidifier for two weeks, and it has helped considerably." Another desktop user says, "I love that it is silent … this way nobody has to hear it and complain about it. Plus with it being small, it only does my area, so no complaints again from anybody else. The options to do continuous [mist] or pulses is nice, and the colors are great too … my mother recently took hers on the plane and loved that it kept her 'hydrated,' and again, without bothering anybody else."
And now for some micro-picks for every type of humidifier you might be looking for.
Best humidifier for the bedroom
TaoTronics TT-AH001 Humidifiers for Bedroom
This humidifier's efficient "sleep mode" is beloved by reviewers, because it "is almost dark with a dim indicator that shows it is powered on." One reviewer writes, "The sleep mode is perfect and it auto shuts off with a little waterless icon indicator. Makes it easy for even the kids to know when to fill them." It's also very quiet, making for ideal sleeping conditions: "It was so quiet, I didn't notice [it was on] until I saw the mist rising. Very quiet. There is a tiny gurgle every now and then as air bubbles rise, but that is a negligible sound."
Best humidifier for large rooms
Pure Enrichment MistAire XL Ultrasonic Cool Mist Humidifier
Made specifically for large rooms with a large, one-gallon water tank, this humidifier "covers a decent area, about 400–500 square feet." It's a souped-up version of a smaller model, and worth the price difference, as one reviewer explains: "This unit is much better than the regular sized version. I love it … it has more features than the little one. It has different color lights, blue, red or green. The little has only blue. The light switch and mist switch are separate. The mist is adjustable, you can toggle it from low to high or in between … if you can't decide, spend the extra $20 and buy this one instead of the little one."
Best quiet humidifier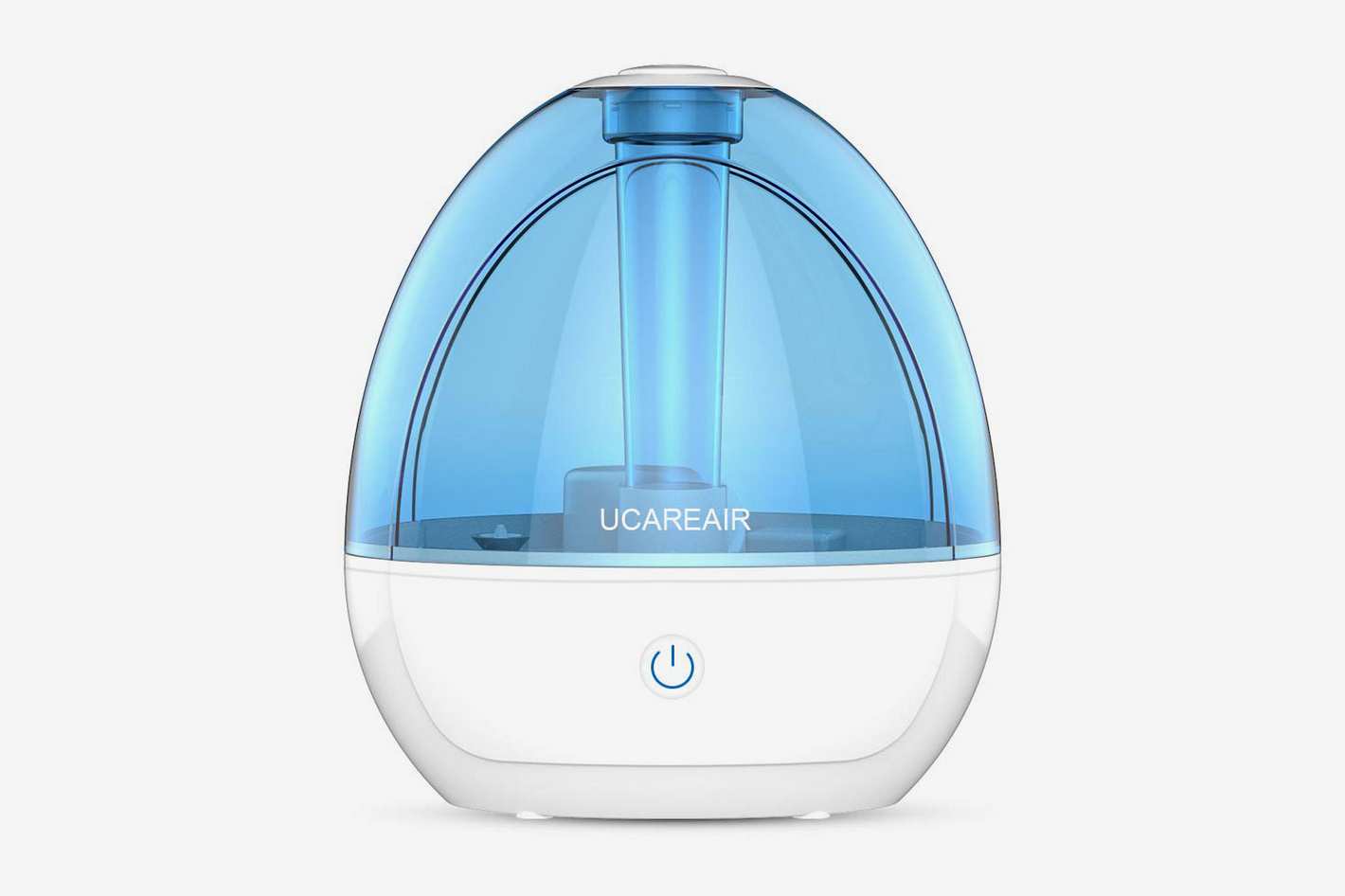 UCAREAIR Cool Mist Humidifier
The common thread among this product's reviews was praise of its quiet operating volume. "Whisper-quiet, quieter than past models," writes one reviewer, while another adds, "It is so quiet I can't hear a sound." "It's so quiet!! Really you wouldn't know it's on if it weren't for the light," says a third. The only concern, then, is remembering that it's on. As one user writes, "Half the time I forget to turn it off in the a.m. because I don't hear it! But it makes me settled [that] it is auto-off when the tank is waterless!!!" It's been a game changer for light sleepers: "I am that kind of person who could not bear any noise when I fell asleep," writes one. "My friend recommended to me this product and I believe in her elegant choice. Fortunately, UCAREAIR did not let me down."
Best cool mist humidifier
Pure Enrichment MistAire Silver Ultrasonic Cool Mist Humidifier
"This is my first cool mist humidifier and I'm so impressed," writes one satisfied reviewer. "It's super easy to refill and when I run it continuously on the lowest setting it will usually produce mist for over 24 hours." Another reviewer, who moved from Los Angeles to Las Vegas, says this humidifier is the only thing that's help alleviate some of the worst symptoms of the drier climate: "Since my time in Las Vegas I find that my allergies have been getting worse. My nose has been so dry to the point that it was hurting to blow my nose. I've had the Ultrasonic Cool Mist Humidifier for three (3!!!) days and I cannot believe the power of this little thing. My dry nose has cleared up miraculously and the best part is that it's not sore to the touch which what was bothering me the most."
Many reviewers also praise the humidifier's durability. "The components and parts seem really high quality, especially after buying some cheaper options which I've found to be incredibly chintzy and fragile" writes one user, adding, "I have had zero problems with mine and would highly recommend it!"
Best dual-nozzle humidifier
TaoTronics TT-AH002 Humidifier
This product has two nozzles that can be aimed in different directions for more even coverage, and reviewers often cite the utility of the dial-knob to control how strong they want the vapor. As one reviewer put it, "This thing rocks! It puts out more mist than Snoop Dogg puts out smoke in the green room." It's a good pick for rooms with low ceilings, as one reviewer notes that with this nozzle, "the cool air goes forward and not straight up, which for me that is important since our bedroom has a low angled ceiling. So if the air went straight up it would get our ceiling damp. We now use it nightly for our dry air bedroom and it works very well. One nozzle is pointed toward my husband and the other nozzle towards my way."
Best easy-to-adjust humidifier
Pallas 2019 Humidifier
Reviewers praise how easy-to-use this model is, as it "has an easy knob that allows you to adjust the amount of vapor it is outputting out into the room. Usually I adjust it based on the amount of space you are trying to make humid. If it is a large living room usually connected to the kitchen, I would usually use it at max setting. For a small room just turning it on with a bit of vapor depending on roof height should be enough." Or, as another user puts it, "The mist knob lets you adjust the amount of mist so you can decide how "misty" you want it."
It's also easy to tell when it needs to be refilled, as one reviewer mentions, "One thing that I really like about this is the little knob will turn red when the water is empty so you don't have to guess when it needs to be filled again. Some of my other humidifiers don't have that feature and it is really nice to have."
Best essential-oil humidifier with wooden base
COSSCCI Aromatherapy Essential Oil Diffuser Humidifier
Similar to the best-rated pick, this dual product has both humidifier and oil diffuser properties and lights up in seven different colors. But this model also has a wood base, which one reviewer says, "gives it a more rich look." Other praise for the less-plastic-looking design includes, "It's not only effective, but it looks great in the bedroom. Not an eyesore like your usual bulky and clunky humidifiers," and, "This is my second diffuser I have purchased from this seller. I love the way it looks in my house. It fits the aesthetic perfectly without looking bulky or out of place. I have completely gotten rid of candles and artificial scents in my house and I like to have a diffuser in several different rooms. I highly recommend this one!"
Best filterless humidifier
GENIANI 2 L Ultrasonic Cool Mist Humidifier with Timer
This product's instructions say to simply wipe it down with water and a soft cloth, and reviewers echo that cleaning it is a simple process, saying, "as it has no filter, the humidifier is easy to clean — you just need to clean the tank and put it back on. I've been using it for some time and haven't yet had to deal with any buildup. It's totally a worthwhile purchase." While some models require descaling or other cleaning solutions, for this one, "I just use a paper towel to run over the spouts and so far I have had no issues with build up or cloudiness," says one user. Another mentions another benefit of the filterless design: "I don't have to worry about cleaning the filter often or replacing it."
The Strategist is a new site designed to surface the most useful, expert recommendations for things to buy across the vast e-commerce landscape. Some of our latest conquests include the best notebook, black T-shirts, fashion-editor-approved jeans, toothbrush, and apartment décor. Note that all prices are subject to change.

If you buy something through our links, New York may earn an affiliate commission.