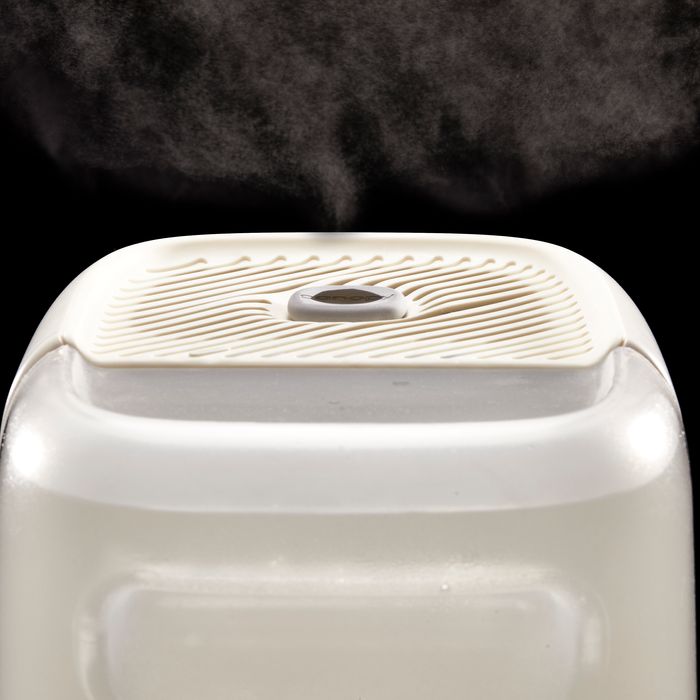 Humidifiers can be a great addition to your living space or bedroom. By pumping moisture into the air, they can help keep your skin and nasal passages from drying out, particularly in the winter months. (Your house plants will benefit too.) However, humidifiers can be loud, messy, and a nightmare to clean. Cleaning is critical, however; a humidifier that is not properly maintained can end up contaminated with pathogens that can exacerbate allergies and cause serious illnesses. Dr. David Hill, M.D., a spokesperson for the American Lung Association and a pulmonary and critical-care physician in Connecticut, says you should be cleaning your humidifier at least once a week with soap and water. To find the best humidifiers, we sifted through our extensive archive of humidifier coverage and called experts and allergists for their recommendations.
Best overall humidifier | Best small-space humidifier | Best easy-to-clean humidifier | Best humidifier for a large room
What we're looking for
Type: "All humidifiers put water vapor into the air, but they do that in different ways," says Sarah Drake, brand manager of seasonal humidifiers at Helen of Troy, the parent company behind Vicks and Honeywell humidifiers. The three main types of humidifier are warm mist, evaporative, and ultrasonic, a.k.a. cool mist. The warm-mist kind boils the water and releases the steam into the air to increase humidity. The heat can destroy germs, but it can also be a danger to kids and pets. Evaporative models wick water through a filter, then use a fan to blow air across the filter, and the air absorbs moisture as it passes. The fans can be noisy and the filters need to be replaced often, but the filter will catch any minerals in your water and keep them from getting deposited elsewhere in your home. Lastly, cool-mist humidifiers work by using high-frequency sound vibrations to break water droplets into a fine mist that gets pushed out into the air. They are inexpensive, but because they don't have a filter, you need to use them with distilled water, and the same goes for warm-mist humidifiers, too.
Size: Just like with air purifiers or window AC units, your humidifier needs to be large enough for your space. To get your humidity levels right, you need to know the dimensions of the space you want to humidify to find the model that covers your square footage.
Reservoir type: Humidifiers generally come with either a top-fill or bottom-fill reservoir. The former stays upright while you fill it from the top, while the latter needs to be inverted, usually into a tray, after being filled. There are no easy-to-clean humidifiers per se, but top-fill reservoirs generally have larger openings for somewhat easier cleaning. A top-fill reservoir should also have less potential for leaking than tanks with caps on the bottom. That said, we've included some bottom-fill reservoir models in this list since they are fairly common and highly rated.
Best overall humidifier
Evaporative | Up to 500 square feet | Bottom-fill reservoir
Canopy has made its claim as the beauty world's humidifier. It's endorsed by dermatologists, and the brand heavily advertises its skin-care benefits. It also has been recommended to us numerous times. Strategist senior editor Crystal Martin has tried a lot of different brands and types and says the Canopy is one of the best. "I want humidifiers to have a humidifying ability commensurate with their size," she says. "For example, a lot of ultrasonic humidifiers kick out just a little bit of humidity even though they're about the same size as a humidifier that uses a filter. I don't like that." There's also the issue of maintenance. "Ultrasonics, the way they're made, sometimes it's hard to access all the parts with a sponge or brush," she says, "but the Canopy wins on both those measures. It pushes out the right amount of humidity to keep my nose and eyes moisturized at night, and I can easily keep it clean." She uses distilled water with hers, which she says helps with maintenance, as does the machine's built-in UV light. The tray and the reservoir are both dishwasher safe.
The Canopy's easy-to-clean design and its benefits were also a selling point for politician Andrew Yang, whose wife bought one for their family. "We started to experience fewer sinus and throat issues," he says. Akili King, a former beauty assistant at Vogue, told us in 2020 that it was one of the best things she bought that year, praising it for being one of the more attractive humidifiers on the market, as well as having multiple functions, such as diffusing aromatherapy oils. I've been using the Canopy for only a few days so I can't speak to all the benefits yet, but one good sign out of the box was that, even though it uses a bottom-fill tank, I didn't have any issues with spills when carrying the tank across the room and turning it upside down to fit into the tray.
Best small-space humidifier
Ultrasonic cool mist | Up to 250 square feet | Bottom-fill reservoir
This ultrasonic humidifier has long been a Strategist best seller and a favorite among Amazon reviewers. Over 57,000 reviewers give this humidifier five stars, and many love how easy it is to use. "Just fill with water and push the button," one says, adding, "No assembly required. It has four settings that produce high/low volumes of 'mist' with various states of blue LED illumination." Some find the blue light from the power button can make it hard to sleep, but you can cover it up or turn that side away from you. One customer notes that the two levels of mist output are described as "useful when adjusting for different-sized rooms" This humidifier is half the size of the Canopy and is appropriate for rooms up to 250 square feet, which many reviewers say works well in their bedroom. When refilling, do so with caution, as this humidifier has a bottom-fill reservoir. One reviewer advises using "a small towel to catch any dripping water when lifting the tank off the unit." And even though most bottom-fill reservoirs make the unit harder to clean, reviewers say a bottle brush and the included soft-bristle brush make the process fairly simple.
Best easy-to-clean humidifier
Ultrasonic cool mist | Up to 260 square feet | Top-fill reservoir 
In her research into humidifiers, Sarah Z. Wexler came across this Levoit cool-mist humidifier. It covers about the same square footage as the Pure Enrichment, but because of the top-fill reservoir design, many say that it's easy to clean. "I love how the top comes off and you can reach and clean everything out so easily and that you can add essential oils," one reviewer writes. The ease of cleaning plus the size make the unit a popular option for kids' rooms. "Other tanks you can't clean and mold grows in them. This one you can clean well and feel good knowing your kid's health is not at risk," says one parent. Another mom also appreciates how quiet it is — it operates at 28 decibels, equivalent to about a whisper — so it doesn't keep her kids up.
Best humidifier for a large room
Warm and cool mist | Up to 753 square feet | Top-fill reservoir 
If you're not entirely sure whether warm or cool mist is for you, this model allows you to have both options. Its other main draw is its size. It has a six-liter capacity, making it suitable for a primary suite or some apartments. "This thing will fog up my entire house overnight," writes one reviewer who gives it five stars. "The big tank is long-lasting, even at full force." This humidifier also has a wide opening for cleaning. "My hand can easily fit into the canister," says another reviewer. This machine allows you to set it to your desired humidity and gives a humidity reading on its screen, but you might want to rely on a separate hygrometer instead. Experts say built-in hygrometers can sometimes be inaccurate due to their proximity to the humidifier. Dr. Chet Tharpe, allergist and Medical Director at Curex, says the ideal humidity level should be about 50 percent. "Any humidity greater than 50 percent encourages dust-mite growth," he says. "You really want to get the humidity level between 35 and 50 and then it's a balancing act of not being overly dry and irritated."
Our experts
Sarah Drake, brand manager of seasonal humidifiers at Helen of Troy
Dr. David Hill, spokesperson for the American Lung Association and a pulmonary and critical-care physician
Akili King, former beauty assistant at Vogue
Dr. Chet Tharpe, allergist and Medical Director at Curex
Sarah Z. Wexler, writer
Andrew Yang, politician
The Strategist is a new site designed to surface the most useful, expert recommendations for things to buy across the vast e-commerce landscape. Some of our latest conquests include the best notebook, black T-shirts, fashion-editor-approved jeans, toothbrush, and apartment décor. Note that all prices are subject to change.

If you buy something through our links, New York may earn an affiliate commission.