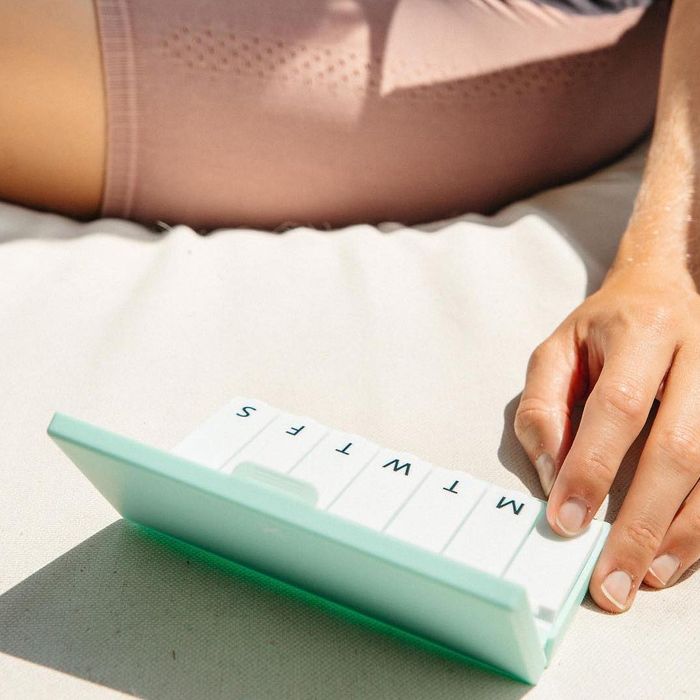 Photo: https://pyxis.nymag.com/v1/imgs/f7c/31b/9fb0b3b1a7d3cf65d787f9a2d731311444-pill-organizers-lede.jpg
The average person in the United States takes at least one pill every day — be it a prescription medication, a supplement, or a vitamin. But finding a pill case that's not just a piece of plastic labeled with the days of the week — let alone one that looks nice enough to leave out on your counter — is a challenge. And finding a case that you like isn't just a matter of aesthetics: It can help you stay on track with critical medications, keep your pills from getting crushed, and even remove some of the stigma that you may feel. We talked with a panel of design-minded pill takers, polled a group chat and members of our Strategist Hive Mind group on Facebook, and dug into our archive to find the best, actually nice-looking pill cases out there, whether you're taking a single vitamin or several different medications every day.
Best overall | Best labeled seven-day | Best with removable case | Best connectable | Best compact | Best smart | Best single-compartment | Best less-expensive single-compartment | Best fun-looking | Best at-home
What we're looking for
Number of compartments: If you're storing Advil for the occasional headache, you probably don't need a case with seven separate compartments. But if you have a variety of medications you take day and night, more compartments will help. What you pick is dependent on how many pills you take and how often you take them. We included pill organizers ranging from single compartment cases to organizers with slots for every day of the week.
Labels: Most conventional pill cases have labeled slots for each day of the week, which can make them feel pharmaceutical. But that design can also serve as a useful reminder of whether or not you've taken what you need on any given day. There are others that come with customizable labels, too, in case you'd rather sort your pills by type instead of day.
Access: Traditional pill organizers have individual lids that pop on and off. While there are plenty of those in our roundup, there are also others that have twist-off or sliding lids. Again, this comes down to preference and what's most easily accessible for you.
Extras: Some of the pill organizers come with added features such as mirrors, a protective outer case, and more. If there are any features that are actually useful, we'll highlight them.
Best overall pill organizer
Seven compartments | Monday through Sunday labels | Seven lids | Mirror
About half of the people we spoke to recommend this Port and Polish pillbox-slash-compact as a "sleek" alternative to what you'd normally find at the drugstore. Even though it's made of plastic, content creator Remy Park says the case feels "satiny" and cute enough to display on her coffee table "along with my other morning-ritual items." MPH student Marie Diaz says that this Port and Polish case even makes her "excited to take my meds." Brittany Allyn, the blogger behind Thirty Waves who documents her travels on TikTok appreciates its mirror when traveling "for last-minute plucking necessities or to do the back of my hair." A couple of downsides of the Port and Polish are that there is no morning/night divider and it may not fit several larger pills, but that is why copywriter Becca Luna uses two: "The meds are to help me manage my mental health and Crohn's disease, so I want to feel good about what they're kept in to bring positivity into my day," says Luna, who uses two differently colored cases to differentiate her morning and night medicine.
Best labeled 7-day pill organizer
Seven compartments | Monday through Sunday labels | Sliding mechanism
Former Strategist audience-engagement associate Hannah Starke wanted a seven-day pill case "that I could throw in my purse or leave out on the desk without feeling like a grandma," and she searched far and wide before finding this one, which also comes recommended by a Strategist Hive Mind Facebook member. Starke likes that this rose-toned case "doesn't look out of place next to a candle on my desk or a tube of lip gloss in my purse" but is still functional: "I used to carry tons of OTC pills on me at all times, and I think 75 percent of them ended up crushed at the bottom of my purse." By contrast, this case is "secure" and has an easy-to-use slide-out function that allows her to "put a week's worth of pills in and forget about it."
Best pill organizer with removable case
Seven compartments | No labels | Five lids | Removable case
When I posed the question to my group chat, one of my most stylish friends, Danielle, sent me this pill organizer she found on Amazon because she wanted something "not fugly." Instead, this organizer, with its removable outer plastic shell (that also serves as extra protection), looks more like a cute sunglasses case. It has seven separate slots, three of which are larger and the other four half-size. Because it doesn't have seven identical compartments, it's not quite enough space for a week's worth of pills, but she says it works for a weekend-to-five-day trip.
Best connectable pill organizer
Seven compartments | No labels | Seven lids | Connectable
Even though this Muji case is similar to the ones you can pick up at the drugstore, it's more minimalist in appearance since it doesn't have large day-of-the-week lettering. Andres Zuleta, founder of Boutique Japan, prefers Muji's transparent case because he doesn't travel with a lot of pills and often goes to Japan, where they're "super-strict about what medicines you can bring into the country," he says. Another convenient feature is that each compartment is detachable, so if you're going on a short trip or don't find yourself needing all seven sub-cases, you can detach and connect as you wish.
Best compact pill organizer
Three compartments | No labels | Twist-off | Keychain
We once called this three-compartment case "the 007 of pill boxes," because it's waterproof and made of durable aluminum and connects to a carabiner. It's a bit more utilitarian than others on this list, but former Strategist senior writer Karen Iorio Adelson says it's still "a lot more stylish than one of those bulky plastic pill containers." With three compartments, it's great for someone who takes different types of pills on a less consistent basis (allergy medicine or migraine medicine, for example) and doesn't want to tote around one of the larger multi-compartment cases. Or you could get a two-pack to organize your pills for (almost) a week.
Best smart pill organizer
Seven compartments | No labels | Sliding top | Connects to app
Another winner from my group chat: Two friends flagged how cool the EllieGrid looks (though they don't own it themselves), and one said she bought her aunt Toni this after she was re-diagnosed with cancer. Toni likes that it links to her phone and notifies her if she has missed a pill or dosage. There's a bit of a learning curve, according to Toni, but she said it's "incredibly worth it once it's up and running" because it removed a lot of uncertainty from her day. With it, she can check her phone instead of counting pills and doing the math herself. It is much more expensive than the other cases listed, but it's the only one that connects to an app. And it's worth noting it's a bit larger. It has seven compartments — four smaller ones that can each fit an entire bottle of small pills, and three larger compartments that can each fit seven large pills.
Best single-compartment pill case
One compartment | Customizable labels | Twist-off | Magnetic
On the other side of the pillbox spectrum are single-compartment cases, which are best for people who just need to store one kind of pill or vitamin. One of the most stylish among these is Cadence, a brand that makes multiuse magnetic capsules from ocean-bound plastic in seven shades to hold your pills (or Glossier moisturizer or small Mejuri hoops). Two of the people whom we spoke to said that the capsules work well as pill cases, including beauty-and-wellness content creator Iman Ogundeko, who says she can fit a month's worth of small vitamin-D pills in one capsule and a week's worth of larger pills. "I love that you can customize each capsule in different colors and put emoji or words on the case in order to signify what you're storing," she says. The feature that influencer Grace Martinez appreciates the most about the capsules are their "easy to handle" hexagonal shape and magnetization, which makes them easier to find at the bottom of a bag, since they stick together.
Best less-expensive single-compartment pill case
One compartment | No labels | Twist off 
When Strategist associate editor Jenna Milliner-Waddell spoke to Gina Anderson, senior manager of communications for the Leading Hotels of the World, for a story on the best toiletry bottles, she brought up a hodgepodge of items she travels with. Included was a Sephora travel set with a 20-ml silicone jar she uses "for small amounts of pills — throw in a few Advil instead of taking a whole bottle," she says. If you're not looking for a whole travel set, we found a pack of three 20-ml silicone jars that are very similar. An added benefit is that since these are silicone-based instead of plastic, your pills won't rattle or wear down as much — a conundrum that one reader has asked us about before.