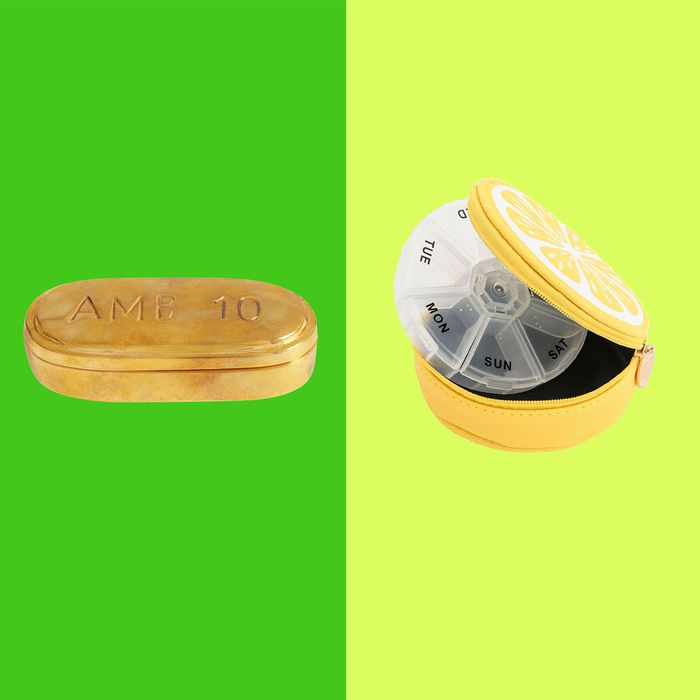 Photo-Illustration: The Strategist; Photos: Retailers
The average person in the United States takes at least one pill every day — be it a prescription medication, a supplement, or vitamin. But finding a pill case that's not just a piece of plastic emblazoned with the days of the week — let alone one that looks nice enough to leave out on your counter — is still a challenge. And finding a case that you like isn't just a matter of aesthetics: It can help you stay on track with critical medications, keep your pills from getting crushed, and even subvert some of the stigma that you might feel. When Renee Davidson, a nonprofit worker, was first prescribed daily medication, she felt nervous about carrying around "a hulking bottle or plastic container" and instead found that taking pills from a thrifted Etsy case painted with mallards made her medication routine feel like taking "a secret treat out of an item that brought me joy."
So we talked with ten design-minded pill takers — and dug into our archive and polled members of our Strategist Hive Mind group on Facebook — to find the best, actually nice-looking pill cases out there, whether you're taking a single vitamin or several different medications every day.
Most conventional pill cases have labeled slots for each day of the week, which can make them feel bulky and pharmaceutical. But that design can also serve as a useful reminder of whether or not you've taken what you need on any given day, and half of the people we spoke to recommend this Port and Polish pill box-slash-compact as a "sleek" alternative to what you'd normally find at the drugstore. Even though it's made of plastic, content creator Remy Park says the case feels "satiny" and cute enough to display on her coffee table "along with my other morning ritual items." MPH student Marie Diaz says that this Port and Polish case even makes her "excited to take my meds."
One downside with the Port and Polish is that there is no morning and night divider, and it may not fit several larger pills, but that is why copywriter Becca Luna uses two: "The meds are to help me manage my mental health and Crohn's disease, so I want to feel good about what they're kept in to bring positivity into my day," says Luna, who uses two differently colored cases to differentiate her morning and night medicine. Plus, supporting a small, woman-owned business is another thing that makes her "feel good."
A bit of a splurge is this calf leather case — made by Ettinger, a long-time favorite brand of the Royal Family — which has a side slip for your bills or cards on the left and fits a week's worth of once-a-day pills on the right. There's a different pill container for each day of the week, with internal dividers, for folks who take multiple different pills a day, and for some extra pizazz, each name of each day is engraved in gold, too.
This trompe l'oeil–esque fruit pill case would be a (much) cheaper alternative to the Ettinger case, for someone who still wants to carry around their medication in a cute zip pouch, and only takes a couple of pills a day.
Even though this Muji case is similar to the ones you can pick up at the drugstore, it isn't emblazoned with garish day-of-the-week lettering, and has adjustable internal compartments, depending on how you want to organize your pills. It's also sturdy: Project manager Tasha Chu has used it to carry Advil around in her purse for years and has "never had issues" with it cracking. But, she points out that fitting larger pills, like liquid-gel ibuprofen, is a bit of a "squeeze."
For a rectangular-shaped morning-and-night pill organizer that does fit larger pills but still looks understated, consider this option from The Home Edit's collaboration with the Container Store. This case also comes with 14 customizable labels, in case you want to differentiate between days of the week or kinds of pills.
Strategist audience engagement associate Hannah Starke wanted a seven-day pill case "that I could throw in my purse or leave out on the desk without feeling like a grandma" and she searched far and wide before finding this one, which also comes recommended by a Strategist Hive Mind Facebook member. Starke likes that this rose-toned case "doesn't look out of place next to a candle on my desk or a tube of lip gloss in my purse," but it's still functional: "I used to carry tons of OTC pills on me at all times, and I think 75 percent of them ended up crushed at the bottom of my purse." By contrast, this case is "secure" and has an easy-to-use slide-out function that allows her to "put a week's worth of pills in and forget about it."
This matte, two-toned pill case would work better if you need to organize morning and night pills.
While it's far from the look of a traditional seven-day pill organizer, this water bottle-slash-pill-case has labeled compartments for every day of the week and fits into a groove in the water bottle that appears large enough to fit a couple of pills per day. Someone on the Strategist Hive Mind Facebook group mentioned that they'd been eyeing this water bottle-slash-pill-case for some time now, since they think that having it on hand would help them remember to take their medicine.
As a pill-taker myself whose Nalgene is almost never out of reach, I was intrigued by this water bottle pill lid cap. It has two removable interior dividers — so you can split the lid in half or quarters depending on your needs — and fits all wide mouth Nalgene bottles. Plus, you can stack multiple pill lid caps on top of each other for more storage space, so two lids would suffice if you're looking for a weekly organizer.
We once called this three-compartment case "the 007 of pill boxes," because it's waterproof, made of durable aluminum, and connects to a carabiner. It's a bit more utilitarian than others on this list, but Strategist senior writer Karen Iorio Adelson says it's still "a lot more stylish than one of those bulky, plastic pill containers." Get a two-pack to organize your pills for (almost) a week.
On the other side of the pill box spectrum are single-compartment cases, which are best for people who just need to store one kind of pill or vitamin. One of the most stylish among these is Cadence, a brand that launched last year, and makes multi-use magnetic capsules from ocean-bound plastic in shades of terracotta and lavender to hold your pills (or Glossier moisturizer or small Mejuri hoops). Two of the people who we spoke to say that the capsules work well as pill cases, including beauty and wellness content creator Iman Ogundeko who says she can fit a month's worth of small vitamin D pills in one capsule, or a week's worth of larger pills. "I love that you can customize each capsule in different colors and put emojis or words on the case" in order to signify what you're storing," she says. The feature that influencer Grace Martinez appreciates the most about the capsule is their "easy to handle" hexagonal shape and magnetization, which makes them easier to find at the bottom of a bag, since they stick together.
As we've pointed out in the past, Etsy has a wide array of vintage — and discreet — pillboxes. Since there are tens of thousands of cases, Davidson recommends finding one that "feels personal to you," whether it's made in a certain year or designed with a particular motif. She points out that the one drawback of vintage pill boxes is that most are small and lack multiple compartments, so they won't work for everyone.
We've said that this colorful set of macaron-shaped pill organizers would make for a good gift, and as former Strategist senior writer, and "frequent pill carrier," Lauren Levy points out, circular pouches dampen sound and are less likely to wear down on the edges of pills — as some metal boxes do.
Another object-turned-pillbox is this portable silver ashtray that Strategist writer Liza Corsillo says "would make a perfect little pill box for your bedside table or a nice place to store tiny stud earrings."
If money were no object, I'd love to store my Prozac and gummy vitamins in this Ambien-shaped brass pill box made by Jonathan Adler.