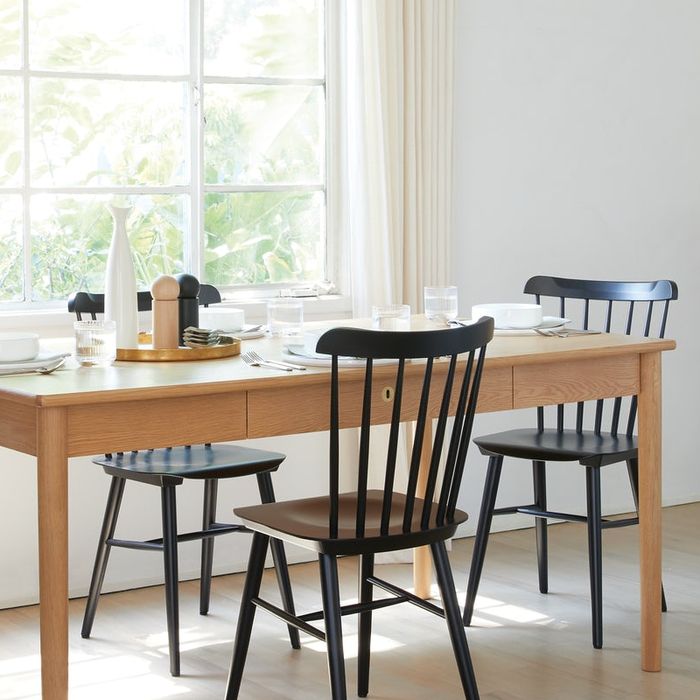 Even if you don't know it by name, you definitely know the Eames Eiffel DSW Chair, with its curvy molded-plastic bucket seat, tethered to flared wood dowel legs with a crosshatch of black metal. The first mass-produced plastic chair to hit the market in the early 1950s, vintage Eiffel originals often go for more than $300 a pop. But cheaper dupes are so ubiquitous, it's near impossible to avoid them (here are just a few examples), whether in Airbnb and Zillow listings, influencers' Instagram stories, doctor's office waiting rooms, moving-day trash heaps outside of high rises, or perhaps even your own home. Sure, they're cute and lightweight, but knockoff Eiffels are the fast fashion of furniture. Sitting in one of these poorly made, wobbly things for more than a couple minutes is an anxious, butt-numbing experience — never mind trying to work from home in one all day.
If you are in the market for a design-forward yet affordable chair, what are your options beyond the Eames? We asked ten interior designers, editors, influencers, and writers to share their favorite affordable dining chairs — that aren't Eiffel knockoffs — most of which are so versatile they'll double as desk or even outdoor furniture.
The best dining chairs under $100
Laura Fenton, author of The Little Book of Living Small, likes this classic from the Swedish chain, which "has been in the catalogue as long as I can remember," she says, adding that "it's a great affordable option" — and aesthetic-agnostic, too. "The lines are really simple and clean, so they can skew more modern, traditional, or country, based on what you pair them with," Fenton says. She's a fan of the brand's unfinished pine furniture in general, "because you can paint or stain it to the color that suits your decor and easily refinish them later, if your tastes change or you pass them on to someone else."
Harling Ross, a writer and brand consultant, likes this "super-light and easy-to-assemble" Ikea chair. "I love the punchy red color and the simplicity of the design. It's upholstered with the perfect amount of cushioning for a dining chair, not too soft and not too hard — as Goldilocks would say, 'Just right,'" Ross says. "The cushioning makes it comfortable enough to sit in for a myriad of lengthy tasks, whether it's finishing a huge bowl of pasta or creating a 60-page presentation." She adds that the angle of the back makes it especially versatile, noting that "it's upright enough to be either a dining chair or a desk chair."
Leonora Epstein, senior content director at design site Hunker, likes this Article chair because "it's simple, sleek, but surprisingly versatile, given the range of colors." She suggests the orange colorway "for a midcentury-esque pop," or the navy for "lovely Scandi vibes." They're easy to clean, can be used both indoors and outdoors, and "could absolutely double as a work chair — the chair base is the same as their rolling desk chair, which I have in my office, and I have no complaints sitting in it for hours on end."
Though Charlotte and Peter Fiell, married co-authors of over 60 books about design theory, history, and criticism, including seat-centric titles Chairs: 1000 Masterpieces of Modern Design, 1800 to Present Day and Modern Chairs, say they prefer antique or vintage dining chairs to "get more for your money" in an affordable price range. They admire the "engaging stripped-down aesthetic purity" of this stackable Ikea pick, which is available with arm rests for $10 more. Peter describes it as "simple and versatile," as well as "highly durable and easy to place" in all sorts of spaces, for work or play.
They also like the Idolf style, "a modern reworking of a classic seating archetype known as the 'Frankfurt chair,' with a nice retro quality," Peter says. "It will give any interior a touch of old-world nostalgia, is comfortable and sturdy, and has a friendly workaday presence."
Or for a stackable option that's not from Ikea, NYC-based interior designer Matthew Kowles recommends a minimalist sloped-back chair inspired by a geometry compass. He's also fond of the brand's Anders Dining Chair (which is pricier, at $237), an elegant ash wood option with a curved back and upholstered seat; it's currently out of stock, though you can sign up for restock updates.
For small spaces, Epstein loves this "solid, mid-century-inspired design without the hefty price tag that often comes with vintage goods," she explains. "You can definitely squeeze these in around a compact table, or switch this chair out between your workspace and your dining area." The padded seat "will make sure you don't get that numb-bum feeling you get after extracting yourself from a solid wood chair," and cushioning on the back as well gives "extra support on those oh-so-fun company Zooms," she says.
The Fiells think Ikea is the way to go when it comes to the "best value for affordable chairs of good quality and original design," like the Odger, a "useful chair that cleverly utilizes renewable wood and recycled plastic, and has a very nice textural quality, thanks to its composite material," Peter explains. Bonus: It's especially easy to assemble, with no tools required.
Julia Noran Johnston, founder and president of shelter publication Business of Home, likes the "really interesting color options, like blue-gray and smoky green" of this Hay option. Johnston also mentions the long-term investment potential, noting that nabbing a piece by celebrated design duo (and brothers) Ronan and Erwan Bouroullec for under $100 is a total steal: "You'll probably earn money if or when you're ready to sell it," Johnston says. "The style that is so simple and classic it could work in any setting, and as the Bouroullec brothers say, 'It's a plastic chair that doesn't look like a plastic chair.'"
The best dining chairs under $150


Caitlin Murray, founder and principal designer of Black Lacquer Design, likes the "high, curved back, molded seat, and subtly slanted legs" of this faux-leather-upholstered option, which has "simplicity with an edge" in terms of looks. Murray says it's equally useful for a dinner table or home office setup, while "the lean profile means that it's perfect for spaces both big and small."
"These could pull up to any sort of pedestal table and steal the show with that Scandinavian-style backrest," Kowles says. "The bonus is the fabric seat, which really makes this a standout bargain" at well under $100 per chair.
Here's a modernized version of the spindle-backed chairs frequently found in Scandinavian homes circa the '50s and '60s, "harking back to Ikea's own early design heritage," says Fiell. "The scoop-like backrest and gently curving seat usefully provides comfort without the need of any upholstery."
This weather- and UV-resistant, stackable, outdoor-safe, and easy-to-clean tubular chair comes recommended by Johnston, who says the mix of resin and rattan "lends a fresh, bohemian contemporary feel." Most important, the statement chair's materials and silhouette look and feel good: "It's deep and wide enough that it feels stable so you could curl up and sit for longer than a meal, and rattan is usually comfortable because it gives with the body," she says.
Seattle-based interior designer Charlie Hellstern recommends avoiding seating that's "made cheaply with materials that degrade our indoor air quality," including polypropylene plastic, which is commonly used for molded-plastic chairs on the market (including the Eiffel). "Instead of giving in to buying a chair that gets thrown away after a year or so, I would encourage readers to consider longevity and durability," Hellstern says, like this pick that looks good from all angles. "Caning is one of the most ancient techniques, and I love how classic the look is with black-stained wood," Hellstern adds. They're super-sturdy, too. "A chair made for restaurant use is typically a good way to ensure durability," explains Hellstern.
"This curvy, angled, legs-for-days chair has design appeal from every angle," Murray says of the neutral, monochromatic Ripple, which is also stackable, making it great for small spaces or as a set of extra seating. "It's such a delicate, sculptural piece that feels like high design and unpretentious whimsy at the same time." Its rounded seat and arms make it comfy, too.
The best dining chairs under $200


Like the Windsor-inspired design Caan suggests, a Wishbone chair like this one is perfect "if you're looking for something especially timeless," Epstein says. "The simple construction feels undeniably Danish, guaranteed to work in