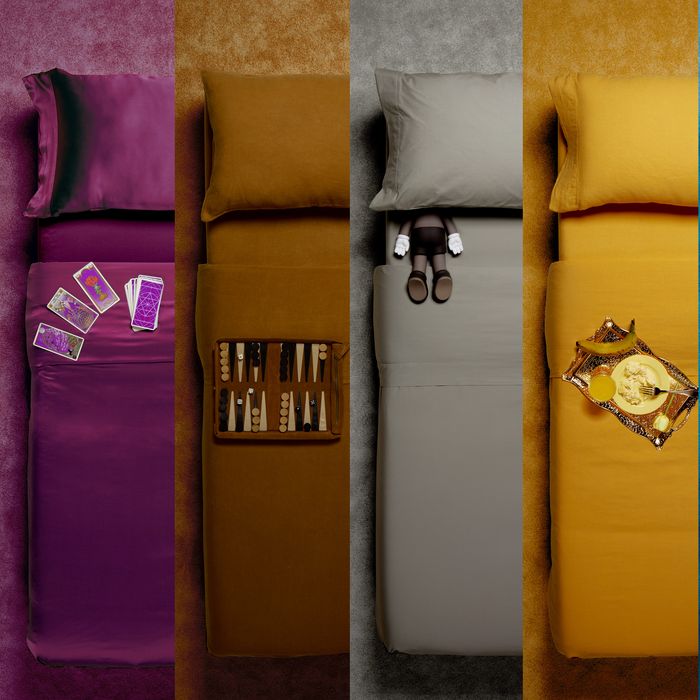 With so many bedding start-ups promising premium-quality, hotel-style sheets at direct-to-consumer prices, it can be hard to know what's what. And with the rise in popularity of linen sheets, it's easier than ever to achieve that laid-back, rumpled, yet still intentional look for your bed. To help us wade through the many styles and fabrics out there — a crisp cotton percale, a silky sateen, or something in between — we reached out to 26 design experts and tastemakers (and a couple of the Strategist's own) for their recommendations on the best bedsheets to buy, from classic white Egyptian cotton to ecofriendly linen to completely bespoke sets. Most of the options on this list are sold in sets that come with a fitted sheet, a flat sheet, and two pillowcases, but we've noted if pieces are sold separately. And all prices listed are for queen-size sheets unless otherwise specified.
Best overall cotton percale | Best (less expensive) overall cotton percale | Best customizable cotton percale | Best hotel-style cotton percale | Best overall sateen | Best (less expensive) sateen | Best matte sateen | Best overall linen | Best starter linen | Best colorful linen | Softest linen | Best organic linen | Best bamboo | Best (less expensive) bamboo | Best cooling bamboo | Best brushed microfiber | Best (luxury) microfiber twill | Best Tencel | Best jersey | Best silk | Best looking
What we're looking for
Material: The first things you want to think about are what your sheets are made of and, if applicable, how they're woven. The most popular sheets fall into a few major categories of material, with cotton being the most common. Within cotton, you'll see percale and sateen sheets, terms that refer to the weave of the cotton, which determines the feel of the bedding. Then there's linen (which is made of flax), bamboo and other alternative fibers, lyocell, jersey, and silk. The material you choose will also dictate whether the bedding is cooling, durable, or easy to maintain.
Cotton percale: Cotton percale is made of a tight one-over-one-under plain weave that's crisp, lightweight, and matte in appearance (kind of like your favorite white button-up shirt). It's highly breathable, too, making it a great choice for those who sleep hot, and it's usually made from long-staple cotton.
Cotton sateen: Sateen's three-over-one weave is looser, resulting in a denser feel that drapes well and has a silky sheen. It's heavier than percale and will sleep slightly warmer.
A note about thread count, which applies only to cotton sheets: Thread count refers to the number of horizontal and vertical threads in a square inch of fabric. The general thinking goes that the higher the thread count, the nicer the sheets, though that isn't necessarily true. A good thread-count range to look for in percale and sateen sheets is between 200 and 600, but look at the quality of the fibers. Long-staple Egyptian cotton is considered some of the best in the world.
Linen: Linen is made from the flax plant and has a rougher texture than cotton, giving that rumpled, lived-in look that can be quite appealing. It's more durable than cotton, too, and gets softer with each use. The looser weave is breathable, which makes linen another great option for sweaty sleepers.
Jersey: Another popular cotton bedding type is jersey, which you may associate with college dorms because of its accessible price point and the way it feels like your favorite worn-in T-shirt (and is just as low-maintenance). Jersey fabric is knit instead of woven, often from cotton or cotton blended with synthetic fibers, giving it a soft, stretchy, cozy hand feel.
Alternative fibers: Aside from cotton, a whole crop of sheets is made from alternative fibers — some of which are naturally derived — including lyocell (which goes by the brand name Tencel), bamboo, and microfiber. Lyocell and bamboo are known to be light, crisp, and breathable, making them yet another option for warmer sleepers.
Silk: Then there's silk, the most expensive bedding out there and the most finicky to maintain. Made from the cocoons of silkworms, silk is lustrous in feel and luxurious to behold, with a beautiful drape, good temperature regulation, and a smooth, no-snag, no-frizz surface.
Color and design: Once you've chosen the type of bedding you like, you'll want to consider the look of your sheets. You can go for classic hotel whites with minimal trim, luxury sheets with piping or options to monogram, say, or a brand that offers a rainbow of colors.
Best overall cotton-percale sheets
Best (less expensive) overall cotton percale sheets
Best customizable cotton-percale sheets
Best hotel-style cotton-percale sheets
Best overall sateen sheets
Best (less expensive) sateen sheets
Best matte sateen sheets
Best overall linen sheets
Best starter linen sheets
Best colorful linen sheets
Softest linen sheets
Best organic-linen sheets
Best bamboo sheets
Best (less expensive) bamboo sheets
Best cooling bamboo sheets


Best brushed-microfiber sheets
Best (luxury) microfiber-twill sheets
Best Tencel sheets
Best jersey sheets
Best silk sheets
Silk | 19 momme charmeuse | 38 colors
Unlike satin sheets that just feel silky, sheets made of actual silk are the real deal. But like anything made of silk, they come at a price, which is why starting out with a silk pillowcase could be a good toe dip before investing in a whole set, according to Zoe Mac, the founder of Zoe Mac Design. "You don't end up with as many pillow creases, it's gentler on your skin, and your hair isn't as frizzy when you wake up," Mac says of the benefits of silk pillowcases. While she thinks most of the silk pillowcases on the market can be "really tacky," these, from Kumi Kookoon, are an exception. "They have this range of incredible colors. I use a really deep-indigo navy, and it's a dream to sleep on. They're so soft, and I really notice the difference when I wake up. My hair is not as crazy bedhead in the morning, and my skin feels better." If you like the pillowcases and want to sleep fully enveloped in silk, you can splurge on one of Kumi Kokoon's flat or fitted silk sheets, which come in over 30 colors.
Best looking sheets
Some more bedsheets we've written about
Our experts
• Leah Alexander, interior designer
• Lauren Ashley Allan, interior designer
• Kai Avent-deLeon, owner of Sincerely, Tommy
• Sasha Bikoff, interior designer
• Anishka Clarke, co-owner of Ishka Designs  
• Nancy Davilman, interior designer
• Tavia Forbes and Monet Masters, principal interior designers of Forbes + Masters
• Elizabeth Gill, interior designer
• Lindsey Coral Harper, interior designer
• Anne Hepfer, interior designer
• Kelsey Keith, Herman Miller editorial director
• Lauren Levy, former Strategist senior writer
• Zoe Mac, founder of Zoe Mac Design
• Courtney McLeod, founder and principal designer of Right Meets Left Interior Design
• Ashley Moore, interior designer
• Caitlin Murray, founder of Black Lacquer Design
• David Notis, former Strategist writer
• Ariel Okin, interior designer
• Tiffany Piotrowski, principal designer at Tiffany Leigh Design
• Clémence Polès, founder of Passerby magazine
• Margaret Rhodes, former Strategist senior editor
• Tina Rich, interior designer
• Missy Robbins, chef-owner of Lilia and Misi
• Tali Roth, interior designer
• Molly Schoneveld, interior designer
• Devin Shaffer, lead sales designer at Decorilla
• Michael Shome, visuals director at Architectural Digest
• Gail Simmons, Top Chef judge
• Vicente Wolf, interior designer
• Alessandra Wood, VP of style at Modsy
• Cara Woodhouse, interior designer
• Rebecca Zhou, co-founder and CEO of Soft Services
The Strategist is designed to surface the most useful, expert recommendations for things to buy across the vast e-commerce landscape. Some of our latest conquests include the best comforters, bath towels, mattress toppers (twice), pillows for side sleepers, weird kneeling chair, and sleep accessories. We update links when possible, but note that deals can expire and all prices are subject to change.

If you buy something through our links, New York may earn an affiliate commission.