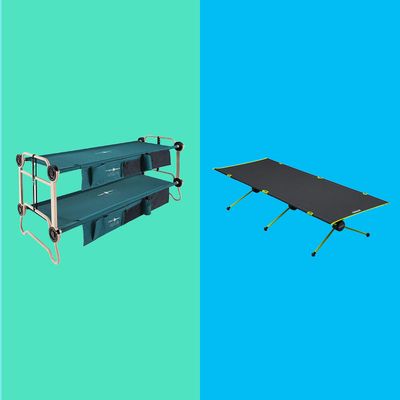 Photo-Illustration: The Strategist; Photos: Retailers
Camping cots might seem simple enough in design — after all, they're just fabric stretched over a simple frame — but, as with most outdoor gear, choosing the right cot depends on what you plan to use it for. Whether you're car camping with the family, on a river trip, sleeping in a truck bed, or even solo backpacking, there are many scenarios where a cot comes in handy. Just as with tents, choosing a suitable cot is all about making trade-offs, and prioritizing certain features will come at the cost of others. If comfort is the ultimate goal, then you're looking for a cot with a cushier bed and sturdier frame, which often means it'll be bulkier and a little harder to transport but convenient and easy to set up. On the other hand, ultralight cots are highly portable but not as durable, and because they pack down small, they're often composed of many parts, which makes assembly trickier.
Whatever type of cot you opt for, before taking it on its first adventure, "Do a test run first," says Shanti Hodges, founder of Hike It Baby and owner of Wild Utah Tours, a guiding company that leads tours in and around Zion National Park. "Set it up at home and lay on it so you really know what it feels like. You don't want to fumble around in the dark trying to set it up."
We spoke with outdoor experts to compile our recommendations, getting tips on how to discern the good from the bad and their tried-and-tested favorites. While I was once a dedicated ground sleeper, long gone are my days of waking up on a leaky air mattress. I've been a cot convert since having a child, and I find it makes the family camping experience much more enjoyable. Plus, they're useful for hosting company or as a makeshift bench for a day at the park.
"Get the dimensions right," says Liz Thomas, professional hiker, outdoor-gear reviewer, and co-founder of Treeline Review. Thomas cautions against saving a few bucks on a shorter or narrower cot that won't fit your body. "If your feet are hanging off the end, you aren't going to get a great night of sleep. Similarly, make sure your cot is wide enough for the broadest part of your body — with several inches to spare." Take note of the cot's height as you'll want something you can easily get on and off of, making sure you've got enough headroom when sitting up in your tent.
A camping cot has to fit in your tent, and you'll need to check those dimensions beforehand, especially if you plan to use more than one cot. "Many so-called four-person or six-person tents actually can't fit four or six camping cots. Get out the tape measure to find the dimensions on your camping tent," Thomas says. "Remember to add some buffer for personal space and a place to store shoes, gear, etc."
Camping cots generally range in weight from about 3 to 30 pounds. For backpacking or long-distance adventures, you'll want something lightweight and portable that you can comfortably carry for miles. For car camping and other scenarios where transport is less of an issue, the added weight might be worth the comfort and durability upgrade you'll get with a cushier, sturdier bed.
Your camping cot needs to support the weight of your body; if it can't, you might rest against the frame while lying down, making for an uncomfortable sleep. Worse, the cot might collapse altogether.
Camping-cot frames are generally constructed from steel, steel alloy, or aluminum. Generally, steel frames are more durable but heavier, while aluminum frames are more lightweight but can bend or snap more easily. For backpacking and hiking into camp, aluminum is the material of choice. For those who want a do-it-all cot that can work for car camping and having company over, a steel-framed cot can take more of a beating and will last longer.
The sleeping surface on most cots is typically polyester, nylon, or lightweight canvas. Heavier fabrics like canvas will tend to be more durable and a little more comfortable and quieter to sleep on, while lighter-weight fabrics are good for those looking to shave ounces, but they're more prone to tearing and typically aren't as warm to lay on. Mesh fabric is ideal for those looking for maximum breathability and adventures like river rafting because it dries quickly and doesn't hold on to sand.
Best overall camping cot
Size: 75 inches x 28 inches X 17 inches | Weight: 15.8 pounds | Capacity: 300 pounds  | Frame: Aluminum | Fabric: Polyester canvas
Vehicle space is invaluable when car camping, and finding a cot that doesn't skimp on comfort and only takes up a little trunk room is challenging. The Coleman Mantis is both comfy and solid, and it packs down much smaller than other cots of the same size, including our budget pick, the Coleman Trailhead II. I had a chance to field test it at the end of this camping season and was surprised by how sturdy and stable it is. It utilizes a hubbed design, where shock-corded poles snap into the spring-loaded plastic hubs and then onto the side poles to create tension in the fabric. While it looks like it might wobble, it doesn't tip, even when you're sitting on the cot's edge to lace up hiking boots, and the rounded feet are stable on uneven terrain. The fabric is tough, has well-sewn seams, and stays taut when you're lying on it.
The maze of poles makes it slightly confusing to set up the first time, but it doesn't require any force to assemble, and once you know what you're doing, it only takes a few minutes. My 9-year-old nephew was able to figure it out on his own. There are no end bars, so it's comfortable for taller people to lay on and wide enough that it has ample shoulder room for most. The cot height allows enough space to store belongings under, and it's comfortable to get on and off.
Given the weight, the Mantis is best suited for car camping and places where you won't have to carry it very far. Because of its unique design the Coleman cot is also pricier than most, so if you're someone who tosses and turns a lot in your sleep and space isn't an issue, you'd be better to go with a more classic design as the holes in the plastic hubs do have the potential to warp.
Best (less-expensive) camping cot
Size: 73 inches x 35 inches x 17 inches | Weight: 20.9 pounds | Capacity: 300 pounds | Frame: Steel | Fabric: Nylon
The Coleman Trailhead II is a relatively inexpensive cot that's sturdy and comfortable. "There are no frills with this camp cot, but the price is right. While it's not going to be the fanciest, it's more reliable than similarly priced options out there," says Thomas, who used the Coleman for car camping at a trail-themed outdoor festival when she wanted something more plush than her usual backpacking setup.
The Trailhead II has a little more width than most standard cots, and the height allows room to store backpacks and shoes underneath. It has end bars, so you'll want to ensure the dimensions fit your body, otherwise you might not have the comfiest night's rest. The steel cross-bar frame is durable and long-lasting; however, assembling the cot will prove difficult for some. Getting the fabric stretched over the end bars requires strength to force the last connection into place. But there's a trick: to get the fourth corner locked in, stand the cot on its end, place your foot on the bar, and use your body weight as leverage; it'll pop in much easier. Given the weight and slightly larger size, it's best suitable for car camping or trips where you won't have to lug it around.
Best extra-large camping cot
Size: 86 inches x 45 inches x 19.5 inches | Weight: 26 pounds | Capacity: 600 pounds | Frame: Aluminum with reinforced steel legs | Fabric: Polyester canvas
The Teton Sports Outfitter has everything we're looking for in a quality cot and consistently shows up on gear lists of reputable outdoor publications with thousands of five-star Amazon reviews to back it up. The Outfitter cot is versatile, comfortable, and user-friendly, with bigger dimensions all around that give more room to stretch out (it's even wide enough to co-sleep with kids). The added height also makes it much easier to get on and off and frees up tent space since you can store plenty of gear underneath. Many cots are a struggle to assemble, but the Teton cot is unusual in that it has a built-in lever that makes snapping the tightest end bar into place much less difficult (you won't have to muscle the last corner in like with our budget pick). The frame is a combination of aluminum and steel, so it's strong without being too hefty, making for a long-lasting cot that will see you through many camping seasons and doubles as a nice sturdy bed for overnight guests at home.
If space and weight are a factor, the Teton Sports camping cot is available in the smaller and lighter Adventurer version that features the same pivot arm.
Best low-profile camping cot
Size: 74 inches x 30 inches x 7.5 inches | Weight: 9.3 pounds | Capacity: 250 pounds | Frame: Steel | Fabric: Polyester
Hodges's camping cot of choice is the versatile ALPS Mountaineering Lightweight cot because it's low profile and not too heavy, assembly is straightforward, and it's comfortable to sleep on. "I'm happy with the setup of it, and it broke down really well," she said after recently using it on a trip to Burning Man. "It won't take up a lot of space in your car, and you can use it in a lot of different scenarios." The steel frame requires a bit of muscling together, but it's solid, and the cot material is durable. While lighter cots are better for backpacking or hike ins, the ALPS weight is still under ten pounds, so it's fairly portable. That makes it ideal for car camping, truck beds, or river trips.
Best mesh camping cot
Size: 74 inches x 28 inches x 15 inches | Weight: 10 pounds | Capacity: 250 pounds | Frame: Aluminum | Fabric: Heavy-duty polyester mesh
"I'm a huge fan of the Roll-a-Cot," says Emily Murray, merchandise buyer at a national outdoor retailer. "It packs down so small for the amount of comfort it provides, and it's great for rafting because it's waterproof and sheds sand like a boss. I appreciate that the storage bag is also a great place to stash a headlamp and water bottle overnight."
The aluminum frame is supportive yet lightweight, making this heavy-duty mesh cot a versatile choice for most situations. Setup is quick and easy — it doesn't eat up your fingers like other cots, says Murray — and packing it down is just as simple: It folds in half, rolls up, and stashes in its carrying case. "The adjustable tension makes it great for everyone," Murray says. "I like a stiff bed, so I tighten the wingnuts as far as they go. My husband prefers his bed to cradle him, so he doesn't rail his cot nearly as tight. It's really the perfect bed for everyone!"
The mesh Roll-a-Cot also comes in short, wide, and long and wide versions.
Best ultralight camping cot
Size: 72 inches x 24 inches x 4.5 inches | Weight: 2.6 pounds | Capacity: 325 pounds | Frame: Aluminum | Fabric: Ultralight polyester ripstop laminate with reflective coating
At under three pounds, the Therm-a-Rest UltraLite cot is one of the lightest camping cots on the market, making it an option for backpackers and hikers who want to shave off as many ounces from their pack as possible. I used the UltraLite on a recent camping trip in British Columbia and found it really comfortable to lay on (though the fabric is a little noisy), and the reflective coating on the underside of the material helps retain warmth throughout the night and provides a buffer from the cold ground.
The trade-off for having such a lightweight cot is that everything about it is a little more delicate; the polyester fabric is a little more prone to tearing than heavier-duty material, and the plastic feet can break. First-time assembly also proved a little challenging; there are a lot of parts to the UltraLite, and it took some muscle and finesse to get the feet hooked onto the side bars, so setting this up in the dark without practice would be a difficult task. That said, if traveling light is your top priority and you're not hard on your gear, the UltraLite is a solid bet.
The Therm-a-Rest UltraLite also comes in a large version.
Best bunk bed camping cot
Size: 79 inches x 36 inches x 28 inches | Weight: 36 pounds per cot | Capacity: 500 pounds per cot | Frame: Steel | Fabric: Polyester with PVC coating
Double-decker cots are a huge bonus when camping with kids because they free up space for storing gear, says Hodges. "Kids like bunk-bed situations in general, and when you're trying to get a lot of stuff into a tent, they keep everything contained and not totally chaotic."
With enough space to store items underneath, each cot on the double-stacked Disc-O-Bed also has side organizers for smaller items. The trade-off for being heavy and a little bulky is that the cots are comfortable and incredibly sturdy. They're also versatile: The set can be configured as single cots, bunk beds (the four stacking adapters are included), or converted to a bench for daytime lounging.
The Strategist is designed to surface the most useful, expert recommendations for things to buy across the vast e-commerce landscape. Some of our latest conquests include the best acne treatments, rolling luggage, pillows for side sleepers, natural anxiety remedies, and bath towels. We update links when possible, but note that deals can expire and all prices are subject to change.
Every editorial product is independently selected. If you buy something through our links, New York may earn an affiliate commission.