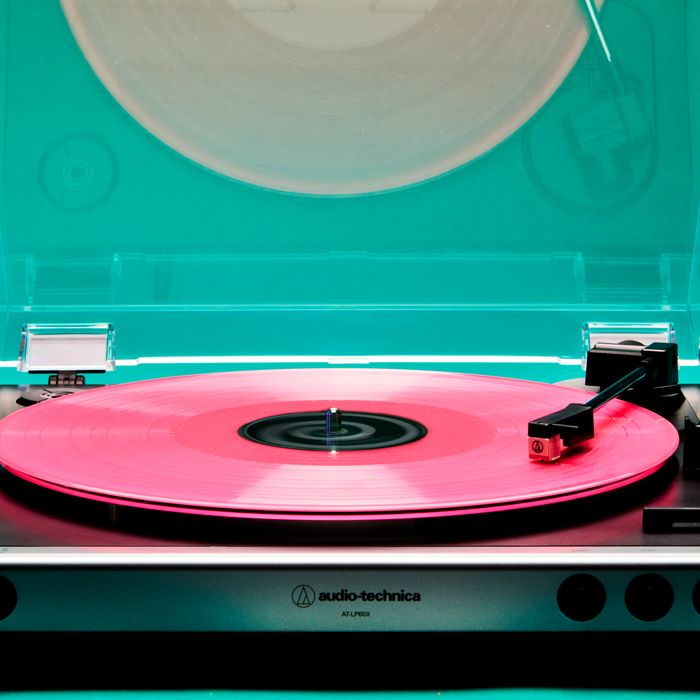 The world of vinyl records, like any niche hobby, can be intimidating to the uninitiated. But according to the experts we spoke with — including DJs, record-store owners, and vinyl geeks — all you need is a turntable with a preamp, a few records, and speakers to get started.
A top-of-the-line turntable can easily carry a thousand-dollar price tag. But the cheapest options raise instant red flags for our experts because they can damage your records. To get an entry-level turntable that won't cause damage and has good sound quality, expect to spend between $250 and $500. Our experts also recommend sticking to familiar, reputable brands.
Our experts had different recommendations for beginners, but they all advised avoiding one very popular all-in-one record player that comes in a suitcase: "Whatever you do, don't get a Crosley," says DJ Prestige of the DJ-focused website Fleamarket Funk, who says that if you're serious about your new hobby, you should look for machines with better sound quality — and with needles that won't "eventually ruin your records." In practice, that means avoiding not just a Crosley, but most if not all record players. While a record player is self-contained and will play vinyl without any other equipment, the sound quality is typically poor; a turntable and speakers (like Audioengine's A2+) will give you a purer-sounding analog home-audio system.
Most of the record players below contain a built-in preamp — more on what that means below — because our experts say that's the easiest and most straightforward setup to use. "See how that works and then if you see yourself wanting something better, you can upgrade slowly down the line," explains Mike Davis, owner of New York City's Academy Records.
A turntable produces a "phono" signal, and a preamp converts that to a "line level" signal (sometimes called AUX), which allows it to work with other audio equipment, like speakers. Without a phono preamp, your turntable won't be able to produce sound. Most modern turntables come with a built-in phono preamp, which allows you to connect directly to speakers via the line out. You can also buy a preamp separately for use with any of these models, as long as they have a phono out, and especially if you're looking to upgrade your setup; they start around $100 and go as high as $500.
In addition to connecting to external speakers via an analog cable, some turntables also come with USB outputs that allow you to connect them to your computer and archive physical records in a digital format. You can also get turntables that support Bluetooth speakers and headphones. Sullivan suggests avoiding turntables that have built-in speakers, because if played too loudly, the turntable's needle can jump and cause the record to skip. (None of the turntables we recommend have built-in speakers.)
Many novice record collectors just want to hit the play button, watch the needle drop, and hear sound fill up a room. "The most entry-level turntables should be something easy to use with not a ton of manual settings where you can really just allow yourself to enjoy learning how to play and care for records and not have to worry too much about maintenance," says Jake Sullivan, co-owner of Wooden Tooth Records in Tucson, Arizona.
Fully automatic turntables will start at the beginning of the record and then stop and lift the tonearm at the end of the record. A manual turntable gives you more control because it allows you to choose where to drop the tonearm and stylus, picking which song you want to hear.
Best overall turntable
Signal output: Phono, line | Connections: Analog, Bluetooth on upgraded model, no USB | Controls: Fully automatic
Audio-Technica's LP60X is "the bread-and-butter piece for most people. It will get the job done really, really well," says Mark Steinberg, the chief technologist and turntable specialist at B&H Photo and Video. Audio-Technica has a great reputation in the industry, and the LP60X is a perennial best seller at B&H — Steinberg says it's the first one he shows to customers who come in to browse. It has a built-in preamp as well as Bluetooth capability that will let you connect to a standard Bluetooth speaker for wireless, vinyl-powered sound. Steinberg describes it as "an entry-level serious turntable," explaining, "It's not a toy. It's not going to damage your records." If you're willing to spend about $20 more for an upgraded model, you can get one that is USB-equipped for archiving and recording.
Sullivan has been selling the LP60X in his record store for several years and says it's a great entry-level turntable that nails the fundamentals. "It's pretty foolproof, where somebody who has no experience with records can look at it, figure out how to play a record, and get good sound out of it, and they're built like tanks." In fact, it's the model he uses for the customer listening station in his store.
Note that the LP60X does not have a replaceable cartridge (the part of the turntable that holds the needle), which means you won't be able to upgrade that component if you get more serious about vinyl down the line. Steinberg also points out that it is fully automatic, which could be great if you're new to vinyl and want to make things a little easier, but purists will likely prefer the feel and ritual of manual operation.
Best upgrade turntable
Signal output: Phono, line | Connections: Analog, Bluetooth, USB | Controls: Fully manual
The Audio-Technica LP120X is modeled — not so subtly — after what is probably the most iconic turntable of all time, the discontinued Technics 1200. Steinberg says he would recommend it to any customer, but he suggests it especially to those newer to vinyl who want something a little nicer than an entry-level option and don't mind manual operation.
This turntable's key feature is the magnet-powered "direct drive," which is usually only found in professional-grade turntables or other, more expensive units. DJ Prestige explains that unlike turntables with a "belt drive" (a motor powered by replaceable belts that wear down with use and may need to be swapped depending on the type of record you play), a direct drive will rarely, if ever, need service. According to Prestige, a DJ of 20 years, it can handle records of all sizes without any fiddling under the hood. "If I were starting over right now, I'd probably get this," he says, because of the quality you get for the price. And although Davis has never used the LP120X or its very similar predecessor, the LP120, "I bought a 120 for my nephew, and he loves it. And he bought one for his friend, who loves it too."
For Steinberg, Prestige, and Davis, this turntable checks other appealing boxes, too. It comes from a reputable maker; it has a built-in preamp, so the only other thing you need to use it is a powered speaker; and its USB output allows you to connect it to your computer if you want to archive your vinyl. It's also fully manual, so you have much more control and a more tactile experience when playing records.
According to Steinberg, the LP120X has a more efficient motor than the earlier LP120, "so it needs less energy and gets up to speed faster." Audio-Technica does a great job of listening to customer feedback, Steinberg says, and the 120X reflects that, boasting a lower profile, a stronger preamp, and a power supply that's built into the charging cord instead of the turntable itself.
Best Bluetooth-enabled turntable
Signal output: Phono, line | Connections: Analog, Bluetooth, USB | Controls: Fully automatic
Former Strategist writer Jordan Bowman has used the Sony Bluetooth Stereo Turntable for over four years. According to him, it's one of the easiest turntables to use — just hit the power button in the back, place a record on the platter, hit play, and the tonearm will automatically find the record's groove. The Bluetooth connection is equally simple to use. If you don't want to think too hard about your turntable, this one is convenient and straightforward.
Music journalist Jessica Lipsky also likes Sony, though she uses an earlier model that she says is still going strong after ten years. "I've stuck with this because it's simple," she says. She's a fan of the handy dust cover, and she likes that it will be easy to plug into any system she wants to use it with in the future. Steinberg says this newer model is one of his favorites for the price because Sony is a trustworthy brand and the turntable is so straightforward.
Best minimalist turntable
Signal output: Phono, line | Connections: Analog | Controls: Fully manual
If you're looking for something a little sleeker and don't care about Bluetooth or USB output, this minimalist Music Hall turntable comes recommended by both Davis and Steinberg. The brand's roots are in the audiophile-grade market, according to Davis, who says this entry-level manual turntable from the brand is very well-regarded. "This would be a great place to start if you're looking for something more serious," Steinberg says, noting that a lot of people love Music Hall for its "stripped-down" and "bare-bones" approach. This model is powered by a belt drive, includes a built-in preamp, and can play 78 rpm records, which stopped being widely produced in the late 1950s, while most belt-driven turntables (including all the others on this list) can only handle newer 33's and 45's. "For a better turntable, that's a rarity," explains Steinberg. For someone looking to upgrade from a more automated and novice setup, the Music Hall is a great option.
Most stylish turntable
Signal output: Phono, line | Connections: Analog, Bluetooth | Controls: Fully manual
Pro-Ject "pretty much only makes turntables," says Steinberg, who notes that many of the brand's models are priced "in the thousands," making the T1 a great choice for someone who wants to dip their toes into the higher-end market. Davis and DJ Prestige agree that Pro-Ject turntables are known for their minimalist build, streamlined look, and high-quality materials, like a cartridge made by Ortofon, a company that Steinberg says has a long history of producing audiophile-approved components. The T1 comes with a built-in preamp, Bluetooth, and a manual tonearm, making it accessible to both novice users and more experienced collectors. It also has a sleek and beautiful design that would compliment any interior-design enthusiast's space.
Best classic turntable
Signal output: Phono only (no built-in preamp) | Connections: Analog | Controls: Fully manual
As all of our experts noted, the discontinued Technics 1200 is something of an icon in the turntable world. "The 1200 was the standard when it came out in the '70s, and it's been the standard ever since," says Davis. DJ Prestige is a longtime fan too. "I've been DJ-ing for 20 years, and all I've had are Technics," he says. Eilon Paz — a photographer and the author of Dust and Grooves: Adventures in Record Collecting — called the Technics 1200 a "workhorse" and told us that after it was discontinued, there was a big outcry in the record-collecting community. According to Paz, this newer model is Technics' attempt at appeasement. Like other high-end turntables, it's a manual turntable that doesn't have a built-in preamp or Bluetooth or a USB output. This is Technic's ode to a classic turntable.
• Mike Davis, owner of New York City's Academy Records
• Jessica Lipsky, music journalist
• Eilon Paz, photographer and the author of Dust and Grooves: Adventures in Record Collecting
• DJ Prestige of Fleamarket Funk
• Mark Steinberg, chief technologist and turntable specialist at B&H Photo and Video
• Jake Sullivan, co-owner of Tucson, Arizona's Wooden Tooth Records
The Strategist is designed to surface the most useful, expert recommendations for things to buy across the vast e-commerce landscape. Some of our latest conquests include the best acne treatments, rolling luggage, pillows for side sleepers, natural anxiety remedies, and bath towels. We update links when possible, but note that deals can expire and all prices are subject to change.