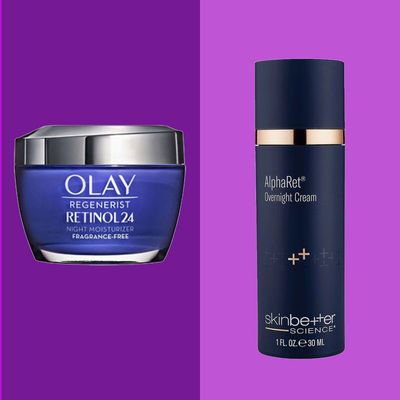 Photo-Illustration: The Strategist; Photos: Retailers
I've been writing about beauty for the past seven years, and in that time there are few ingredients talked about or recommended as much as retinol. So much so that I can count on one hand the beauty-editor friends who don't use it (me included), and for those of us who don't, we're merely waiting for the day that we do. People build their skin-care routines around their beloved tretinoin (the common prescription retinoid), swapping tips for the dreaded adjustment period (moisturizer first, for slower absorption) and reapplying sunscreen for fear of burning their soft, sun-sensitized skin. But I get it. The ingredient, a form of vitamin A, is the gold standard for addressing just about any skin-care concern — from acne to wrinkles to hyperpigmentation — so its become the go-to whenever you're looking to achieve clear, glowy skin. Retinol breaks down to retinoic acid on the skin, which acts like an antioxidant that helps reverse skin damage plus premature signs of aging and acne, says New York City–based dermatologist Dr. Whitney Bowe. "It's even been shown to increase collagen production and brighten and exfoliate skin," she says.
Unlike some retinoids that require a prescription — like tretinoin — you don't need a dermatologist to buy retinols. Yes, retinols are weaker and may take a bit more time to yield the same results, but that's not necessarily a bad thing. And even though retinols are weaker than prescription retinoids, it can still be tricky to find the right one for your skin, especially if it's hypersensitive, but "contrary to some beliefs, retinol is perfectly safe to use on all skin types," says Dr. Hope Mitchell, founder of Mitchell Dermatology in Perrysburg, Ohio. It's true that it can exacerbate conditions like eczema if you use the wrong kind (a.k.a. one that's much too harsh), and pretty much all of our experts agree you shouldn't use it if you're pregnant or breastfeeding, but other than that, Mitchell thinks that if you "start low and integrate retinols slowly into your skin-care regimen," you should be in the clear. If you need help timing it out, I'll tell you what Dr. Michelle Henry once said to me. "Pick two shows you watch on different days and make those the days you use retinol." And if you tolerate that well, you can gradually increase the frequency.
I personally haven't tested these because I'm prepping to get on tretinoin soon and don't want to complicate things, but I've spoken to ten dermatologists and fellow beauty writers about the best options on the market. Here are their suggestions.
Retinols come in different strengths. The higher the concentration, the more potent it is and thus the more dramatic the results. You don't want to go all in when you introduce the ingredient to your routine, as retinol is known for having an adjustment period, when skin is irritated, peeling, and sensitive. The general recommendation is to go low and slow — using the mildest formulation necessary to reduce the chances of irritation and introducing it to your routine over time. Once your skin is adjusted, you can work up to stronger formulations, but you should pay close attention to how your skin reacts to the ingredient. This information isn't always readily available in a formulation, but we've noted when it is.
As mentioned above, prescription retinoids tend to be vitamin A dominant, but many over-the-counter retinols incorporate other ingredients to augment the effectiveness of the retinol (think added exfoliants, like glycolic or lactic acid) or contain soothing, hydrating ingredients to help combat any sensitivity, dryness, or irritation, like glycerin or hyaluronic acid.
Retinols can get pricey, but there are plenty of affordable options that work well too. We've noted how much you're getting and the cost per ounce, so you can pick the best option for your budget.
Best overall retinol
Active ingredients: Lactic acid, glycolic acid, peptides, ceramides, niacinamide, squalane, vitamin C, and vitamin E | Price: 1 ounce (Approx. $130/ounce)
I've been hearing about SkinBetter AlphaRet for years because it's so well-known for being effective yet gentle. The formula combines lactic acid and a retinoid to smooth wrinkles without irritation. And despite being the priciest option on our list, it's backed up by multiple dermatologists. As Dr. Ellen Marmur, associate clinical professor at Mount Sinai's Department of Dermatology, explains, "sensitive skin doesn't love retinols," but this is specifically formulated to be tolerated by pretty much all types of skin. Dr. Elyse Love, a New York City–based dermatologist, says it's actually "medical-grade" yet available without a prescription. "I rarely have any patients say that they can't tolerate a retinoid, so I like recommending it for people with dry, sensitive, or rosacea type skin," adds Dr. DiAnne Davis, a cosmetic dermatologist in Dallas. AlphaRet is incredibly lightweight, and has a silky feel. It immediately sinks into the skin, spreads nicely and leaves nothing behind. It layers nicely above or beneath a moisturizer and has a slightly floral scent that's pleasant but not at all overwhelming or irritating.
Best (less expensive) overall retinol
Active ingredients: Shea butter, glycolic acid, and squalane | Price: 1 ounce (Approx. $20/ounce)
I'm the first to admit that the Skinbetter, despite its efficacy, is pricy, so this RoC night cream is a good alternative. The cream texture makes it a bit more moisturizing than a serum, and it also combines the retinol with oxygen and antioxidants. It's also cosigned by two of our dermatologists who like that it's mild enough to use everyday. And even though it's great for regular use, Dr. Karen Chinonso Kaghadermatologist and Harvard cosmetic and laser fellow, suggests introducing it slowly into your routine (like other retinols) because vitamin A can cause a lot of irritation at first.
Best retinol for beginners
Retinol concentration: 0.3 percent | Active ingredients: Shea butter, glycolic acid, and squalane | Price: 1 ounce (Approx. $20/ounce)
If you've never used a retinol before, consider easing into it — because, again, retinol can be very drying and you won't know how your skin will react at first. This formula from Skinceuticals has a a low-but-still-effective concentration of 0.3 percent and is a good place to start. It's comes recommended by Rio by way of dermatologist Dr. Shereene Idriss, who says she's seen impressive amounts of brightening, tightening and refining in her clients' skin after just a few month's use. In addition to a low concentration retinol it also contains soothing ingredients like chamomile-derived bisabolol and boswellia serrata, which work together to help soothe the skin.
Best (less expensive) retinol for beginners
Active ingredients: Vitamin B3, niacinamide | Price: 1.7 ounces (Approx. $22/ounce)
Another great retinol for beginners comes recommended by Dr. Corey L. Hartman, founder and medical director for Skin Wellness Dermatology. He suggests this Olay option, which is actually a strong moisturizer with retinol in it. Hartman says it's been "a crowd favorite for years," probably because of its "inclusion of niacinamide and vitamin B3, which helps to calm inflammation that can speed aging, and provides an extra antioxidant glow to the skin." It's also a favorite of Jennifer Hudson, who likes that it's an easy all-in-one product and cuts her routine down.
Best retinol for longtime users
Retinol concentration: 0.5 percent | Active ingredients: Bisabolol, niacinamide | Price: 1 ounce (Approx. $78/ounce)
If you've been using retinol for years and want to take it up a notch, this one from SkinMedica could be a good option. SkinMedica is known for their highly efficacious products, which are so good they're often found in dermatologist and esthetician offices. As Dr. Elizabeth Bahar Houshmand, owner of Dallas-based practice Houshmand Dermatology, explains, the 0.5 percent of retinol in this product is one of the strongest concentrations you'll be able to find over the counter. She likes this formula because it has "bisabolol, which soothes the complexion to calm irritation and inflammation, and antioxidants to neutralize free radicals and prevent signs of aging." She adds that the antioxidants will also help prevent "irritation, flaking, and redness" that infamously come with using a retinol.
Best retinols for oily and acne-prone skin
Retinol concentration: 0.1 percent | Price: 1 ounces (Approx. $26/ounce)
The dermatologist consensus for acne-obliterating retinol is Differin's adapalene gel, which was once a behind-the-counter ingredient. It became an over-the-counter product a few years ago, and it might still be the best kept acne-fighting secret. "It treats acne deep in the pores and prevents new acne from forming," explains Davis. Because it is relatively strong — it's prescription-strength, after all — Dr. Oma Agbai, assistant clinical professor of dermatology at UC Davis, who considers herself an "adapalene gel enthusiast," suggests easing into using the product, as with any retinoid or retinol. "The key is to start with one to two times weekly application if you have sensitive skin and work up to every other night or every night if your skin does not become excessively dry," she says. Because most people using this have easily irritated skin, Marmur notes that this Differin gel is also "oil-free and fragrance-free, so aside from the retinoid, it doesn't have any other irritants, which helps oily skin."
Best retinol for combination skin
Retinol concentration: 2.5 percent | Other actives: Peptides, bakuchiol | Price: 1 ounce (Approx. $80/ounce)
Folks with combination skin, who are dry in some parts and oily in others, would do well with a serum like this one from Clinical Skin, which is lightweight enough that you can layer stuff on top of it but also contains moisturizing ingredients like ceramides and squalane. Both are generally well-tolerated, so you won't have to worry about aggravating your skin. I like that this also contains bakuchiol, which is often referred to as "nature's retinol," and supercharges retinol's results without making skin more sensitive.
Best (less expensive) retinol for combination skin
Active ingredients: Ceramides, licorice root, niacinamide | Price: 1 ounce (Approx. $12/ounce)
For a less-expensive option, there's CeraVe's retinol resurfacing serum, which we've written about before. Like the Clinical Skin, it contains ceramides to help maintain a healthy skin barrier, which Lal says makes it a good option for anyone, even those "with the most sensitive skin." The retinol is also encapsulated and releases into the skin over time, which lets the skin absorb a bit at a time. This helps to cut down on irritation while still getting the benefits of the active ingredient.
Best retinol for sensitive skin
Active ingredients: 0.5 percent | Other ingredients: Bakuchiol | Price: 1 ounce (Approx. $22/ounce)
We already mentioned that the SkinBetter retinol is great for sensitive skin, but as a budget-friendly alternative, this Versed serum also gets the job done (and is available at Target). "This nongreasy gem is a creamy, gentle retinol serum specifically formulated for sensitive skin types and first-time retinol users," says Mitchell. "The duo of microencapsulated retinol and natural retinol alternatives, arophira and bakuchiol, deliver the best of all worlds." Because of this unique formula, it promises to keep your pores clear, even your skin tone, and boost collagen all in one — and for only 20 bucks. As an added bonus, it's also paraben-free, vegan, synthetic fragrance-free, vegan, and cruelty-free.
Best retinol for dry skin
Retinol concentration: 0.1 percent | Other actives: Peptides, vitamin E, thermal spring water | Price: 1 ounce (Approx. $70/ounce)
Similar to La Roche Posay, French pharmacy brand Avéne also formulates their products with thermal spring water that apparently moisturizes and hydrates skin. Whether it's the water or the other moisturizing ingredients, it's an actually good option for dry skin. Houshmand agrees. According to her, the concentration and combination of ingredients, including the thermal spring water that Avène is known for, won't further parch already dry skin. On top of its moisturizing properties, "it has pro-elastin peptides that help with fine lines to firm and has vitamin E which helps with free-radical damage and protects against damaging sun rays," she says. And it will even help "with dark spots and skin tone" over time.
Best retinol for dark spots
Active ingredients: Endosomes | Price: 1 ounce (Approx. $109/ounce)
If you're hoping to lighten dark spots using retinol, this one from Neova, also contains DNA repair enzymes, which naturally occur in the skin. These enzymes act as natural protection against sun damage, but diminish in our skin as we age. Neova helps to replenish that topically and fortify skin. "It's great for sun-damaged skin," says Houshmand, who recommends this to "patients of all ages and for those with more sensitive skin types." And because it's a serum, she adds that it is "smooth and absorbs into the skin."
Best retinol for the neck
Active ingredients: Peptides, amino acids | Price: 1 ounce (Approx. $25/ounce)
Because the neck is a very sensitive area, you have to be careful with the products you use on it. Bowe suggests using a neck-specific formula, and she likes this "really hydrating" No. 7 serum. She further explains that it "contains a whole blend of ingredients, including calcium amino acids and peptides that help with fragile, delicate, crepey skin," and it is gentle. "You can imagine that if it's gentle enough to use on the neck, which is so sensitive, it's really great for people with very dry skin," she adds.
Some more retinol products we've written about
• Dr. Oma Agbai, assistant clinical professor of dermatology at UC Davis
• Dr. Whitney Bowe, dermatologist
• Dr. Karen Chinonso Kagha, dermatologist
• Dr. Britt Craiglow, dermatologist
• Dr. Georgina Ferzli of Sadick Dermatology
• Dr. Elizabeth Bahar Houshmand, owner of Houshmand Dermatology
• Dr. Karan Lal, dermatologist
• Dr. Elyse Love, dermatologist
• Dr. Corey L. Hartman, founder and medical director for Skin Wellness Dermatology
• Dr. Ellen Marmur, associate clinical professor at Mount Sinai's Department of Dermatology
• Dr. Hope Mitchell, founder of Mitchell Dermatology
The Strategist is designed to surface the most useful, expert recommendations for things to buy across the vast e-commerce landscape. Some of our latest conquests include the best women's jeans, rolling luggage, pillows for side sleepers, ultra-flattering pants, and bath towels. We update links when possible, but note that deals can expire and all prices are subject to change.
Every editorial product is independently selected. If you buy something through our links, New York may earn an affiliate commission.