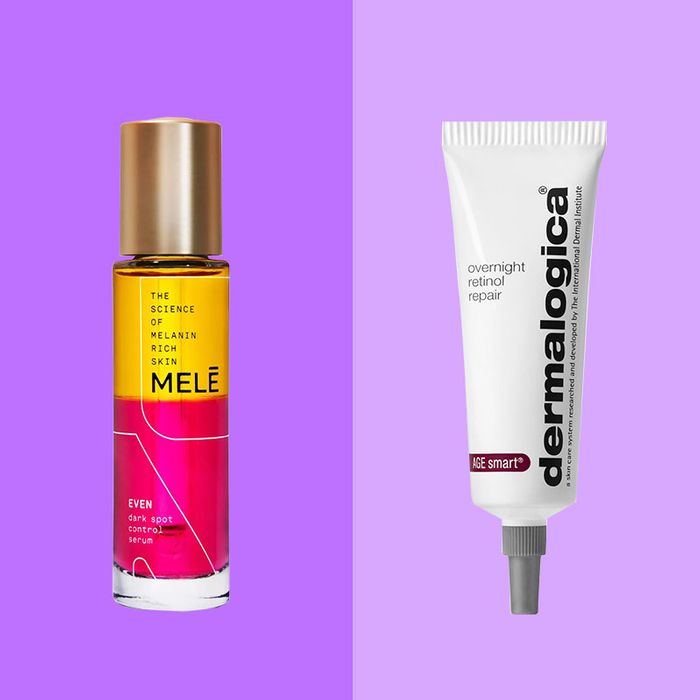 Photo-Illustration: retailers
The skin-care-obsessed already know this, but retinol is a form of vitamin A that's found in many anti-aging products, and skin-care experts consider it the gold standard for combating wrinkles and fighting acne. Retinol breaks down into retinoic acid on the skin, which acts like an antioxidant that helps reverse skin damage plus premature signs of aging and acne, says New York City–based dermatologist Dr. Whitney Bowe. "It's even been shown to increase collagen production, and brighten and exfoliate skin," she says.
And you don't need a dermatologist to get the stuff. Retinols are a type of vitamin A called retinoids, and many retinoids — like Retin-A — do require a prescription. Retinols, on the other hand, are a weaker form of vitamin A (which means they can be sold over the counter). And "contrary to some beliefs, retinol is perfectly safe to use on all skin types," says Dr. Hope Mitchell, founder of Mitchell Dermatology in Perrysburg, Ohio. It's true that it can exacerbate conditions like eczema if you use the wrong kind (a.k.a. one that's much too harsh), and pretty much all of our experts agree you shouldn't use it if you're pregnant or breastfeeding, but other than that, Mitchell thinks that if you "start low and integrate retinols slowly into your skin-care regimen," you should be in the clear.
Even though retinols are weaker than prescription retinoids, it can still be tricky to find the right one for your skin, especially if it's hypersensitive. To find the formulas that are effective without causing redness or peeling, we talked to nine dermatologists about the best over-the-counter retinol products for every skin type. Here are there suggestions.
Best overall retinol
This is the most expensive retinol on our list — and definitely a splurge — but it came recommended by four dermatologists we spoke to, all of whom say it's completely worth the price, especially if you're trying to target fine lines and wrinkles or have sensitive skin. As Dr. Ellen Marmur, associate clinical professor at Mount Sinai's Department of Dermatology, explains, "sensitive skin doesn't love retinols," but this is specifically formulated to be tolerated by pretty much all types of skin. Dr. Elyse Love, a New York City–based dermatologist, says it's actually "medical grade," yet available without a prescription. "I rarely have any patients say that they can't tolerate this retinoid so I like recommending it for people with dry, sensitive, or rosacea type skin," adds Dr. DiAnne Davis, a cosmetic dermatologist in Dallas. Its unique combination of retinoid and lactic acid "reduces the appearance of wrinkles," Davis says, and it also "contains antioxidants and provides moisture to counteract dryness."
Best (less expensive) overall retinols
For a much more affordable option, two dermatologists like this CeraVe retinol serum, which they say is just as good for sensitive skin at a sixth of the price. Love thinks it's a great over-the-counter option for those with eczema-prone skin, and Mitchell says "It's a gentle yet effective daily retinol serum that provides a variety of anti-aging benefits." Thanks to its "noncomedogenic blended formulation with ceramides, niacinamide, and hyaluronic acid," this product will actually reduce "the appearance of fine lines and wrinkles as it improves your skin's texture and radiation," Mitchell says. It also boasts a unique technology called "MultiVesicular Emulsion," which claims to "slowly release ceramides throughout the day, providing great hydration for the skin," so your skin won't be quite as dry after using it.
Another budget-friendly pick that two of our dermatologists love is this RoC night cream. It's a "retinol that combines the retinoid with oxygen and antioxidants to make it safe and mild enough for everyday use," says Marmur. It's formulated into a cream, unlike the serum consistency of the CeraVe choice, so it's a bit richer in texture. And even though it's great for regular use, Dr. Karen Chinonso Kagha, dermatologist and Harvard cosmetic and laser fellow, suggests introducing it slowly into your routine (like other retinols) because vitamin A can cause a lot of irritation at first.
Best retinol for beginners
If you've never used a retinol before, consider easing into it — because again, retinol can be very drying and you won't know how your skin will react at first. A good first retinol to try is this Neutrogena cream recommended by dermatologist Dr. Britt Craiglow. She explains that this retinol product is "formulated along with glycerin and hyaluronic acid, which hydrates the skin and helps to increase tolerability," so you'll be able to graduate to a stronger, potentially more effective retinol down the line.
Best (slightly less expensive) retinol for beginners
Another great retinol for beginners comes recommended by Dr. Corey L. Hartman, founder and medical director for Skin Wellness Dermatology. He suggests this Olay option, which is actually a strong moisturizer with retinol in it. Hartman says it's been "a crowd favorite for years," probably because of its "inclusion of niacinamide and vitamin B3, which helps to calm inflammation that can speed aging, and provides an extra antioxidant glow to the skin." It's also a favorite of Jennifer Hudson, who likes that it's an easy all-in-one product and cuts her routine down.
Best retinol for longtime users
For those who have been regularly using retinol for some time, your skin can most likely tolerate a stronger product, which is why you might consider investing in a higher-end option. As Dr. Elizabeth Bahar Houshmand, owner of Dallas-based practice Houshmand Dermatology, explains, the 0.5 percent of retinol in this product is one of the strongest concentrations you'll be able to find over the counter. She likes this formula because it has "bisabolol, which soothes the complexion to calm irritation and inflammation, and antioxidants to neutralize free radicals and prevent signs of aging." She adds that the antioxidants will also help prevent "irritation, flaking, and redness" that infamously come with using a retinol.
Best (less expensive) retinol for longtime users