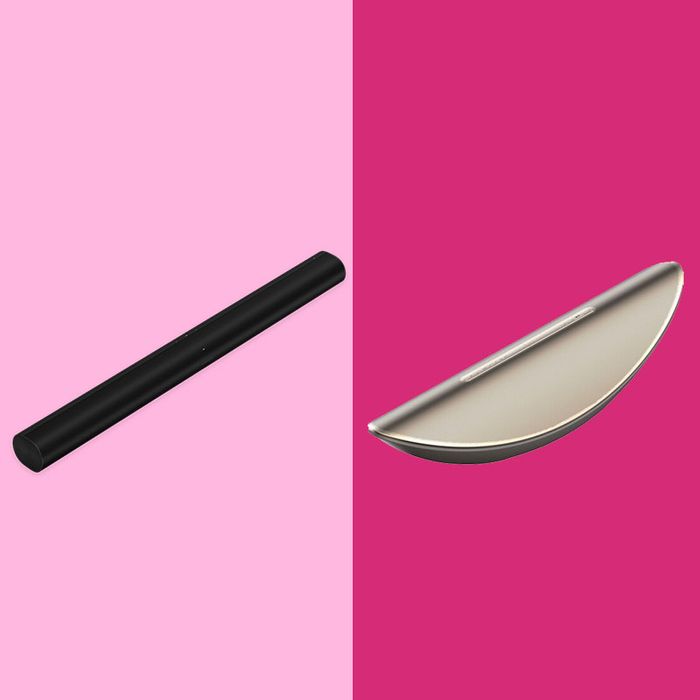 Photo-Illustration: retailers
As TVs get thinner and thinner, there is one big downside: There's no room left for good speakers. One solution is to add an audio system, but that involves a lot of extra money and a bunch of wires to try to keep from tangling. The easier solution is a soundbar. On their own, these sleek devices don't provide quite the same immersive sound as full surround-sound systems, but they do give you an excellent — and much simpler to install — approximation. To help you find the best soundbar for your setup and budget (along with a few multi-speaker options), we spoke with 11 sound engineers, recording industry professionals, and audiophiles. We also tested out a few ourselves. Here are the favorites.
Best overall soundbar
Seven of our experts recommend Sonos's smart soundbars, and 3 specifically mentioned the Arc. "If you're looking for something cost-effective and plug-and-play, the Sonos Arc is great for those who want a minimalist footprint with a convenient all-in-one audio solution," says Justin Schwartz, owner of Sage AV in New York City. "The Arc easily connects to any TV to improve the acoustics for all your shows and movies, in addition to providing all the bells and whistles of a stand-alone smart speaker for the times you just want to listen to music." Plus, the Arc has "the benefit of being part of the Sonos ecosystem," says Mark Feinberg, founder of Home Theater Advisors in New York City. That means you can add additional Sonos speakers or a subwoofer and group speakers in various rooms to play music seamlessly throughout your home. And the quality is excellent. Our colleague Chris Welch at the Verge says, when paired with a subwoofer, "the Arc delivered sound as immersive as the multiple-speaker Atmos system. If you didn't know the Arc was bouncing sound off the ceiling and rear wall, you would easily believe that there were speakers there."
Best overall (less expensive) soundbars
After testing the latest Sonos Beam Gen 2 for a few weeks, we found it to be a subtle rework of what made the original so great. It still has the same compact size and similar internal drivers, but it now supports Dolby Atmos audio. It also features updated design elements like touch controls and small perforated holes along the front, instead the original Sonos Beam's fabric cover. If you're already part of the Sonos ecosystem and you have a small space or small television, the Beam Gen 2 feels like an obvious fit. The setup process is simple enough: Download the Sonos app and connect the Beam Gen 2; this takes about two minutes. It can connect to your other Sonos devices and has smart-speaker capabilities, but most important, it sounds wonderful. While watching Lord of the Rings, we were drawn to how Gollum's voice, for instance, seemed to bounce around the room, creating a more engaging experience even while swords clashed or characters scurried along a huge battlefield. The Sonos Beam Gen 2 is small but has a way of engulfing your room with sound instead of blasting you away with noise, and it creates an expansive sound that comes alive during really intense scenes. Watching The Fast and the Furious, you will feel the car's engines rev, and when Tom Cruise punches a villain in Mission: Impossible, you won't be able to ignore that loud thud. The Sonos also has a speech-enhancement feature if you have a problem catching dialogue.
Two of our experts recommend the first-generation Beam, and Welch likes it as an alternative to the Arc for setups that are tight on space. Although it won't get you quite the same depth of sound as the Arc or the second-generation Beam, Feinberg says the Beam "sounds very good and really serves a purpose for those smaller or budget-oriented needs." The first-gen Beam is about $50 cheaper, and Matt Mahon, an audiovisual-and-acoustics consultant at LSTN, calls it his "personal pick." Along with the sound quality, he likes that the speaker can be connected to your phone over Wi-Fi, rather than Bluetooth; that way, when you want to play music, you don't have to worry about the signal dropping because you walked too far from the speaker. Plus, he says, "it's dead easy to add a Sonos subwoofer and satellite surrounds."
Best budget soundbar
Sound engineer Nicholas Radina is frequently asked what he uses in his personal life. Eschewing pro equipment, "I strive to keep it simple at home and gravitate toward brands I use often," he says. "A brand I trust day in and day out is Yamaha." He loves the YAS series of soundbars, particularly the YAS-109 as a "great, affordable entry." Or for a little more money, the YAS-209 adds an "easy-to-deploy subwoofer" for those looking for a slightly fuller sound, he says. (His tip: "Put the sub in a corner to take advantage of the 'boundary effect,' which will give a nice, free loudness bump to your low end without needing more power or larger enclosure.")
Most innovative soundbar system
AIX Records founder and author Mark Waldrep's favorite soundbar is JBL's Bar 9.1. It comes with a dedicated wireless subwoofer and two satellite speakers that carry "discrete surround channels into your listening room," he says. Those satellite speakers are also interesting because they are completely wireless. Attach them to the soundbar to charge, and when it's time to watch a movie or a football game, you can set them up behind you, where they'll last for up to ten hours. "It delivers theater-quality sound," Waldrep says.
Best two-channel soundbar systems
Two-channel systems include a subwoofer, which adds deep bass that the smaller soundbar just can't handle. These are good for situations where, instead of the entire dynamic range of a full surround setup, you just want Call of Duty or Terminator to feel that much more alive. "If all you need is a small speaker to improve your overall sound quality beyond your television's built-in speakers but don't want to spend a lot, a basic unit from Monoprice or Vizio can be purchased for less than $150," Waldrep says. He recommends the Monoprice SB-200SW bar, which connects via HDMI, Bluetooth, and optical and coaxial inputs. It also includes a separate 30-watt wireless subwoofer.
Strategist tech writer Jordan Bowman bought this Samsung soundbar after realizing that his TV speakers just weren't cutting it anymore. ("I was watching Lord of the Rings and the famous scene where Gandalf yells, 'You shall not pass,' barely seemed to resonate," he says. "God forbid a character in Game of Thrones decided to whisper. I felt like I had the television on mute.") He likes the Samsung for its simple setup, affordable price tag, and ability to bolster audio and create an immersive sound, whether he is gaming or watching TV. It's more expensive than the Monoprice option above, but you're getting a higher-end experience, with clearer sound and the confidence that comes with buying from a major brand.