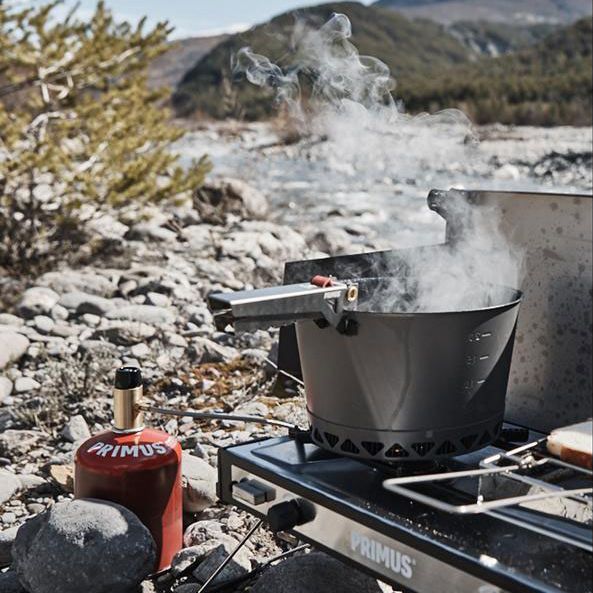 With a dependable portable grill, you can cook up a feast just about anywhere, whether you're camping at the top of a mountain or just out on your tiny apartment's balcony (if you're specifically looking for grills for the latter, we've written about several before). But you shouldn't be cooking on the mountaintop with the same grill you'd fire up on your terrace, and finding the right grill for an outdoor excursion can be tricky, as the market includes everything from compact camp stoves to mid-size charcoal grills to 50-plus-pound units that can fold to fit into the trunk of your car.
Design varies widely when it comes to portable grills, with many of the smallest, most compact units offering a fine burner or two but no actual grilling surface. Larger ones can have grates to cook burgers, steaks, or veggies on but of course are more challenging to lug around. Some grills have simple push-button ignition systems and precise temperature controls, while others require a match to get the propane or charcoal burning.
Over the years, I've probably tried a dozen portable grills (in addition to many smaller, single-burner camp stoves that I am not including on this list, as a camp stove is really just a burner, not a grill you can cook on). Of all the portable grills I've used, my five favorites for a variety of occasions are below, each of which stands out for how well it delivers heat and char, how rugged and reliable it is, and, of course, its easy portability.
For camping
At just over nine pounds, this is almost light enough to bring along on day hikes, though its size makes it a bit too large for anything but the most capacious hiking backpack. Every time I car camp, though, this stove always comes with me, because I've yet to find a smaller grill for basic cooking that's as capable as this. It features two burners, each of which cranks out heat up to 7,000 BTUs (the same heat output as a standard burner on a kitchen stove, which is plenty for grilling, boiling water, and so on). The burners are shielded from the breeze by three windscreens, which help concentrate all that heat. A Piezo ignition system makes lighting up the grill literally as easy as the push of a button, though you'll need to purchase a standard propane cylinder to use it (a 16-ounce cylinder, like this $4 can from the Home Depot, will allow for more than an hour of constant cooking). The Tupike's biggest drawback is its lack of a true grilling surface; it comes with a little griddle plate, but I suggest bringing your own griddle or pan (ideally cast-iron) for the best grilling experience.
For tailgating
Before I got my Tupike, my Coleman Roadtrip X-Cursion was my go-to grill for car camping. When connected to a propane cylinder (again, sold separately) and with both burners wide open, this thing is just as capable as any full-sized, built-in gas grill. It cranks out 20,000 BTUs and has 285 square inches of grilling space, which makes it ideal when cooking for a lot of people. The X-Cursion has thick porcelain-coated, cast-iron grates that heat evenly and leave perfect sear marks, and features a side table you can use as a prep area or a place to keep your beer at arm's length. But note that, while it does fold down and fit into a car trunk or truck bed, the Roadtrip X-Cursion is big and heavy. But for anyone who regularly tailgates, it's a great choice.
For a day at the beach
If you're heading to the beach (or lake or other public swimming hole of choice), you might not be able to use propane-fueled grills like the above. That's why, if grilling is permitted, the Weber Jumbo Joe Charcoal Grill is a safe bet. Its design is elegantly simple — much like that of its little brother, the smaller Smokey Joe (which the Strategist previously called the best grill to bring to your local park). The Jumbo is an 18-inch-wide, more-or-less spherical grill with a grate large enough to fit eight burgers, but it's small enough to tuck into the trunk of pretty much any car. It has airflow dampers (a.k.a. heat controls) on the bottom of the basin and the top of the lid, and an ash catcher under the bowl to collect soot and grease. The handle on its lid is made of thick plastic and stays cool to the touch, making it safe and easy to pop the top off for flipping your food. At $70, it is well worth the price because it will last for years — even if stored outside.
For open-fire cooking
Cooking over an open wood fire is the purest way to grill, but it's also the most difficult, due to the constant challenge that is controlling heat. But once you have your fire-temperature-management skills locked down (using lots of dry, slender pieces of chopped wood will help), all you really need is a big ol' grate you can pop over the fire. And when it comes to grates, they don't get bigger (or ol'er) than the extra-large Texsport Heavy Duty Over Fire Camp Grill (it comes in smaller sizes that cost less, but I find this size the most user-friendly). Made from rugged welded steel, it can handle the hottest fires, and it's sturdy enough to support a heavy Dutch oven or a huge stewpot. My preferred size has enough room for racks of ribs, multiple Texas-sized steaks, or a whole lot of kabob skewers. The only complaint I have about the Texsport grill is that its legs are too short, which keeps it too close to the fire if you set it up on the ground. But putting the legs on some large, stable rocks will help prop it up higher.
For fine dining in any open space