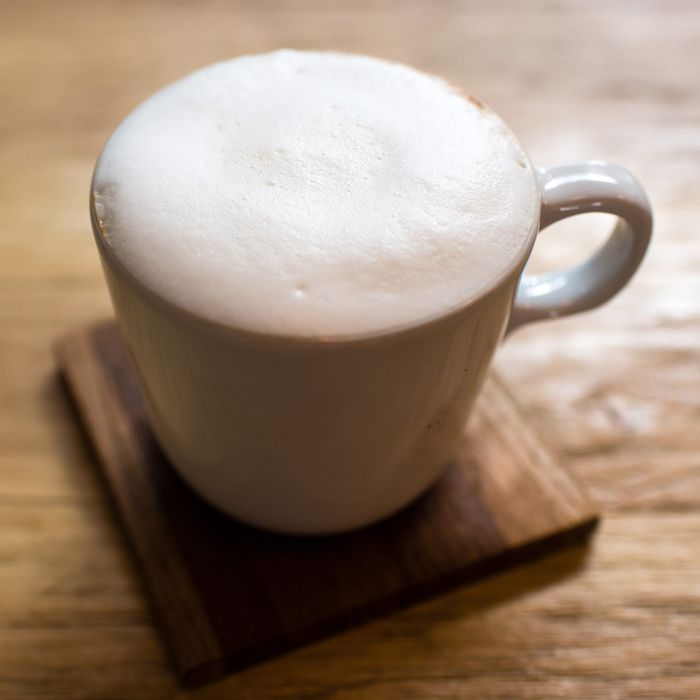 Photo: eriyalim/Getty Images/iStockphoto
Here at the Strategist, we like to think of ourselves as crazy (in the good way) about the stuff we buy, but as much as we'd like to, we can't try everything. Which is why we have People's Choice in which we find the best-reviewed products and single out the most convincing ones. (You can learn more about our rating system and how we pick each item here.)
And while we've written about lots of ways to get the perfect cup of coffee — including the best coffee grinders, the best coffee makers, and the best coffee beans  — here we've rounded up the best milk frothers, as praised by the most enthusiastic reviewers on Amazon.
Best-rated milk frother
This easy-to-clean, easy-to-use milk frother has many reviewers who use it daily, and the general consensus among these happy customers is this frother is powerful. One reviewer underestimated it based on how delicate it looks, but admits, "Boy, was I wrong … When I tried it out, I had foam everywhere! It's really powerful even if it doesn't look like it." Many reviewers say it is strong enough to blend their bulletproof coffee as well. "I researched a lot of frothers before choosing this one — primarily because it promised power," one reviewer writes. "It has definitely lived up to the promise. Nothing really compares to making bulletproof coffee in a blender, but this is as good as it gets without having to wash an entire blender for one cup of coffee." In addition to fancy coffee beverages, users have found it easily mixes other powdered supplements and medications into drinks. "I use it to mix capsule medication into fruit juice," one user reports. "The PowerLix does an excellent job blending the medication and leaves little to no residue at the bottom of the cup." Not only does it have multiple uses, but fans of this frother also love the price point. "I am a dairy-free household…and until this bad boy, I was paying out the yinyang for dairy alternative frothed lattes," one reviewer described. "STEP ASIDE STARBUCKS, and tuck that fiver back in your purse. This thing is the bees knees." (Though if you still miss the coffee shop experience this user recommends having your "husband call your name out really quietly, while running a vacuum and just for kicks have him spell the name wrong.")
Best-rated (less-expensive) milk frother
As one reviewer puts it, "This frother has blown the others out of the milk." Reviewers love the price point, and the repeated savings that come with being able to make fancy coffee drinks at home. "No need to spend a small fortune drinking lattes from overpriced venues," one reviewer writes. "A bit of warmed milk, half and half, cream or dairy substitute and I am my own successful barista." An actual former barista thinks this one "makes the best alternative milk." In addition to lattes and bulletproof coffee, this frother "whips up a wonderful meringue," according to one reviewer, and can even blend protein shakes. Multiple users warn to froth in a larger container, like one who says,"This is SO powerful it will cyclone the drink all over your kitchen if you aren't careful," according to one reviewer.
And now for some micro-picks for every type of milk frother you might be looking for.
Best milk frother for non-dairy milk
"After months and months of trying various frothers, this is only one that delivered a truly creamy foam with almond milk," according to one reviewer, and plenty of reviewers seem to agree with this assessment, noting it works well with non-dairy milk alternatives. "I use non-dairy milk alternatives and it works on them," one reviewer writes.  "It froths my non-dairy milk and warms it to perfection. Spend the money and you will be pleased." Reviewers also love the hot and cold function. "The aeroccino can be used for hot or cold froth," as one reviewer simply puts it. "It's great for hot drinks like lattes or cappuccinos and also for Nespresso iced coffee." Many reviews mention the price tag, but according to one reviewer who "originally bought a cheaper model that broke after a week of use," this is worth the money.
Best multifunctional milk frother
Dozens of users are impressed with the machine's various settings, which makes it more flexible than most milk frothers. "I truly had no idea what I had been missing out on with my other milk frother just on temperature alone," one reviewer writes. "The ability to control the temperature makes for a superior coffee experience. I can get the milk hotter and create a TON of foam with the frothing disc." In addition to coffee, reviewers rave about the hot chocolate this frother can churn out. "What makes this fantastic is that it can be used for other beverages like hot cocoa," one reviewer raves. "I just add the non-ridged disk to the bottom, add milk or water to the pitcher, add a packet of cocoa mix, and then I have perfect hot chocolate." Other users have explored even further and found that this machine also works well for warming up breast milk. A "normal mama who was looking for a way to warm some milk for her child" says one, who adds, "My friends, this machine will save your sanity and make formula mixing so fast and so easy, you'll be annoyed that you ever wasted time doing it any other way."
Best manual milk frother
This easy-to-use manual frother is described as such many reviewers."It's so awesome to not have to worry about batteries and still get excellent frothy milk for my coffee," one reviewer writes. "No need for any fancy frothers —  pump this thing a few times and you get the same result." Another reviewer, who lives at high altitude, explains, "Electric frothers don't reach a high enough temperature — we've tried them all," but this one "works really, really well." Many reviews mentioned that they originally had the frother that comes with the Ninja Coffee Bar, and replaced it with this version after theirs broke, noting this one is more sturdy. "This one is made of a thicker glass that is much more durable, and it has a rubber strap around the middle so you can grab it straight out of the microwave." Several who tried to replace it with a stainless steel version keep running back to this glass option as well. "I replaced it with a stainless frother and was so disappointed," one reviewer writes. "The milk never got as frothy and nice as in this model. I ended up sending that stainless one to the donation pile and bought this one again."
Best stainless steel milk frother
Just like this reviewer, many users are "so impressed with the froth this little pitcher makes." One reviewer described it as " thick enough to eat with a spoon," and another said after leaving their matcha latte untouched for a couple of hours the froth was still as "thick and stable as ever." Despite the extra elbow grease of this being a manual frother, dozens of reviewers prefer it to the electric options because it "does not have any electronic parts that can easily break or burn out and it works beautifully," according to one reviewer. Another user who admits they also own "electric frothers, cheap frothers and expensive" versions still finds this to be the best. "This stainless steel frother leaves that one in the dust." one reviewer writes, refrenching their electric version. "The milk is frothed to a point where it is 2 to 3 times the original volume in just a few seconds." As one reviewer puts it the manual frother also gives you "control over how thick you like it."
Best handheld milk frother
Reviewers are consistently impressed by how long this handheld milk frother has lasted them. "Stronger motor than any of my previous handheld frothers," one writes. "It also lasted over 2 years, which is at least twice as long as any of the others I've owned."  Another satisfied customer said that after "two years and 10 months" it still "appears brand new and operates just the same." Others rave about its power. This reviewer has no problem using it to blend their bulletproof coffee, saying, "This frother is powerful enough to blend in the butter, heavy cream and MCT oil perfectly." Another notes that it even stacks up against stubborn powder mix-ins: "Infamama powdered milk is probably the most difficult powdered drink to mix even with water that just boiled when using a spoon, but when we use this frother, nothing is left at the bottom of the mug." Reviewers also appreciate the sleek stand that comes with the frother. "I know if it was in a drawer or lying