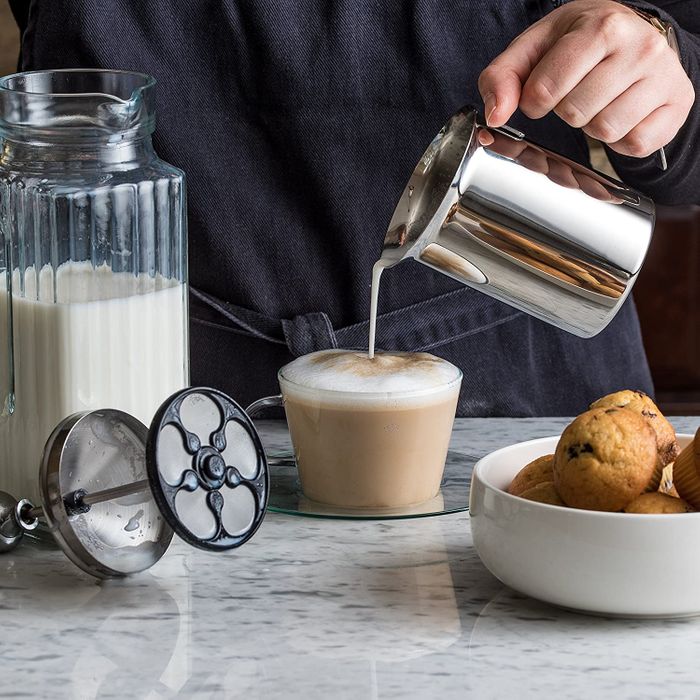 We've written about lots of ways to get the perfect cup of coffee — including the best coffee grinders, the best coffee makers, and the best coffee beans — here we've rounded up the best milk frothers, as praised by the most enthusiastic reviewers on Amazon.
Related Articles: How to Make Coffee a Home Like A Barista
Best-rated milk frother
This easy-to-clean, easy-to-use milk frother has many reviewers who use it daily, and the general consensus among these happy customers is this frother is powerful. One reviewer underestimated it based on how delicate it looks, but admits, "Boy, was I wrong … When I tried it out, I had foam everywhere! It's really powerful even if it doesn't look like it." Many reviewers say it is strong enough to blend their bulletproof coffee as well. "I researched a lot of frothers before choosing this one — primarily because it promised power," one reviewer writes. "It has definitely lived up to the promise. Nothing really compares to making bulletproof coffee in a blender, but this is as good as it gets without having to wash an entire blender for one cup of coffee." In addition to fancy coffee beverages, users have found it easily mixes other powdered supplements and medications into drinks. "I use it to mix capsule medication into fruit juice," one user reports. "The PowerLix does an excellent job blending the medication and leaves little to no residue at the bottom of the cup." Not only does it have multiple uses, but fans of this frother also love the price point. "I am a dairy-free household…and until this bad boy, I was paying out the yinyang for dairy alternative frothed lattes," one reviewer described. "STEP ASIDE STARBUCKS, and tuck that fiver back in your purse. This thing is the bees knees." (Though if you still miss the coffee shop experience this user recommends having your "husband call your name out really quietly, while running a vacuum and just for kicks have him spell the name wrong.")
Best-rated (less-expensive) milk frother
Reviewers love that they get to bring the coffee-shop experience home, thanks to this inexpensive little milk frother. "This little gadget has helped me re-create those awesome coffee shop favorites at home," writes one reviewer who was tired of spending so much money on lattes. Another says they "had a perfectly frothed latte in less than 30 seconds," and a third reviewer loves that they were "able to add a nice foamy coconut froth to my daily Matcha or coffee." Not only is it strong enough to froth up nondairy milks, it also is strong enough to stir up powdered shakes, and another says, "This little tool is so powerful you can make whipped cream." It's battery-operated, which reviewers appreciate because it's portable, and according to one reviewer, "the batteries tend to last for months."
Best automatic milk frother
More than 85 percent of reviewers give this milk frother a five-star review, and the ease of use likely has something to do with it. "This thing whips up my creamer or milk into a silky, velvet heavenly concoction that is just to die for," one reviewer reports, adding, "My lattes are better than the coffee shop and the froth is just so on point I drink my own homemade fresh roasted cappuccinos and lattes now because this thing actually works like a champ." One thing that makes this frother stand out from others on the list is that it's automatic, not a handheld device, and therefore, really easy to use. "I added milk in the frother directly after taking out of the refrigerator and it heats the milk, and makes a very rich delicious foam," one reviewer writes. Another says, "This makes a frothy creamy topping for all of my specialty drinks all under two minutes." Reviewers also report that it works with a variety of milks, is easy to clean due to the nonstick coating, and is relatively quiet. And while it may look small, one reviewer says, "When I actually used it there is more than enough for both the minimum and maximum for 3-4 cups of coffee."
Best milk frother for nondairy milk
"After months and months of trying various frothers, this is only one that delivered a truly creamy foam with almond milk," according to one reviewer, and plenty of reviewers seem to agree with this assessment, noting it works well with nondairy milk alternatives. "I use non-dairy milk alternatives and it works on them," one reviewer writes.  "It froths my non-dairy milk and warms it to perfection. Spend the money and you will be pleased." Reviewers also love the hot and cold function. "The aeroccino can be used for hot or cold froth," as one reviewer simply puts it. "It's great for hot drinks like lattes or cappuccinos and also for Nespresso iced coffee." Many reviews mention the price tag, but according to one reviewer who "originally bought a cheaper model that broke after a week of use," this is worth the money.
Best multifunctional milk frother
Dozens of users are impressed with the machine's various settings, which makes it more flexible than most milk frothers. "I truly had no idea what I had been missing out on with my other milk frother just on temperature alone," one reviewer writes. "The ability to control the temperature makes for a superior coffee experience. I can get the milk hotter and create a TON of foam with the frothing disc." In addition to coffee, reviewers rave about the hot chocolate this frother can churn out. "What makes this fantastic is that it can be used for other beverages like hot cocoa," one reviewer raves. "I just add the non-ridged disk to the bottom, add milk or water to the pitcher, add a packet of cocoa mix, and then I have perfect hot chocolate." Other users have explored even further and found that this machine also works well for warming up breast milk. A "normal mama who