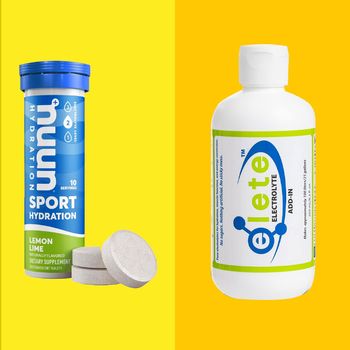 Photo-Illustration: The Strategist; Photos: Retailers
For anyone exercising and sweating a lot, it's important to not just hydrate by drinking water regularly but to replenish your electrolytes, too. "The main types of electrolytes that we lose through sweat are sodium, potassium, calcium, and magnesium," says registered dietitian Kristy Baumann, and of those, sodium is the most prevalent. These electrolytes and others are essential to keeping our bodies working properly, and an imbalance can not only make us feel terrible but can sometimes have serious consequences for our health.
Not everyone needs to be tearing open packets of electrolyte powders all day, however. "I'm always going to encourage people just to have a variety of foods in their diet and a balanced diet because that's the primary source of where we will be getting our electrolytes," says registered dietitian Kaleigh Tjoelker. It's the days when we do find ourselves sweating more that we may need a little extra help. "Somebody running outside in the heat and humidity for less than an hour could definitely benefit from an electrolyte drink during their run," says Baumann.
If you're doing long, intense workouts, you'll want to look for electrolyte supplements with carbohydrates. "Bonking" — a term athletes often use — "is when you use up all of your carbohydrate stores in your muscles," says Tjoelker. Once we use up those stores, we hit the wall. "In general, if your workout is longer than an hour and 15 minutes — depending on duration and intensity — you need to take carbs in," says Andrea Myers, a doctor of physical therapy and avid runner and cyclist. (It depends on each person, Myers says, but the general goal for endurance athletes is 60 to 100 grams of carbs per hour during exercise.) You may also want to pay attention to nutrition labeling on sports drinks if you're not exercising so intensely, since you may not need or want the added sugars or carbohydrates that many of them have.
For those times when you do need more electrolytes, we've got you covered. I spoke to five experts — a mix of dietitians, nutritionists, and coaches — about the various mixes, powders, and tablets that they use themselves and recommend for exercises and daily hydration. I also combed our archives to find the electrolyte powders that we've tested and reviewed and included them in this list.
Best electrolyte powder for athletes
This powdered-drink mix from Skratch comes recommended by three experts I spoke to, all of whom use it for hydrating during exercise, including cycling, running, and playing tennis. Myers says it's her go-to mix for most workouts because of its medium amount of electrolytes and carbohydrates: a single serving has 380 milligrams of sodium and 20 grams of carbs. "I've used Skratch for years and it just gives me zero gut issues," she adds. "I've used several of their flavors, but I tend to buy the lemon lime just because it has the mildest taste for me." Baumann likes that this Skratch mixture has carbs, which she says are crucial for your muscles during long bouts of exercise. She uses this mix for runs that are around 90 minutes or so. Tjoelker likes its high sodium content and that it comes in a single bag: "It gives you a little bit more control on how much exactly you want to add to your water."
Best (less-expensive) electrolyte mixture for athletes
Myers swears by this simple concentrated electrolyte liquid, which she adds to the water bottle she uses for running. "I put a half-teaspoon of it in a liter of water, and it basically gives me all four electrolytes in my water. There's no calories, no flavor, just the electrolytes," she says. "It makes your water taste slightly salty. But I like that it's very inexpensive per serving." One half-teaspoon serving has 125 milligrams of sodium. If you want pure electrolytes and plan on refueling your carbs through other food sources like bars or gels, this add-in is an excellent option.
Best electrolyte tablet for daily hydration
If you're not doing intense exercise and don't need those extra carbohydrates that you'd find in the Skratch Labs mix above, consider these flavored tablets from Nuun. I've written about these nifty hydration tablets before, noting how I'll pop one in my water bottle on a hike, or just sip throughout the workday when I'm feeling sluggish. One tablet has four grams of carbs and 330 milligrams of sodium. Unlike the powders here, which dissolve readily with a little stirring or shaking, the tablet takes a few minutes to fully dissolve, and it turns water effervescent. Former Strategist senior writer and marathoner Karen Iorio Adelson likes that they aren't loaded with sugar, unlike overly sweet sports drinks. Plus, Adelson uses them to help cure hangovers. Tjoelker recommends these tablets to the athletes she works with, many of whom play tennis. "They might be eating a banana during their match to get their carbs, and then they can have something like a Nuun tablet to get the electrolytes without the added sugar," Tjoelker says.
Best electrolyte powder for daily hydration
Baumann likes these packets for replenishing electrolytes after light to moderate exercise. "This is a great option for before or after a run, especially if you're a heavy sweater, or if you've been running in the heat." These packets don't have carbohydrates in them, which is why they're better suited for mixing in your drink and sipping throughout the day. One packet of LMNT has 1,000 milligrams of sodium, just over three times the amount in a single Nuun tablet, so this also is a good option if you're feeling dehydrated after lots of sweat loss.
Best electrolyte powder for sensitive stomachs
Maria Wong, co-founder of running group Queens Distance Runners, drinks this coconut-water mixture to refuel after runs and likes that it's easy on her stomach. Coconut waters naturally have lots of potassium — a key electrolyte — but, Wong says, "The coconut waters you see at Walgreens or CVS have too much sugar in them for me." This powder mixture is more subtle-tasting than the others listed here, and one serving delivers less sodium (five milligrams) and carbohydrates (ten grams), but it has 312 milligrams of potassium, which might be helpful if you tend to get muscle cramps.
Best electrolyte mixture with natural ingredients
This powder comes recommended by Strategist senior editor Simone Kitchens, who likes that it's made with natural ingredients. She started taking more electrolytes when she started breastfeeding, which involves chugging lots of water. "I tried Nuun and LMNT and realized a couple of things — I like a little flavor, but I don't want anything too artificial-tasting, and I didn't like tossing out all these plastic tubes and single-use packets," she says. Kitchens likes that this powder from Moon Juice comes in a glass jar, dissolves quickly, uses Himalayan pink salt, has a "very light but realistic" watermelon taste, and contains key electrolytes. "It's so good, somehow I end up gulping down an entire 32 oz. Ball jar in one go," Kitchens says. One serving has 270 milligrams of sodium, 130 milligrams of potassium, and 65 milligrams of magnesium — a well-rounded option that's especially good if you don't like the typical citrusy flavors of other powders.
Best electrolyte powder for post-workout fueling
After years of only drinking water after my runs, I recently started regularly incorporating electrolyte packets in my training. I use these packets to refuel all the sodium I've lost after each session. I like that the powder has a medium mixture of sodium (330 milligrams) and carbs (nine grams), which I prefer post-workout because I usually get the bulk of my carbs from a meal afterwards. One packet of DripDrop is similar to a Nuun tablet in terms of their respective ingredient breakdowns, but if I'm feeling particularly parched and impatient after a tough workout, I like that I don't have to wait for a tablet to dissolve. I can just pour in the powder, mix it up in my bottle, and start sipping. The packets are easy to travel with, too — I keep a few stashed in my bag so I can instantly hydrate right after track practice.
Best electrolyte mixture for travel
Sometimes we can forget to drink water during the day, and an electrolyte powder can help us refuel when we haven't properly hydrated throughout a busy workday or travel day. For on-the-go hydration, Tjoelker recommends these powder sticks from Liquid IV. "I consider it more of a moderate option — it has a smaller amount of carbohydrates than a traditional sports drink, like say a Gatorade or a Powerade, but it does have just enough carbohydrates to kind of give you a little bit of boost. Those carbohydrates can actually help our body absorb some of those electrolytes and stay hydrated a little bit better compared to some of the other options that don't have any carbohydrates in them," she says. One packet has 510 milligrams of sodium, 380 milligrams of potassium, and 12 grams of carbs — which is ideal to sip on throughout the whole day, as opposed to powders meant to be used before or during exercise, like Skratch or elete. The small packets are also great for travel, which is why celebrities like Matt Rogers, Alyson Stoner, and Carson Kressley can't live without it.
The Strategist is designed to surface the most useful, expert recommendations for things to buy across the vast e-commerce landscape. Some of our latest conquests include the best acne treatments, rolling luggage, pillows for side sleepers, natural anxiety remedies, and bath towels. We update links when possible, but note that deals can expire and all prices are subject to change.