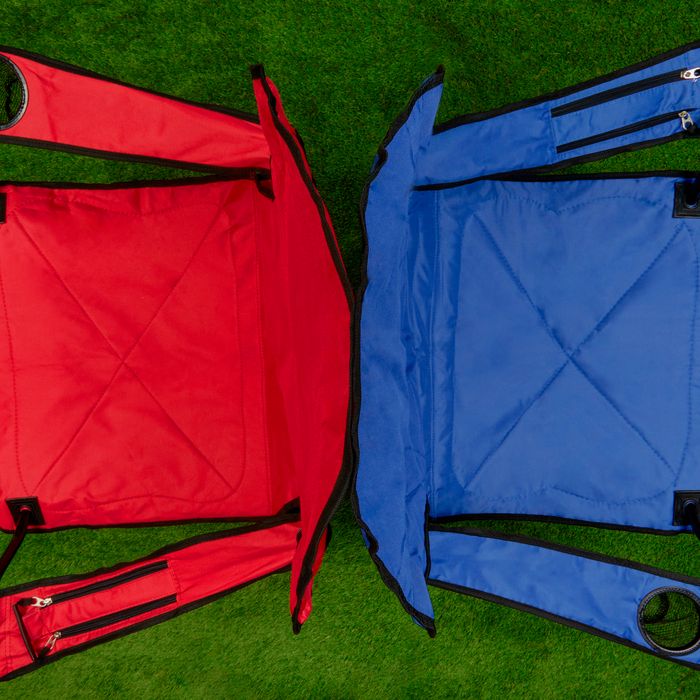 Because logs only look fun to sit on, a set of chairs will help complete your camping setup — once you've picked out your tent and sleeping bag. While bulkier quad chairs are always a reliable option, these days it's possible to find more minimalist designs that can be thrown into a daypack or beach tote. Multiday hikers don't have to sit on their butts either. No longer considered a car-camping luxury, collapsible chairs are becoming something of a backcountry fixture. In time for spring and summer adventures, I found the best chairs for all styles of camping, RVing, van-living, and backpacking — as well as park picnics and rooftop hangs closer to home. There are even a couple of collapsible loves eats for getting cozy at the campsite with friends, lovers, or pets.
Because camping chairs are by definition portable, you'll want yours to be relatively compact. How small and light you go will depend on your mode of transportation, how much storage space you have at home, the style of camping you're intending to do, and your budget. Brian Rottman and Bryant Jimenez, both master's students at the University of Oregon's sports product-design program, advise that more money will buy a lighter and more collapsible chair. Yet "spending a lot on a camping chair is a little bit more of a luxury than some people really need," says Rottman. If you have the money and plan on having an especially outdoorsy summer this year, Julian Bialowas, head of brand design at Hipcamp, suggests investing in something minimalist that's "small enough to fit in the trunk of your hatchback or, ideally, in your bike bag." On this list, you'll find a number of slingback chairs that weigh less than five pounds and fit this requirement.
Camping chairs can range from simple foam seat pads to reclining loungers, and there's a lot between. You'll find recommendations here for sturdy quad chairs that collapse inward, lawn chairs that fold flat, and two-piece slingback chairs with fabric seats that stretch over a shock-cord pole structure. All of the chairs I've listed are designed for durability and have a weight capacity of at least 240 pounds.
If you're going to lug a chair to your outdoor spot, it should be comfortable and sturdy. I looked for chairs with additional back support and padding as well as ones that incorporate cup holders, phone holders, storage pockets, and even coolers into their designs. And I found some no-frills yet well-built options for minimalists who are simply trying to keep their butts off the ground while eating lunch on the trail.
Best overall camping chair
Weight: 8.4 lbs | Frame: Quad frame | Comfort: Padded seat and back, drink holder, storage sleeve, cooler
A staple of weekend trips, quad chairs are reliably cheap, surprisingly durable, and conveniently beer-can friendly. You know the drill: They're slouchy to sit in and simple to set up though a little annoying to get in and out of the bag. While many quad chairs are created equal, I think that Coleman's chair stands out for being larger in size and padded for comfort while still plenty affordable. There's an insulated cooler attached to the left armrest plus a handy side pocket that means you won't have to leave your phone and wallet in the dirt. I've happily used a few of these chairs over the years, and they were referenced as classics by several camping-chair experts I spoke with — including van lifers Megan Hogate and Ciara Ladroma, who describe this one's comfort level as "chef's kiss." Travel journalists and photographers Emily and Berty Mandagie, the husband-and-wife duo behind outdoors-focused website the Mandagies, have recommended this chair to the Strategist in the past. More than 25,000 five-star Amazon reviews glow with praise: As one happy customer writes, "There's plenty of room in the seat. I can sit crisscross applesauce in it, and it's sturdy enough for my kids to sit in my lap without feeling it will tip, dip, or break." You can't go wrong with a couple of these and a cooler.
Best less expensive camping chair
Weight: 6.6 lbs | Frame: Quad frame | Comfort: Mesh panel, drink holder
Our best-overall pick above has a few more creature comforts than your average quad camping chair. If you can do without the bells and whistles, here's the cheaper, bare-bones version of the same expert-approved design. (That price difference may be crucial if you're buying a set of chairs for the whole family.) As a bonus, this chair is great for sweaty summers with its breathable mesh panel on the backrest that'll dry quickly if it gets wet at the beach. There's a drink holder on one armrest too.
Best slingback chair
Weight: 1.9 lbs | Frame: Slingback | Comfort: Optional accessories
Rottman and Jimenez say that Korean brand Helinox has been at the forefront of ultralight camping-chair tech since the early 2010s. While it weighs less than two pounds, this particular chair may be too heavy for weight-conscious backpackers, but its tiny packed-down size (equivalent to about one and a half Nalgenes) means it's super convenient for just about everybody else. You assemble the Helinox Chair One like a tent: There's a collapsible aluminum-pole frame that's held together with shock cords and a sling seat made from nylon and mesh that slips over it. As Rottman explains, it's just about "the most efficient design for a camping chair that exists." The chair's carrier bag attaches to its frame and can be used as a storage compartment. Should you need some accessories, the brand sells a clip-on cup holder, optional rocking feet, and a ground cover sheet.
Best adjustable slingback chair
Weight: 1.14 lbs | Frame: Slingback | Comfort: Reclining
The Nemo Moonlight has a similarly lightweight and collapsible-pole structure to the Helinox One, but with straps that adjust so you can recline backwards if desired. The chair comes recommended by Bialowas — he uses his to watch the stars when camping in the Cuyama Valley. As well as its adjustability, Bialowas likes the chair's weight, packability, and ease of setup. "No one enjoys lugging a bunch of gear out to the beach or to their campsite or having to make multiple trips," he explains. "A chair that is small and light enough to fit in your tote is the way to go. Especially if you don't have to sacrifice comfort."
Best (less expensive) slingback chair
Weight: 1.11 lbs | Frame: Slingback | Comfort: Wide seat
Bialowas also mentioned this REI dupe that's rather similar to the Helinox One but features a wide, ripstop polyester sling seat instead of a lightweight mesh one. I have to admit that the colorways — olive green, blueberry, and copper — are actually way more appealing.
Best beach slingback chair
Weight: 4.4 lbs | Frame: Slingback | Comfort: Breathable mesh fabric
Even cheaper, though a few pounds heavier, is this slingback chair beloved by Strategist writer Dominique Pariso. She used it as a beach chair all last summer — "everywhere from Riis to Brighton Beach and on trips to Fire Island." As opposed to the cumbersome Tommy Bahama recliner that Pariso had used previously, this chair's Hydro Flask–size bag clips onto a tote bag and is therefore much easier to lug through the sand. And unlike the REI slingback above, it's made from ripstop nylon mesh that'll dry off very quickly.
Best rocker chair
Weight: 11.13 lbs | Frame: Quad frame | Comfort: Rocker feet, drink holder
On the comfier side of things is this outdoor rocking chair that'll be the envy of every camper who walks past your site. The Dyrt co-founder Sarah Smith finds herself recommending the GCI Rocker to "anyone who will listen," adding that it's both "super comfortable and slightly decadent." Strategist contributor and experienced camper Steven John is a fan of this surprisingly lightweight chair, which he says is as essential to his camping kit as a stove.
Best chair for back issues
Weight: 10.5 lbs | Frame: Quad frame | Comfort: Lumbar support, drink holders
If you're after a quad chair that's more supportive than the Coleman picks above, Marc and Julie Bennett of RVLove are fans of this one. "It's great for people with back issues — or those who want to avoid them," they say. "You have to sit in one to appreciate the difference." The durable Guru has a 300-pound capacity and comes with a two-year warranty, which is unusual for a camping chair.
Best chair for RVs
Weight: 33 lbs | Frame: Lounger | Comfort: Cushioning, drink holder, side caddy
Another favorite among the RV set? These super-comfy recliners that adjust to whatever angle you please. Steve Johnson of Boondocker's Bible says that Zero Gravity's lounge chair is "effectively a folding chaise lounge, but much more comfortable." RVBlogger's Mike Scarpignato agrees, admitting it's the only lounger he's ever fallen asleep in. Frank and Grainne Foley of the Roving Foleys, big fans, prefer their zero-gravity chairs with side caddies — ideal for holding drinks and cell phones.
Best car camping chair
Weight: 9 lbs | Frame: Collapsible quad frame | Comfort: Cup holder and media pocket
Ever tried to pack four friends and a weekend's worth of camping gear into a tiny rental car? It can be tricky, which is why a flat-pack-style quad chair like this one is worth considering. Front Runner sent me one to try out, and I'm impressed with the chair's sturdiness and storage potential: It really does pack down into a pretty neat square (one-sixteenth of its assembled size, according to the brand), which is great for apartment storage as well as the aforementioned car Tetris game. It's taller and more rigid than a slingback-style chair albeit much heavier. I like the storage sleeves on each arm, too, although I'll note that they're better for stashing water bottles and phones than beer cans or coffee mugs.
Best sturdy camping chair
Weight: 11.5 lbs | Frame: Quad frame | Comfort: Bottle openers, drink holders
This sleek True Places camping chair has everything and then some: solid plastic arms, a cup holder, an optional clip-on phone holder, two bottle openers, and a clever carrier bag that can be worn as a backpack. The brand sent me one to try, and here's the feature I like most: its unusually sturdy frame. Most camping chairs wobble and topple if you don't have your feet planted to balance them out, but this one stays grounded. As a trade-off, the chair is on the larger and heavier side, making it a little inconvenient for apartment storage and definitely out of the question for hiking and walk-in campsites. I'd say that it's best for backyard and park hangs, especially if you value both comfort and aesthetics.
Best table-height chair
Weight: 10.1 lbs | Frame: Recliner | Comfort; Cushioning, seven positions
Balancing a plastic plate of food on your knees when sitting around the campfire isn't much fun. Campendium co-founder Leigh Wetzel recommends this chair as another assuredly sturdy pick that's great for eating dinner on — and has a seven-position reclining feature for chilling out afterwards. "It provides lots of support, and is table height so you can use it for dining as well as socializing," she explains. The chair's seat and back are constructed from super-comfy padded mesh, and the brand offers an optional footrest for really blissing out. One note: This chair doesn't have drink holders, so you probably will want to pair it with a camping table.
Best high-back camping chair
Weight: 3.4 lbs | Frame: Slingback | Comfort: Optional accessories
Helinox's slingback chairs are low to the ground and can be a little uncomfortable for taller people. Here's a compromise without much additional weight or bulk: the same portable design but with a higher back and legs. True to the chair's name, I've been using mine to watch the sunset on my rooftop with a seltzer in hand — it's plenty comfortable and easy to lug up six flights of stairs.
Best ultralight high-back chair
Weight: 1.8 lbs | Frame: Slingback | Comfort: Optional accessories
And here's the ultralight backpacking version of the Helinox's Sunset slingback chair — with the same shock-cord pole structure. It sits lower to the ground and doesn't provide quite as relaxing a sitting experience as the Sunset, but the weight and size difference is impressive without being a total compromise on comfort.
Best hiking stool
Weight: 12 oz, 14 oz | Frame: Stool | Comfort: Mesh seat
Another shockingly lightweight seating option for those on the trail is this three-legged stool from BTS. The brand sent me one to try out last year, and I have to admit that it's temptingly backpack-friendly and far superior to sitting on a craggy rock. Weighing less than your average collapsible hiking pole, the stool has telescoping aluminum legs and a thin but durable seat made from nylon mesh. It's available in two different leg lengths. When collapsed, the smaller stool measures about 12 inches high while the larger is about 14 inches. I opted for the taller option, which seems preferable in terms of comfort — unless weight is a very serious consideration.
Best hiking seat pad
Weight: 2 oz | Frame: Seat pad | Comfort: Warmth-boosting reflective foam
Affordable, lightweight, and stashable, foam seat pads are the preferred seating choice for a multiday hike. "They only weigh a couple ounces, so you're not adding a lot of your pack," explains REI's virtual-outfitting team lead Forrest Jarvi. Therm-a-Rest's Z-Seat is a classic of the genre that's both affordable and hard-wearing. Jimmy the Hiking Nerd has been using his for years — and not just for keeping his hiking pants clean: "Out in the backcountry, this Z-Seat has been my makeshift pillow, a windscreen for my stove, a fan to get the campfire going, and a barrier against the snow."
Best vintage-inspired chair
Weight: 13 lbs | Frame: Lawn chair | Comfort: Low-profile, cord seat
Chelsea Rizzo and Allison Levy, co-founders of women's outdoor-gear brand and New York City–based hiking club Hikerkind, like taking foam seat pads out on the trail. But for car camping, the design-conscious duo pointed us to these delightfully retro picnic chairs from Ita, the first-ever Black-owned outdoor-furniture brand. "I never thought I'd love a camping chair, but I'm definitely infatuated with this one," says Rizzo of Ita's leisure chair, which collapses into a stackable square and can be popped into position in less than one minute. She says the chairs are thoughtfully crafted and designed to last: "I've made the bad decision before by buying the cheaper, heavier thing — what we love to promote is buying intentionally with a purpose, then using it forever."
Best two-seater
Weight: 16.4 lbs | Frame: Double quad | Comfort: Insulated drink holders, padded seat
For couples and very close friends, Kelty's 400-pound-capacity loveseat is a classic. Instantly recognizable, you'll see that these blue-and-orange traveling couches are a popular choice among van lifers. Hogate and Ladroma are obsessed with theirs, calling it "one of the best purchases" they've made for their van. They love sitting in it together ("It's romantic — that's the reason we got it") or with their furry travel companion, Chaco. "One of the things I miss on the road is sitting on the couch with my dog, so this is a way to do that," Ladroma explains. Although the chair is rather large, it collapses neatly for storage, fitting into a bag that has a useful backpack-style carry strap. It's durable too. "We've seen people on the road who've had it for quite a while," Hogate says. "The brand is known for creating things that last."
Best (slightly lower) two-seater
Weight: 15.4 lbs | Frame: Double quad | Comfort: Insulated drink holders, padded seat
With the same roomy padded seat but slightly shorter legs, this "low" version of the same Kelty love seat is Strategist writer Jeremy Rellosa's camp-seating go-to. "It feels more lounge-y" than the original, he explains. The design is also more versatile for a number of outdoor activities: "It's closer to the ground and is more stable, so it won't blow away at the beach." He even lent the chair to his parents when they attended an outdoor concert last summer, and the reduced height "was great, because they weren't in the way of the people behind them."
Some more camping gear we've written about
• Julian Bialowas, head of brand design at Hipcamp
• Frank and Grainne Foley, founders, the Roving Foleys
• Megan Hogate and Ciara Ladroma, photographers and van lifers
• Forrest Jarvi, virtual-outfitting team lead, REI
• Steve Johnson, co-founder, Boondocker's Bible
• Allison Levy and Chelsea Rizzo, co-founders, Hikerkind
• Emily and Berty Mandagie, founders, the Mandagies
• Dominique Pariso, writer, the Strategist
• Jeremy Rellosa, writer, the Strategist
• Brian Rottman and Bryant Jimenez, master's students, University of Oregon sports-product design
• Mike Scarpignato, writer, RVBlogger
• Sarah Smith, co-founder, the Dyrt
• Leigh Wetzel, co-founder, Campendium
The Strategist is designed to surface the most useful, expert recommendations for things to buy across the vast e-commerce landscape. Some of our latest conquests include the best acne treatments, rolling luggage, pillows for side sleepers, natural anxiety remedies, and bath towels. We update links when possible, but note that deals can expire and all prices are subject to change.