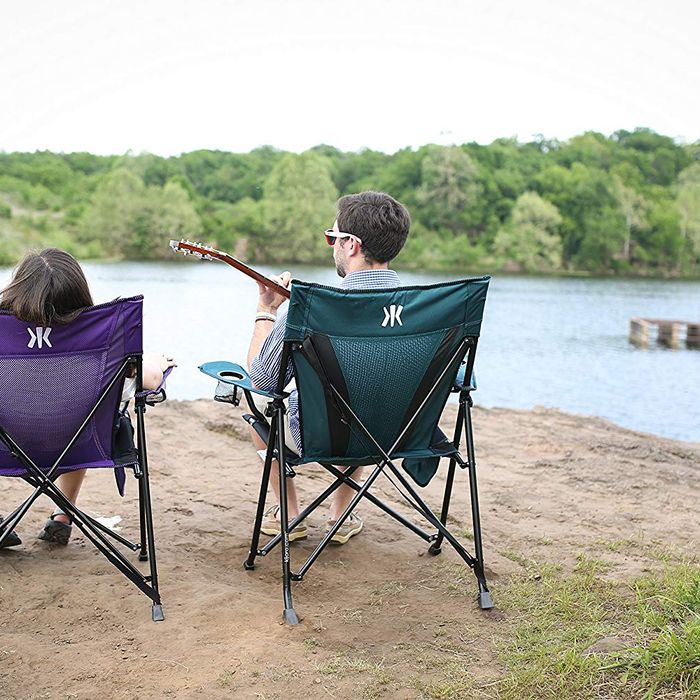 Here at the Strategist, we like to think of ourselves as crazy (in the good way) about the stuff we buy, but as much as we'd like to, we can't try everything. Which is why we have People's Choice, in which we find the best-reviewed products and single out the most convincing ones. (You can learn more about our rating system and how we pick each item here.)
And while we've written before about camping gear — including the best camping tents, fishing rods, and tick repellents — here, we've rounded up the best camping chairs as praised by the most enthusiastic reviewers on Amazon.
Best-rated camping chair
This camping chair from Coleman has over 3,500 five-star reviewers, hundreds of whom call this a "great chair." One purchaser says, "It's the best camping chair I've owned. I won't get specific with my dimensions, but I'm a pretty big guy. Most chairs [like this] are designed for skinny people, but this chair works well with my large body." Larger people appreciate that this chair seats them comfortably, and others just enjoy having a little extra space to not feel cramped. As one reviewer writes, "There's plenty of room in the seat. I can sit crisscross applesauce in it, and it's sturdy enough for my kids to sit in my lap without feeling it will tip, dip, or break."
Many also mentioned loving the built-in cooler, and they say it works well: "We left a single bottle of water in overnight and it was still cold in the morning, even without ice." Even people who don't use the cooler for its intended purpose say that the extra storage comes in handy. "Don't need to use the cooler for drinks? You've got yourself a built-in trash can! It can be easily washed/wiped out."
Best-rated (less expensive) camping chair
One reviewer is already dreaming about the possibilities this chair has to offer with its built-in beverage-cooler pouch that he says is "perfect for two cans of beer," noting, "Imagine not having to get up for 3 beers." Users have found this pouch is great for non-beverage storage as well. "We just store stuff in there like bug spray and sunscreen," one reviewer writes. For the price, users are impressed with how sturdy the chair is. "I'm 5'10", 225 pounds, and this thing feels as solid as a rock with me sitting in it," one writes. "It felt much larger than the $20 chairs you can get at brick-and-mortar stores, and was very comfortable." Another adds, "I weigh 210 and it is sturdy and very comfortable."
And now, some micro-picks for every type of camping chair you might be looking for.
Best camping chair with a canopy
For many reviewers, these chairs have removed the extra hassle of lugging an umbrella to the beach. "I saw people at the beach using this and had to get it," one writes. "Much easier than an umbrella when it gets windy, and I don't have to carry my chair, and umbrella and poles like I used to do." Others mention how sturdy it is in the sand and how much they love that the canopy is adjustable. "I love the fact you can adjust the cover angle," one happy customer notes. "Really helps to manage the sun regardless where you set up your chair." As for comfort, this user said it lasted through an entire festival. "Ordered one of these because I was tired of dealing with the separately attached umbrellas that you can buy in addition to the normal folding camp chair," the user writes. "The Quik Shade chair was easy to carry, fairly easy to unfold and setup, and was sturdy and comfortable for an entire 8 hour festival I sat in it at."
Best sturdy camping chair
"This is quite honestly the most sturdy foldable chair that I have ever used in my entire life," writes one reviewer, describing it as "solid as a rock and the fabric does not sag like most of those other folding chairs on the market." Reviewers rave about how "sturdy" and "heavy-duty" this camping chair is. Many mention the seat that "stays flat," which is one of their favorite features. The dual-locking legs are another selling point. "They lock the chair in place when you fold it as well as unfold it. This is great because it stops the chair from collapsing on you by chance." Some note that it's "heavier" than some but that this is part of what gives it strength: "Quality items usually weigh more."
Best lightweight camping chair
Over 150 reviewers mention that this chair is "light." That's probably why it's popular with backpackers. "Coming in at about 24 ounces, this chair is a backpacker's dream. The small carrying case, which adds about 2 ounces of weight, keeps it together and compact nicely. The case has daisy chains in it to loop onto the bottom of a pack which makes carrying it even easier without taking up internal room in your pack. The assembly is extremely simple, within opening the package I was seated in under 60 seconds."
But you don't need to be a backpacker to appreciate the convenience of this chair, as one reviewer makes clear: "I'm a single mom and when I take my kids to the beach, I always have my hands full. I wanted a beach chair that was compact and lightweight. I keep the chair stored in my beach bag! It's perfect for me! Not only does it look nice, it's comfy and sturdy."
Best comfortable camping chair
"This chair was so comfortable someone stole it at a music festival," writes one reviewer. "I hope wherever you are, you are being treated well. Like the outdoor throne you truly are. Ten out of ten. Would sacrifice this chair to the festival gods again." This gets high marks for comfort, thanks to its plush padding. As one purchaser explains: "I've been through quite a few camping chairs, some better than others, but none of them ever seem very comfortable. Once I tried this out, I knew I had found 'the one.' When you open it up there's a sort of 'pillow' effect with the separate sections of the seat and back puffing up over a few minutes. The material it's made of is softer and more comfortable than any other camping chair I've used, hands down."
Others mention the "padded armrests," which they say make a big difference. "I had similar chairs in the past but didn't like the saggy armrests. This chair has solid armrests that make it so much easier to sit in and get out of." Another adds, "Love these chairs! Very comfortable to sit in and the hard padded armrests are awesome!"
Best camping chair for outdoor concerts
While reviewers say this is a great general-purpose camping chair, many point out that it's especially suited to outdoor concerts, which often have chair-height restrictions. "I bought these for an outdoor concert where traditional-size chairs were not allowed. The chairs are easy to take out of the sleeve and easy to 'unfold.' They were very comfortable, too." The chair is "low enough to enjoy concerts at the park and not obstruct anyone's view," writes one purchaser, who adds that it's "sturdy enough to share with my man friend (189 pounds)!" Another says, "I bought this chair for an outdoor concert at a local winery. The chair was super-comfortable and easily transported … the concert was good too!"