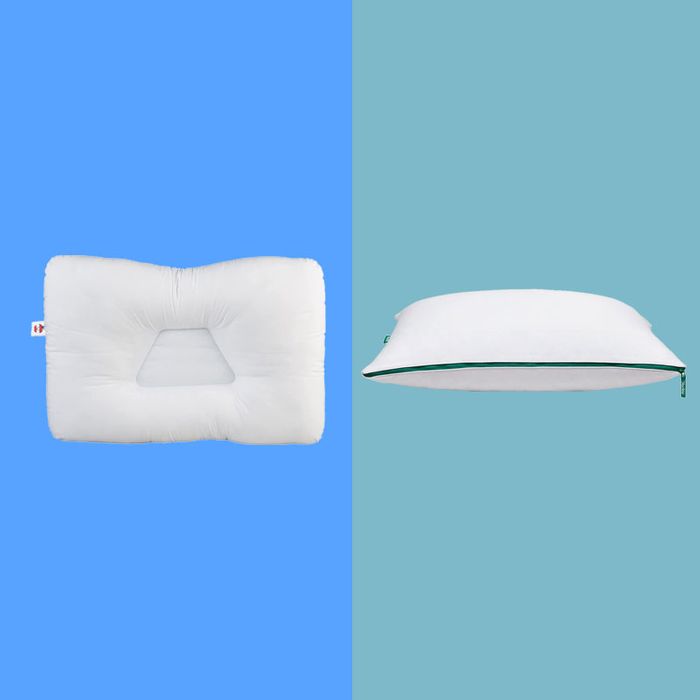 Photo-Illustration: The Strategist; Photos: Retailers
Whether you're navigating post-injury neck pain, a scrolling-induced achy hunch, or something in between, supporting your neck while you sleep can make a huge difference in your quality of rest, not to mention how much neck pain you feel when you're awake. Keith Cushner, a product expert at sleepfoundation.org, and his colleague Logan Foley, a sleep-science coach and the managing editor at sleepfoundation.org, agree that the right pillow is pivotal in this regard. "A person's sleep setup can play a crucial role in pain recovery, specifically neck pain," Cushner tells us.
Neck pain can strike whether you are a side sleeper, back sleeper, stomach sleeper, or a combination of all three. However, Dr. Rennes Toussaint-Keshinro, a chiropractor and mental-health coach, advises that people with neck pain should stick to their side and back as much as possible to ensure that their head, neck, and spine are supported in a neutral position. Dr. Thomas Schuler, chairman of the National Spine Health Foundation's Medical and Scientific Board and founder of the Virginia Spine Institute echoed this suggestion, noting that there are three natural curves in the cervical, thoracic, and lumbar spines "which go in opposite directions to balance each other." These curves can decrease in size due to age, poor posture, or injury, "making it all the more important that they are supported while sleeping," and the right pillow can help with that.
We talked to Cusher, Foley, Toussaint-Keshinro, Schuler, and three more experts to determine the best pillows for people who are managing neck pain.
Best overall | Best memory foam | Best neck support for side sleepers | Best for severe neck pain | Best water pillow | Best adjustable loft | Best cervical roll bolster | Best rectangular neck support for back sleepers | Best for minor neck pain | Best cooling
What we're looking for:
Firmness and fill: Supportive pillows, which the experts we spoke to agree are the best option for people with neck pain, tend to be on the firmer side of the pillow spectrum. According to Dr. Schuler, "Those with neck or back pain will find that both medium-firm mattresses and pillows provide the best support at night." Medium-firm pillows cradle your head and help your body stay in a neutral position and alignment while you snooze. While our experts clearly favor firmer pillows for neck support, Foley explains that people should also consider their mattress type and head weight. "The right pillow firmness for you will depend on how heavy your head is, how high the pillow is, what position you tend to sleep in, and the firmness of your mattress," she says. The type of fill your pillow has will also affect the firmness level. Memory foam, latex, and wool tend to create a firmer sleeping surface while down, feather-fill, polyfill, kapok, and cotton materials are softer and more plush.
Loft: The loft, or height, of your pillow is a critical factor, according to Dr. Schuler. He explains that "the neck shouldn't be elevated higher than the rest of your spine" which means people managing neck pain should avoid pillows that are overly lofty (typically higher than five inches) to ensure that their head isn't forced into a painful angle. Dr. Toussaint suggests starting with a medium loft, or a pillow with a height between three and five inches, to get a feel for the loft that works for you. Foley says that when choosing the right loft, you should also consider your body type: "The ideal loft for neck pain is one that aligns your neck with your spine," he says. "It's also important to consider the width of your shoulders and the size of your head."
Shape: Neck pillows come in various shapes and sizes ranging from standard rectangular forms to more specialized options that are designed to address neck pain in one way or another. Cervical pillows feature bolsters —or cylinder-shaped portions of the pillow — that nestle into the natural backward-C-shaped cervical curve of your neck to add support for strain-free sleeping. Orthopedic pillows have a more detailed shape with several contours and cavities to support your cervical curve and align your spine with your neck and head. Orthopedic and cervical pillows can help you tackle specific pain points and alignment concerns while standard pillow shapes can offer you more level head support while you sleep.
Best overall pillow for neck pain
Polyfill | Medium loft | Firm | Hand-wash only
Cushner says the best pillow for neck and shoulder pain is "firm enough to hold the head at a healthy angle but soft enough to alleviate pressure points." Ideal for back and side sleepers, this cervical pillow from Core Products has two different-sized bolsters on either side that offer more or less neck support, depending on your preference. If you're a back sleeper, the valley in the middle cradles your head while the bolsters support your neck, keeping your upper body and spine in the right alignment, or if you're a side sleeper, you can lay your head on the pillow's raised sides. Since this type of pillow shape can take some getting used to, the brand suggests that you acclimate to the smaller-diameter bolster, even alternating between this pillow and your current pillow at first, and adjust from there. The pillow comes in three sizes and two colors.
Best memory-foam pillow for neck pain
Memory foam | High, medium, or low loft | Firm | Machine-washable cover
"Memory foam is hypoallergenic" and "it provides support to individuals suffering from neck, upper back pain, or degenerative conditions," says Alanna McGinn, the founder and CEO of Good Night Sleep Site. Contoured for ergonomic support, this Tempur-Pedic neck pillow has a firm memory-foam interior that conforms to the natural curvature of your head, neck, and shoulders. Similar to the Core Products pillow above, the Temper-Pedic Neck Pillow features two different-sized bolsters designed to nestle under your neck to provide varying levels of support. The major difference here is this pillow has a slight slope in the middle for your head to rest as opposed to a cutout. For newbies, and for side sleepers in particular, this may be a more comfortable option. Depending on your body type and overall preference, you can choose from three pillow profile sizes — small, medium, and large — with the large having the highest loft at 4.75 inches and the small having the lowest at three inches.
Best neck-support pillow for side sleepers
Memory foam | High loft | Firm | Machine-washable cover
One of our favorite pillows for side sleepers, the Pillow Cube's defining characteristic is its square shape, designed to maintain a 90-degree angle between your head and shoulders and relieve pressure on your neck. Made of structurally firm carbon-core memory foam that is naturally antimicrobial and designed to cradle your head while holding its shape, the Pillow Cube is breathable and encased in a cooling, machine-washable cover. You can choose from three sizes — standard, thin, or thick — depending on your height. The standard size can accommodate people who are six-foot-three or shorter, the thin size is ideal for people under five-foot-three, and the thick size is for people six-foot-four and taller. If you sleep exceptionally hot and need a bit more in the temperature-regulation department, the brand sells a cooling version of the pillow that it says will help you sleep up to ten degrees cooler.
Best pillow for severe neck pain
Molded foam | Medium loft | Very firm | Machine-washable cover
If you have severe neck pain, talking to a doctor about your treatment options is the best first step. But if you suspect your sleeping position is to blame, a corrective pillow like this highly structured option might help. It is designed to align your neck, support your thoracic spine, relieve jaw pain, and comfort your head. There are four sizes to choose from — average, petite, large, and extra-large — and the optimal sizing is determined by the horizontal measurement from the base of your neck to the tip of your shoulder. This pillow is also made by Core Products, maker of our top pick, and the brand warns that your neck pain may actually increase as you get used to the Therapeutica pillow's rigid shape but notes that, over time, it can help reduce stiffness. As you use the pillow, the firm molded foam will soften a bit while maintaining its supportive structure.
Best water pillow for neck pain
Water-and-fiber fill | Adjustable loft | Adjustable firmness | Machine-washable cover
Sloshing around on a sack of water might not sound like the most appealing way to doze off, but water pillows can be excellent for neck support. Additionally, McGinn says there isn't any sloshing around at all, and "since the water pillow has some weight to it, it will stay put keeping head and neck from moving." Acting like fluid memory foam, the water consistently conforms to the shape of your head, helping to lessen any neck stress caused by tossing and turning. If you're a bit intimidated by the functionality of a water pillow, this one by Mediflow is pretty straightforward. The pillow is made with an adjustable water pouch that is covered in a soft poly-fiber filling. For a firmer pillow, which is best for neck pain, you can fill up the pouch with more water. Conversely, less water will give you a softer, flatter pillow.
Best adjustable loft pillow for neck pain
Kapok fiber and shredded memory-foam fill | Adjustable loft | Adjustable firmness | Machine-washable cover
Derived from the pods of the kapok tree, kapok fiber is a fluffier, airier alternative to wool or cotton. The Layla Kapok pillow combines kapok with shredded memory foam in a pillow that feels plush yet supportive. The standout feature of this pillow is its adjustability — you can increase or decrease the loft and firmness by adding or removing fill to customize your sleeping experience. "Buying pillows with adjustable lofts is a good call if you're not sure which one will work best for you," says Cusher.
Best cervical roll bolster pillow for neck pain
Solid memory-foam fill | Medium-high loft | Firm | Machine-washable cover
Similar to the Core Products and the Tempur-Pedic pillows that feature built-in bolsters for neck support, this cylindrical bolster pillow by AllSett can be used as a companion to a standard bed pillow to relieve stress on your neck. The machine-washable plush cover is soft and cozy, while the sturdy memory-foam interior is firm and responsive. To create a dreamy pillow setup, you can slide the bolster pillow in the space between the base of your head and your shoulders while placing an adjustable-loft pillow like the Layla Kopak pillow underneath your head. Additionally, you can use the bolster pillow between your knees for extra spine support.